Add a header to begin generating the table of contents
$872 Million. That's what the most expensive domain name, cars.com, sold for according to GoDaddy. Can you imagine if you owned that domain? You'd be set for life after that sale.
You've probably heard of flipping homes as a way to make money. You purchase a dilapidated home, you invest some time and money and then you sell it for a profit.
This is essentially exactly how domain flipping works. You purchase a domain with the purpose of selling it for a higher price.
This is a very simplistic view of how this all works so below I've broken down exactly how it all works and some of the helpful tools and sites I use.
When the domain has a site already built on it, this process can also be referred to as site flipping, or blog flipping, which falls under the same category of domain flipping, but more on that later.
Domain name flipping can be a great side hustle business that has turned into a full-time career for some.
What is a Domain?
A domain is the unique name of a site that people type into a search bar URL to access your website. If we go back to our example of flipping a house, think about the domain as the address of the house.
Now we know all home addresses are not created equally in that some are in better neighborhoods than others. This applies to website domains as well. Certain website domains are much more desirable than others. Short one-word domains are very hard to come by and will usually cost a lot more.
What is Domain Flipping?
According to RCBJ, "Domain name investing (also called domaining) involves registering or purchasing a domain name with the idea of eventually reselling or leasing it, rather than using it for a website or in connection with a business."
There are some cases where investors are simply buying and selling domain names without doing anything to the site. They are simply finding an interested buyer and passing it along.
Now you might be thinking, aren't all the good domain names taken by now? Well, kind of, but one thing to consider is new trends, niches, and market opportunities. For example, crypto is a relatively new industry, so there was a period of time when new opportunities came to the market to buy domains such as Crypto.com, CoinMarket.com, or even something like CryptoNerd.com, which can sell for hundreds and thousands of dollars.
There are other instances where a domain investor takes a site that has a good name or maybe has historically had a strong domain authority and invests in boosting the score to sell it for more. This method can involve improving the content on the site, gaining more relevant backlinks, and improving the UX/UI of the website.
Keep reading to learn how to do both types of domain flipping…
How Much Do You Need to Start?
It's really hard to zero in on just how much money you'd need to start domain flipping. While the price of a domain can begin at $10, they can also cost thousands depending on the name and the extension (.com, .co, net, .biz), as some extensions are more desirable than others. The existing DA (Domain Authority) is also important, and of course whether or not the domain has a site built on it already.
You need to consider that once you purchase a domain you might hold onto it for years before it sells, while you wait for the right buyer to come along. This means you will also be paying for the domain registration during the time you own it. These fees, while low, add up if you've purchased hundreds of domains.
You might remember during the 2016 presidential election Jeb Bush did not pay his site registration. Someone in the Trump administration scooped it up and redirected the traffic to Trump's site. This is a valuable lesson in the importance of keeping up with your domain registrations.
Your best bet is to pick up a small portfolio of sites to ensure at least one of them sells and makes the purchase of all of them worth it. A few hundred dollars is a good amount of money to start with.
What To Look For in a Good Flip:
Expiration
When a domain is going to expire it will enter a 30-90 day RGP, or Redemption Grace Period. During this time the owner will be contacted to renew their domain. If they do not respond and renew the domain will go up for grabs.
There are drop-catching or domain sniping services that allow people to bid on domains once they enter the RGP. Assuming the owner does not renew the site will go to the highest bidder.
Drop-catching services worth exploring include Spamzilla.io,  Dropcatch.com, NiDoma, and Pool. Later on, in this article I'll talk more in-depth about some domain buying and selling sites I use personally.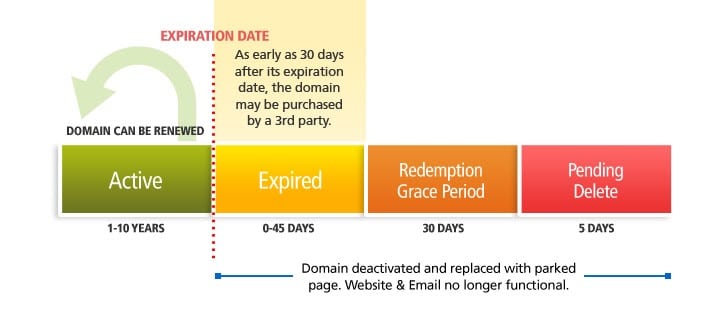 Short Domains
Just like cars.com, one-word domain names are ultra-competitive and therefore extremely valuable once they sell.
There are only so many words in the English language so there are only so many one-word domains. These names are so valuable to domain flippers because many sites want them. They are easy to remember, spell and enter into a URL.
When someone is trying to build a successful site they will need a high-quality score. A strong domain name will help with this.
Local Domains
Local domains are a great option when looking to flip a domain because they contain words that help with SEO.
Search engines want to help people answer the questions they are imputing. When someone looks up something they are often inquiring based on location.
For example, someone searching "restaurants for dinner" is likely looking for a restaurant near them. Owning a domain like Sacramentorestaurants.com helps point them in a direction local to them.
It's important to keep in mind that the word 'Sacramnto' does not improve local SEO rankings, but it does help with CTR (click-through rate) because readers will associate the domain with a local result.
Small businesses are always looking to be a local solution whether that's housecleaning or a salon having a specific location in a domain name is very attractive to buyers.
High Domain Authority
According to Moz:
"Domain Authority (DA) is a search engine ranking score developed by Moz that predicts how likely a website is to rank on search engine result pages (SERPs). A Domain Authority score ranges from one to 100, with higher scores corresponding to a greater ability to rank."
You can see how a high DA site would give its new owner a huge leg up when it comes to creating a high-ranking website or blog.
To get started checking DA scores you can use a tool like Ahrefs. This site lets you input a domain name and gives you the DA score as well as the number of backlinks the site has received. This insight is imperative in evaluating the quality of the domain you are looking to purchase.
New Extensions
There was once a time where ".com" was the only domain extension available. These days there are many other domain extensions you can buy such as .net, .co, or .biz.
When a new extension becomes available all the domain names that are ultra-competitive go up for grabs with the new extension. For example, we saw earlier cars.com sold for an insane amount of money but if a new extension comes on the market you might be able to snag cars.nyc for less.
You can then resell this domain for thousands of dollars if not millions assuming you are positioned well when the new extension is released.
How To Find and Flip Domain Names
Step 1 – Find a Domain
There are a number of ways to acquire domain names, and it all depends on what you are in the market for. As I mentioned above, you can purchase a fresh domain never bought before, a domain that has expired and up for grabs, or an old site you can improve and resell. There are different sites you can use depending on which option you want to use.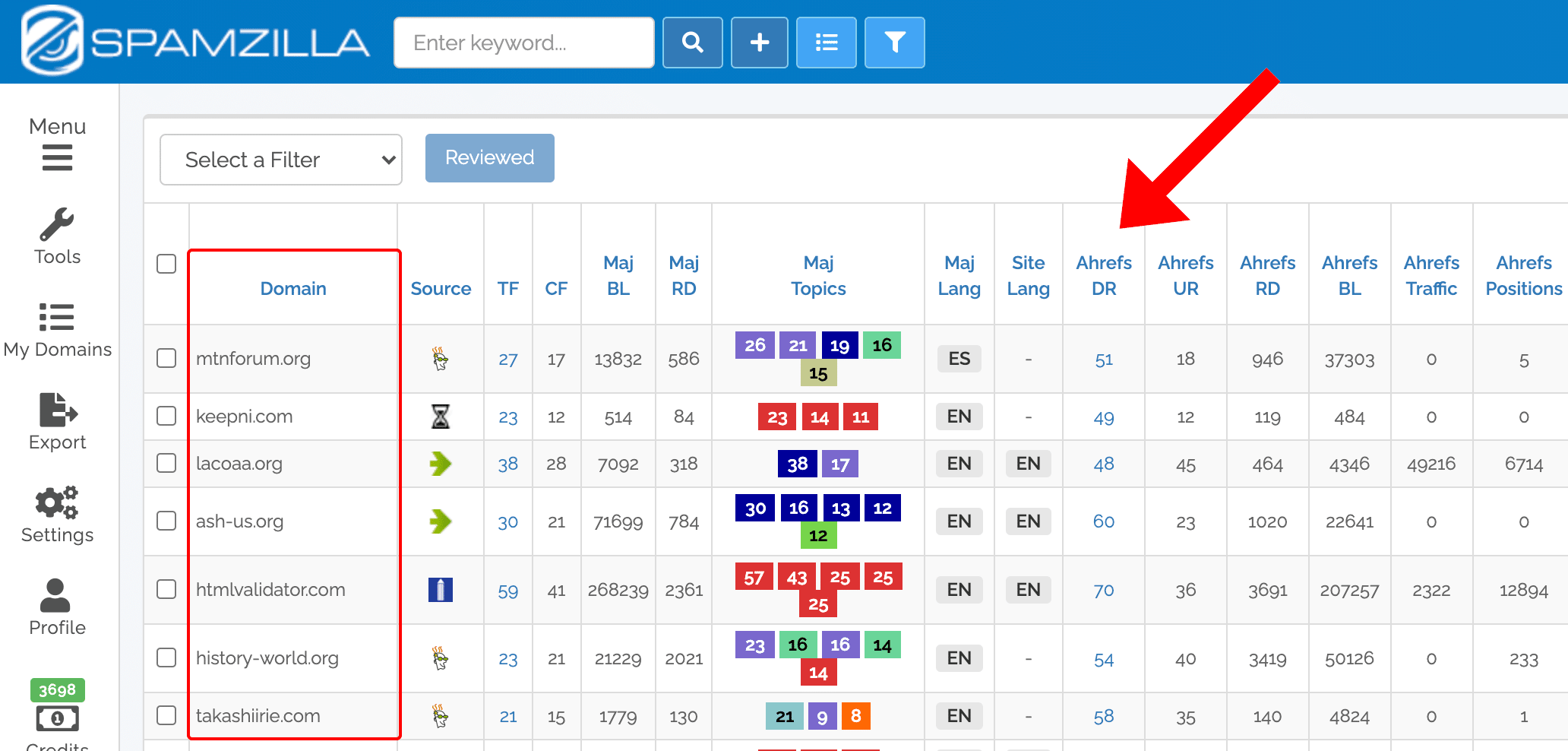 I use this site to buy expired domains that owners either don't want to work on anymore or simply forgot to pay the registration so the registrar put it up in auction.
This method takes a little bit of time, and you need to do your due diligence to make sure the domain has a clean history, has never been penalized, and is not a trademarked name that you will have to give up later. However, you might be able to pick up a domain that is worth thousands.
According to the site:
"Flippa is the #1 global marketplace for digital real estate. It's where online business owners meet to trade assets, from blogs to SaaS assets, apps and eCommerce stores, and much more."
I love using this site because it allows the owner of the site and the purchaser to be in control of the sale. As an owner, you can ask for the rate you want, negotiate and disclose as much or as little information on the site as you desire. You can use Flippa's recently sold view can help you understand what sites are selling for.
There are many reasons people want to sell their sites, some people just don't have the time to continue working on it, the lost passion, or simply don't know which direction to take it.
I usually buy old sites, fix them up by adding a little content, add some social media accounts, and resell it for more. It's an easy way to make a few hundred or thousand dollars and have some fun along the way.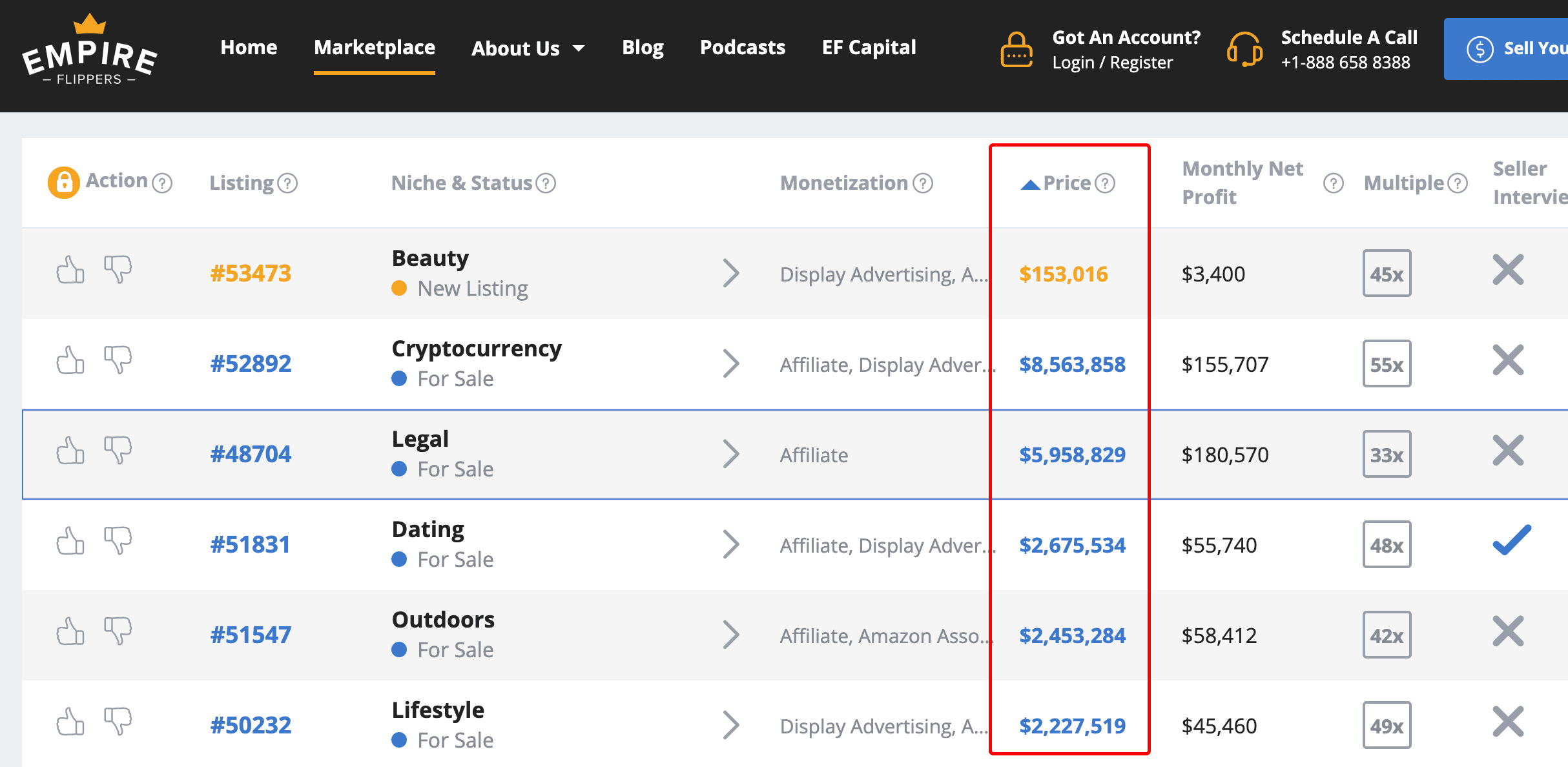 EmpireFlippers is one of the best sites on the market when it comes to buying and selling sites. Most of the sites listed here are ROI positive, and you are pretty much buying a full-on business. This means that you will have to spend some cold hard cash in order to acquire one of these sites.
What sets this site apart is that it offers profit-loss statements. Not only do you get the niche and the price of the sites you can see how they are monetized and how much revenue they generate each month.
Based on this data you can make a more informed decision if it's a site worth purchasing.
Step 2 – Evaluate it
History
This history of the site is a huge factor in the value of a domain. Did you know that if a domain has been penalized by Google in the past for black hat marketing tactics it will continue to be even after the domain name switches hands?
So what can you do to check if it's a good domain?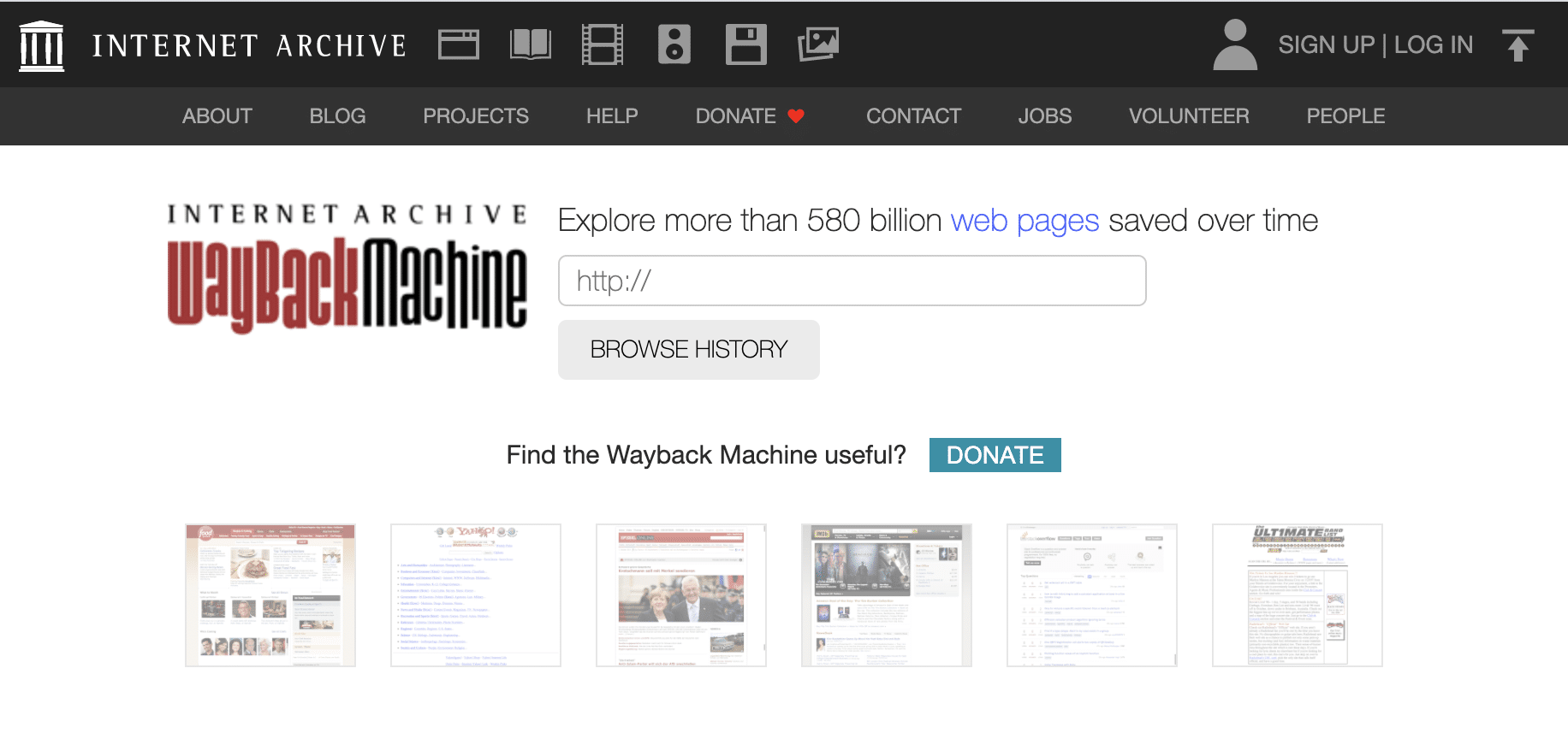 This tool allows you to enter any domain into their Wayback Machine and it produces every site version that the domain has held over its life. You can use this information to glean how the site was structured, what content they were producing, and a general idea of how the domain was used.
If you're purchasing a site that is random letters or is somewhat broad you might have no idea how that site was used in the past. The Wayback Machine can help you see what direction you want to take the site's content moving forward and what industry to market it for when you are ready to sell.
Backlinks
The number of backlinks a site has is a great indicator that it's a site with value.
People buy new domains because the new domain either aligns better with their brand or they are looking to launch a new site that they want to rank well. Backlinks are a huge part of a successful SEO strategy.
A strong link-building strategy can make or break a site and can give a web builder a strong foundation to start with. Many are willing to pay top dollar to acquire a site that is already ranking.
Check Spam Email History
Imagine you buy a site that has amazing traffic, the site is ranking, the site is making money and you've purchased the email list to go with it.
Sounds good right? Well, that email list might not be worth anything if it's been flagged in a spam database. The whole site could get a bad reputation if it comes across as spam.
Mailgun is a site that you can use to check the spam levels on a certain email list. This site will flag you if the list is in jeopardy of being blacklisted.
Step 3 – Improve It
Don't get me wrong,. you can make money by simply buying and selling domains. But you can add a lot of value when you build or improve the site before you resell it. Strong domains can be purchased but if you want to improve the margins on the sale of your site you might want to invest in some renovations.
Just like flipping a house, giving a website, some TLC can help you add real value. To do this you're going to want to do all of the steps that make a site successful, to begin with.
Link Building:
To move the needle on the domain's DA score, you will need to improve the site's inbound links (backlinks).
To improve the backlink profile of the domain you can use various techniques that I still use to this day. I like to use a strategy called HARO, where you reach out to reporters through HARO or Help A Reporter Out to offer a quote for an article. The aim of the game is to direct as much traffic to your page as you can.
Here is a full guide on how you can use HARO to build links.
To improve the site's internal linking take a look at the content that is currently on the site. Conduct some keyword research and publish content that not only will rank through SEO but is also related to other content on the site.
Produce content that is in line with the site's niche but make sure that the content is helping the site gain topical authority. If you want to make money flipping expired domains you will need to boost the DA score and improving SEO is the only way to do it.
It's much better to sell a site that has targeted relevant traffic than a site with no traffic at all.
Step 5 – Sell It
You can pretty much sell a domain exactly where you bought it. Depending on what site you use you will have to provide different things like monetization channels or income statements.
You can use an escrow service which is a third party that holds the domain and the money to ensure the sale goes through without a hitch. Some sites like EmpireFlippers.com will act as the escrow service during the sale as well as market your domain.
Once you've locked down a buyer you can begin to transfer the domain. The process looks like this:
1. You will pass along an authorization code to your buyer.
2. The buy will then transfer the funds into the escrow company.
3. If both parties agree things look good the escrow company will release 4. funds to you.
Is There Risk Involved with Domain Flipping?
Yes, with any investment comes risk, domain flipping is no exception.
Think about how many domain names are out there. Flipping a domain can take years before you actually find a buyer. A way to mitigate risk is to not put all your eggs in one basket. Purchase a few domains so that if one hits it will cover the cost of the others.
I generally say a domain flip is 50/50 at best if it works. Sometimes you get lucky and the perfect buyer comes along. The steps above on improving a domain up your chances that someone wants your domain significantly.
You can always begin domain flipping as a side hustle and go full time once you've gained traction.