The reality is, most adults have at least one credit card to their name. In fact, according to CreditCards.com, there were over 374 million open credit card accounts in the U.S for 2019.
Keep in mind, there are 328 million people in the United States, so that means there are more open credit card accounts than there are people.
Needless to say, this is a thriving market.
And as an affiliate marketer, you can take advantage of these numbers. There are several credit card affiliate programs that you can join to bring in a passive income.
Now, you know how much I value a good niche, so it's imperative that you're in the financial niche for these affiliate programs to work for you.
All that being said, let's go over some important points before talking about these affiliate programs.
What makes a good credit card affiliate program? 
When it comes to choosing a credit card affiliate program that's right for you, there are a few important things to consider. 
The affiliate credit card programs that you choose to have everything to do with your potential success as an affiliate marketer. 
So, here are a few things to think about as you start choosing credit card affiliate programs:
High paying commissions: 

The first step that any affiliate marketer should make is to form a payout strategy. It's important to choose credit card companies that offer a decent commission to its affiliates if you really want to make a passive income. Most credit card affiliate companies offer a flat rate per sign-up, but a few will give you a high percentage of the sale. 

The offers benefit your target audience:

 If you've done your homework, nobody should know your audience better than you. You should have a pretty solid idea of the type of offers your audience demographics are going to be drawn too. When it comes to credit card affiliate programs, each offer comes with specific benefits, so choose wisely.

It solves a problem for the customer:

 At the end of the day, people use credit cards for very specific reasons. One of the most common reasons is to help raise a credit score. Make sure to choose a credit card affiliate program that addresses common issues and concerns that go along with using a credit card. 

It gives your audience rewards and special perks: 

Lastly, the more perks you can offer to your audience the better. The best credit card affiliate programs have robust rewards features that you can use to better entice your readers. 
Affiliate Support to Increase Conversions (Tips)
 Understand your target audience: I know I've mentioned this before, but it's an incredibly important tip to remember. The only real way to boost your conversions is to understand who it is you're selling to.
That means doing the proper research to find out which demographics are interacting the most with your content.
If you can do this, it's a million times easier to choose the appropriate offers, gain leads, and make conversions. Which leads me to the next tip. 
Stick to relevant credit card offers: If you want to make conversions, you have to promote products that speak to your audience.
For example, let's say your audience is primarily made up of millennials in urban areas. With some research, you might find that this demographic is highly interested in travel.
You can use that information to choose credit card affiliate programs that award travel points.
Now, that's just one example but you can do this with any demographic to increase your conversions. 
3. Create a user-friendly website: This is something that often goes overlooked when we talk about conversions.
The truth is, having a pleasant user experience on your website can make or break your success.
If you have a ton of ads, pop-ups, or slow loading times, you might lose more potential leads than you gain. 
Best Credit Card Affiliate Programs:
American Express Canada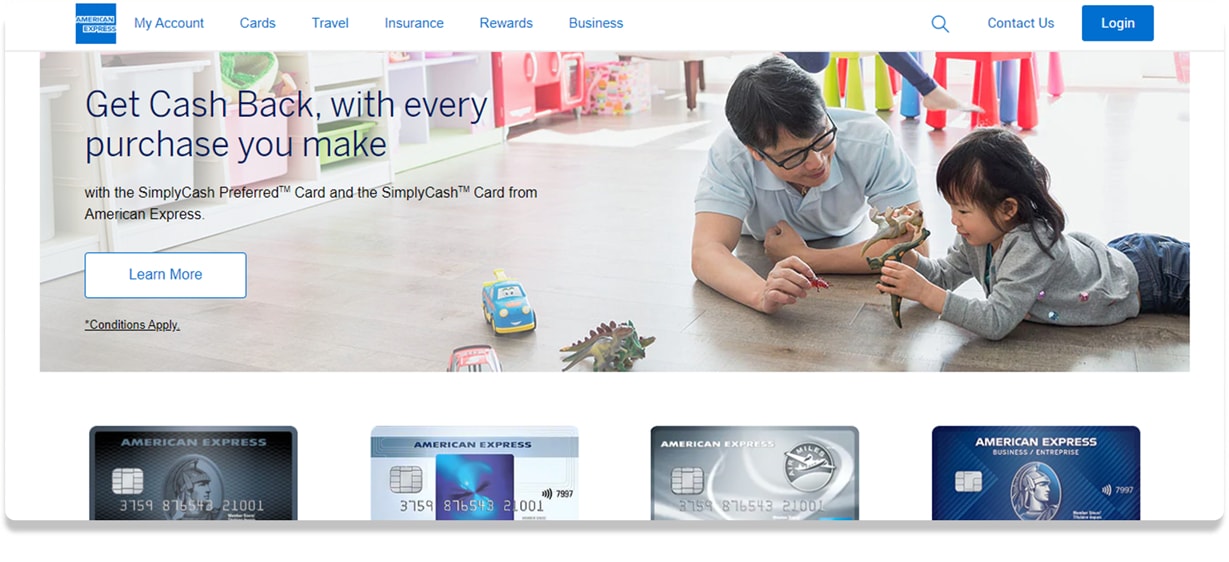 The American Express affiliate program partners with businesses who are interested in referring American Express to other companies. 
In other words, this program is really best for those of you who already own a business and have established relationships with other companies. 
When you refer a company to American Express, they'll receive top-quality finance and expense management. 
American Express offers an extremely high payout to its affiliate partners. 
This affiliate program uses a tiered commission system, so you can increase your payout when you make a sale to a customer with a high annual charge volume. 
The lowest tier pays affiliates $300 per sale and it ranges all the way up to $15,000 per sale. 
Keep in mind, in order to make it to the upper tier, your referral has to have some serious spending power. 
Still, $300 as a starting commission is not bad. 
Commission: Starting at $300 per sale
Cookies: N/A
Visit the program: American Express Affiliates
Indigo Platinum Credit Card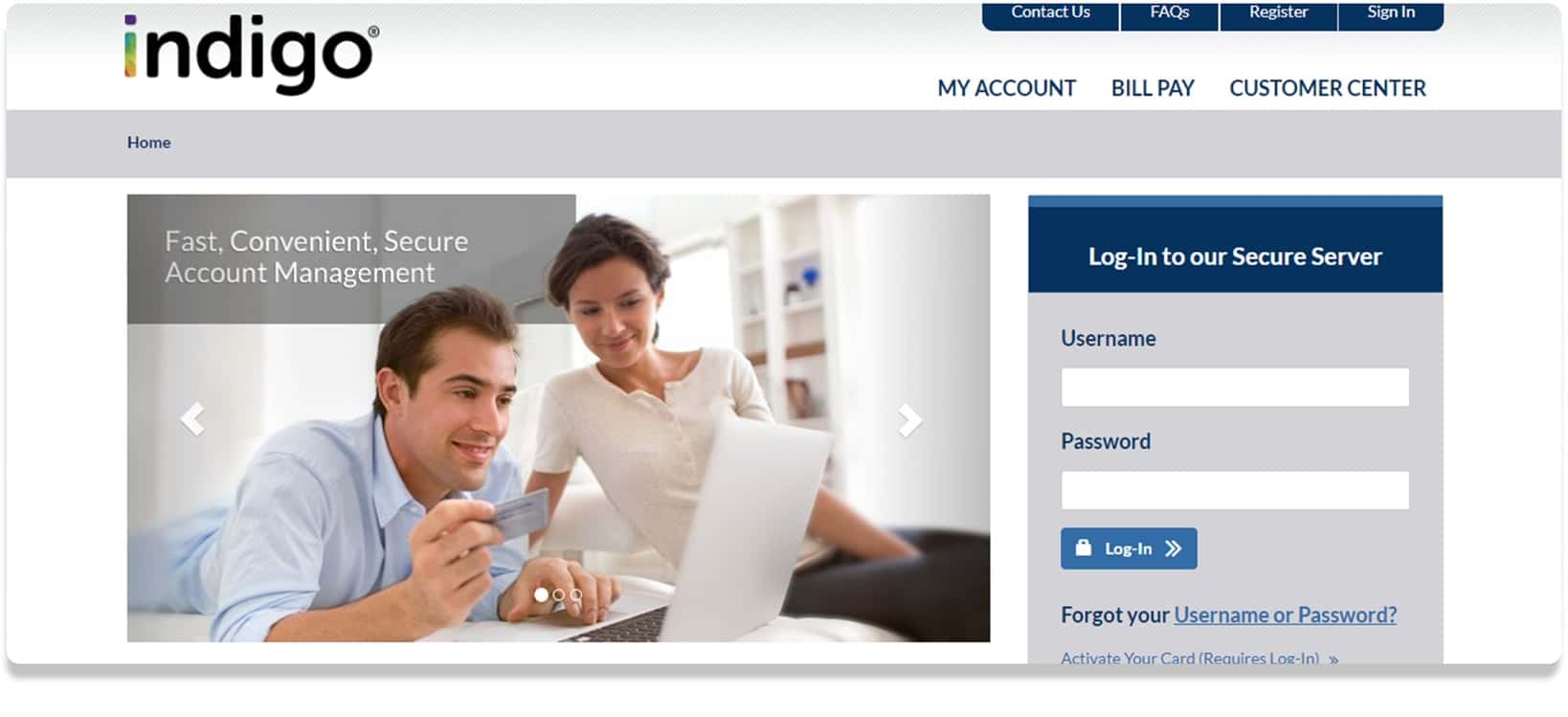 The Indigo Platinum Credit Card is an option from MasterCard. This credit card may be one of the most accessible options on this list. That's because you don't need to put down a deposit to qualify.
So, if your audience is struggling to build credit, and isn't able to put down a deposit, this is one of the best credit card offers for them.
The other major benefit of choosing this as one of your credit card affiliate programs is MasterCard's fraud protection. 
In general, MasterCard offers great protection against fraud, and customers are not held responsible for any fraudulent charges.
This particular credit card is going to be great for a younger crowd who has yet to build credit and doesn't have the money for a deposit.
If that sounds like your target audience, I would encourage you to check out this credit cards affiliate program.
Affiliates with the Indigo Platinum Credit Card program earn up to $30 per sign up.
Commission: $30 per sign up
Cookies: 30-days
Visit the program: Indigo Platinum Credit Card affiliate
Bankrate Credit Card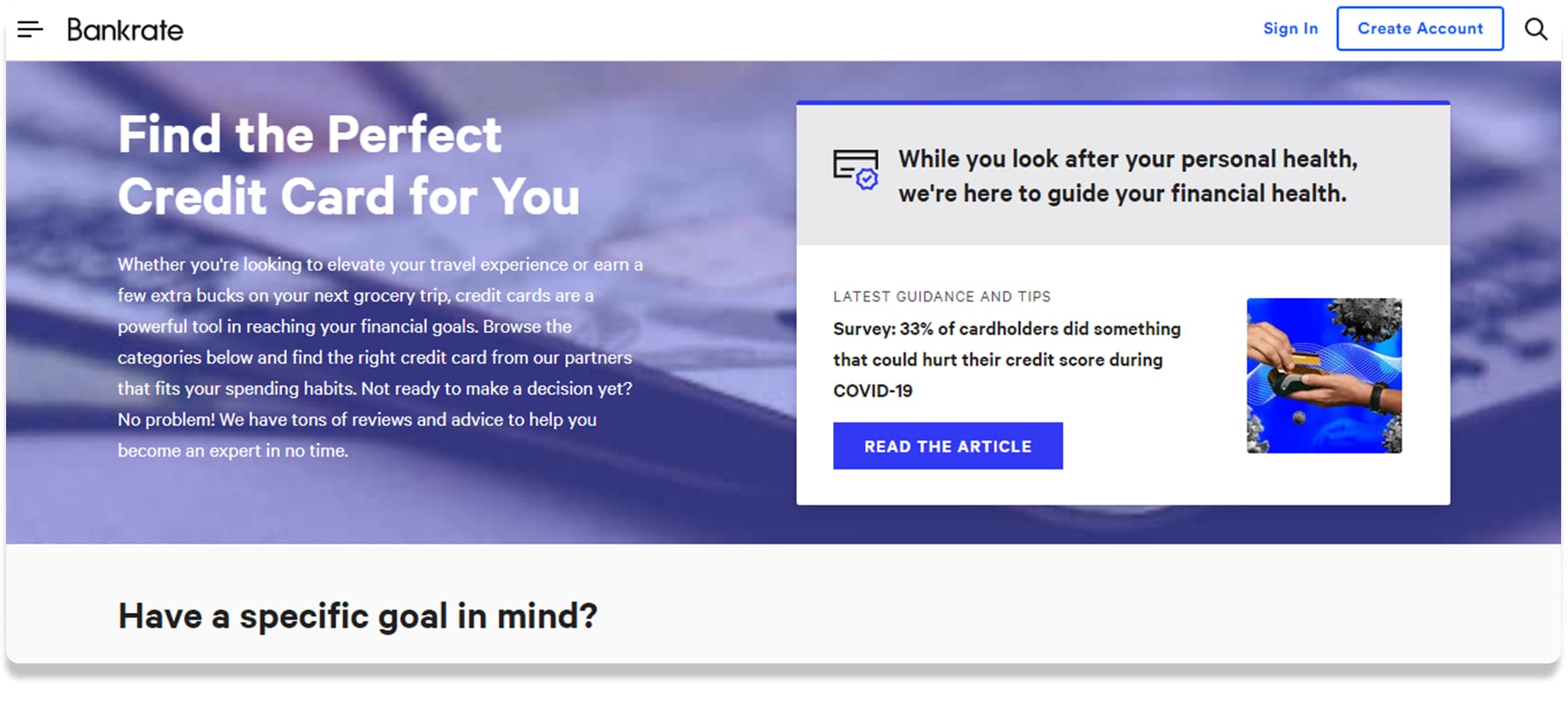 Bankrate is an all-encompassing website that helps users find the appropriate loan or credit card for their needs.
If a customer is looking for specific credit card offers, this site can help match them with several great options.
Each Bankrate credit card is categorized according to offer so you can find credit cards with 0% interest, no annual fees, travel rewards, and student benefits depending on what you're looking for.
Bankrate has a robust affiliate program for credit card related websites. If you're looking for an affiliate program that allows you to promote multiple credit cards and credit card offers, this is a smart choice.
As a credit card affiliate for Bankrate, you'll have access to a helpful selection of promotional materials and technology solutions to help you promote the credit card offers.
Now, one thing to keep in mind here is that the commission rate is going to vary quite a bit for every Bankrate credit card. 
Unlike working directly with a credit card company, Bankrate is more like a collection of affiliate programs for credit cards.
You can expect commission rates to be anywhere from $30-$200 per sign up.
Commission: $20-$300 per sign up
Cookies: Varies depending on the credit card.
Visit the program: Bankrate Credit Cards affiliate program
Experian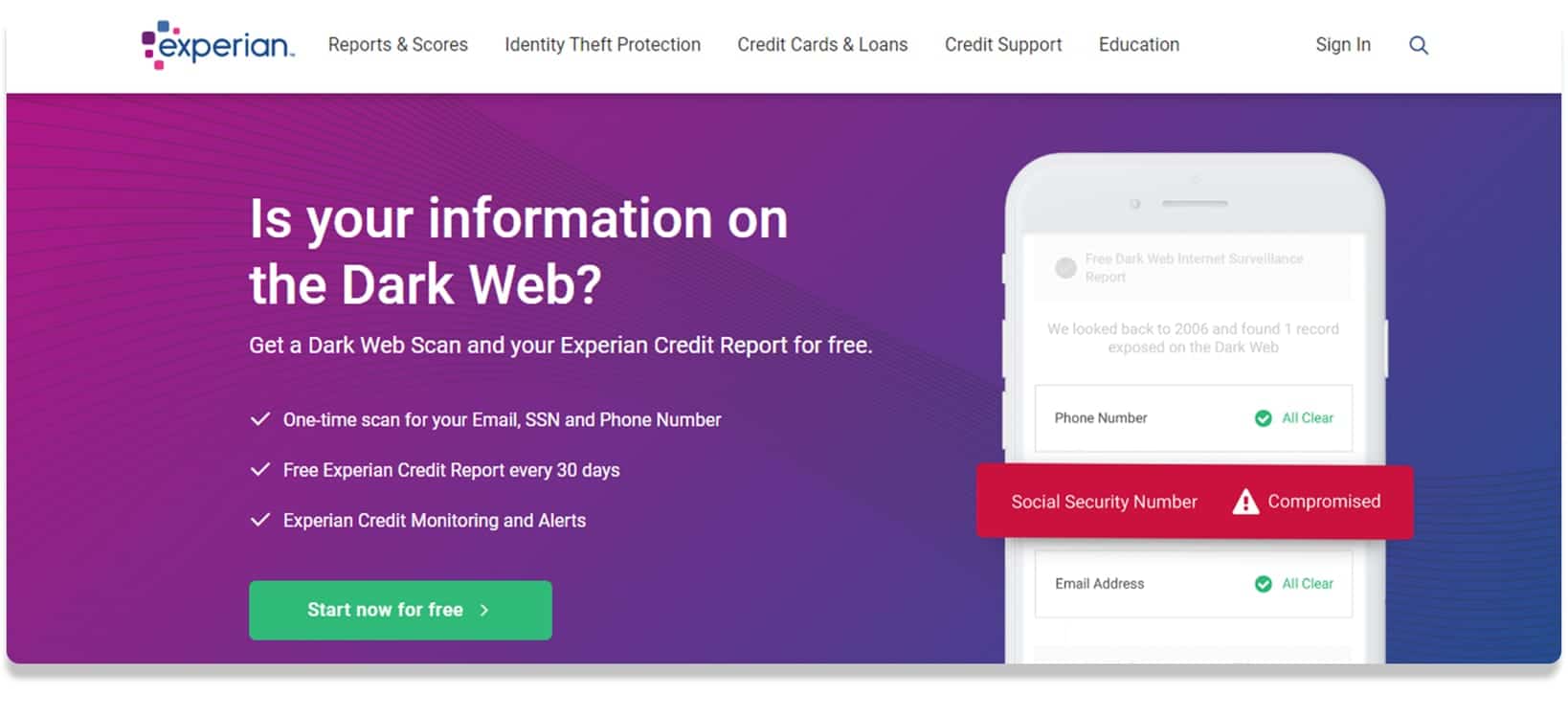 I'm sure you've heard of Experian before. This highly-regarded company has been providing financial guidance for well over two decades.
Experian is actually based in Dublin, Ireland, and operates in 37 countries including the United States. 
As a credit card affiliate marketer, this opens up your target market to a worldwide audience.
Now, unlike some of the other options on this list, Experian doesn't offer a traditional credit card affiliate program.
This company provides free credit scores and helps its customers find loans and credit cards that meet their needs. On top of that, Experian also offers robust identity theft and fraud support.
In this sense, Experian has a bit more to offer than a standard credit card company.
In terms of affiliate marketing, this is one of the best options out there.
As I mentioned, you have the ability to market to a global audience. But you can also promote a wide variety of services and credit cards to that audience.
Experian will look at the FICO score and offer its customers a selection of cards that are best matched for their goals. This service makes it pretty easy to promote to a varied audience.
I recommend this credit card affiliate program to just about anyone who is seeking a dynamic option to add to their affiliate portfolio. 
Affiliate marketers for this program get up to 20% of all sales.
Commission: 20% of each sale
Cookies: N/A
Visit the program: Experian Affiliate Program
USAA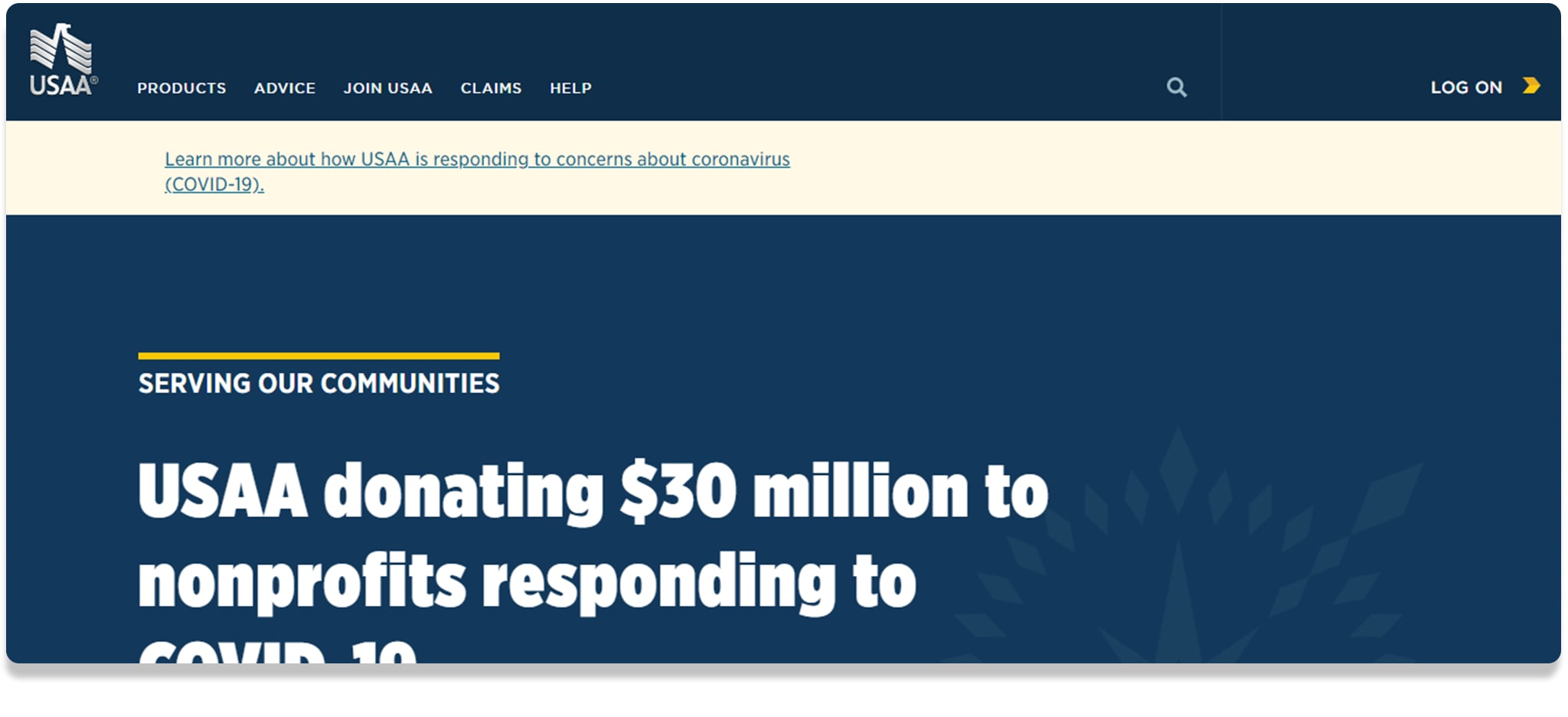 USAA provides a niche option for those of you with a very specific audience. USAA is a financial service that was created specifically for military members and their loved ones.
They've been in the business for nearly 100 years, giving them an unmatched level of credibility in the field.
Now, obviously, this option really only works for those of you with the appropriate target audience. Ideally, your readers are veterans or active military members.
USAA provides this population with financial guidance that is unique to their lifestyles and experiences.
USAA offers a pretty wide range of services including auto and home insurance, checking accounts, and credit cards.
Credit cards from USAA come from VISA and American Express. Benefits include no annual fees, points on military base purchases, travel rewards, and gift cards.
As a credit card affiliate, you can earn $20 per credit card sign up. If you happen to be in the military niche, this is one of the best credit card affiliate programs for you.
Commission: $20 per sign up
Cookies: 30-days
Visit the program: USAA Affiliates
Credit Karma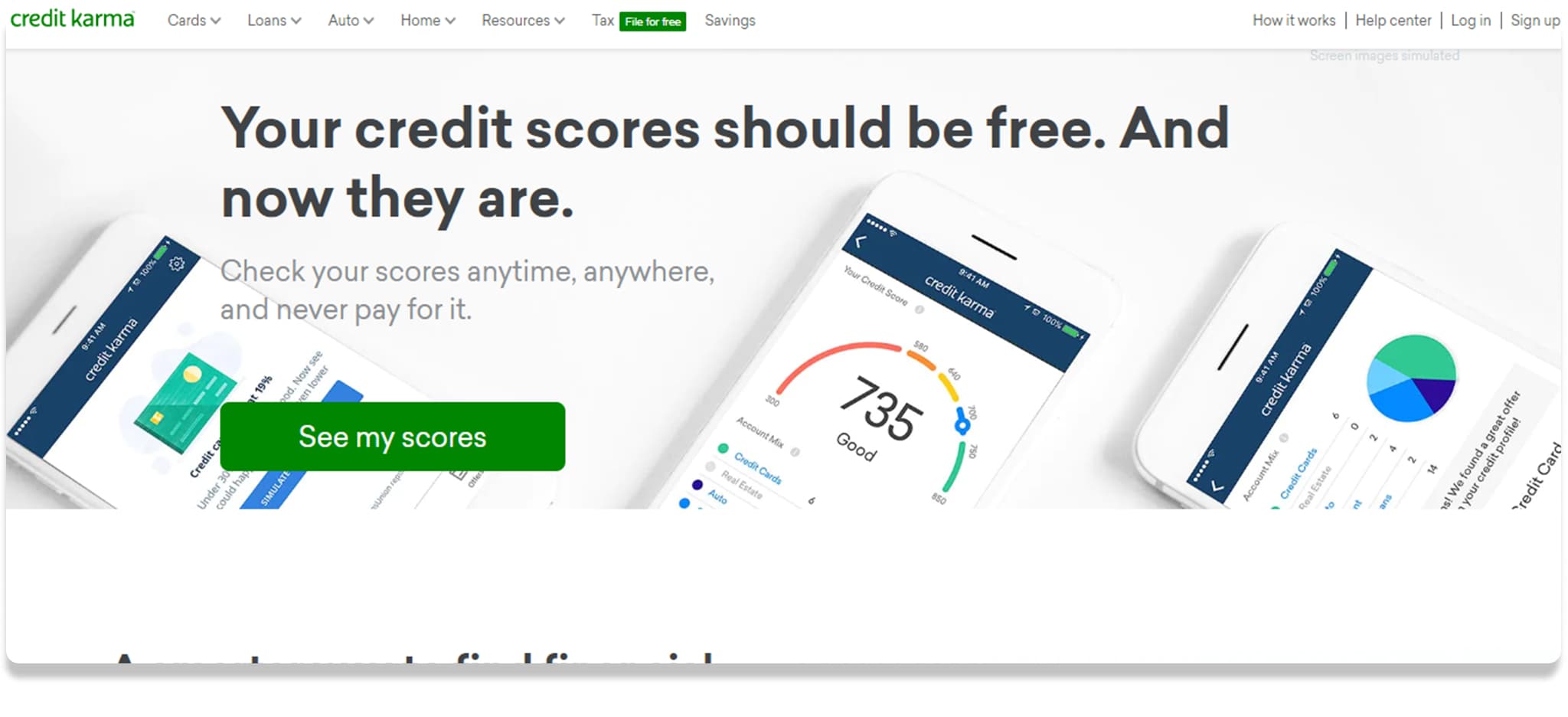 Credit Karma is not a bank or a credit card company. Rather, this company gives people the resources to find a good credit card match, various loans, as well as a free credit score. 
Credit Karma has partnered with several well-known credit card companies and will guide you in finding the right card. 
Now, as for the affiliate program, there are a lot of benefits here. 
Because Credit Karma offers so much, you can easily promote this company to your target audience. 
Not only does Credit Karma offer free credit scores and credit cards, but they also offer extensive financial guidance to its customers.
As part of the affiliate program, anyone who uses your affiliate link and signs up for the free services within 30-days will count towards your commission. 
Affiliates are paid $2 for every signup. Now, I know this sounds like a really low number, but remember, you're promoting a free service. 
The fact that its free means it's very easy to make a conversion. If you build up to 25 sign ups a week, that's an extra $100 in your pocket each month. 
Sure, it's not a huge number, but it's a nice easy way to pad your passive income. 
Commission rate: $2 per sign up
Cookies: 30-days
Visit the program: Credit Karma Affiliates
OpenSky Bank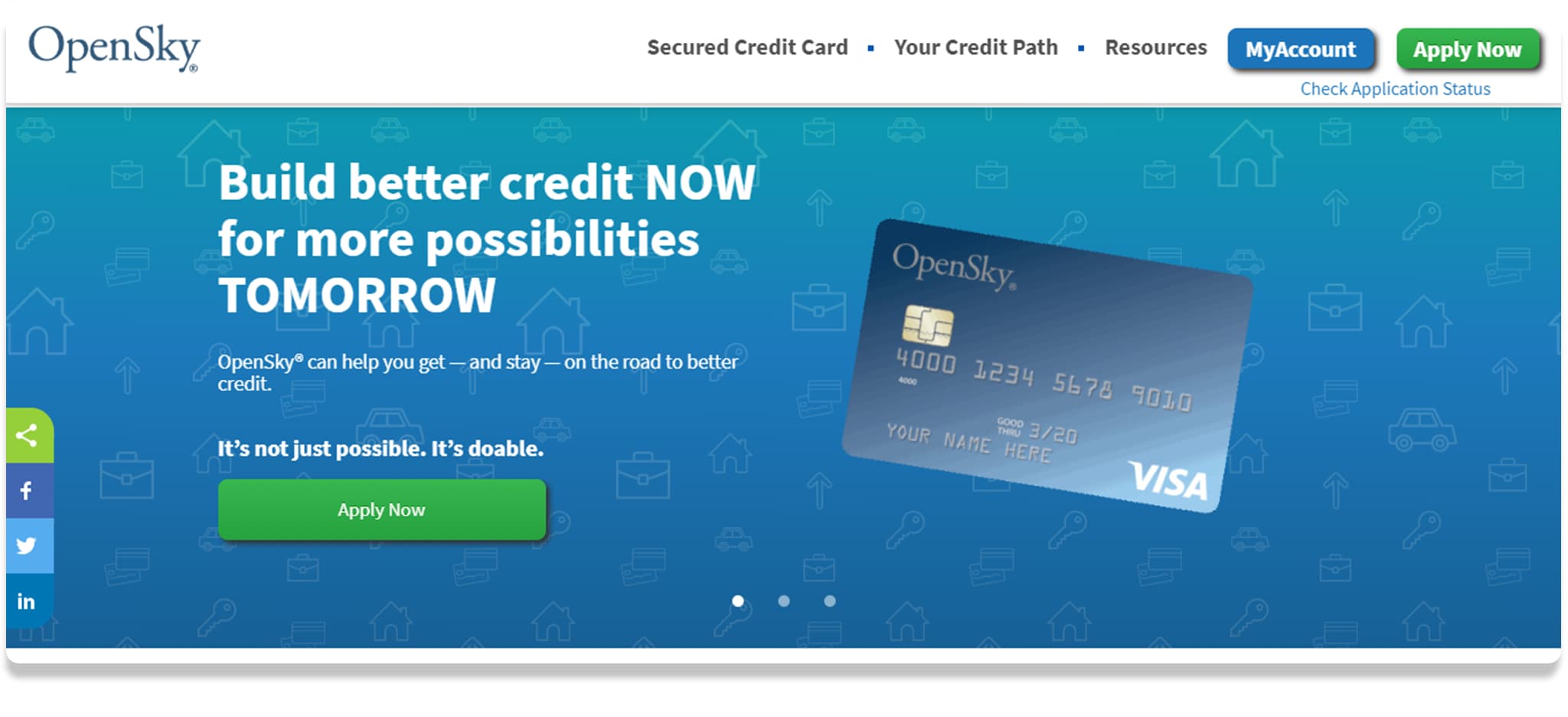 OpenSky is a credit card offered by Capital Bank. I included this option on the list because I think it's a great card for most audiences. 
The reason for that is because this card doesn't require the user to have an existing credit history. 
Instead of basing your credit limit on your credit history, OpenSky allows customers to pick a credit limit that they are comfortable with. 
Then, the customer makes a refundable deposit into the account. This amount of this deposit will be the credit card limit. 
This system opens up credit cards for people who are just starting to build their credit history or trying to repair their credit history. 
Affiliates can earn $25 for every sign-up and cookies last for 30-days. 
If your audience consists of first-time credit card users, college students, or people interested in improving their credit with small purchases, this is a good option for you. 
Commission: $25 per sign-up
Cookies: 30-days
Visit the program: OpenSky Affiliates
First Progress Platinum MasterCard
When it comes to finding an affiliate program, credit card companies often have special card offers that can attract your audience. First Progress Platinum MasterCard is one of those programs. 
This particular credit card has several benefits such as the ability to apply quickly and easily online. The biggest draw to this credit card is that it doesn't require a previous credit history to be approved.
Lack of credit history is often one of the biggest obstacles that people face when they're trying to grow their credit score, so this may have a huge appeal to your target audience.
With the First Progress Platinum credit card, customers simply put down a deposit between $200-$2000 to set their credit limit.
The credit card comes with a full set of features and is a great way to build a high credit score.
In terms of the affiliate program, there is an opportunity to make a decent paycheck here. 
Affiliates get up to $40 for each person who signs up using your affiliate link.
Commission: $40 per sign up
Cookies: 30-days
Visit the program: First Progress Affiliates
Final Thoughts
As with anything having to do with finance, the credit card niche is competitive.
That doesn't mean you shouldn't pursue it.
There is real potential to make money if you do it right. If you really want to be successful as an affiliate marketer, you need to understand the in's and out's of the job.
If you're still struggling to craft a solid affiliate marketing plan, check out my simple guide to affiliate marketing to kickstart your journey.  
Frequently Asked Questions (FAQ)
1.  How much do credit card affiliates make?
Credit card affiliates can make anywhere between $20-$300 per sale or sign-up. The average credit card affiliate marketer earns $25-35 per sign-up.
2. How do I become a credit card affiliate?
To become a credit card affiliate, you need to apply to relevant programs that suit your audience demographic.
3.  What are the highest paying affiliate programs?
American Express and Experian both offer high payouts to their affiliate marketers. For the best results, choose companies that offer a large payout per sign-up or a large percentage of each sale.
4. Does Capital One have an affiliate program?
Capital One does not currently have an affiliate program, but you can promote its services through programs like Bankrate Credit Cards.