I get it, make some extra money online so you are here to start your very own online business.
Or maybe you want to learn about affiliate marketing and how to get started.
Either way, there is one model that seems to be exploding in popularity is dropshipping. With this business, you sell physical products to your customers via an online store, and your manufacturer sends those to your customers.
This means no buying inventory, no filling up your spare room with boxes, no drives to the post office to mail packages.
Dropshipping offers you an incredible vehicle to tap into the growing eCommerce market.
Below you'll learn everything you need to know about how to start a dropshipping business. Even if you've never heard of dropshipping before, you'll be able to start your very own online business by the end of this post.
Let's get started!
What is Dropshipping Business?
Before we dive deep into how to start a dropshipping business you'll want to make sure it's the right business model for you.
Just because it's a lucrative market doesn't mean you'll enjoy the process, or have it be the kind of business you want to run over the long run.
Put simply, dropshipping is an eCommerce business where you're running an online store, but you never hold any inventory yourself.
Once the sale is made in your store using WordPress or a website builder, your supplier receives the order and will ship to the customer, directly from the warehouse.
There's no need to deal with ordering, storing, packaging, and shipping.
The big part of your work will be sourcing and find the right high-quality wholesale goods from a manufacturer, who will then be responsible for the entire order fulfillment process.
How Does Dropshipping Work?
Now that you have a high-level understanding, let's dive a little deeper into how a dropshipping business works.
In a dropshipping business, you have three main components: the retailer, the manufacturer, and the customer.
1. The Retailer (AKA You)
The retailer will sell products that you've sourced from the manufacturer and have labeled under your brand. In some cases, you work with the manufacturer to make slight modifications to the product before you sell them.
But, this will require a greater time and financial investment, and usually isn't recommended until you master the process first.
Your main responsibilities will be as follows:
You find great products from a manufacturer
You market those products and build an audience around them
You set shipping costs and prices, so you can make a profit on each item
You process customer service requests and any issues your customers have with the product
2. The Manufacturer
As you'll see, the manufacturer has a lot of responsibility in the dropshipping process. This is why it's so important to select the right manufacturer (we go deep into this process below).
The manufacturer will be creating products, holding the inventory, shipping to customers on your behalf, dealing with any products that might be defective, and keeping your products in stock.
These products are then sold to you (the retailer) at a wholesale price, which you mark up and sell to your customers.
3. The Customer
This brings us to the holy grail of the dropshipping process–the customer. Without customers, this business model (and every business model) will fall flat.
This leads to you shouldering some of the risks in terms of choosing products you hope your customers actually need and will open their wallets for. You'll learn about how you can minimize risk in the process below.
The customer will get products directly from the retailer via your website. They'll also get in touch with the retailer to deal with any support or shipping issues. The customer only sees the retailer in the ship dropping process, to them the supplier doesn't exist.
Is it a Good Idea to Start a Dropshipping Business in 2021?
When you start a new business there's always some kind of risk involved. That could be risking your time, your money, or even failure.
Dropshipping is an attractive model because it's inherently low-risk. In terms of financial investment, you're only paying for products that you sell to your customers.
Here's an example of a dropshipping store that sells various types of products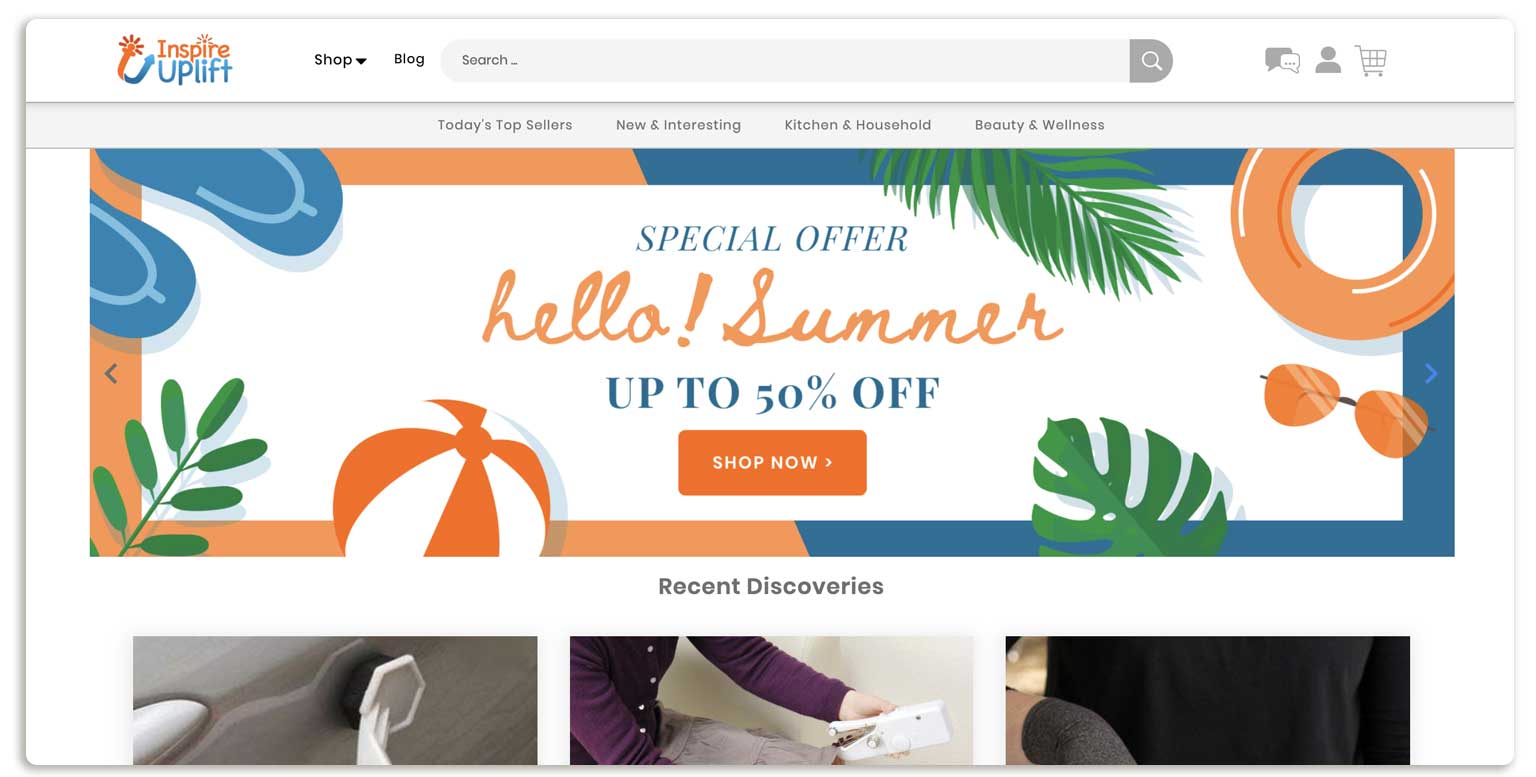 (Screenshot of inspireuplift.com their homepage)
You don't have to deal with product development, ordering inventory, shipping, or even the overhead of employees. All of this is taken care of by the manufacturer who you partner with (more on this below).
Dropshipping won't be a huge strain on your time either. Just a few hours a day, or even a day on the weekend will be all you need to get your online business off the ground.
Since most of the process is automated, it doesn't require a ton of tech skills either.
If you've been rearing to start your own business, but don't know where to start, this could be the opportunity you've been looking for.
Dropshipping Pros and Cons
Dropshipping sounds pretty great, right? But, it's not for everyone.
Here are the biggest pros and cons of dropshipping that you'll want to be aware of before you start.
The Pros of Dropshipping
Is dropshipping right for you? Why would you choose to dropship over other online business models?
There's a reason that dropshipping has become so popular. For starters, it makes eCommerce accessible. You don't need to deal with shipping or storing inventory and you can make a nice living.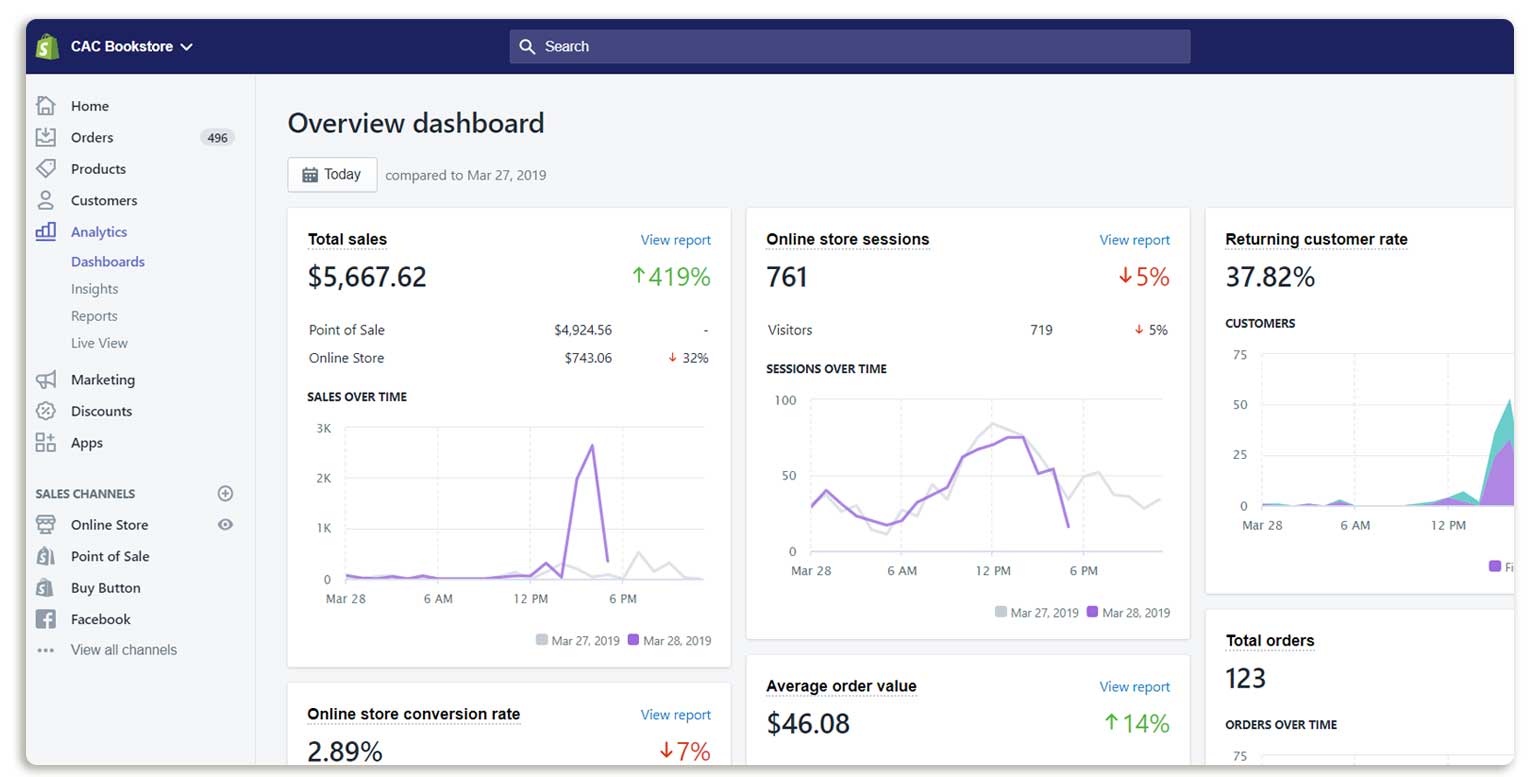 (Example of Shopify earnings dashboard)
You don't need to go through the lengthy process of developing a product from scratch. Plus, it's really easy to add products to your store, with the wealth of software available it only takes a few clicks to start selling a new product.
A lot of the risk in starting a business is minimized because you don't need to pay for inventory or storage. It also allows for more flexibility, since you can start and stop selling products based upon their popularity.
You also have the ability to create a long-term tangible brand. With dropshipping you can make your product labels and ship with these labels, so your customers will believe these products are coming directly from your store.
The Cons of Dropshipping
Dropshipping sounds pretty great, doesn't it? However, it's not without its drawbacks.
Since dropshipping is a beginner-friendly business model, you can expect more competition. By now you're aware of the advantages of this model, and you're not the only one.
The sheer amount of people starting a dropshipping business means the industry as a whole is pretty competitive.
Usually, in competitive markets, this tends to drive prices down. Since you're selling similar products, often the main differentiation will be price. So, this might cut into your profit margins, as you'll have to lower your prices to compete with other stores.
Second, since you'll be selling more general items it can be more difficult to build a long-term brand. Think of companies like Apple. Everyone knows what to expect when they buy an Apple product. So, what can your brand do to stand out?
When you start dropshipping you'll probably be selling a variety of products to find one that works.
By having a varying catalog, it can be difficult to make a long-term brand that sticks into people's minds. That isn't to say it's impossible, but you'll need to be clear on your messaging, product catalog, and what makes your company stand out from the rest.
Finally, the automation features of drop shipping can be great. But, there's also another side. Since you aren't dealing with fulfillment and product returns on your own, this could lead to decreased buyer satisfaction.
You still need to deal with customer support, but choosing a low-quality supplier or manufacturer could hurt your customer relationships. Below you'll learn what you can do to avoid this common pitfall.
That didn't scare you off, did it? Good.
How to Start a Dropshipping Business
Starting a dropshipping business the right way requires strategic research and planning. The steps below will walk you through every part of the process, from finding the right niche to sourcing, building your website, and starting to generate new customers.
Step 1: Logistics, Business Structure, & Foundation
One of the first steps to getting your dropshipping business off the ground is getting your business structure set up. Although it's not the most fun step, it's necessary if you want to do things the right way.
Here are a few things to consider when setting up your business:
Registering your business name with the SBA
Choosing a business structure that best supports your business
Acquire the necessary business permits depending on where you're located
Depending on where you reside you might also need to obtain a business license for selling dropshipped products.
Here are a few things worth exploring:
Some states require you to obtain a seller's permit
A sales tax license, so you can charge and collect sales tax in your website
A home occupation permit, if you're running a business from your home (state-dependent)
Step 2: Choose a Market and Find a Niche
Ideally, this is where you'll be spending most of your time. Choosing the right market will give you a much greater chance of success.
There's the advice floating around that you should build a store around your passion. That way when it gets rough, you'll be able to get through the tough times because you'll have the burning desire of passion to carry you through.
But, this is only a half-truth, and deeply depends on what your passions are. You can build a business around your passion, but only if it's in a profitable niche.
Here are a few approaches to finding a niche that combines passion and profit:
Shortcuts to Finding a Profitable Niche
If you're stuck in the research phase, then you can shortcut this process by finding products that are already hot sellers. There will be more competition this way, but you should be able to get yourself a slice of an already hot market.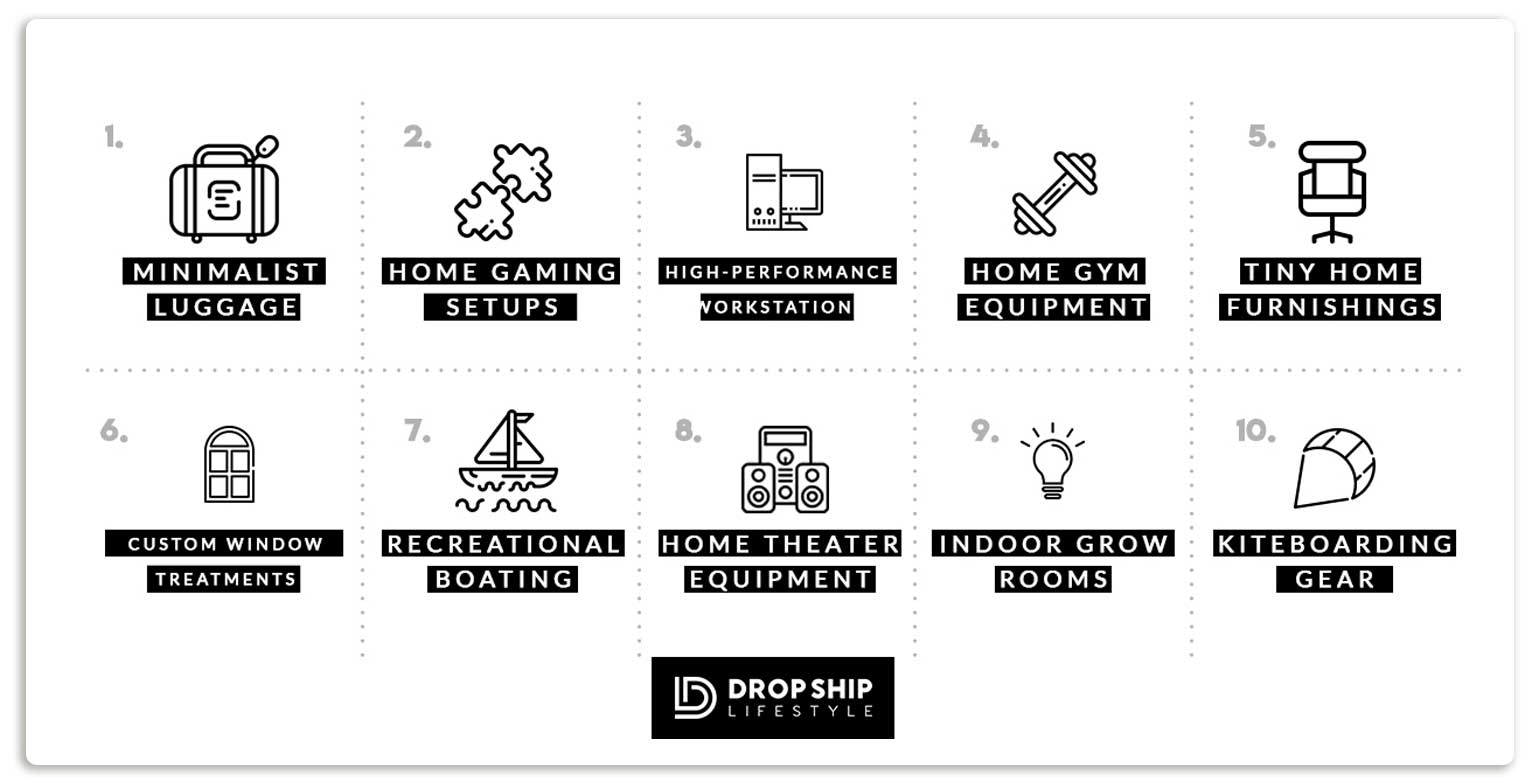 (Image by www.dropshiplifestyle.com)
Here are two ways to find hot-selling products to base your store around:
Oberlo regularly releases lists of the top-selling dropshipping products, you can sell these yourself, or use them as inspiration for your own niche business.
The Amazon best-seller charts will help give you an idea of what's currently trending. You might not be able to get these exact items, but you can dropship similar ones, or make a store in that niche.
Discovering Your Niche
If you prefer to uncover your niche that's related to your passions or find a market that hasn't been tapped yet, then use some of the strategies below:
1. Trend spot with Google Trends
Google Trends will help you figure out what markets and products are trending upwards and which ones are on the downward trend. The worst thing you can do is start a business in a niche that's on the way out. Just type in your market, or keyword, into the tool and you'll be able to see if it's on an upward trajectory.
2. Determine Niche/Product Keyword Volume
When starting a dropshipping business you'll have a set of keywords related to your niche. These will be related to the types of products you're promoting, along with keywords that are more general to your niche.
For example, keywords like "stainless steel watch", "how to wear a watch", "best watches of 2021". You can enter these keywords into a keyword tool like UberSuggest and it'll provide you with the monthly search volume, along with additional keywords that you can target.
If the monthly search volume is high and the search competition isn't too steep, then it's a niche worth exploring.
3. Sell What You Know
We touched on passion a bit above. So, if you're still stuck for ideas, then it's time to start mining your interests. You probably have a handful of hobbies that you're obsessed with and constantly buy new products for.
This can be a great way to get started in a niche because you already have a deep understanding of your customers–it's you! You know what's selling, you know what kind of things to look for, and the chances are high that if you like it, other people will too.
4. See What Influencers are Promoting
One way to see what types of products are currently trending is to see what influencers are promoting across social media. The most common influencer platform is Instagram.
Chances are you already follow a handful of influencers. Make sure to spend time watching their stories, along with looking for sponsored posts. If there's a trend in what they promote, then that's probably a good niche to get into.
Step 3: Find Dropshipping Suppliers
Once you've solidified your niche it's time to start looking for dropshipping suppliers. Typically, during the niche selection phase, you'll also have a handful of products that you want to sell. This will help to determine the right supplier for your business.
The process of finding a supplier can be easier than determining your niche. Mostly, this is because there are hundreds of suppliers who offer the type of products you're looking for, along with different variations.
But, your supplier is a partner in business. Choose the wrong supplier and you're just setting yourself up for a headache down the road.
Here are a few considerations when choosing a supplier:
Experience and track record. You don't want to work with a brand new supplier. Managing an entire supply chain is a lot of work, and you want to choose one that already has the kinks worked out. You can dive into a business's track record by checking out online review websites like Better Business Bureau and TrustPilot.
Fees per item/monthly fees. Dropshipping has relatively slim margins. As a result, you want to keep these as high as possible. So, look for a supplier that has fees you can work with and still turn a profit.
Product samples. Before you start selling you should be able to get a sample of the product you're selling. This will help you avoid the unintended consequence of selling a low-quality product.
Fast shipping. Customers expect their items to be delivered yesterday. Make sure you work with a supplier that has fast shipping speeds. The industry standard for shipping times falls within 1 to 2 weeks.
Where to Find Dropshipping Suppliers?
There are a few different options for finding dropshipping suppliers. Basically, you sign up for a service, integrate it with your Shopify store, and start selling.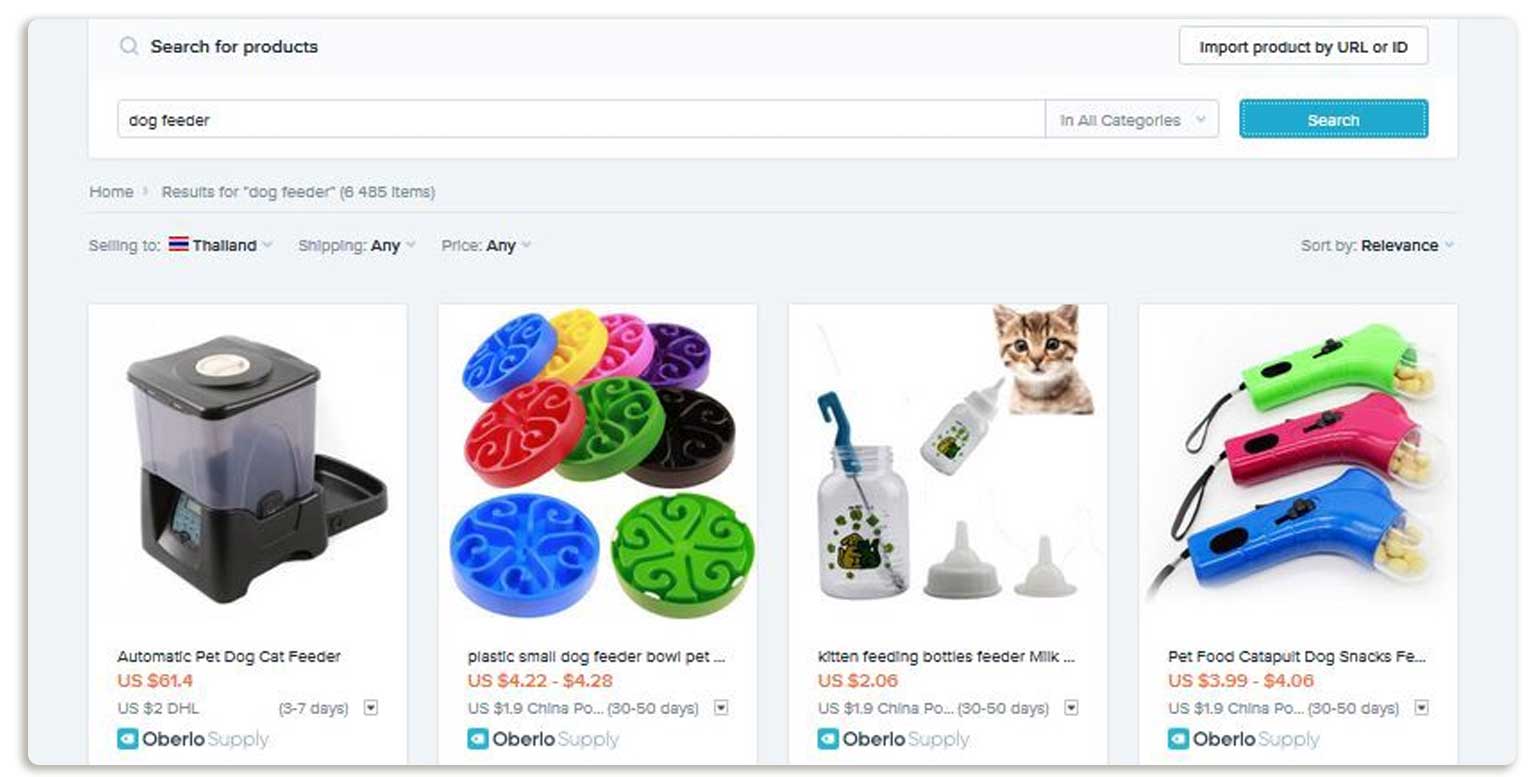 (Example of Oberlo products)
Here are a few dropshipping suppliers worth exploring:
Where to Find Manufacturers?
Another option is to work directly with a manufacturer. The process will take longer, but it can improve your profit margins and help your business stand out.
A lot of people will start by working with a dropshipper and eventually transition into working directly with manufacturers once they've figured out the model.
When you work with a manufacturer you'll need to do more work with adding products to your store and managing inventory, but they can still handle shipping and storage for you.
Here are some of the main places to find manufacturers to work with:
Step 4: Create Your eCommerce Website
By now you should have a niche or a few products in mind. You have a solid understanding of your market and have a few dropshipping suppliers or a manufacturer you want to work with.
Now, it's time to build your eCommerce website.
You can technically build a dropshipping business by selling goods directly via Amazon or eBay, but it's recommended that you build your website. This gives you a way to build an actual business, instead of relying on a third-party platform.
Using a third-party platform isn't the best way to do things, because it's hard to build an actual foundation for your business.
There are different approaches to building a website, you can use Shopify or make an online store using WooCommerce and a combination of WordPress plugins. Both options are viable, but for the sake of this tutorial, we're going to focus on using Shopify, since it's the most straightforward for beginners.
Here's how you can build your very own Shopify dropshipping business:
1. Choose Your Domain Name
Your domain name is incredibly important. Choose the right domain name and you'll work towards building a long-term brand. Choose the wrong domain name and your visitors will have a hard time remembering what your store is about.
Your domain name should also match your business name. Since dropshipping is more flexible with the kinds of products you're selling you'll want a more adaptable name. For example, "Sleepytime Goods", instead of "Melatonin Sleep Aid".
The first gives you the ability to expand and test out selling different products, while the second limits you to a single product.
If you're using Shopify to build your dropshipping business, then you can register your domain at the same time you setup your account.
2. Create a Shopify Account
Shopify is one of the best eCommerce platforms on the market today. It includes everything you need to launch, manage, and grow your eCommerce business. Plus, there are a variety of tools that are built specifically for dropshipping store owners.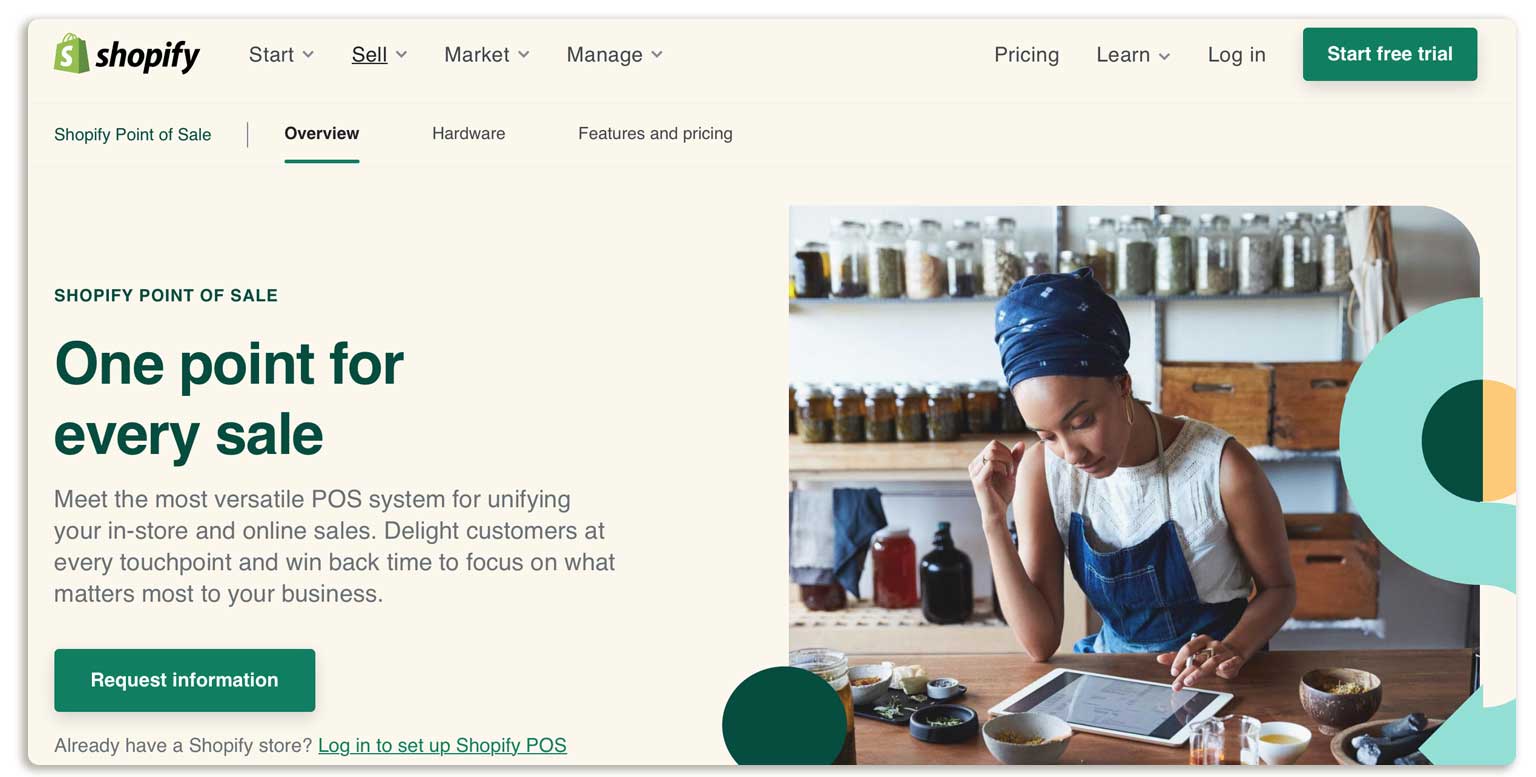 Choose the right plan for you and register the domain name that you chose in the first step. You can even take advantage of the Shopify free trial.
3. Choose Your Store Theme
Now it's time to start building out your store. Shopify handles store design with its theme collection. The theme you choose will have an impact on how your store looks and functions, so choose a theme that's the closest to how you want your store to look.
You can customize your theme, but the customization options will be limited. Especially if you choose a free theme.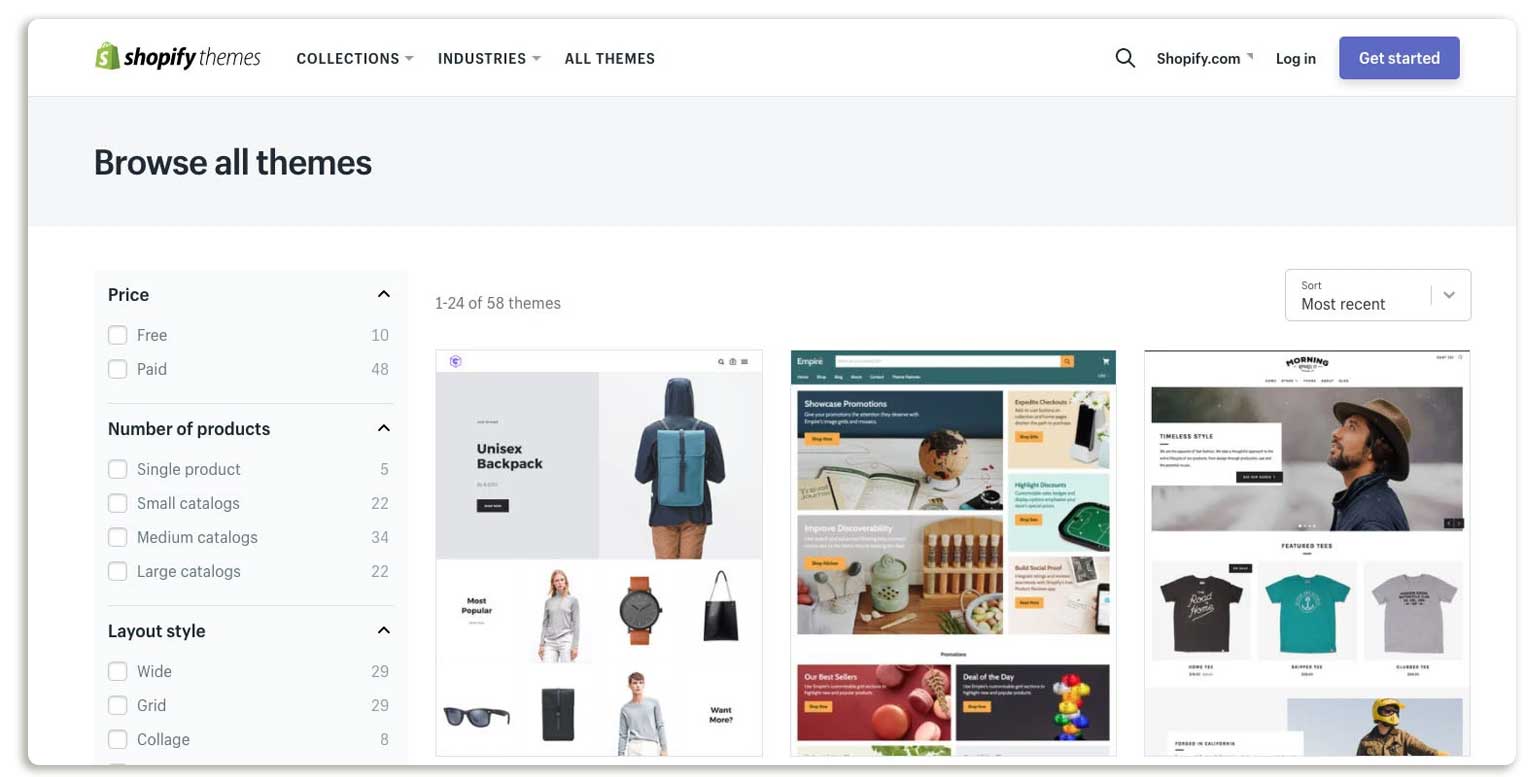 Luckily, all of the themes are built to convert your visitors into customers at the highest rate possible, so you really can't go wrong with any theme from the collection.
If you want to keep costs down, then here are some great free themes worth checking out:
4. Install Dropshipping Plugins
There are a few different plugins in the Shopify store that make adding products to your store a breeze. The two main plugins you'll want to consider are Oberlo and Spocket.
Once you install these from the Shopify app store you'll be able to get new items into your store with a couple of clicks. This is one of the useful automation aspects of starting a dropshipping business with Shopify.
Step 5: Start Marketing Your New Business
With your website built and products uploaded it's time to start marketing your store and start to get traffic flowing. There are endless marketing methods for your new business, but ultimately it depends upon your niche and what your market responds too.
Here are a few different marketing methods to try:
Facebook advertising. Facebook is one of the best advertising platforms for eCommerce business owners. It might be a little intimidating to start running ads right away, but it's a great way to scale traffic and grow your business. You probably won't make a winning ad the first time, so keep your budget small. But as you continue to learn and optimize you'll eventually end up with a winning ad.
Email marketing. You should start collecting your customer's email address from day one. Building an email list using an email marketing tool will allow you to build a relationship with your visitors and continuously sell them new products. When you have their email address, they're giving you permission to contact them again and again. Through email marketing, your list will become a valuable asset that can bring you ongoing sales.
Retargeting. Retargeting advertising is the process of targeting your advertising to people who have already visited your website. This could be from social media, a blog post going viral, an influencer promoting your product or something else entirely. These visitors are more likely to convert into paying customers as they're already aware of your store and the goods you sell.
Content marketing. Content marketing is a longer-term approach to getting search engine traffic, but it can be very lucrative and bring a lot of passive traffic to your website, once you start ranking. This involves creating high-quality content that solves your reader's problems and targets keywords related to items they might buy from you.
Influencer marketing. This style of marketing is where you pay a social media influencer to promote or mention your product in a post or story. If the influencer has a solid niche audience, then you can expect some sales. If you don't have much of a budget in the beginning, then you can offer them an affiliate commission. This is a great way to minimize risk, as you'll only pay if they send visitors that convert to sales.
If you've completed all of the action steps above, then you've made it farther than most people. But, the journey doesn't stop here, it's only the beginning.
Now it's time to double down on what's working. A big part of running a successful drop-ship business is to continuously optimize your business. Even small changes can lead to big improvements in revenue.
Here are some things worth testing:
Checkout page. You can make your checkout process smoother, offer more payment options, or offer a checkout coupon.
Product prices. You might be pricing yourself out of the sale, see if lowering prices allows you to sell at a higher volume.
Shipping prices. Consider offering free shipping, or free shipping over a certain order total.
Product copy. Run tests to see which product copy converts the highest, switch up your value proposition, or incorporate words and phrases from your customer reviews.
Dropshipping FAQ
Can you buy an existing dropshipping business?
Yes, if you don't want to go through the process of building a dropshipping business from scratch, then you can buy a pre-made store. There's a marketplace called Exchange Marketplace where you can purchase dropshipping stores that have already been created.
How easy is it to make money dropshipping?
Dropshipping, like any online business model, does require work and sustained effort. There is no overnight success in the online world. But, there are hundreds of successful dropshipping stores out there today, and you can be the next success story.
Do I have to purchase products to sell?
No, you don't need to hold any inventory yourself. Once a customer buys a product they order is forwarded to your supplier and they handle the packaging and shipping on your behalf.
Do I need a big budget to start a dropshipping business?
You can start dropshipping with a very small budget. However, you do need to think about the cost of your Shopify subscription, domain name, and theme, a budget for your first orders, along with an initial marketing budget.
Closing Thoughts
By now you should have a good understanding of how to start a dropshipping business. It's a lot of work, and success isn't guaranteed, but it might be the best way to build an eCommerce store today in 2021.
By implementing the steps highlighted above in this post, you'll greatly improve your chance of success and get started building your online eCommerce business.
If you have any questions about how to start dropshipping, then feel free to leave a comment below. No matter what stage of the process you're at, I can help to move you in the right direction.
Finally, remember that the only way to start a successful dropshipping business is to do the work. Take that first step today, no matter how small.