Add a header to begin generating the table of contents
How to Get Your Blog Noticed
Publishing great content isn't enough to get your blog noticed online today. 
Of course, you need high-quality content, but there are a ton of other factors that go into increasing your traffic and getting your blog noticed.
Remember, building a successful blog is a marathon, not a sprint. But, what you're about to learn will help you speed up the process. 
Below you'll learn six different strategies that can help with getting your blog noticed online.
6 Great Ways to Get Your Blog Noticed and Grow Your Traffic
There are a ton of ways you can start generating more traffic for your blog and reach your target audience online. 
Below you'll learn six different strategies that'll help you improve your blog traffic:
1. Optimize Your Content for the Search Engines
Before you start promoting your website to get your blog noticed you'll need to have a solid foundation to work from.
For instance, if you're not targeting the keywords people are searching for and your blog isn't optimized properly, then it won't show up in the search engines.
There's a lot that can be covered in terms of SEO, including link building, but here are two important parts entirely in your control:
Keyword Research 
Keyword research isn't about finding the keywords with the highest traffic volume. Instead, it's about uncovering keywords you can rank for that provide a decent volume of traffic and are related to your niche.
Keywords with the highest volume probably won't be as valuable to your blog. 
Long-tail keywords are longer keywords that are more specific. For instance, "running shoes" vs "men's running shoes for winter". 
The second keyword is more specific and will convert visitors at a higher rate, plus it'll be easier to rank for.
Here are some keyword research tools worth checking out:
2. Onsite Optimization 
Onsite optimization is the process of optimizing your blog posts and other content, to improve your chances of ranking in the search engines.
Here are a few best practices for optimizing your blog:
Include your target keyword in your title tag as close to the front as possible

Include a short URL with your target keyword

Include alt text with your images including your keyword

Add your target keyword in the first paragraph 

Add internal links and external links to authoritative sources
Use Email Outreach to Promote New Posts
Email outreach can be one of the most effective ways to promote your blog and establish valuable relationships in the future. However, it needs to be done the right way. 
The last thing you want to do is send out a ton of spam emails that do nothing to promote your blog and ruin relationships before they've truly begun. 
Here are a few different types of outreach:
Reach out to people who've shared similar content.

 Using a tool like Buzzsumo, you can find people who've shared posts like yours in the past and let them know you have a post they might be interested in.

Reach out to popular bloggers.

 You probably have leaders in your niche, you can reach out to them with an email that says hi, and eventually progress this into a real-life relationship.

Reach out to people you've mentioned.

 One shortcut to getting influential people to share your post is to link to them or mention them in your content, then send them a quick email letting them know that you've featured them.
3. Guest Posting on Popular Relevant Blogs
One great way to grow your authority, backlinks, and traffic is by guest blogging. Guest blogging is the process of writing a guest post on other authoritative sites in your niche.
Often, you'll get an author byline which will have links back to your blog. Plus, you can include links within the body of your guest posts that link back to your blog as well. 
Not all sites will allow these links to be "no-follow", which means they won't pass SEO juice. But, this can still be valuable since readers will still click the links and come visit your blog. 
Plus, having your blog associated with a popular blog in your niche can go a long way towards boosting your authority and credibility in the eyes of your visitors.
When you're guest blogging in the same niche this can make it seem like you're everywhere online, thus elevating your status. 
Here's a quick guest blogging process you can follow for finding and pitching guest posts:
Find guest blogging targets. 

A simple Google search string of "your niche + guest posts" will turn up potential targets, or search for 

guest blog round-ups

.

Warm-up your guest blog target.

 Before you pitch you'll want to get on their radar by sharing content on social media or linking out from your blog. 

Pitch the guest blog.

 Keep your email short, include a handful of relevant potential topics, and mention your experience or past work. 

Write your post.

 Time to write your post in alignment with their guidelines. 

Follow up. 

Once the post is up thank them for the opportunity, respond to any comments, and share the post. 
The guest blogging process is more involved than that, but it should be enough for you to get started. 
4. Utilize Social Media Strategically
Organic reach on social media continues to decline across almost every major social network. 
This means that even if you have a lot of followers, it's very difficult to get noticed unless you want to pay to promote your blog posts. 
But, that doesn't mean that social media can't be a valuable tool for promoting your posts and getting more traffic back to your new blog.
You just need to take a different approach than simply sharing your content across social media.
Luckily, there are a few unique strategies you can employ to extend your reach across social media.
Utilize Quora to Provide Value and Promote Content
Quora isn't technically a social media site. But, it can be one of the most valuable tools for bloggers, since it's purely content-driven.
Essentially, Quora is a question and answer site where users can pose questions and other users can answer them. Answers can then either get voted up or down. 
Quora is a massive website that gets over 300 million visitors per month. A lot of these questions will rank high in the search engines as well. 
So, if you answer a question that gets a lot of traffic and views, your answer is one of the top-ranking answers, and you include a link back to your site that goes deeper into the question, you could get a significant volume of traffic.
The best part about Quora is a lot of the questions don't take a long time to answer. Chances are you've answered a ton of questions within your blog posts already.
All you have to do is re-write your answer and link back to your blog post for a more detailed response.
Find Niche Groups on Facebook and LinkedIn
Posting to your standard feed on Facebook and LinkedIn won't do much to move the needle. 
However, Facebook and LinkedIn still do offer a way to get organic reach within the niche group feature.
Facebook and LinkedIn groups are probably some of the most active parts of each respective platform. 
Keep in mind that these groups shouldn't be treated as a way to spam and share your recent blog posts. They also have their own rules about self-promotion and what kinds of things you can share.
The best rule of thumb is to treat commenting and posting in these groups the same way as an in-person conversation. Your ultimate goal should be building relationships.
Here are some tips to keep in mind:
Be respectful and engage in the comments with helpful replies

Always try to add value and don't over-promote

Make sure that you share and promote the work of other people too, not just your own content
The more you contribute and become known as a valued member of your community, the more people will share and check out your work. 
Posting and engaging in groups isn't a short-term strategy, rather, it's a long term approach that can bring all kinds of value to your business.
Optimize Content for Pinterest
Pinterest is a social media network that a lot of people neglect. But, Pinterest can be a valuable tool for promoting your blog posts, when it's done the right way.
Pinterest behaves more like a search engine than a social network and has over 320 million monthly users.
Here's a process that you can follow to promote your content on Pinterest and increase traffic to your online business:
Sign up for a 

Pinterest business account

. 

Create an enticing copy description.

 This will draw your user's attention and get people to click.

Pin at the right time.

 Experiment with different days and times until you find a time that gets the most engagement.

Don't just pin your content. 

A good rule of thumb is to promote 80% of other people's content and 20% of your content. 

Create engaging images. 

Your images need to be the right size with an aspect ratio of 2:3, and the image is interesting and related to your content.  

Include text with your image. 

By adding text with your image it looks more professional and encourages people to click, you can even just use your headline from your blog post. 

Join a Pinterest group board.

 Pinterest group boards are community boards dedicated to certain niches, becoming an active member, and pinning quality content will help you grow your follower count on the platform. 
5. Create Linkable Assets 
Linkable assets are a form of content that will naturally attract links. This style of content is different from most of the blog posts you'll publish. 
It includes posts like:
Original research and studies you've done

Case studies

Tools you've created

Massive list posts

Infographics

Statistics and trends you've spotted
Since posts like these are so unique, people can't help but link to them.
For example, how many times have you searched for "stats about digital marketing", or a similar search? People love to link to data and stats to back up their claims or use them as proof.
The blog Backlinko used this strategy to become one of the most popular SEO blogs in the world today. The blog is filled with case studies and unique statistics that have attracted thousands of backlinks. 
However, you don't need to have a huge budget for content to create a linkable asset.
Here are some ideas:
Run a Small Survey or Poll
Even if you have a small audience you can still gather meaningful data in the form of a poll.
For example, even if you only have a couple of hundred subscribers on your list you can run a simple email poll, then publish that data in the form of a blog post. 
You can also run a very simple Twitter poll. These tend to get a lot of responses since they're so easy to fill out. You can also combine this data with other existing data to create a longer post. 
The important thing is that you're bringing unique user information or data to the table that currently hasn't been talked about online, or takes a unique angle on existing knowledge.
Finally, you can also create something linkable from pre-existing data. For example, you can create a "Top 100 Most Popular Personal Finance Blogs" post, or whatever your niche happens to be. 
You can rank these blogs with things like Alexa rank, monthly estimated traffic, Facebook and Twitter followers, or other data points. Each metric would be assigned a score and you'd create a piece of content that is regularly updated. 
Then, you reach out to every blog and website you highlighted. At the very least some of these blogs will share the post, and maybe even link to it. 
Compile Stats and Create an Infographic 
Infographics aren't as popular as they once were, but they can still be an incredibly great way to create something shareable and linkable.
You can also create an infographic with data that's already available. 
First, you'll need to think of a unique angle for your infographic or compile a ton of information together that'll be easy to digest in a visual format.
Here are a few examples of content ideas:
The Best Times of Day to Post on Social Media

The Scientifically-Backed Benefits of Meditation

What Fasting Every Day Does to Your Body & Mind
Once you've decided on your content focus it's time to start digging for facts and information you can include.
If you don't want to hire a professional there are a variety of tools you can use to create an infographic:
Create a Case Study About the Results You Generated
If you sell products or services online, then you probably have a handful of positive testimonials from past customers and clients. With a case study, you'll expand on the problem they had and how you helped them reach their goal or solution.
Brian Dean from Backlinko was able to create some incredibly popular case studies, including "SEO Case Study: How I Increased my Organic Traffic 652% in 7 Days" and "Link Building Case Study: How I Increased My Search Traffic by 110% in 14 Days".
Both of these successful case studies didn't even involve a third-party. They detail experiments that he ran and the results he was able to generate. If you don't have any client-facing work to show, then this can be a great content option for you.
For example, if you're in the personal development space you could write a blog titled "Sleep Case Study: What I Learned Waking Up at 4:30 AM Every Morning for 30 Days."
The goal of a case study is to tell an interesting story while tying it to concrete numbers, or results.  
6. Grow Your Email List
A lot of blog owners neglect the power of email. But, email marketing is one of the most powerful forms of marketing. 
In fact, for every dollar you spend with email marketing, you can expect to generate $38 in return on average.
Email isn't just a valuable way to monetize your business, it can improve your traffic levels as well.
For example, for every blog you publish, you can email your subscribers letting them know you've published new content. Depending on the size of your list you can guarantee a certain number of people will end up reading your great post. 
This means you'll have views, comments, and social shares instantly before you've done any additional promotion.
One of the great ways to grow your email list is by placing strategic email opt-ins across your site. 
You want to strike a balance between encouraging users to sign-up while still creating a great user experience.
You can include opt-in pop-ups, opt-ins below your content, and even use gated content to encourage readers to sign up.
Beyond adding email sign-up forms to your blog there are a few other ways you can generate more email subscribers:
Create a Giveaway
Giveaways are a great way to get your blog noticed by your target audience and can be one of the best ways to reach new people at scale. 
With a giveaway, you bundle together products and services and create a set of rules that people must follow to enter the giveaway. 
Usually, you'll want their name and email address. However, users can earn more entries by sharing it on social media, emailing their friends, and more. 
Some popular giveaway tools include RafflePress and KingSumo. Here's what a sample giveaway page will look like: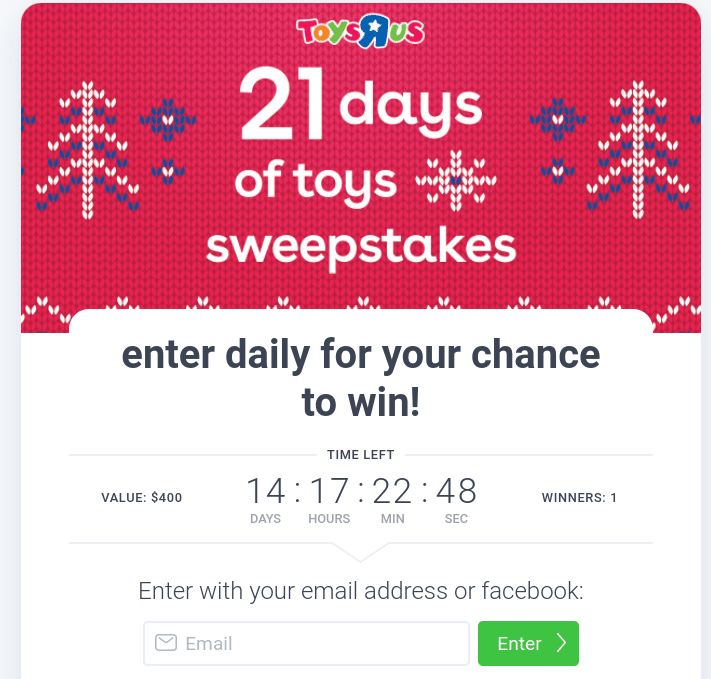 You can even get the product creators to promote the giveaway to help reach a wider audience.
Run Promotions to a Landing Page
Another best way to get traffic to your email list is to partner with influencers on social media. You can get them to promote your brand or business with a link back to your profile. 
Then, on your profile page, you can include a link to a landing page that pushes people to your email list. 
Instead of sending traffic to your homepage, you can direct people to a page that's designed to get people to your email list.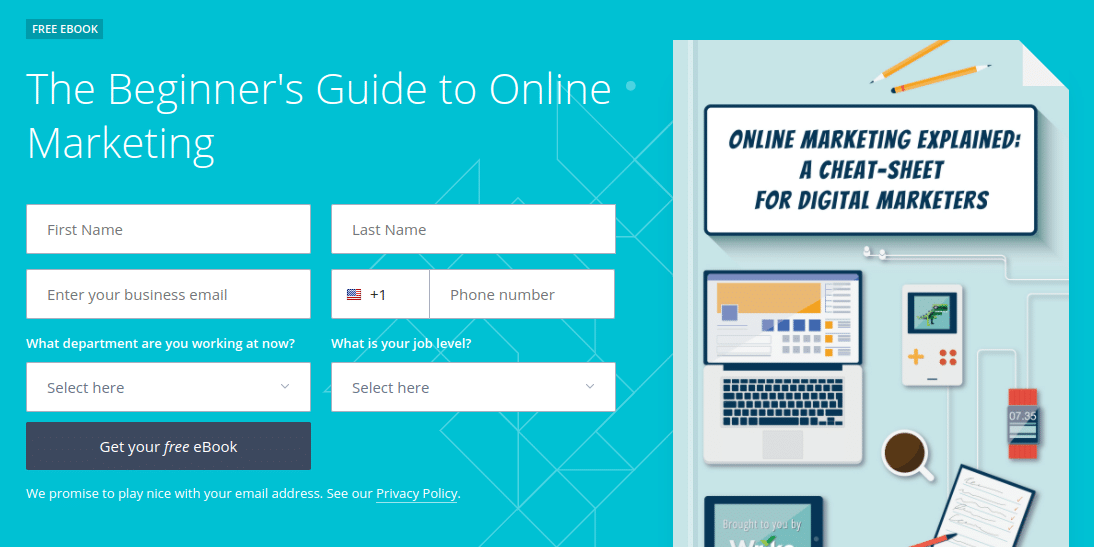 Get Your Blog Noticed and Get More Traffic Today
You just learned about six different strategies you can implement to get your blog noticed in the crowded online space. 
Whether you decide to use guest blogging, social media, linkable assets, or another strategy to promote your blog and drive traffic doesn't matter. 
The important thing is that you take action.
You'll also notice that the strategies above support each other.
For example, optimizing your content will help your case studies rank higher naturally. Likewise, guest blogging can increase your rankings, which means more traffic and email subscribers. 
Now, it's time to get started and implement what you learned!