When we talk about profitable niches, CBD is a surprising option with huge potential. 
If you don't know what CBD is, let me explain. CBD is a key active ingredient of medical marijuana. 
Now, before you jump to any conclusions — CBD is completely safe and totally legal in the U.S. 
It has many beneficial properties such as stress relief, joint, and muscle pain relief and is often used as a natural sleep aid. 
CBD is so safe that people even use it for their pets! 
Now, if you are interested in affiliate marketing, CBD is a massively promising niche. 
The majority of the CBD affiliate programs you'll find offer extremely competitive commission rates. 
In fact, I would venture to say that these are some of the overall highest paying affiliate programs of any niche. 
Typically, CBD companies run into some issues when it comes to traditional advertising. For that reason, they rely on a healthy affiliate relationship to promote their products. 
That's where you come in. 
So, without further ado, let's take a look at some of the highest paying CBD affiliate programs available today. Make sure to read to the end to see a list of CBD affiliate networks as well.
And for more profitable niches, check out my article on the best affiliate programs that pay well.
Health and Wellness CBD Affiliate Programs
PuraHemp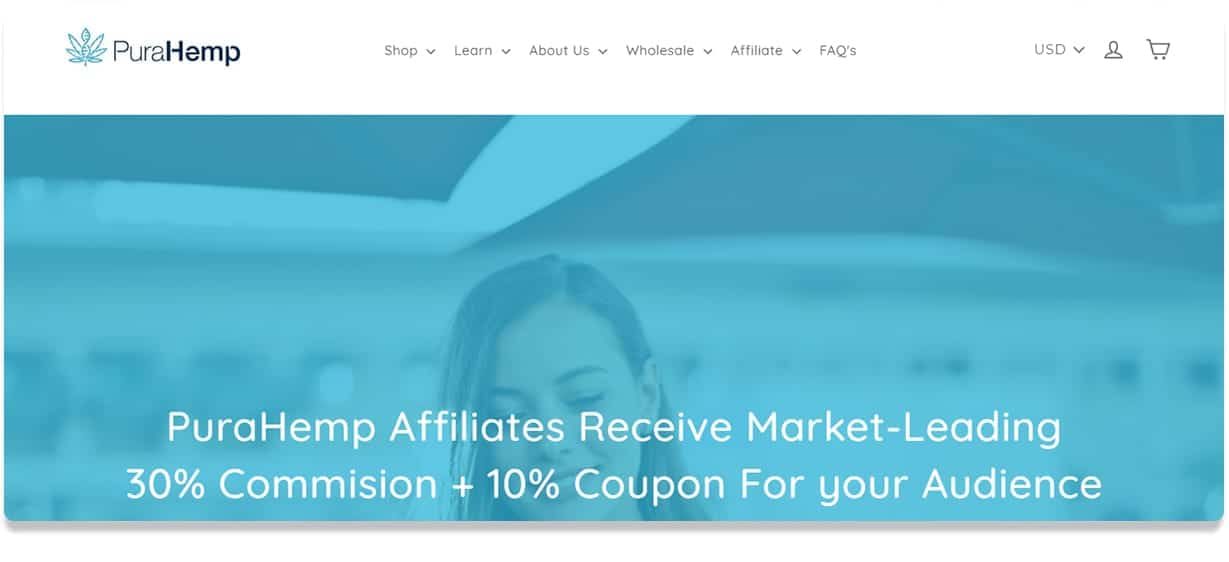 PuraHemp keeps it simple with a select line of CBD oils, capsules, and nutraceuticals. 
Now, this company really stands out because it provides detailed lab reports for all of its products. 
This kind of transparency makes it easy to recommend these products to your audience. 
PuraHemp CBD capsules come with several health benefits. Customers can choose from weight loss to cardiovascular health to immune system defense. 
These products range from $50 to $150. The creators of these products are an award-winning biochemist and a doctor– talk about credibility!
Affiliates with PuraHemp have the opportunity to make real money. 
You'll take home a 30% commission on your sales plus a 10% coupon for your audience. Affiliates also get a 60-day cookie duration. 
Visit PuraHemp Affiliate Program
CBD MD
As the name suggests, CBD MD offers a wide selection of CBD products geared towards overall health and wellness. 
This company has aligned with athletes and health professionals and they've been able to develop highly effective CBD products. 
Like I said, CBD MD offers a huge selection of products. Customers can choose from gummies, tinctures, capsules, topicals, sleep aids, and more. 
Each category offers benefits in several areas and comes in many flavors. 
This is another great option for those of you looking to promote an affordable option with products starting at $29. 
CBD MD offers affiliates a 20% commission rate and 90-day cookies. On top of that, you'll also get a 15% off coupon code to offer your audience and make conversions that much easier. 
Visit CBD MD Affiliate Program
Green Wellness CBD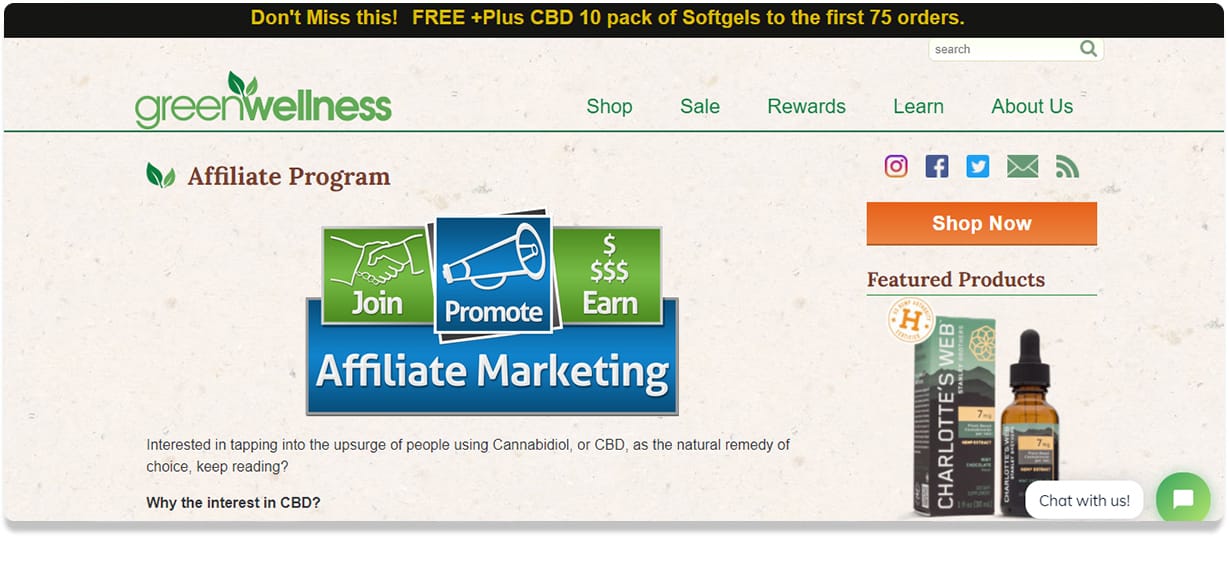 Green Wellness uses peer-reviewed research to support and develop its CBD products. 
This company offers lab-tested, pure CBD products that provide several health benefits. These are some of the highest quality CBD products you can find. 
One benefit of purchasing from Green Wellness is the awards program. 
Customers can earn redeemable points for each purchase made that can be used to earn discounts. This unique program makes this an easy company to promote.
The products from Green Wellness are simple and high quality. You can find a selection of topicals, supplements, and tinctures to help with sleep, pain relief, stress, and anxiety. 
Pricing starts at $30 and goes up to around $90 per product. 
The average sale value with Green Wellness CBD is $100. Affiliates can earn 10 percent of every sale. The company does require affiliates to have a blog, website, or Facebook account in order to apply. 
Visit Green Wellness CBD Affiliate Program
Stress and Anxiety CBD Affiliate Programs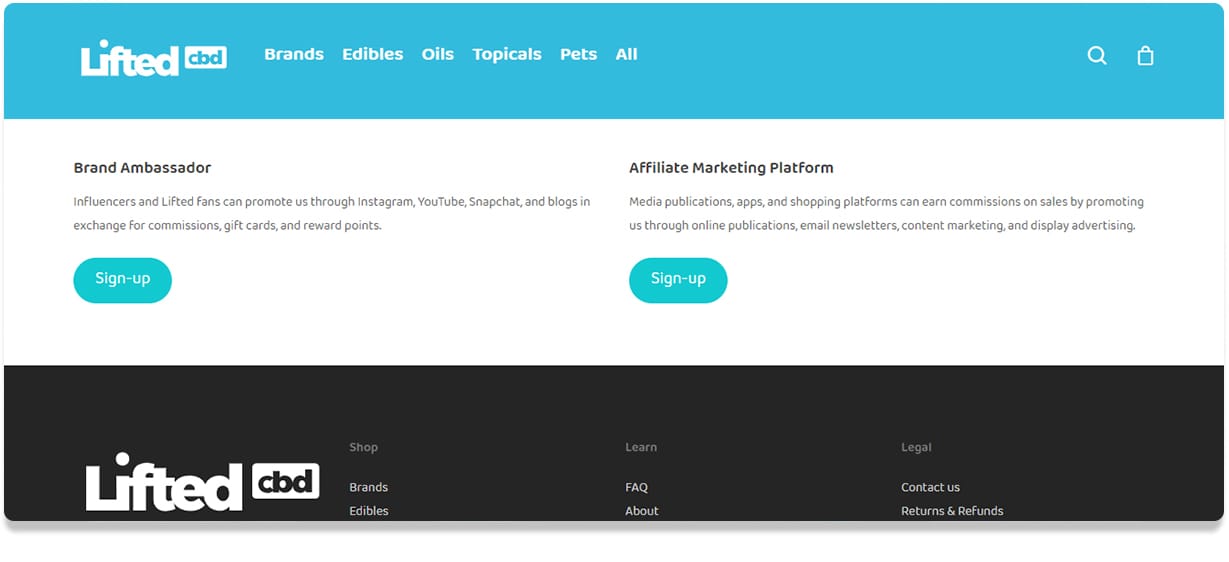 Lifted CBD
Lifted CBD is all about "regaining your wellbeing and easing your symptoms." 
One of the most popular reasons for using CBD is easing stress and anxiety. Lifted CBD helps people feel happier and less stressed. 
Rather than developing its own products, Lifted CBD curates the best brands on the market for an easy shopping experience. 
Lifted CBD focuses mainly on topical treatments, oils, and edibles. These products offer a range of benefits such as mental alertness, stress relief, and muscle relaxation. 
Prices vary from affordable to premium, depending on concentration. 
The Lifted CBD affiliate program is a part of the ShareaSale network, which is good news for those of you who use the popular network. 
The average order value is well over $200 and affiliates take home 15% of each sale. Cookies last for 90-days.
Visit Lifted CBD Affiliate Program
Plant Therapy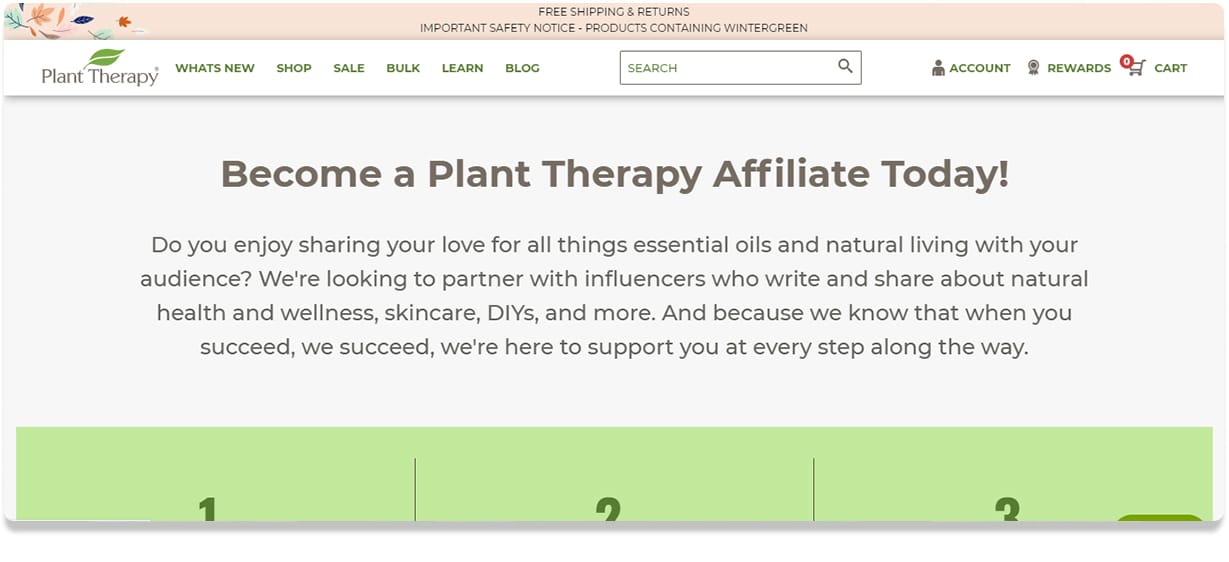 Plant Therapy is an essential oils company with three lines of CBD products for stress relief and wellness. 
The Quiet Mind CBD line includes both topical relief and supplements to help ease stress and anxiety. Plant Therapy also offers CBD products for rest, muscle aches, and overall wellness. 
These products are relatively affordable. Many CBD products lean towards the expensive end, but Plant Therapy comes through with an affordable option. 
These CBD products start at just $19 for 4 ounces of CBD oil. The most expensive product you'll find is just under 70 dollars.
In order to be approved for this CBD affiliate program you'll have to have a platform dedicated to essential oils, diffusers, or CBD. 
This widens the market for those of you in the aromatherapy niche. Affiliates make a commission of 7.5 percent on sales and get a cookie duration of 14-days. 
Visit Plant Therapy Affiliate Program
CBD Essence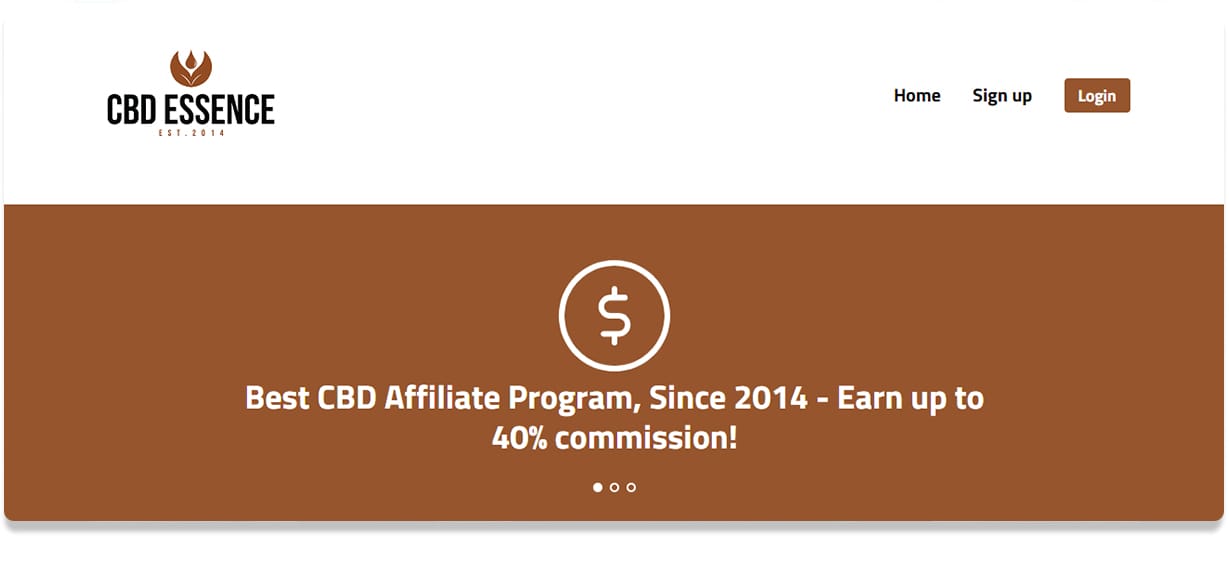 CBD Essence makes medicinal grade CBD products geared towards stress and anxiety relief. Their goal is to help people lead happier, healthier lives, which makes it an easy company to promote! 
They provide a wide range of products including flavored tinctures, capsules, and salves. 
The products from CBD Essence tend to skew towards premium prices. You'll see that the majority of products are between $40 and $140. That being said, they offer discounts extremely frequently. 
The great news for you is that CBD Essence offers a huge commission rate. You'll be taking home up to 40 percent of every sale made. They also offer an extremely long cookie duration of 6-months. 
Visit CBD Essence Affiliate Program
WillowCBD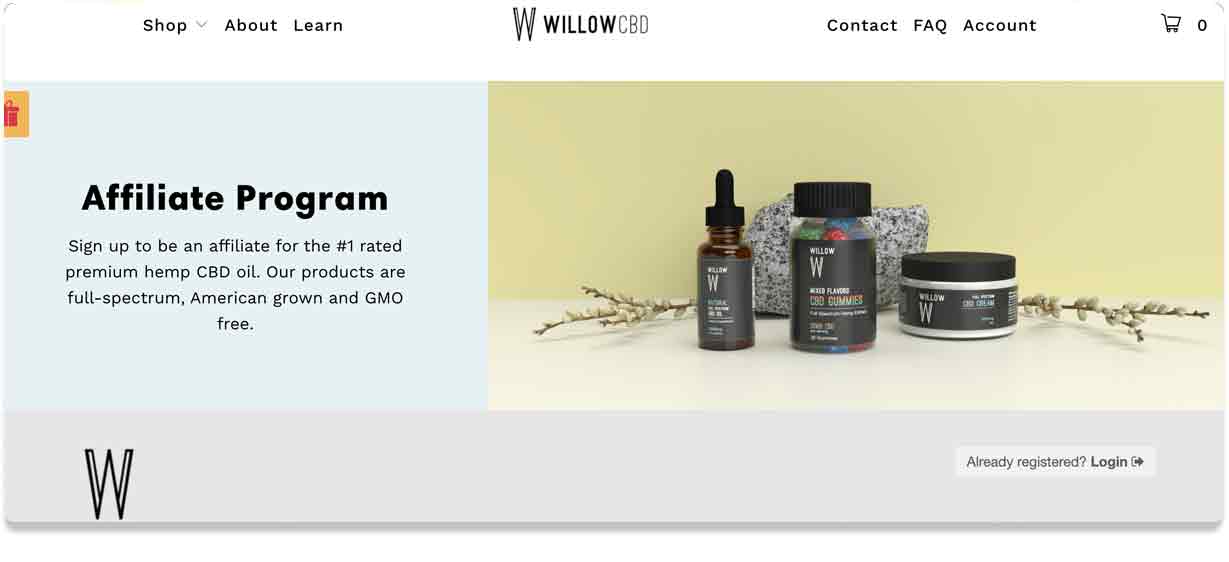 WillowCBD is a premium CBD brand that offers high-quality, Colorado-grown hemp-derived tinctures, topicals, and gummies.
All of WillowCBD's products are developed using an organic sub-zero extraction method to produce unparalleled full spectrum CBD that is potent and clean.
They'll review your application within 24-48 hours on average and once approved you'll be connected with an affiliate manager to discuss strategies and next steps so that you earn the most money possible.
WillowCBD offers up to 25% commission and a 30-day cookie.
Vape CBD Affiliate Programs
Namaste Vapes CBD
With a rise in the popularity of vaping, it's no surprise that CBD has entered the field. 
CBD has solidified its place as a healthy and legal alternative to tobacco and marijuana. 
Namaste Vapes offers a huge selection of CBD vaporizers, oils, edibles, and accessories. 
If your target audience is made of vaping aficionados, they're going to love Namaste Vapes. 
This company offers vaporizers from all of the most popular brands including PaxLabs, KandyPens, and PuffCo. 
Each product page has a full-product guide and user reviews for an excellent buying experience. Products range from $99 to $500 so you can expect a high average order.
Namaste Vapes offers its affiliates a 10% to 20% commission on all sales. With an average order value of $200, you can earn up to $40 for every customer who purchases using your link. 
Visit Namaste Vapes Affiliate Program
AirVape CBD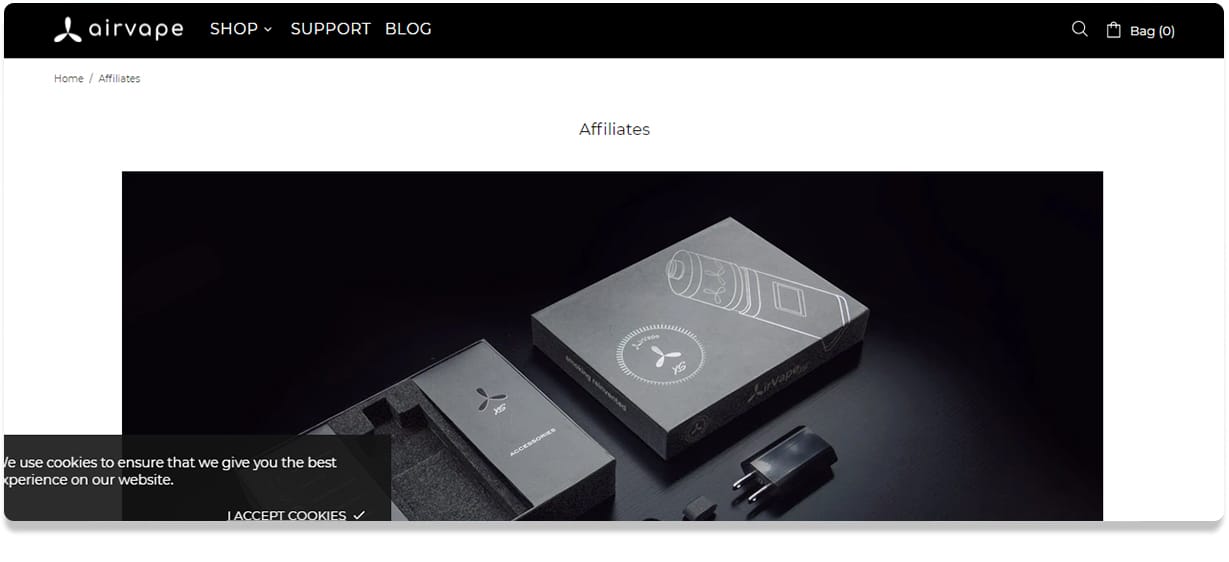 AirVape exemplifies what it means to be high-tech in the vape industry. Seriously, these vapes look like they came from the year 3000. 
This company has developed cutting edge vaporizers exclusively for CBD along with a line of quality oils and concentrates. 
These are most definitely a premium option vape. All of the products from this company are crafted of the highest quality gold, leather, ceramic, textiles, and glass. 
Now, with all that talk about premium, high quality vaporizers you're probably thinking these products are outrageously expensive. 
Surprisingly, there is a decent range of prices from AirVape. The most affordable option starts out at $69 and the highest price tops out at $250. 
That means this company has something to offer to just about any audience. 
AirVape offers its affiliates a 15% commission rate on all sales along with a 30-day cookie duration. I highly recommend this CBD affiliate program to anyone looking for premium vape products to promote.
Visit AirVape CBD Affiliate Program
CBD Oil Solutions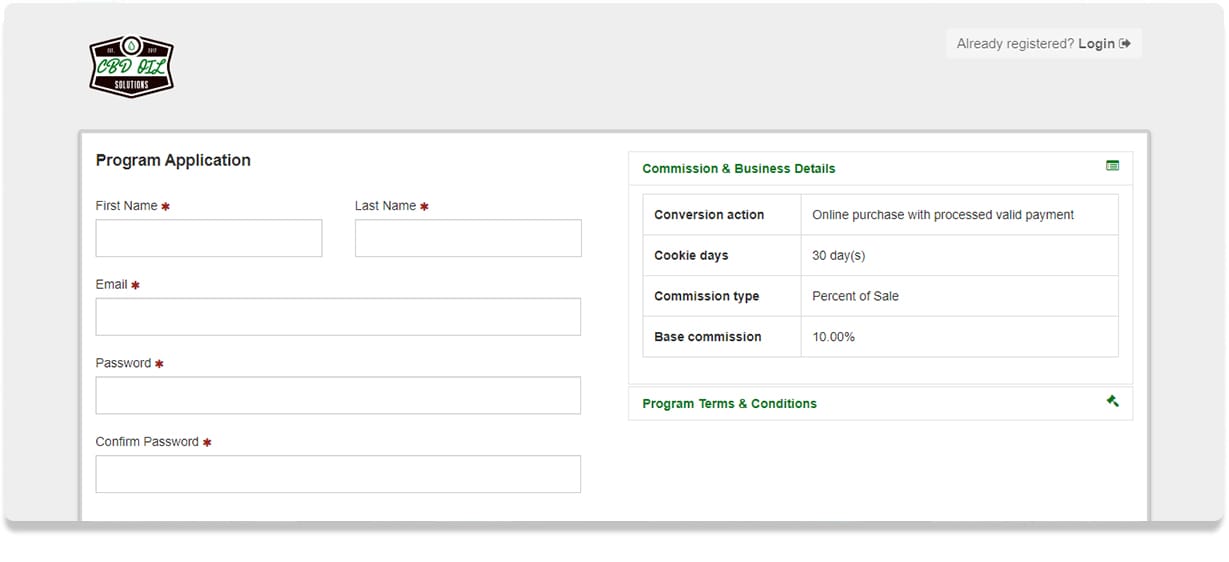 As the name implies, this company offers a great selection of CBD vape oils. The other vape companies on this list specialize in vape pens, while this company has targeted the market on oils. 
They offer a huge selection of brands and flavors to choose from. In my opinion, this option is best for those of you with a target audience between 18 and 35 years of age. 
When it comes to pricing, you can spend as little or as much on CBD Oil Solutions. 
Some of the cheaper options come to around $7 — some of the most affordable prices on this list. On the high end, products are priced closer to $150 apiece. 
CBD Oil Solutions offers its affiliates a 10 percent commission on every sale made. Cookies last for up to 30 days. 
If you're new to affiliate marketing this is a safe choice. You'll have access to the best CBD oil brands and trending products.
Visit CBD Oil Solutions Affiliate Program
Pet CBD Affiliate Programs
HempMyPet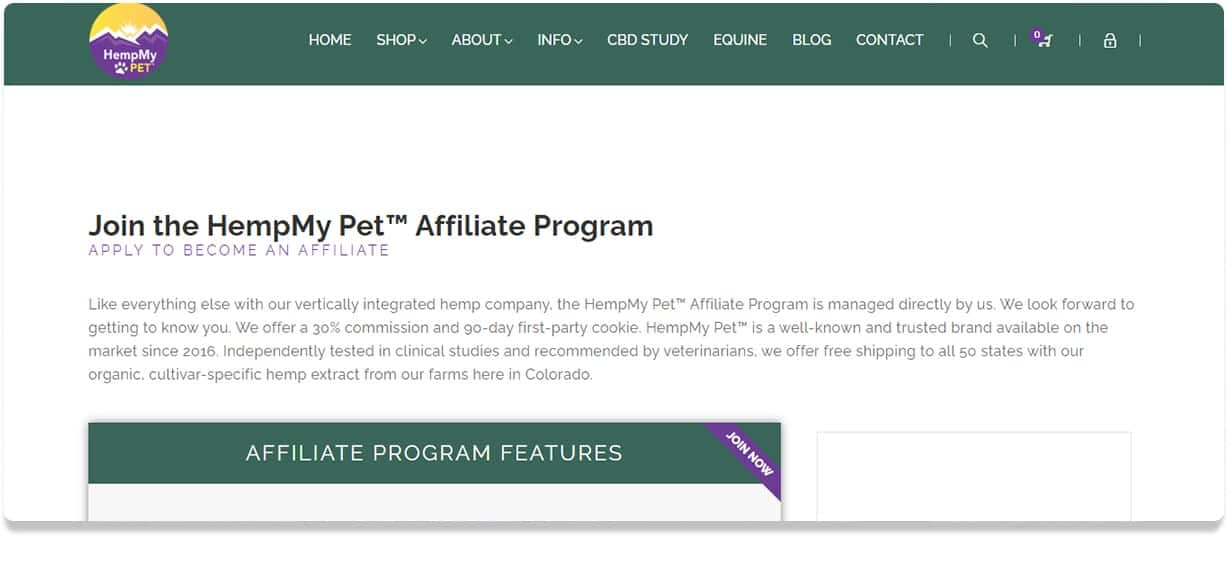 HempMyPet is exactly what it sounds like. This company provides organic CBD products just for your pet. 
Most people don't know that CBD can be beneficial to your pet. HempMyPet products can help to ease stress and anxiety, relieve muscle and joint pain, and improve your pet's overall wellbeing. 
HempMyPet has a pretty diverse selection of products mainly for dogs and horses. 
For people looking for an easy way to administer the CBD to their dogs, I recommend the hemp dog treats. 
These come in two different doses depending on the size of your dog. A bag of treats costs around $25. 
The company also provides several solutions for equine health including the popular Equine Formula Oil.
Affiliates make a 30% commission on all sales. The average order price is $100, so it's easy to make a decent paycheck. You'll also get 90-day cookies and access to a link-shortener.
Visit HempMyPet Affiliate Program
King Kanine CBD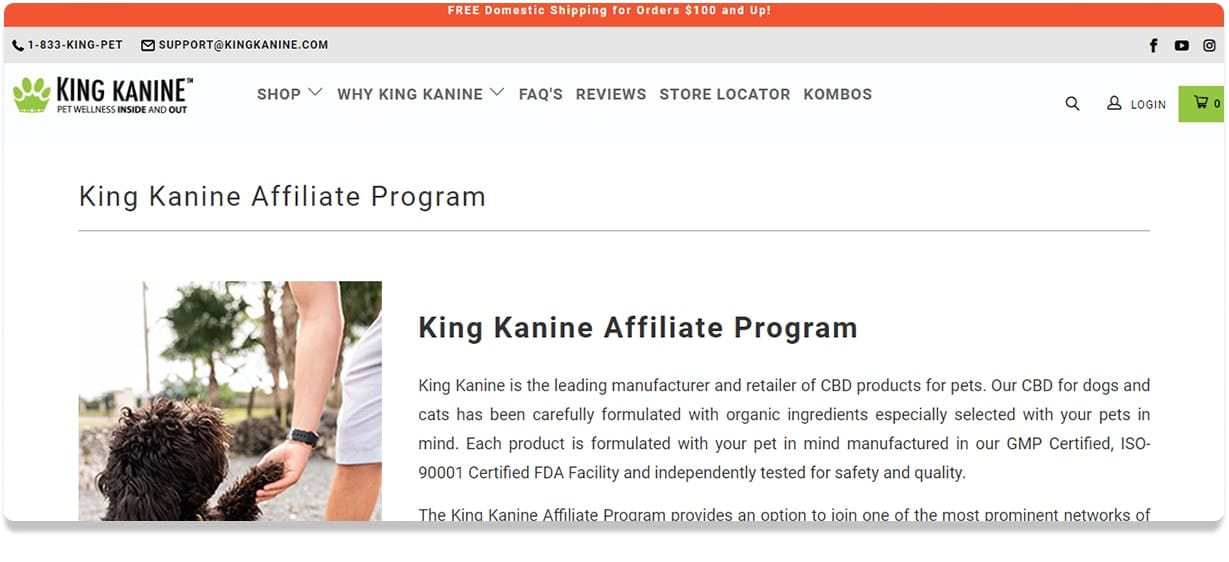 You might have noticed that most CBD companies offer a few pet products. King Kanine took this to the next level by exclusively offering CBD products for your pets. 
Now, most of these products are targeted towards dog owners, so keep that in mind. 
You'll find a huge selection of products here, but as you'll see, most of the procuts are geared towards calming your pet. 
They include a handy dosing chart so you can find the right dose for your pet, according to size. Pricing ranges from $16-$100 depending on the product and dose. 
King Kanine offers a decent commission rate of 15% for each sale. If your target audience is dog-lovers, this could be a profitable CBD affiliate program for you. 
Visit King Kanine CBD Affiliate Program
HolistaPet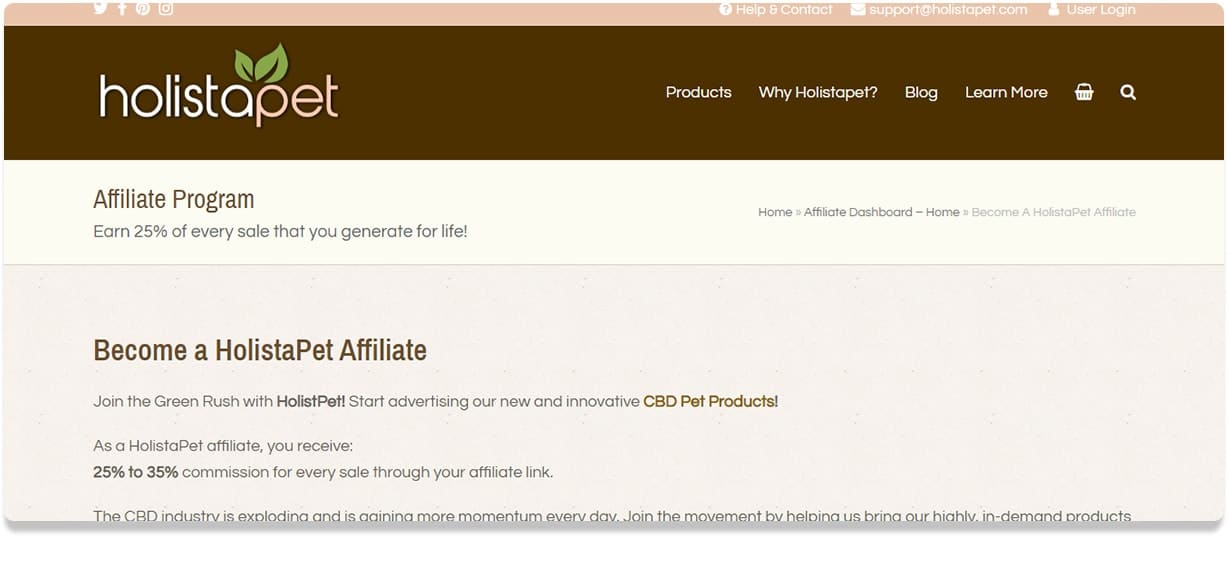 HolistaPet is another excellent option for those of you targeting pet owners. Unlike most CBD pet brands, HolistaPet offers a full line of CBD products for cats in addition to dogs and horses. 
Each product line includes treats, tinctures, sprays, and capsules. HolistaPet has also developed CBD pellets specifically for horses. 
These products can help with joint and mobility issues, stress, and nutritional issues. 
What's cool about HolistaPet is that they include important nutritional supplements in the CBD products. This simple feature makes this company stand out from other pet CBD products on the market.
You can reassure your audience that CBD products from HolistaPet are totally safe. This company sends every product to a third-party lab to be tested for quality.
HolistaPets manages to keep their prices fairly low. Most products start at around $25 and range up to $145. 
Affiliates with HolistaPet start with a 25% commission rate with the opportunity to earn up to 35%. The average order value is $50 so you can expect to take home at least $12.50 for every conversion made.
View HolistaPet Affiliate Program
Skincare and Beauty CBD Affiliate Programs
CBD Biocare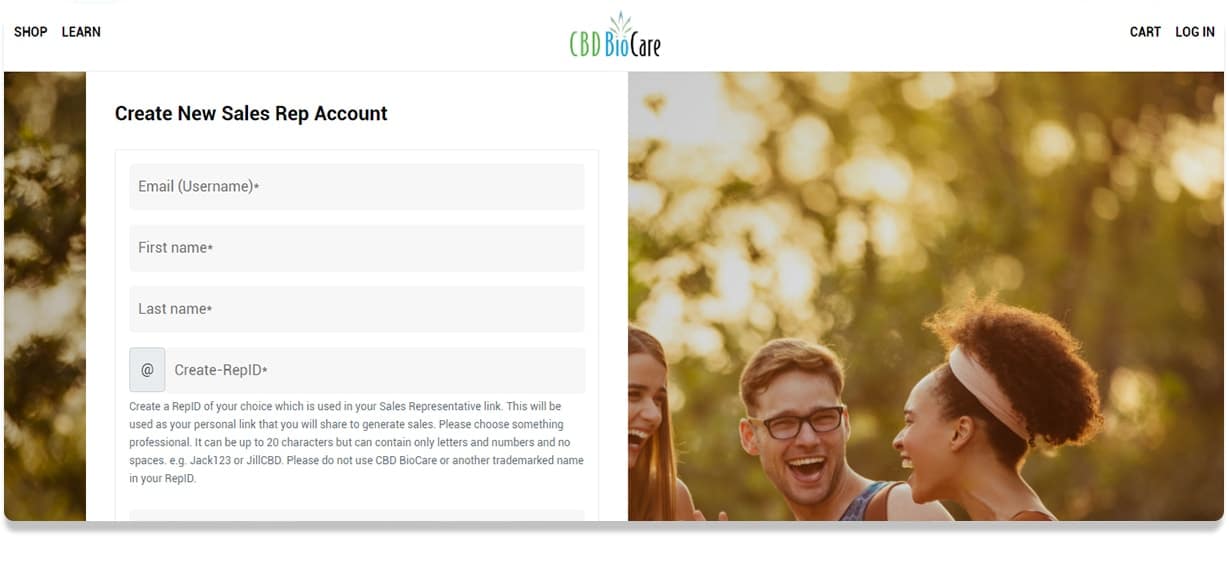 CBD BioCare is a CBD company that is dedicated to providing top of the line CBD skin care products. 
Most of the products are oil-based solutions geared towards anti-aging and skin rejuvenation. 
The company has since expanded to provide a range of products for wellness, pain relief, and pet care. That being said, most loyal customers of CBD BioCare are avid users of the skincare line. 
CBD Biocare offers an exciting affiliate program. This company uses a tiered commission structure. The bottom of the tier earns a 20% commission and those at the top take home a whopping 40%. 
Either way, it's an impressive commission rate. 
And the best part is, your commission rate is based on your lifetime sales. That means you move up the ladder month after month, instead of starting from scratch each time. 
Affiliates receive a host of tools and support to help boost conversion rates. 
Visit CBD BioCare Affiliate Program
CBD Sky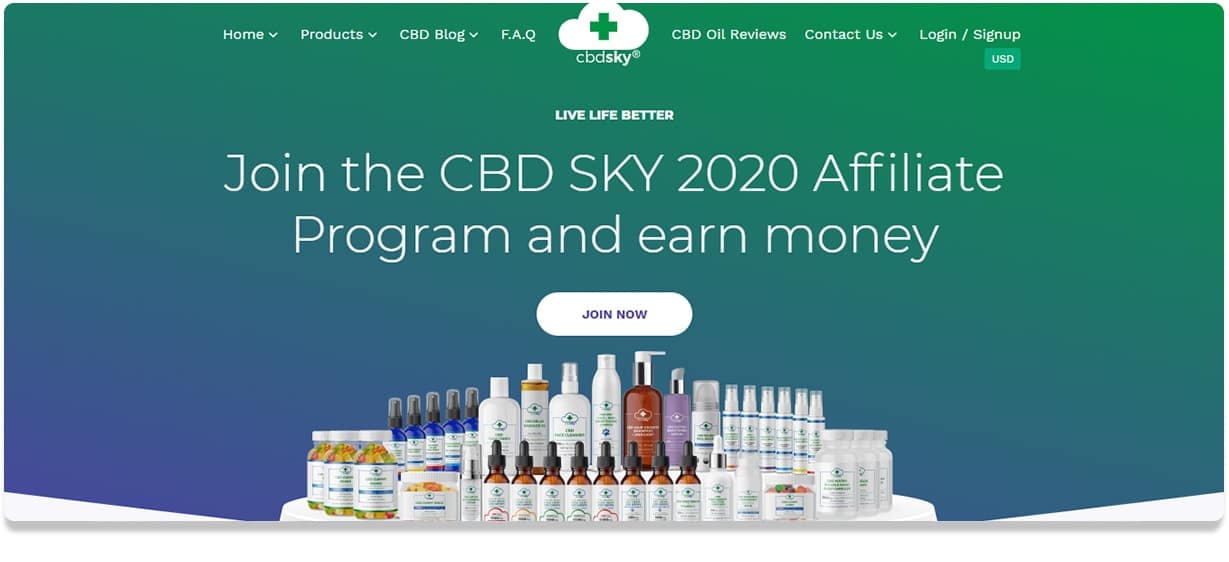 One area where CBD is beginning to gain popularity is in the beauty niche. CBD Sky offers an extensive line of products to benefit both skin and hair. 
The skincare products provide a host of anti-aging and sun protection benefits. The hair care line includes a shampoo, conditioner, a leave-in conditioner, and a hair mask. 
For the beauty niche, these products veer towards premium prices but are still relatively affordable. The shampoo and conditioner each cost around $34 and the skin care products are about the same price. For CBD products, these prices are right in line with the majority of offerings. 
CBD Sky comes through with another excellent commission rate. 
All affiliates take home 10 percent of every sale with the opportunity to earn up to 30 percent. 
The great thing about this CBD affiliate program is that applicants are accepted instantly. This is a great program for those of you with a smaller audience. 
Pain Relief CBD Affiliate Programs
CBD Medic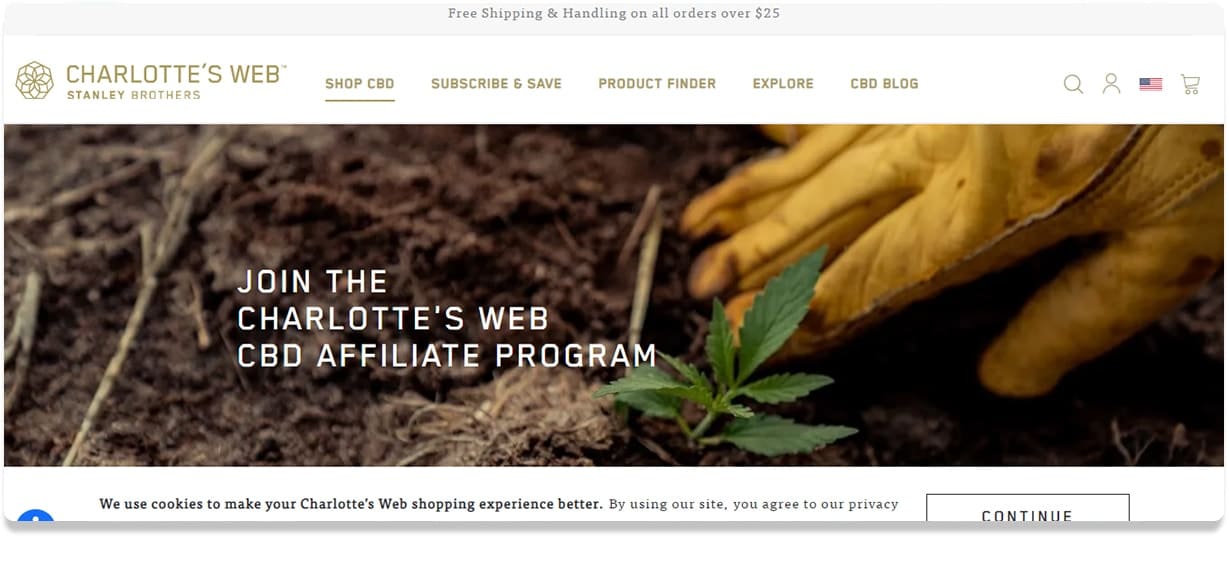 CBD Medic is a premium CBD company that specializes in pain relief. 
The company's mission is to provide natural, safe pain relief using expert pharmaceutical research and development. 
CBD Medic has several products for temporary pain relief, including arthritis ointment, back and neck ointment, active sports treatments, and eczema relief. 
Now, as I said, this is a premium CBD option. 
You'll see right away that the product branding is highly professional and everything is developed by experts in the field. 
For these reasons, the pricing is on the high side. Most products are around $40 for about an ounce of product. 
That being said, the product reviews are glowing, so it shouldn't be hard to promote this to your audience. 
Affiliates take home 15% of each sale. The good news is that customers can choose a subscription deal. That means you have the opportunity to earn recurring commissions.
Visit CBD Medic Affiliate Program
Spektra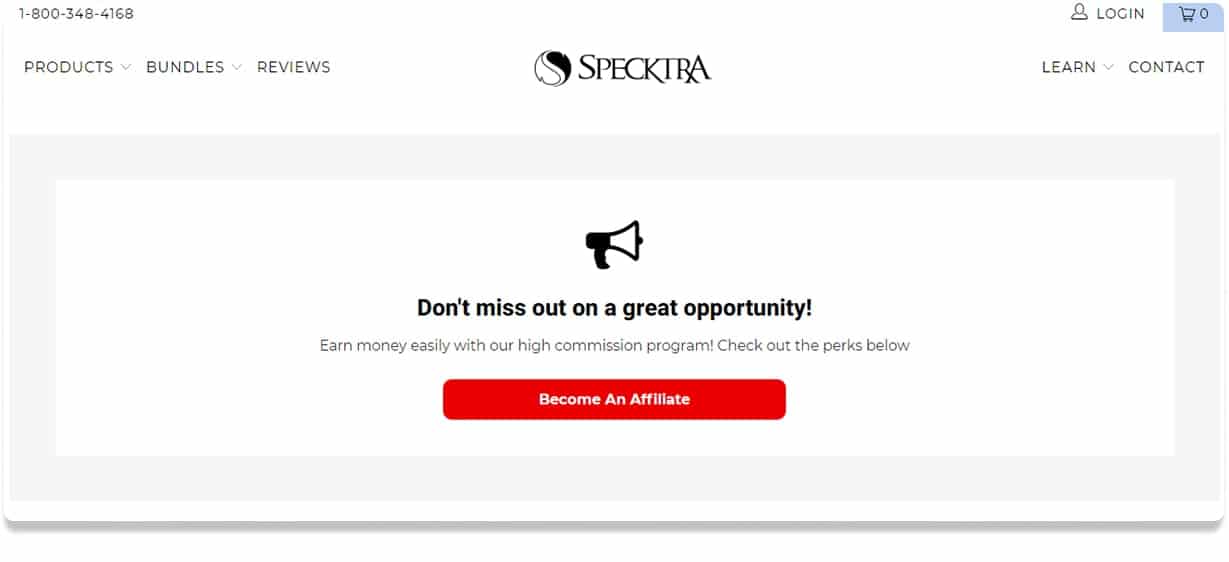 Spektra offers a fairly wide selection of CBD products, but it is best known for its pain-relieving CBD patch. 
Spektra's transdermal CBD patch offers up to 96 hours of pain relief. Spektra also offers a tincture and vaporizer specifically for pain relief. Every product undergoes third-party lab inspection to ensure the highest quality. 
For a bundle containing all of the pain-relief products, customers are looking at about $223. 
Aside from the pain relief products, Spekra also offers sleep aids and energizers for added benefits. 
This company is a good option for those of you targeting athletes, those with chronic pain, and sleep issues. 
Spektra offers a very high commission rate of 30% per sale. The average order value is $80, which means you take home about $24 per successful sale. Not bad at all. 
Visit Spektra Affiliate Program
Rest and Relaxation CBD Affiliate Programs
Green Roads CBD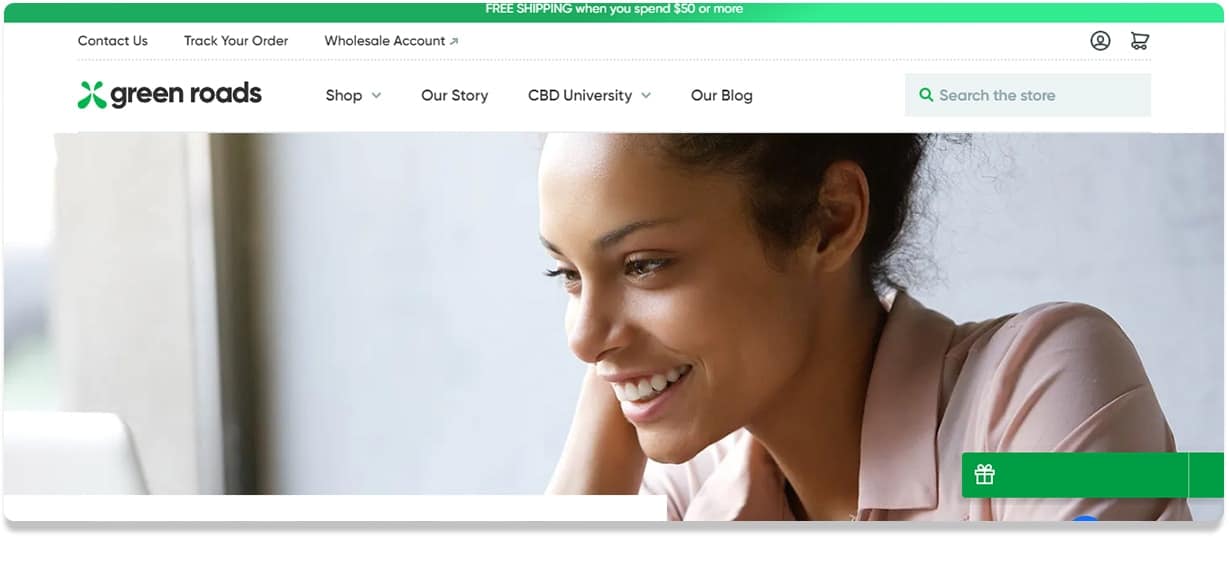 Green Roads CBD is an industry-leading company with a line of cutting-edge CBD products. 
This company just came out with a new line that focuses exclusively on better sleep. 
Green Roads CBD has won several awards for its outstanding products including the 2018 and 2019 Cannabis Business Awards. For that reason alone, this company is easy to promote as an affiliate marketer. 
But there is a reason Green Roads CBD is such a successful company. They employ an entire team of pharmacists to ensure that each product is safe and effective. 
Green Roads CBD has products that range from oils, topicals, edibles, sleep aids, and more. If you don't know where to start as an affiliate marketer, Green Roads CBD is a great place to start. 
The average order value is $100 and conversions rates vary from five to thirty percent. Affiliates make 10% of every sale, so it's not a bad way to build your passive income. 
Visit Green Roads CBD Affiliate Program
CBD FX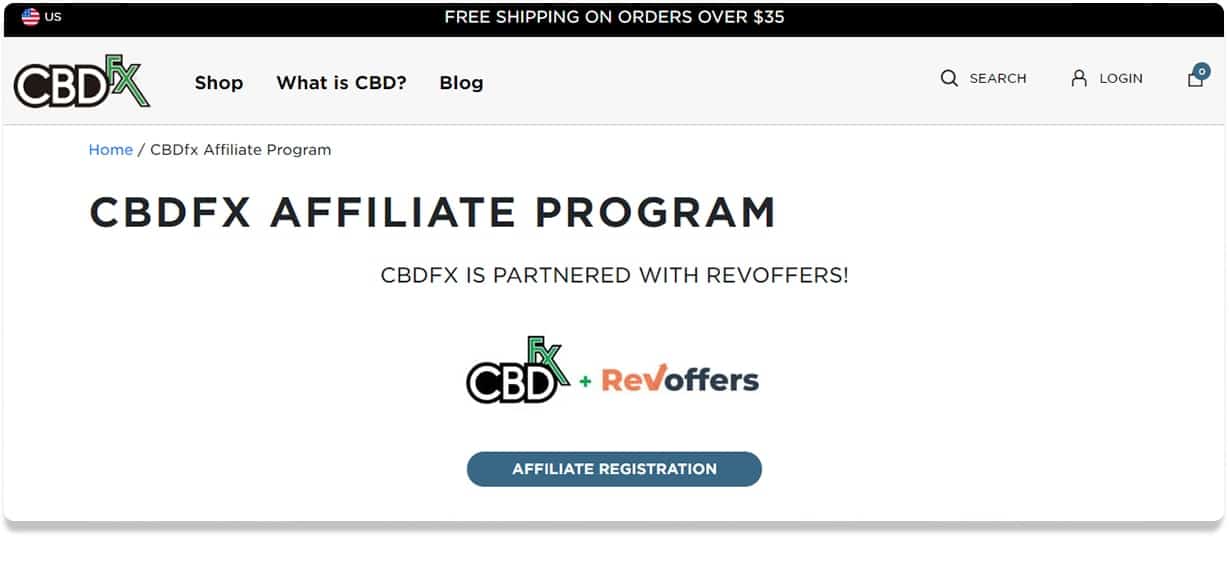 CBD FX is best known for offering the latest trends in CBD products and upholding high standards for quality. 
You can find just about any CBD product from this company including gummies, vape juice, tinctures, topicals, and edibles. 
That being said, one of the most popular products from CBD FX is the sleep aid. These capsules pack a punch with 900 mg of CBD per serving. 
Prices for CBD capsules on this site come in at around $60 for 60 capsules. For a full strength tincture, you're looking at closer to $170 a pop. In general, this company provides several options for any budget. 
CBD FX gives a great commission rate of 20 percent of each sale. You can expect to take home around $20 per sale according to the average order value. Affiliates get a cookie duration of 30-days. 
Visit CBD FX Affiliate Program
General CBD Affiliate Programs
Just CBD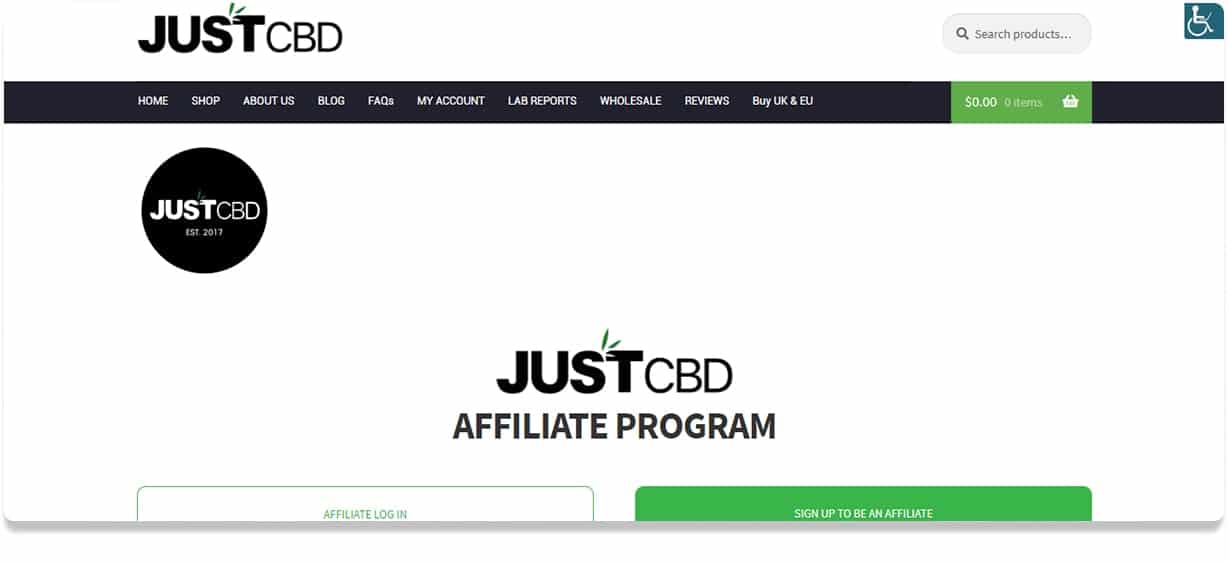 Just CBD is a highly regarded company specializing in CBD gummies. The company ships its products directly to your doorstep, making it one of the most convenient options out there. 
The CBD gummies provide a range of benefits from sleep to energy to daily multivitamins. Aside from the highly popular CBD gummies, this company also offers oils, vape pens, and bath bombs. 
As an affiliate, you can assure your audience that each product is transparent about ingredients, quality, and effectiveness. 
Affiliates with Just CBD bring in 10 to 20 percent of each successful sale. With products averaging at $60, this is a great way to make money.
Visit Just CBD Affiliate Program
CBD Pure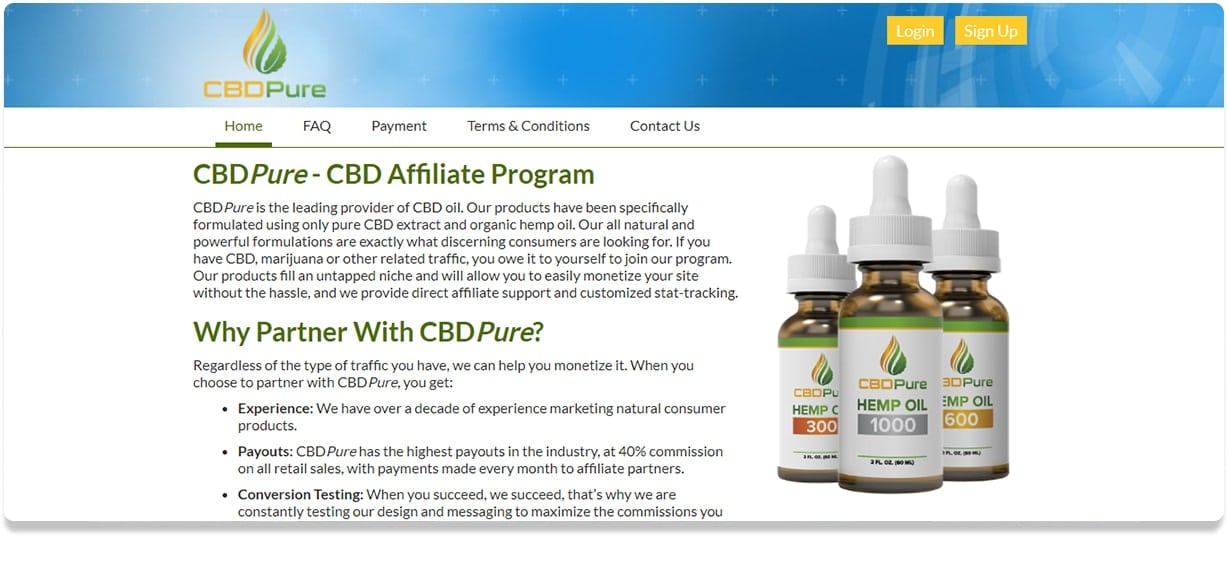 CBD Pure is a company dedicated to providing organic, pesticide-free CBD products. They grow their plants in Colorado and Washington using stringent methods to ensure the highest quality product. 
Surprisingly, this is one of the only certified organic options out there, so it's a great product to market to your audience. 
CBD Pure offers a select range of products including oils, soft gels, topical treatments, and pet care. Their most popular products are CBD oils, which contain varying amounts of CBD. 
These oils contain all of the benefits of CBD including relaxation, stress relief, help with sleep, and more. The prices range from $30 to $80 depending on the strength of the oil. 
CBD Pure offers an extremely high commission rate to its affiliates. All affiliates start an impressive 40% commission on every sale. There are no tiers involved. 
You can start making a 40% commission right away. To be approved for the program, you'll need to have an active social media platform or website where you reach a targeted audience. 
Visit CBD Pure Affiliate Program
HoneyStem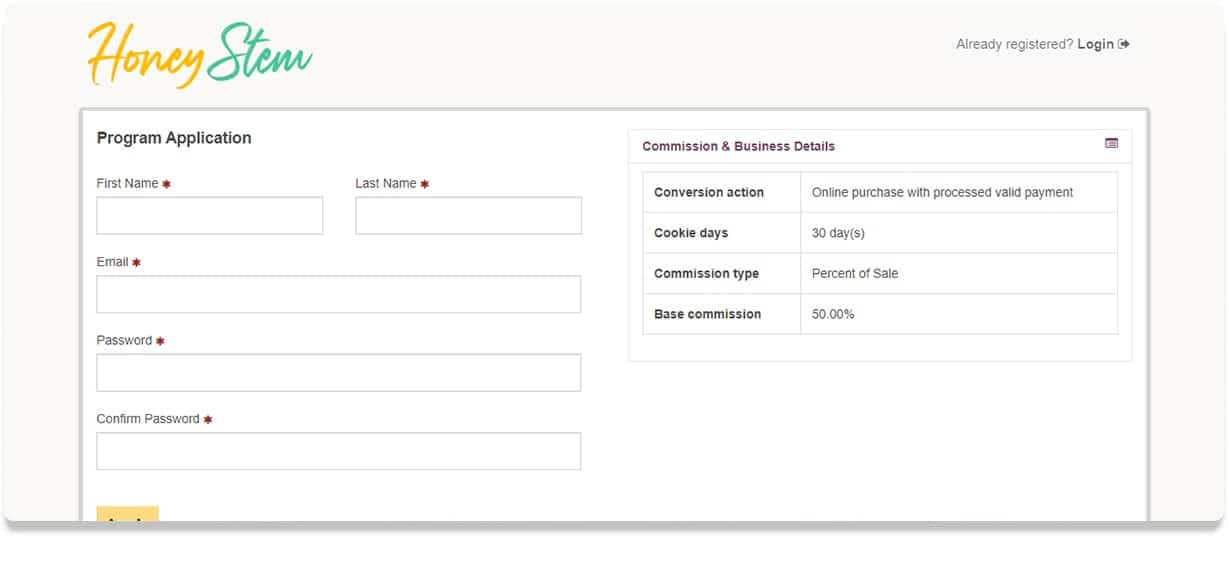 HoneyStem not only provides excellent CBD products, but they are also dedicated to giving their customers the best education when it comes to CBD. 
HoneyStem offers organic CBD flowers and pre-rolls. You won't find anything too fancy here — just quality CBD in the purest form.
Let's talk about pricing. HoneyStem sells 3.5 grams of CBD flower for about $20. A bundle including one pre-roll and 7 grams of flower comes in at $40. 
Not a bad deal at all. This is a great option for those of you looking for an affordable option to promote. 
Now, here's where things look up for affiliates. HoneyStem offers a massive commission of 50% of every sale. 
You don't see a commission rate that high in many affiliate programs, regardless of the niche. 
So, even though the products are priced relatively low, you can bring in a solid paycheck with this CBD affiliate program.  
Visit HoneyStem Affiliate Program
CBD Affiliate Networks
Cannaffi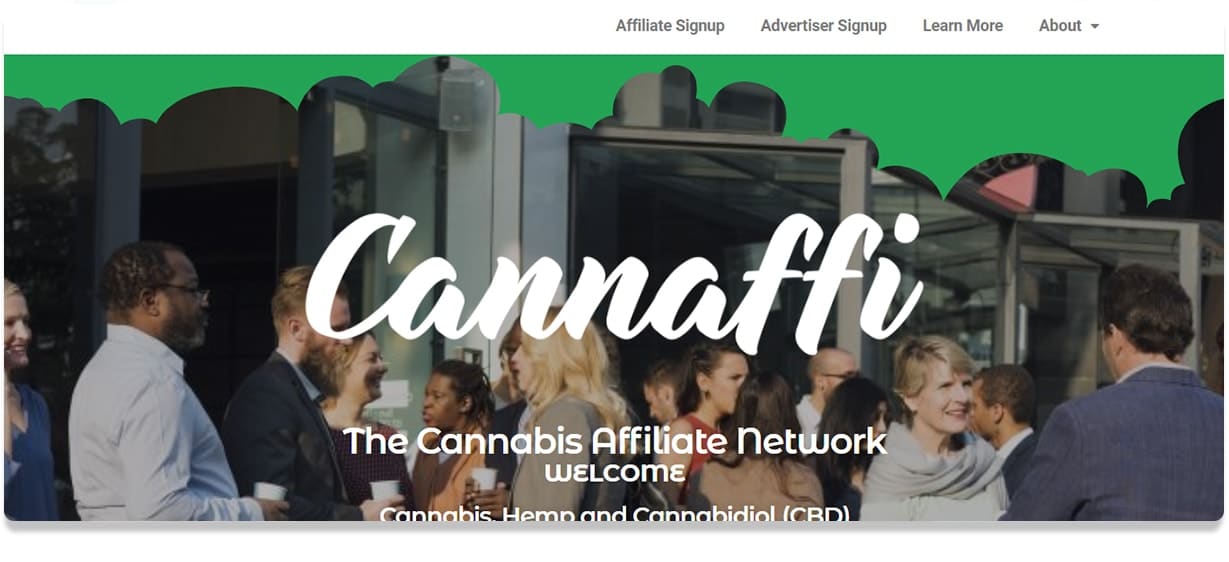 CBD has become such a booming business that there are now affiliate programs dedicated just to CBD and hemp companies. 
If you're in the CBD niche, you can apply to Cannaffi to get access to the top CBD affiliate programs in the game. 
You can use this platform to connect with merchants and build a strong affiliate portfolio. You'll also get access to helpful analytics tools, creatives, and user support. 
If you're just getting into CBD affiliate marketing, I highly suggest signing up for an affiliate network like Cannaffi. 
Visit Cannaffi CBD Affiliate Network
CBDAffs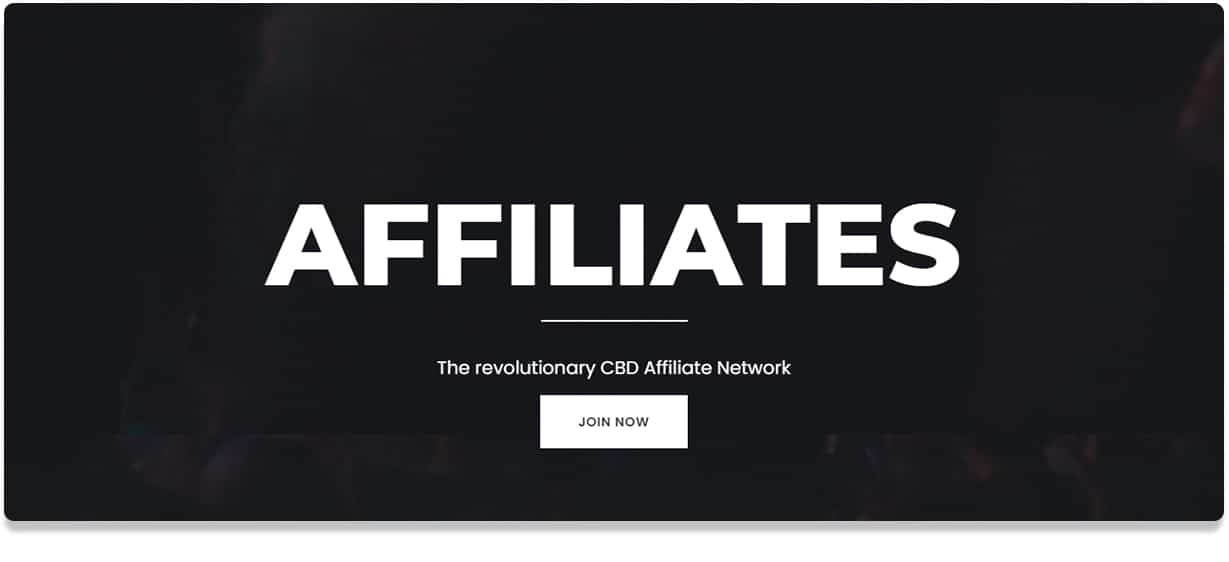 CBDAffs is another excellent affiliate network dedicated specifically to CBD brands. Joining this CBD affiliate network can really get you ahead of the game with exclusive offers and access to the best brands in the industry. 
Joining CBDAffs makes it way easier to view commission rates, cookie duration, and potential discounts from a wide selection of CBD companies. 
As an affiliate, you'll also be assigned a personal affiliate manager to help you make conversions and maximize your earnings. 
CBDAffs also has the ability to negotiate higher commission rates than what you'll find outside of the network. 
In addition to that, you can rest assured that your affiliate tracking is always accurate and reliable. 
Visit CBDAffs CBD Affiliate Network
ShareASale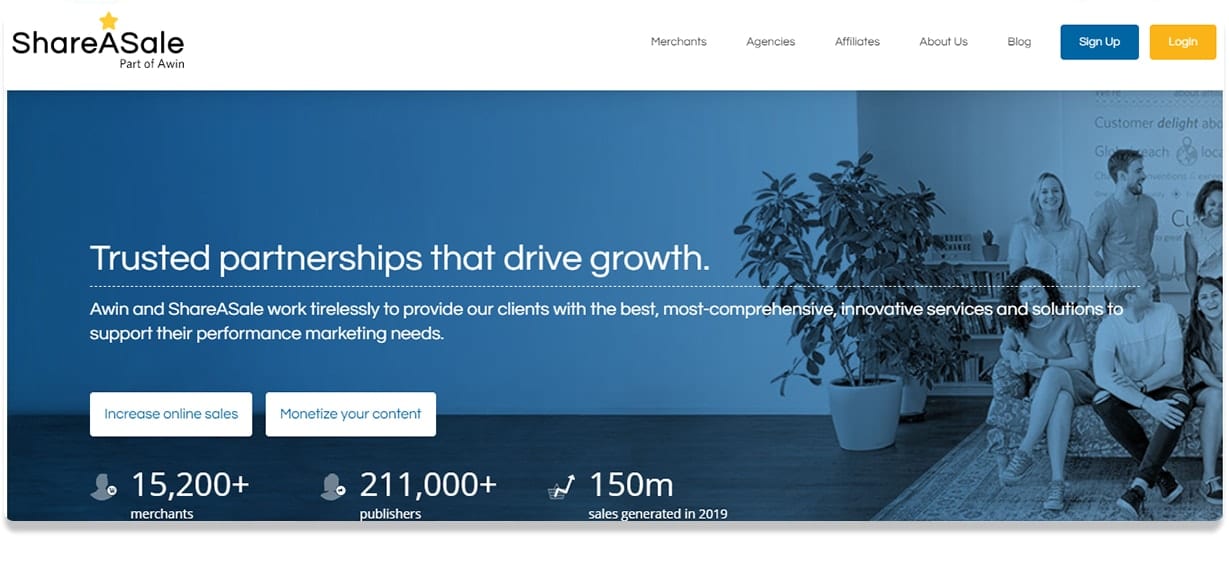 If you are in affiliate marketing, I'm sure you've heard of this popular affiliate network. 
ShareASale offers access to thousands of affiliate programs, and CBD programs are no exception. 
In fact, many of the programs on this list can be found on ShareASale. In order to access these CBD programs, you'll have to apply to the ShareaSale network. 
Once approved, you can begin applying to individual CBD affiliate programs. 
Visit ShareASale Affiliate Network
Final Thoughts
After looking through these excellent CBD affiliate programs, you should be pretty excited. 
As you can see, these CBD affiliate programs offer some of the highest commission rates across all niches. 
It's not unusual to find CBD affiliate programs offering up to 50% commission rates. 
All that is to say, there is real potential to make a passive income as an affiliate for these programs.
For more advice on affiliate marketing and building your passive income, check out my free guide to affiliate marketing.