If there is one thing you absolutely must do as an affiliate marketer, it's research. That applies to your own knowledge of the industry. 
Whether you are an expert, or just getting started, it's always beneficial to stay up to date with best practices and effective strategies in your field.  
I've put together a list of what I consider to be the best affiliate marketing books available today. 
Whether you're looking for a simple guide to affiliate marketing, tips on affiliate program management, or ways to become an affiliate marketer, I've got you covered. 
Let's get started.
"Affiliate Program Management: An Hour a Day" by Evgenii Prussakov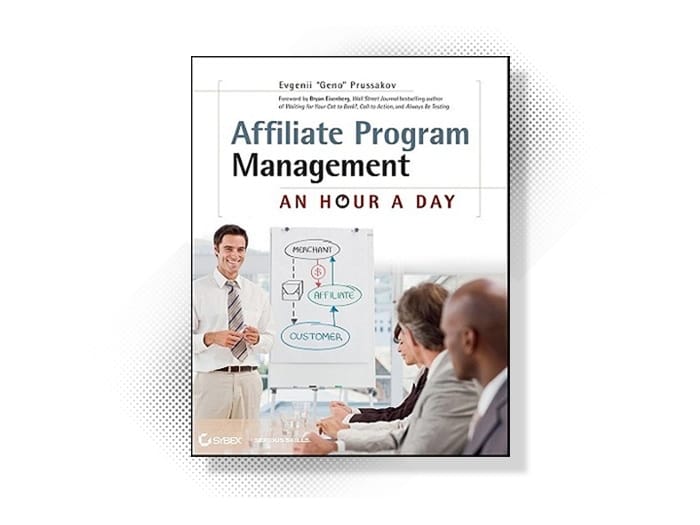 As I am sure you are well aware, nearly every successful online business has an affiliate marketing program to match. 
Affiliate marketing is not only profitable for the affiliate marketer– it's a necessary strategy for any internet retailer. 
In this book, Evgenii Prussakov details exactly how you can start your own affiliate marketing program. 
Prussakov takes the reader through a step-by-step process of setting up and managing an affiliate marketing program. 
The book walks you through a "task-based approach" so that you can easily develop a custom affiliate program specifically for your company. 
This book is best for online business owners who are new to affiliate marketing and wish to start an affiliate program. The book takes a simple approach that is suitable for any skill level.
Reader Review: "I'm new to Affiliate Marketing, this book is teaching me things that I would have otherwise failed at and learned the hard way." — Casey
"Affiliate Marketing: Learn How to Make Your First $1000 Passive Income Online" by Ray Hamilton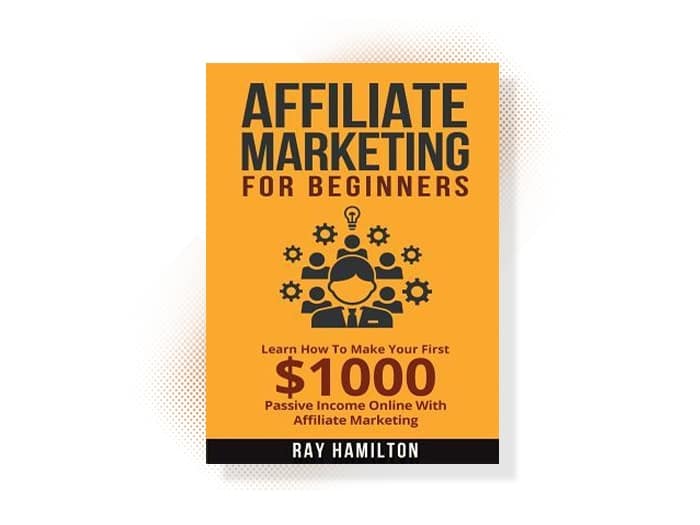 Ray Hamilton wrote this book as an introduction to affiliate marketing for the absolute beginner. 
He's created actionable steps that affiliate marketers can take to earn a real income online. Get your affiliate marketing business off the ground, learn how to utilize blog content, use Adsense, and build an app for your site. 
One thing to keep in mind here– this is a fairly short book. This is a pro or con depending on what you are looking for. 
If you're just looking for a quick, beginner-friendly introduction to affiliate marketing, this is the book for you. 
If you need something more advanced, another option on this list may suit you better. 
As a bonus, you'll also get helpful tips on how to get started as an e-commerce business.
Reader Review: "This book is a fantastic overview on how to make money online, and most importantly, on how to start the process easily. From this book alone, you will then be able to refine your idea on how you want to make your initial $1000, and then work to make it happen." — Captain Gh 
"Affiliate Marketing: Proven Step By Step Guide To Make Passive Income With Affiliate Marketing" by Mark Smith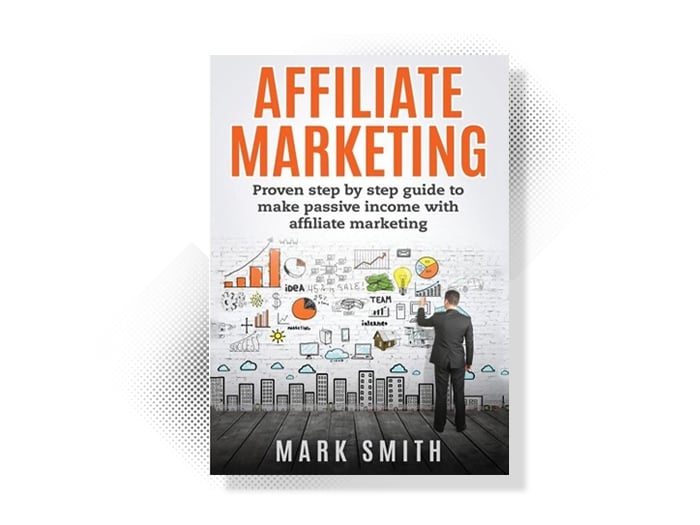 Mark Smith provides a great introduction to affiliate marketing in this book. As with other options on this list, I would recommend this book to those of you who are total beginners. 
If you already have a fairly good understanding of affiliate marketing, this book might be too simple for you. 
In a nutshell, Smith provides a simple guide for earning a passive income and becoming a successful affiliate marketer. 
Smith goes over the basics of affiliate marketing in a step-by-step guide so that you can get going in the right direction. 
The steps are easy to understand and can get you off your feet as a new affiliate marketer. You'll learn some of the common mistakes made by affiliate marketers, useful terminology, and the best methods for affiliate marketing.  
Overall, this is one of the best books for beginner affiliate marketers looking to get their feet wet.
Reader Review: "Great book! The book starts from the beginning from the development of affiliate marketing and takes us through the different roles and lingos of affiliate marketing, Being a newbie to affiliate marketing I had no idea where to start but upon reading the book I feel motivated and knowledgeable in all the steps and strategies to being a successful affiliate marketer." — Kindle Reader
"Affiliate Marketing: The Beginner's Step By Step Guide To Making Money Online With Affiliate Marketing (Passive Income, Affiliate Marketing, Blogger, Small Business Ideas, Financial Freedom Book)" by Kevin Ulaner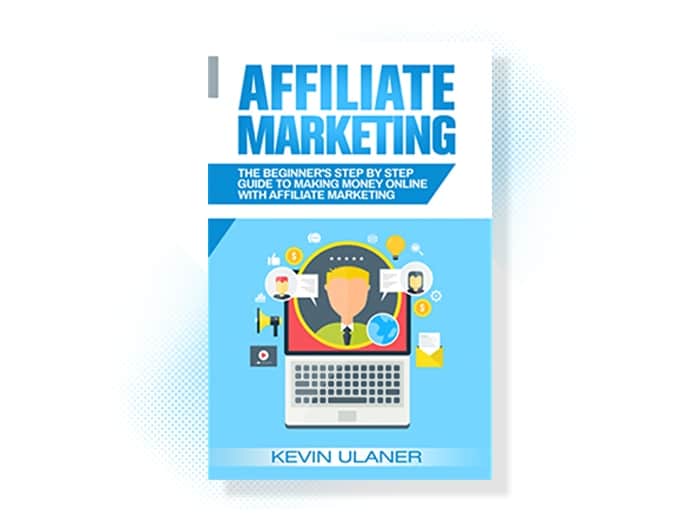 Kevin Ulaner gives readers an easy introduction to affiliate marketing in this quick book. If you're a beginner, this is one of the best affiliate marketing books on the list. 
You'll get an excellent overview of affiliate basics, how to choose an affiliate program, and how to turn affiliate marketing into a profitable side hustle. 
You can also expect to learn about keyword research, how to choose a niche, create content, and common mistakes to avoid as an affiliate. 
Overall, if you're looking for a straightforward book to help you get started, I recommend checking this out.
Reader Review: "I am a total beginner and am in the process of learning as much as I can. I have taken paid courses, seen many paid videos, and have read books as well. This book focuses on essential procedures not covered as thoroughly in other affiliate marketing books. If you're a beginner trying to wade through the myriad of AM books out there, I highly recommend you read this one." — G. Stuart
"Affiliate Marketing For Dummies" by Ted Sudol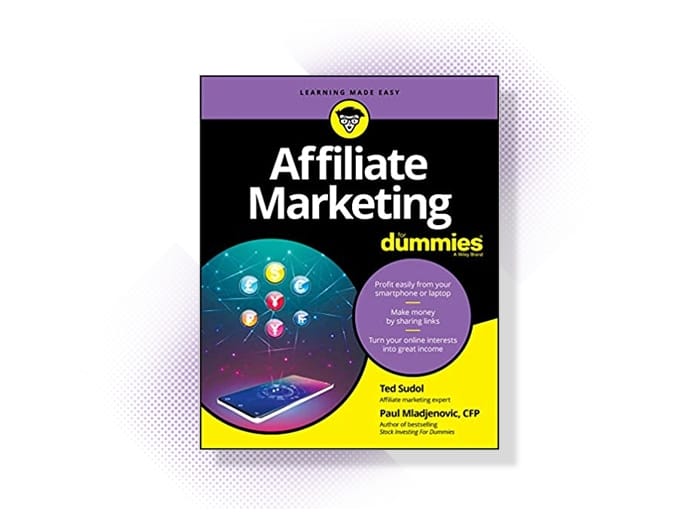 Unless you've been living under a rock, you have probably heard of the popular "For Dummies" books. These books are best known for breaking down complicated subjects into easy to understand guides. 
Luckily for you, they decided to make Affiliate Marketing For Dummies. 
As the name implies, this affiliate marketing book is great for newbies. If you need a simple, yet informative introduction to the affiliate marketing industry, I highly recommend this book. 
This book will show you how to make money online, choose the right affiliate programs, and teach you the best affiliate marketing strategies. 
At the end of the day, this company is known for its reputable guides, and this affiliate marketing guide is no exception. If you want a safe, reliable choice, you can't go wrong with this book.
Reader Review: "This book is greatly phenomenal. Jam packed with information. I've only read half of it so far and learned a lot. Greatly recommend. I love it. I gained a new appreciation for the dummy books. Thanks." — Daniel Morgan
"The Complete Guide to Affiliate Marketing on the Web: How to Use and Profit from Affiliate Marketing Programs" by Bruce C. Brown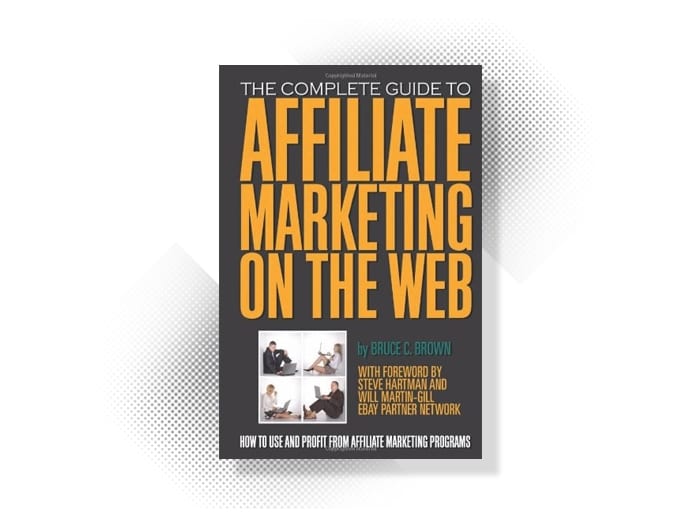 Alright, for those of you just starting out in affiliate marketing– this book is for you. As you might have guessed from the title, this is one of the most comprehensive affiliate books on this list. 
This full-length guide is over 300 pages long so you'll really be able to bulk up your affiliate marketing knowledge.  
Inside this book, you can find a full breakdown of affiliate marketing, lead generation, SEO, marketing campaigns, and much more. 
While this book does provide a more in-depth explanation of affiliate marketing, it is still suitable for beginners. 
If you're looking to improve your understanding of affiliate marketing strategy, this is a fantastic book to have on your shelf.
Reader Review: "This book seems to have everything you would want to know about marketing on the web. I have been doing it for the last 5 years and love it. This book title caught my eye so I had to add it to my library. So far, what I have read, seems to support the title in full." — Kindle Customer
"From Nothing: Everything You Need to Profit from Affiliate Marketing, Internet Marketing, Blogging, Online Business, e-Commerce and More… Starting With <$100" by Ian Pribyl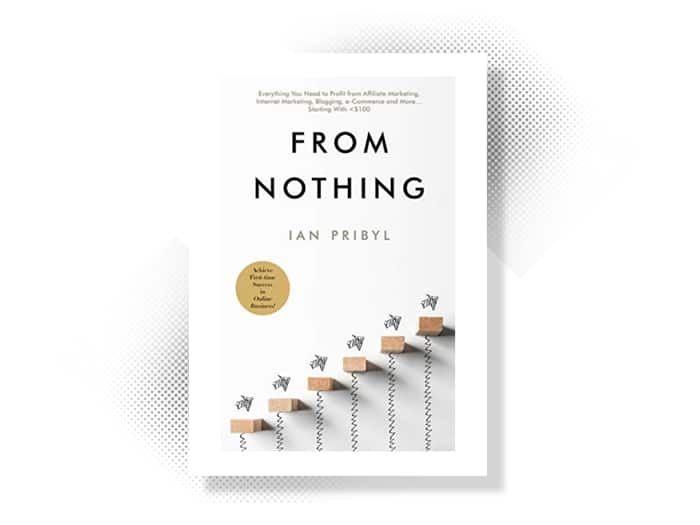 When it comes to books on affiliate marketing, this one is a must-have. You don't have to take my word for it– just read through some of the customer reviews. People really love this book. 
And it's not just beginners either. You'll find that people who have been in affiliate marketing for a long time are learning new things from this book.  
So, what makes this affiliate marketing book so great? Well first, it's a robust, full-length book on making money with affiliate marketing. 
Secondly, just like the title implies, you don't need to have a lot to get started. This book has created an actionable plan for affiliate marketers to get their business off the ground for less than $100. 
Lastly, the author, Ian Pribyl has a pretty great sense of humor which makes reading it a breeze. 
So, if you're looking for affiliate marketing books that are informative and enjoyable to read, I can't recommend this book enough.
Reader Review: "When Ian Pribyl released this book, it was a no-brainer for me. I've already dived in and have found the contents to be as thorough and easy-to-follow as his online course. Do your online business and yourself a favor. Buy the book! Invest in yourself! It'll be the best money you've EVER invested in your success."– Diane MC
"The Essential Habits Of 6-Figure Bloggers: Secrets of 17 Successful Bloggers You Can Use to Build a Six-Figure Online Business" by Sally Miller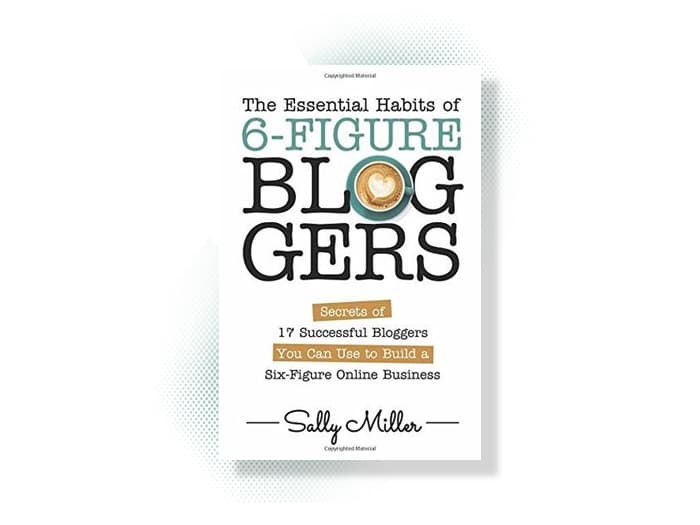 If there is one thing we all dream about as affiliate marketers, it's a six-figure salary. 
In this book, Sally Miller breaks down the most common practices by successful bloggers so that you can do them too. 
Now, not to state the obvious here, but this book is best for those of you who are bloggers or plan to start a blog. 
This option really differs from other books about affiliate marketing. The author focuses on the specific choices made by bloggers that make money. 
Overall, this book makes it easy to identify an affiliate strategy that will actually work for you. 
Included in the book are six proven methods for creating a profitable blog, how to track your success, and how to increase growth. 
If you've got your eye on the monetary prize, you're going to want this book.
Reader Review: You'll want to read this book with a notepad handy. From the first chapter, I was scribbling notes and actionable tasks. It's full of great information, and it also directs you to even more helpful resources. I have a whole list of books on my reading list, now! You know what I liked the most about this book, though? The real stories from real bloggers."– Jennifer K 
Becoming A Digital Marketer: Gaining the Hard & Soft Skills for a Tech-Driven Marketing Career by Gil and Anya Gildner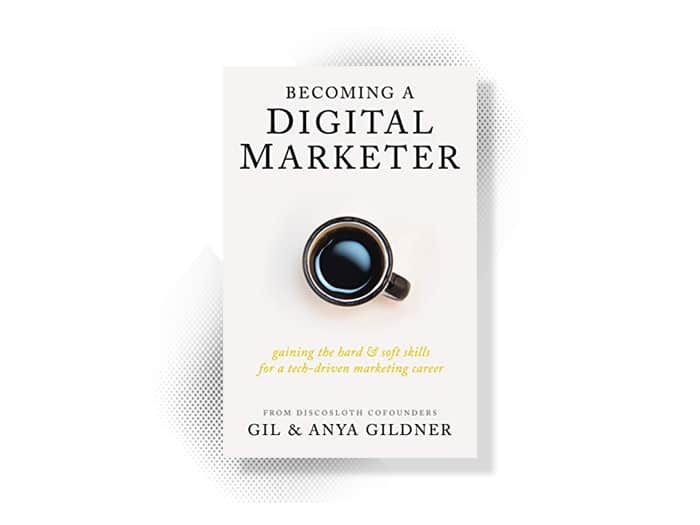 Now, most of the books on this list were written specifically for the affiliate marketer. In this case, you'll get a little bit more than that. 
This book is a helpful resource for digital and internet marketing as a whole. 
That means, in addition to becoming an affiliate marketer, you can boost your skills in general online marketing.  
From reading this book, you will get a crash course in search engine optimization, paid advertising, social media marketing, and email marketing. 
These are all skills you will need to run a successful affiliate marketing business. 
The authors of this book are founders of their own successful online business and have become industry leaders in digital marketing.
Reader Review: "I liked the emphasis on both technical skills and more general skills like critical thinking. I have read a lot of content about digital marketing. This book adds a valuable and unique perspective about what digital marketers really should concern themselves with." — Kay M Bell
"The One Hour Content Plan: The Solopreneur's Guide to a Year's Worth of Blog Post Ideas in 60 Minutes and Creating Content That Hooks and Sells" by Meera Kothand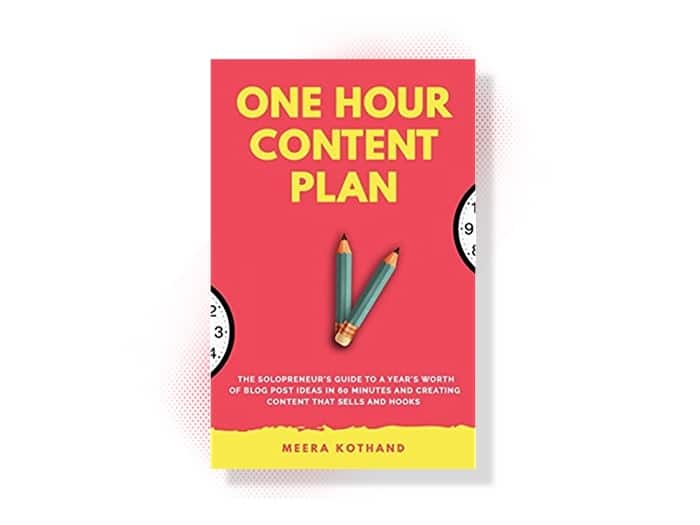 As an affiliate marketer, I'm sure you know all too well the struggle of coming up with new content ideas. And as we know, great content is one of the best ways to make money as an affiliate marketer. 
Meera Kothand's book is here to save the day with the one-hour content plan. 
This book can get you started on a solid content strategy. You can forget about wasting your time trying to come up with new article topics every day. 
This book will help you come up with an entire year's worth of topics for your blog in about an hour's time. 
In addition to that, this book will help you create content that effectively features your affiliate products. 
Through this book, you'll get a simple content formula that you can use to make sure your blog posts are always up to par. This is certainly one of the most useful books on this list for the affiliate marketer.
Reader Review: "I've read Meera's content before and I love her style – to the point, easy to follow and easy to put into practice. This book is the same – full of useful information that you can action immediately, regardless of what stage of blogging you are at. I read the book straight through, printed the bonuses and now I need to read it again to start putting it into action – great read!" — Angela Tempest
"Expert Secrets: The Underground Playbook for Creating a Mass Movement of People Who Will Pay for Your Advice" by Russell Brunson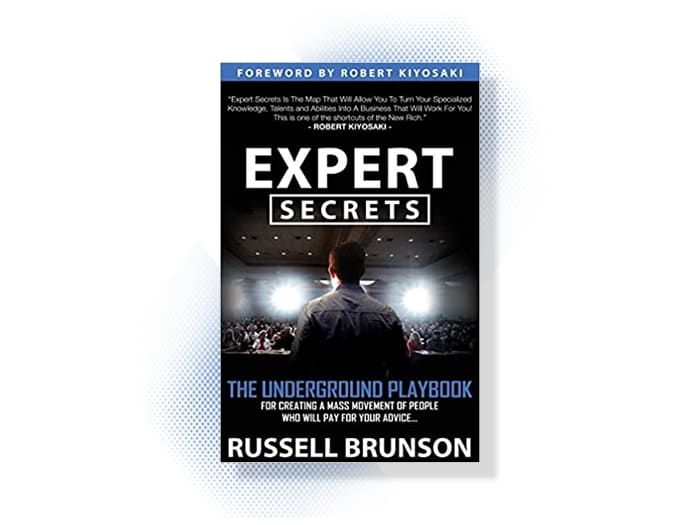 Last on the list, I wanted to include something for those of you who are more advanced in affiliate and internet marketing. 
Out of all the books on this list, this option may be the most in-depth in terms of creating a strategy for your affiliate marketing business. 
Russel Brunson hones in on the skills needed to become an expert in your niche. And if you've been to my site before, you know just how important this factor is. 
Whether it's social media, blogs, or Youtube, you need to be perceived as an industry leader if you really want to bring in money. 
With this book, you can learn how to accurately portray your brand voice, generate more leads, webinar basics, and other industry secrets. 
In all honesty, you're getting access to game-changing information all for less than $15. I highly recommend this book to anyone trying to improve their business, including affiliate marketers.
Reader Review: "Best book ever for marketing your business. And not just for online marketing. This book goes into so much detail and is perfect for any business. How to tell stories to make sales. How to be the EXPERT in your Niche. ― J. Paterson
Final Thoughts
Becoming an affiliate marketer is one of the smartest ways to bring extra money online. 
Many affiliate marketers struggle to create an effective strategy for their business. These books will put you in the right direction. 
Learn how to choose the right affiliate program, drive traffic to your affiliate site, craft unique business ideas, and take your business to the next level. 
With the help of these books, you have the opportunity to earn a full-time salary with your affiliate marketing endeavor.