Do you have a passion for traveling? Do you like to experience new places and cultures? Would you love to take your workspace with you in a suitcase and head to the warm waters or the mountains? Well, it seems like you're on your way to becoming a digital nomad. 
What is a Digital Nomad? 
Digital nomads are remote telecommunication workers who take their occupations wherever they go. Living the nomadic lifestyle consists of working remotely in foreign countries, coffee shops, public libraries, or recreational vehicles. To work remotely one must rely on wireless internet resources such as smartphones and mobile hotspots to work wherever they please. 
 Recently there has been a huge shift in accessibility to remote work. Upwork predicts that with current trends by 2025, 36.2 million Americans will be working remotely. This means remote work jobs are in abundance and if you've always dreamed of making the switch the timing has never been better. 
If you are looking for creative ways to make money online read on to discover our top 8 ways to earn income as a digital nomad.
8 Ways To Earn Money as a Digital Nomad
Affiliate marketing
Affiliate marketing is where digital marketers earn commission by facilitating the sale of another person or company's products. The affiliate marketer explores products they like online, then promotes the products and earns a portion of the profit that each sale makes. All sales are tracked from affiliate links. 
Affiliate marketing is done by distributing the responsibilities of product marketing and creation from the seller and product creators, the affiliate (advertiser), and the consumer.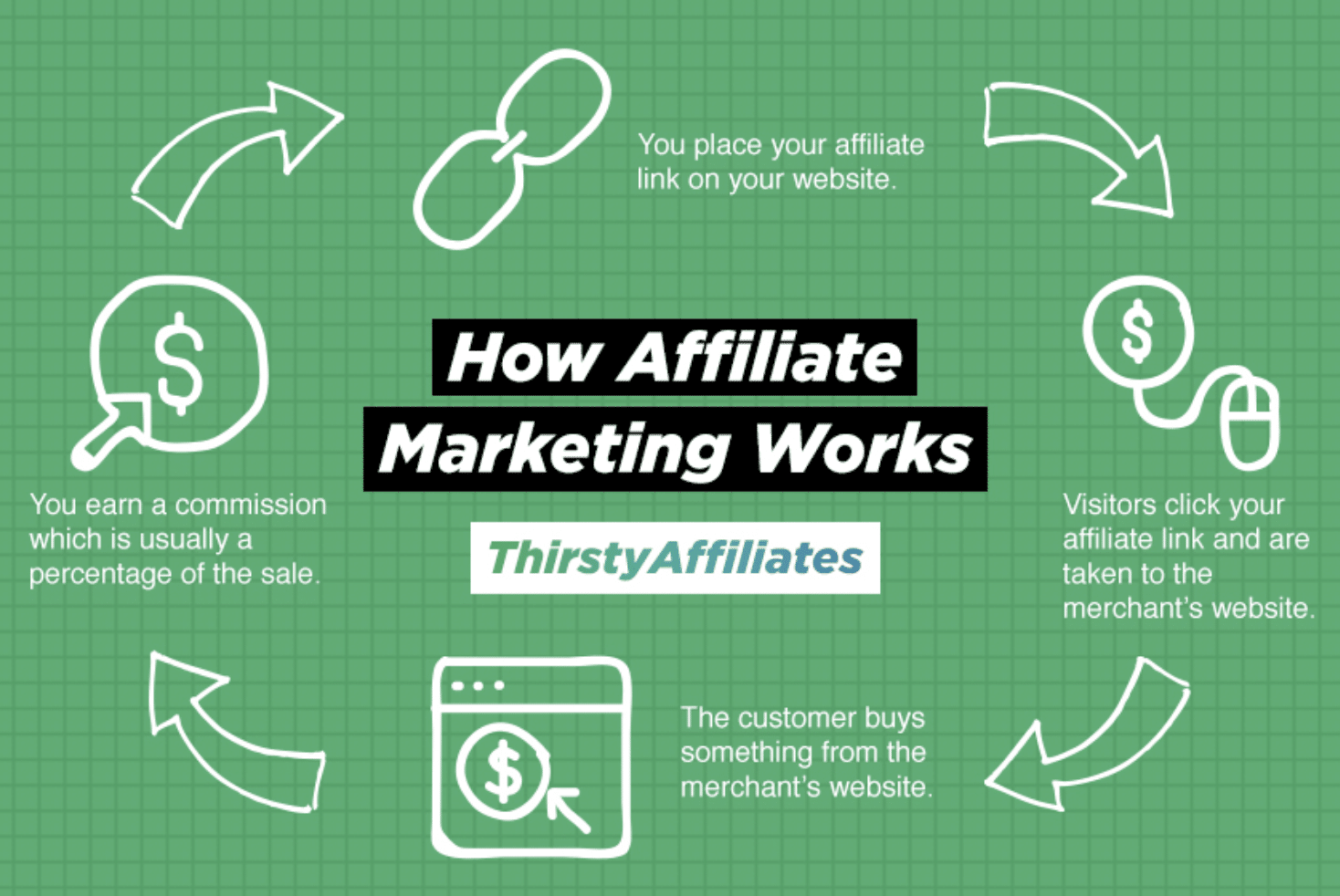 Image Source: Thirsty Affiliates 
Affiliate marketers can get paid in numerous ways:
As this is usually the standard marketing structure, the merchant pays the affiliate marketer a percentage of the sale price after the consumer has purchased the product. 
The affiliate is compensated based on the number of leads sent to a product or site. The affiliate has to convince a consumer to visit the merchant's website and complete a certain action on the website – signing up for a free trial of the products, subscribing to the email list or newsletter, or filling out a contact form to get paid. 
The affiliate is paid based on the web traffic. The affiliate must persuade the consumer to move from the affiliate's site to the merchant's website. 
It's rather simple to get started as an affiliate marketer. You can use a company like Amazon that accepts almost anyone into their program regardless of experience or traffic sources. While Amazon does accept most people their payout amounts are fairly low. You'll likely earn more money through an affiliate network which grants you access to promote multiple sites and products.  
Once you have registered with an affiliate network and started honing your niche it's up to you to drive traffic to these offers. Some options include driving traffic through YouTube, your blog, social media sites, or even platforms like Pinterest.
Build a Site to Monetize 
Starting a blog is easier than you think and one of the more common ways to earn money while remote. Once you get your site up and ranking on the search engine results page you could turn it into a passive income stream. This means as long as your site is getting traffic and you've set up affiliate links you won't have to do much more but sit back and cash in.  
 One of the most important things you can do when starting a site is to build topical authority. Google will send your site traffic based on your quality score. To improve your quality score you will want to stand out as an expert in your field. This means your content should be focused on a specific niche and not be too general.
Different niches are more competitive than others but those niches might have affiliate offers that pay out more than others. You'd be shocked at how much money certain sites make each month simply through monetizing their sites. To find the perfect niche you'll want to strike that balance between profitable, solving for a problem, specific (topical authority), and evergreen to ensure your site continues to make money.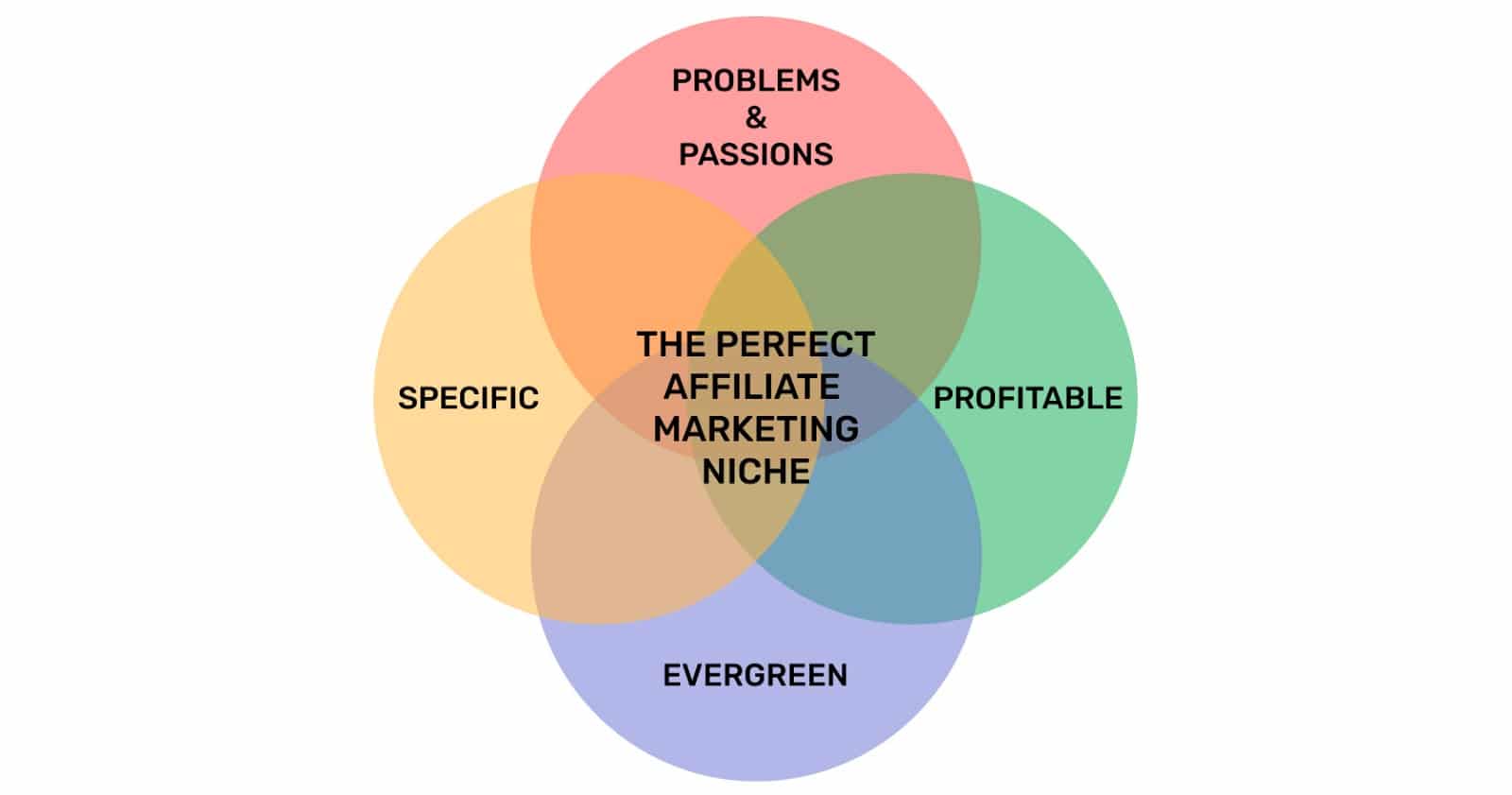 Image Source: Travel Affiliate 
Start an Online Business
Starting an online business might seem daunting but these days eCommerce companies are lower risk than a brick-and-mortar. As long as you've got your laptop you can start a business from anywhere. 
What type of online business is best for you?
Being a digital nomad chances are you're going to want a light load. This means you won't want to start an online business that requires you to hold any inventory. The good news is these days your online business can be entirely virtual. Dropshipping is a great option for the person who wants to own an online business but not be responsible for the product.
Dropshipping is when an eCommerce business supplier holds and ships all of your inventory for you. Similar to being an affiliate marketer you will be responsible for marketing the product and facilitating the sale. Once the purchase has gone through the dropshipping company handles the rest so you are not on the hook for shipping and logistics.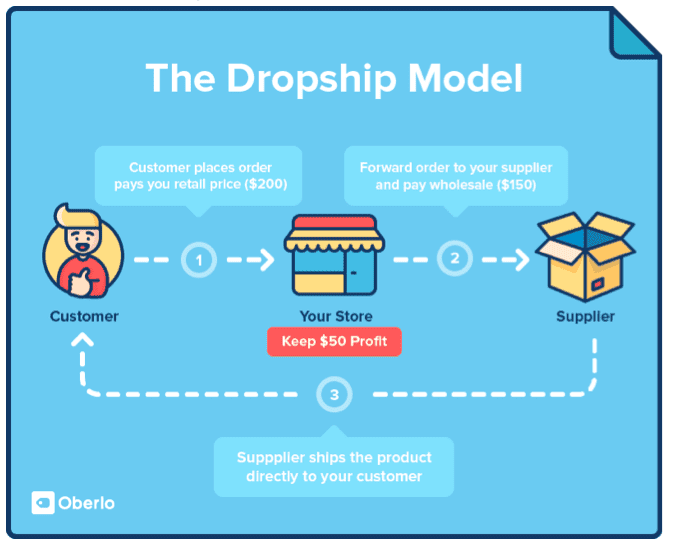 Image Source: Smart Insights
Freelance on Upwork
If you are a freelancer Upwork is a great place to connect with remote work opportunities. Employers simply post listings and if it's a project you'd like to apply for you can do so through the site. They provide hundreds of top freelancers, marketing agencies, designers, and more with short and long-term work contracts.
One of the best things about Upwork is that your payments are secured. Upwork holds an employer's money in escrow until a project is complete ensuring both parties are compensated accurately. You don't have to worry about not getting paid for your work and an employer doesn't have to worry about not receiving a project. 
You can learn how to make a living with Upwork, through this step-by-step guide. You'll want to perfect your profile and make sure to get reviews from each employer you work with. Both of these steps will help you build credibility and trust in the work you put out. 
Become an Influencer
You don't have to get millions of followers to become an influencer. Micro-influencers make tons of money as well. This marketing tactic has become very popular in the last few years. You can now brand yourself in a small niche where you have authority instead of trying to go after millions of followers. 
To become a micro-influencer you'll want to hone in on a specific issue or category you are well versed in. Then produce content that only further iterates your knowledge of your space. Lean into multiple platforms to have an expansive reach but more importantly invest in your community. Answer their questions, engage with their comments and be a fan back to them. 

Image Source: Get Kobe
The new app TikTok has proven overnight that anyone can amass a huge following. By utilizing affiliate offers and brand deals you could make a ton of money solely off TikTok. It's a bit of a mystery why some things go viral on TikTok but by using their hashtags and music that is trending at the time your chances of going viral increases. Don't worry you don't have to dance if you don't want to.
Teach English
Teaching English online is a common way digital nomads make money. You're able to connect with students all over the world to help them learn English. With a wifi connection and computer, you're able to work remotely around the world. If you're expecting to make a huge fortune this may not be the profession for you. 
The Requirements
According to TEFL, Teaching English as a Foreign Language, these are the requirements for almost every online English school. 
You must be a native English speaker or be of native level ability

A college degree

TEFL certificate (This is always a requirement) 

Have reliable internet and devices such as a laptop.
Pros
Freedom to make your schedule

No teaching experience required

You can work while you travel since it's remote
Cons
Most companies require a degree

You don't receive benefits

The pay can be relatively low
Despite the low pay, many online English teachers make the career can be extremely fulfilling. Helping your students grow their skills while having the freedom to live anywhere makes this form of digital nomad work one of the more popular. 
Start a virtual store
Starting a virtual store is one of the lowest-risk ways to make money online. You simply create guides or template downloads and then market them as a digital product. Besides your time creating a digital product this is a great way to earn passive income once it is established.  
If you're considering becoming an influencer, starting a virtual store can help monetize the traffic from the fans you already have. Creating your store in a subscription-based way is a great way to get recurring revenue you can count on. If you're already traveling as a nomad creating a guide on the best places to go or things to do in a new area is a great option as a product to sell.
Benefits of Having A Virtual Store
Once you create a digital product it costs you almost nothing to sell it over and over again.

You don't need to worry about shipping or logistics as your product will just be a download.

You don't have to hold any inventory so the risk is low.
It is also very convenient to sell your products through a third-party company such as Amazon, Poshmark, and Etsy. Marketing wouldn't be required since these companies give you plenty of exposure. Etsy is the best option when it comes to selling your digital product. The site makes it easy for you to preload your product and automatically sends the download to the customer once purchased. This means you get to fill your store and then set it and forget it. 
Virtual Physical Training
Virtual training is where you get all the perks of a trainer but in the privacy of your own home. According to Allied Market Reach, by 2027 the online virtual fitness market is expected to become a $59 billion industry. Which means there is a ton of money for you to make in this field.
These days you can hop on an app or Youtube and have a virtual yoga lesson or workout right on your screen. As a virtual trainer, you will need to build your following and create classes that help people achieve their fitness goals.
You'll need a computer and a webcam and that's about it. Once you start building your customer base you can create custom workout programs and meal plans. One perk of being a virtual trainer is you don't have to rent out a gym space or have much equipment. You can advise your clients on what they will need to provide and you provide accountability.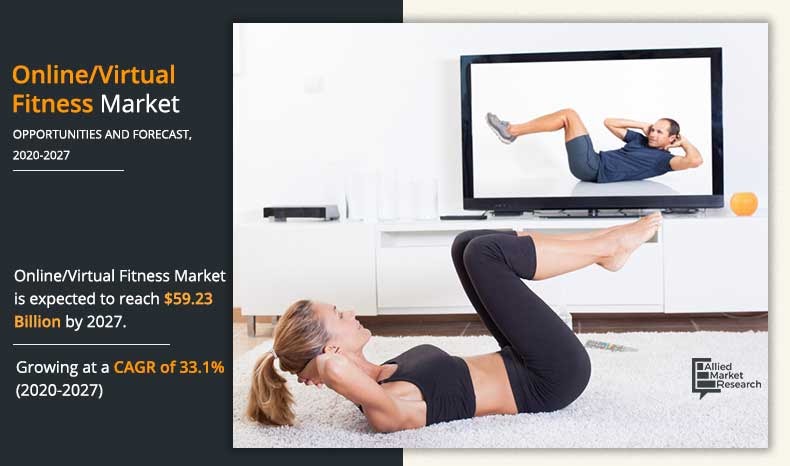 Image Source: Allied Market Research
Ideal skills to have
Not every virtual trainer needs to have extensive experience but you will probably do well to have these skills.
Be tech-savvy. You have to be able to utilize computers and the internet. A few of your students may not be experienced with computers so your troubleshooting skills need to be a little above average. Learn to use a program like Zoom for group workout classes or private one on ones with clients.
Be fit. This is a no-brainer. People want to be trained by others that have amazing bodies. Any physical activity is better than none so you don't have to be shredded but work on yourself too. Your body is your business.
Enjoy motivating and encouraging others. If you are soft-spoken and shy, being a trainer is likely not for you. Your clients are paying you to give them the push they need to reach their goals.
Also, note there are other types of trainers you can be. Maybe you're a great singer and could be a virtual voice coach or a piano teacher. The possibilities are endless, think about your skills and profit from them. 
Conclusion
Here are important things to consider when living as a digital nomad: 
Time zones you will work in 
You'll want to pick nomadic work that works for your time zone. You likely don't want to live in a beautiful new country but never get to see it in the daytime because you are working the graveyard shift. 
Ideally, you will want to find work that is flexible so that you can have it completed by the time a client wakes up or be responsive to questions. 
Communicate with coworkers or clients your availability when you are traveling. It's important to stay reliable no matter what time zone you are in. 
How much money do you need to make?
Starting a digital nomad life can be thrilling as you're making money and traveling the world. But you need to have a financial budget before you live your life on the road. In some countries, you will spend more money such as North America or Australia. 
Most Asian countries such as Thailand and Indonesia are fairly cheap to live in. If you're becoming a digital nomad for the first time try going to a country that is cheaper so you can have a good financial start. You could even get away with working part-time in cheaper countries.
An ideal situation is to make a western income while working in a more affordable country. This way you might even save some money. 
Taxes
One of the most important questions people ask about becoming a digital nomad is, "Do I have to pay taxes"? Well, the answer is yes. If your employer has hired you as a "contract" employee you need to file taxes as if you are self-employed. The perk of this is you can take advantage of more tax deductions than if you were a salaried employee. 
Any expense you collect for earning your living is deductible, such as:
Laptop – and all computer-related equipment

Office expenses such as pens, notebooks, etc. 

Internet service

Cell phone expenses

Education courses related to your job
This makes it important to take note of all of your expenses and receipts throughout the year. If you're not responsible at saving receipts and notes we recommend making an excel spreadsheet. Log all expenses and receipts to track your tax-deductible expenses. Just for extra precaution keep a small file organizer to keep all receipts. 
Living life as a digital nomad takes responsibility and organization. But it is also very rewarding and fun! Enjoy these tips to start your life as a digital nomad.