Add a header to begin generating the table of contents
How to Start a Blog
It's easier than ever to start a blog and make money blogging. Even if you've never built a website before, you can start a blog in a single afternoon.
There are all kinds of tools that take the guesswork out of building a blog and simplify the parts of the process that used to be too technical or complex.
Of course, you still have to choose the right niche and write quality content, but the setup steps are easier than ever.
In this guide, you'll learn everything you need to know about starting a blog and use affiliate marketing to make money online. I'll walk you through every part of the process while avoiding the common mistakes that trip up so many new bloggers.
I will share my secrets, including how I made of
Ready? Let's jump in!
What is a Blog?
In case you're new to the whole online world we'll start at the very beginning.
A blog is a style of website that's consistently updated with new content. The voice of this content is usually more conversational and focuses on a certain niche.
For most people, the goal of a blog is to build an audience and start making money online.
A blog can also be used to drive traffic to other types of online businesses, like eCommerce stores, SaaS products, and freelance service businesses.
Is It Worth It to Start a Blog?
Definitely! Starting a blog is one of the best and most accessible ways to start your own online business. You can run your blog from anywhere in the world and your income is nearly unlimited.
Plus, you don't need any extensive technical skills to start a blog either. Just the willingness to learn. As you'll soon learn in this tutorial, you can have a fully built professional blog ready to go in a single afternoon.
There's also no barrier to entry with blogging. It doesn't matter where you live, your age, your professional experience, or anything else. All it takes is commitment and a willingness to learn as you go.
Can I Make Money With a Blog?
This is one of the most common questions–can I make money? The answer is a resounding yes. Blogging is not only very lucrative, but it also has very low startup costs.
All it requires is a domain name, hosting account, and free installation of WordPress. Plus, the time commitment doesn't have to be full-time either. There are plenty of bloggers who grew their blogs to six-figure levels while working part-time.
Once you start to get traffic you have an endless variety of ways you can monetize your blog. For example, you can create a freelance writing business, add advertisements to your content, create online courses, offer sponsored content, and much more.
The path you take to monetize depends upon your niche and overall goals as a blogger, but making money is a definite possibility in time.
How to Start a Successful Blog in 2021
Starting a blog today is easier than ever before.
Below you'll learn a step-by-step process you can follow to get your first blog online today.
Here's some of what you'll learn below:
Choose a blog topic that has the potential for profit down the road
How to find the perfect name for your new blog
What platform is the absolute best for starting a new blog
The online host you should use to host your blog
How to install WordPress on your site
How to find the perfect theme
How to set up your blog and build the necessary pages
That's just a fraction of what you'll learn in the tutorial below:
1. Choose Your Blog Topic
The first thing you'll need to do is find a profitable blogging niche. Choose the wrong niche and you'll make it that much harder to succeed as a blogger. Not every niche is profitable, and some will make your success that much more likely.
Essentially, your niche is a series of topics that you write about.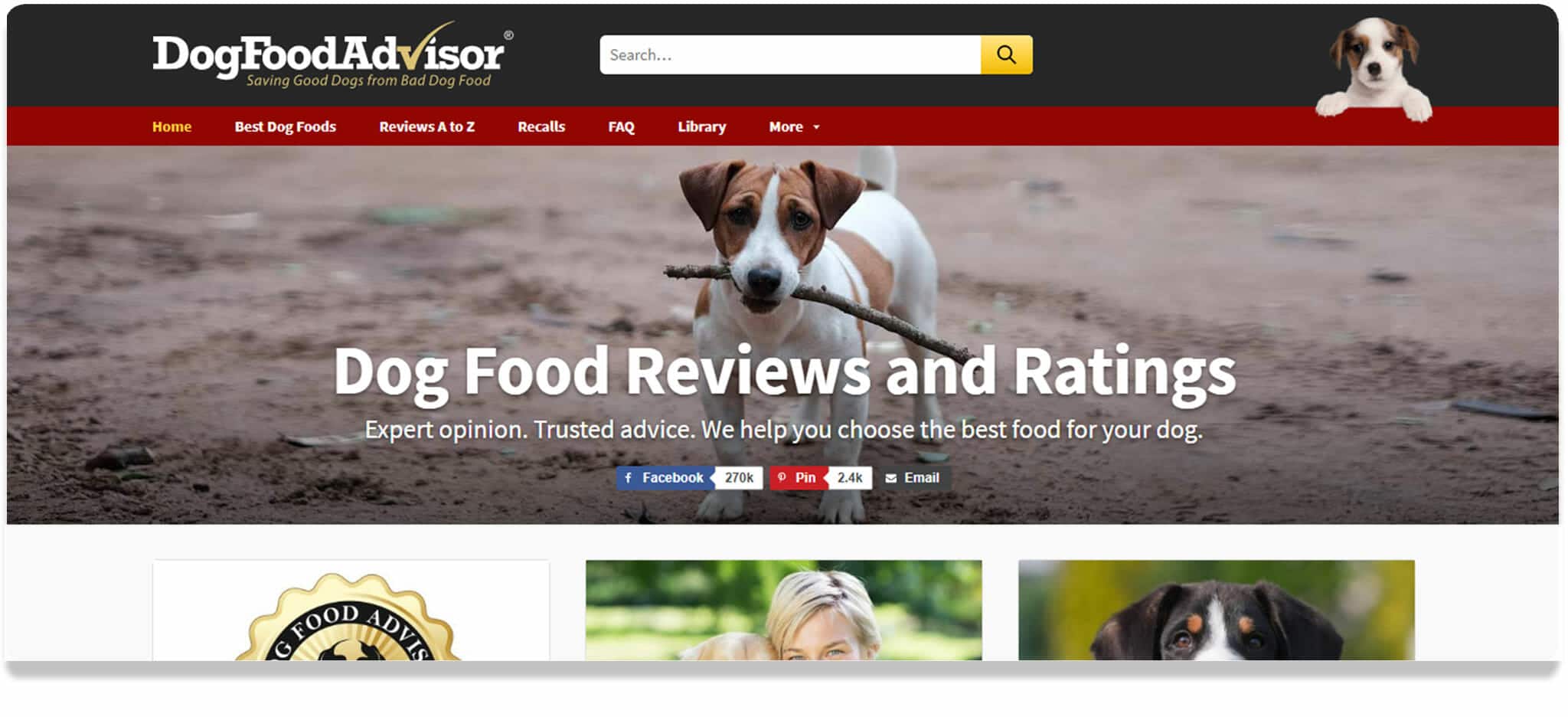 To start a successful blog you need a niche market that you can become an expert in. Nearly every successful blog has a specific niche like technology, food, fitness, SEO, digital marketing, and more.
Take a look at some examples of successful affilaite marketing websites making money online.
It's important to choose a niche that you're passionate about, but you'll also need to consider market overlap.
2. Uncovering Your Ideal Niche
We'll start at the initial brainstorming phase.
Here are a few good places to start generating ideas:
Any books or magazines you regularly read
Any blogs you regularly read
Items you've bought recently
Hobbies and interests you have
How you spend your time in daily life
This should give you an initial list of ideas, niches, and potential markets to explore.
With your initial list of ideas, let's dive deeper to try and uncover a topic that you're not only passionate about, but has a market of buyers as well. After all, it's easier and more fun to blog to an audience, than it is to an audience of zero.
Here are the three main factors you'll want to consider:
Your overall passion. It's easier to write about a topic over the long-term if you care about it.
The level of interest other people have in the topic. For example, travel hacking has a much higher interest level than underwater basket weaving.
Whether or not the market has the potential to make money
Your ultimate goal is to choose a niche that you're passionate about, has an engaged audience online, and has the potential to turn a profit via advertising, affiliate products, online courses, and more.
If you're having difficulty coming up with a niche take a look at some of the following.
All of these have had successful blogs built around them, and can be a great springboard for your new blog:
Personal finance
Powerlifting
Keto diet
Yoga
Travel hacking
Minimalism
Vanlife
Vegan cooking
Self-improvement
Frugal living
Self-publishing
Hiking/backpacking
Survivalism
3. Choosing a Domain Name
Once you've found the perfect niche it's time to name your blog. Your name matters more than you might think. It needs to communicate what your blog is about, while still being memorable, and something you can create a brand around.
Here are some best practices to follow when choosing a name for your blog:
Try to choose the ".com" domain extension if you can
The shorter the domain name the better
Make sure it's easy to pronounce and remember
Avoid numbers and hyphens if possible
Consider using niche-specific keywords
If you're stuck on a domain name, consider other website's in your niche as inspiration. For example, in the digital marketing and online business space, you have sites like "Smart Passive Income", which teaches people how to build a passive online business, and "Backlinko", which dives deep into what's currently working in the world of SEO.
Domain names are cheap too, depending on the domain name registrar you use, you can pick up a domain name for anywhere from $0.99 to $14.99 per year.
Note that you can change your domain name in the future as well, so try not to get too hung up on this phase. Do your best to come up with a domain name that'll work for the next few years, and move onto the next step.
4. Find the Right Blogging Platform
Once you've found a niche it's time to set up your blog. There are a handful of blogging platforms that you can use to build your blog. For example, you have free platforms like Tumblr.com and Blogger.com.
However, it's not recommended to use these free platforms, as it'll be much more difficult to build a long-term brand.
Free blogging platforms might seem like an easy way to build a blog, but the cons greatly outweigh the pros. Plus, if you want to upgrade your account down the road this can end up being a more expensive option.
The solution to this is self-hosting a WordPress blog.
When you use self-hosted WordPress the costs can be pretty low as well, since you're only paying for hosting and a domain name. The self-hosted version of WordPress is entirely free and open source. Plus, you can build out the rest of your site with free themes and plugins (more on this below).
Nearly every successful blog in the world is built on WordPress, so you'll be in good company.
Here are just a few reasons why WordPress is the best blogging platform:
It's entirely free to use and open source
It's backed by a large community of developers who are consistently improving the platform
There's a massive library of free themes and plugins to customize your site and add new functionality
You have full control over the design, direction, and future of your site
5. Set Up Your Web Hosting
Once you've found the perfect niche and named your new blog it's time to purchase and set up your hosting. Without web hosting, there's no way for your visitors to access your site.
Think of your host as the place where you'll be storing your website's files. When a visitor types in your URL, the web browser communicates with the server, and those files are sent to your visitor's browser.
When you have a high-performance host all of this happens in under a second.
There are dozens of different hosting companies for you to choose from. However, one of the best hosts is SiteGround.
SiteGround is a beginner-friendly host, it's recommended by WordPress.org, and it has industry-leading support. If you're just getting started online you can rely on their expert support team to guide you through any issues you might be experiencing.
With SiteGround you'll also get a free SSL certificate, daily website backups, a free email, CDN integration, along with automatic WordPress updates.
You're welcome to choose a different hosting company, but the rest of this tutorial will focus on SiteGround WordPress hosting. SiteGround is what I've used to host this blog since the early days and I've never once had an issue.
Navigate Over to SiteGround
Click here to head over to SiteGround and click on the "Get Started" button under WordPress Hosting:

On the next screen, you'll be able to choose your WordPress hosting plan. There are three different plans for you to choose from. The cheapest plan is the StartUp plan and offers more than enough resources to get your site off the ground. This plan will support your site up to 10,000 visitors per month, which is more than enough for the initial growth stages.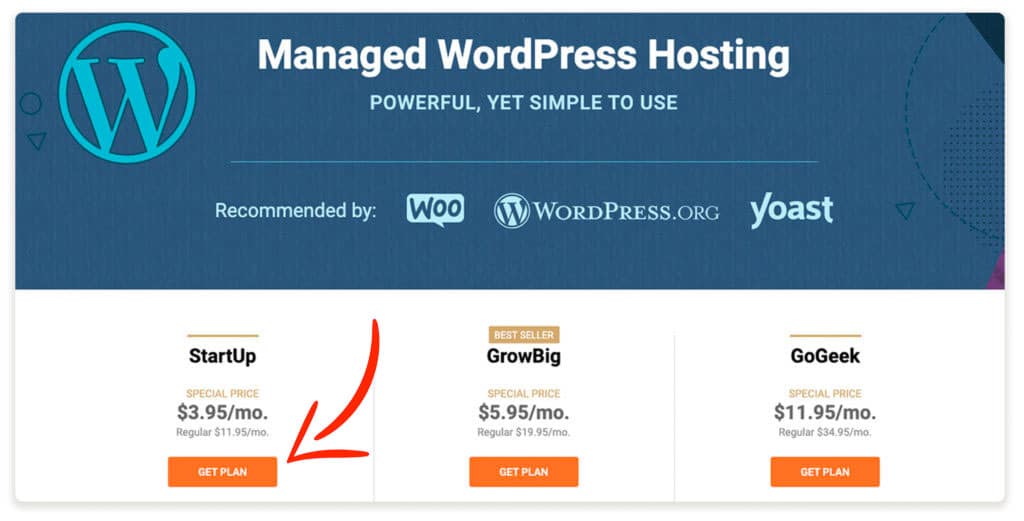 Click the 'Get Plan' button underneath the StartUp plan section, and follow the directions until you get to the 2nd step.

Here you can purchase a domain directly through SiteGround if you haven't already purchased a domain name previously. If you've already purchased your domain name, then enter your domain in the box and go onto the next step.
Then, move onto the 3rd step and complete your purchase. You'll now have a WordPress hosting account and a domain name ready to go.
Note, that you don't have to use SiteGround to host your new blog. Another very popular option is Bluehost. It's slightly cheaper than SiteGround, but it's not my favorite host. However, if you want to compare the two in-depth you can read my in-depth SiteGround vs Bluehost review to decide on the best host for your needs.
6. Configure Your Blog
Once you've created your hosting account it's time to install WordPress. As we discussed above, WordPress is the #1 Content Management System (CMS) and the platform you should use to launch and grow your blog.
WordPress is very beginner-friendly, plus it can scale and grow as your site grows.
Not only that but you'll find a collection of themes built 100% for bloggers, along with a handful of plugins that'll help you with building, optimizing, managing, and growing your blog.
No matter what you want your blog to look like or the features you want to add, you'll be able to accomplish it with WordPress.
Hopefully, by now you're sold on WordPress.
Here's how you install it:
1. Login to your SiteGround account and select "Websites"
2. Click on the "cPanel" button


This will bring up your control panel (cPanel), which enables you to launch your WordPress site.
3. Click on the icon that says "WordPress" as shown in the image below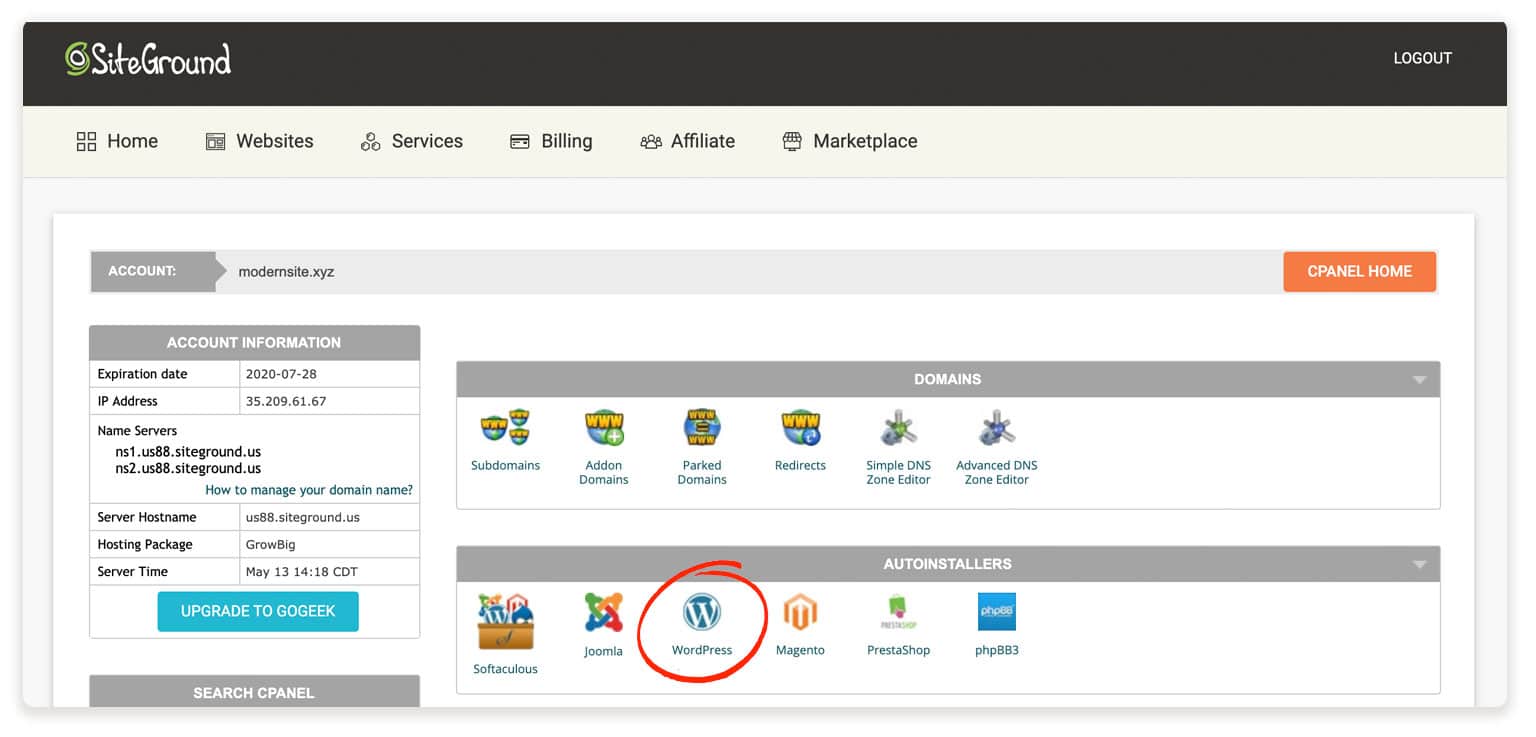 4. Click "Install Now" to install a fresh version of WordPress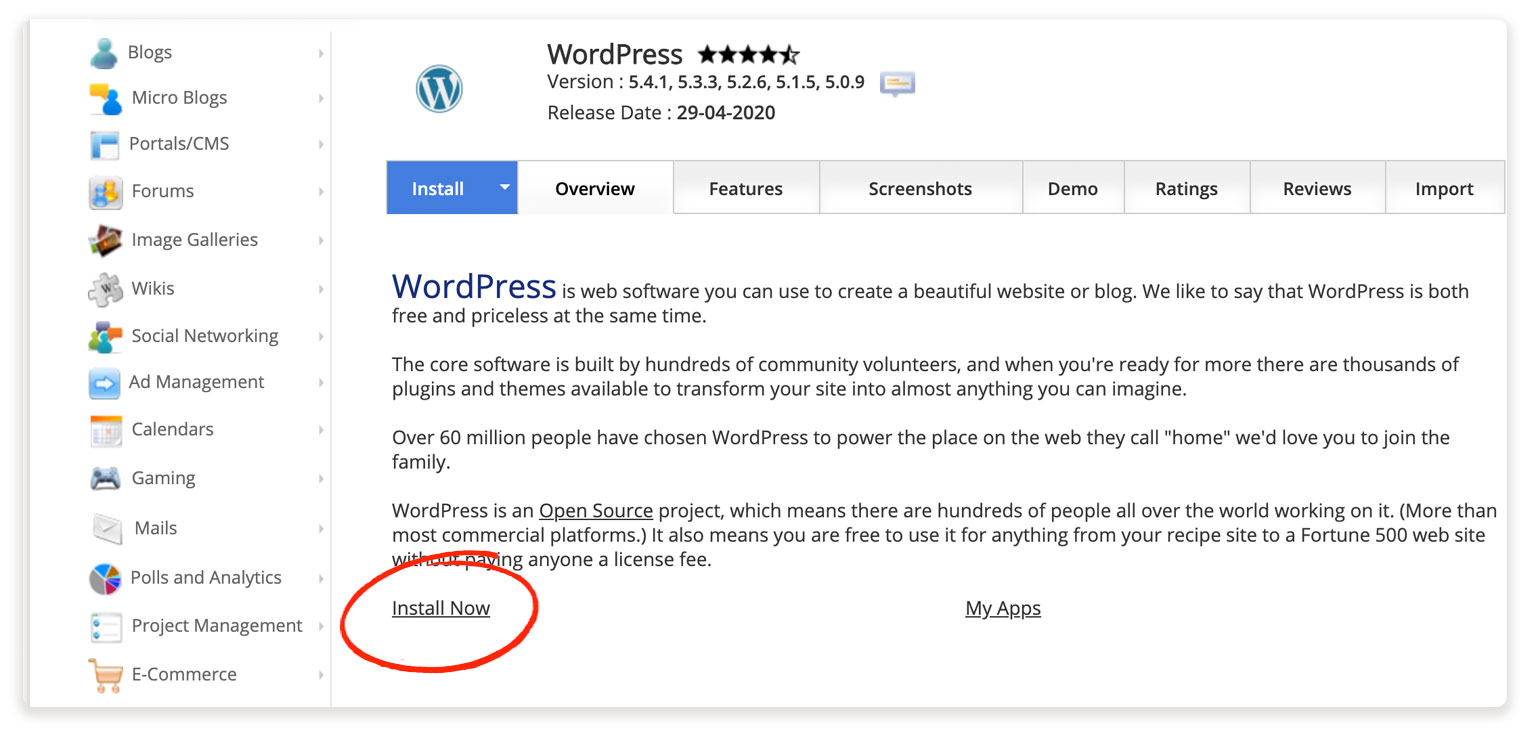 5. On the next screen enter some basic information about your website, including your site name, username, and password. Make sure to store this password in a safe place.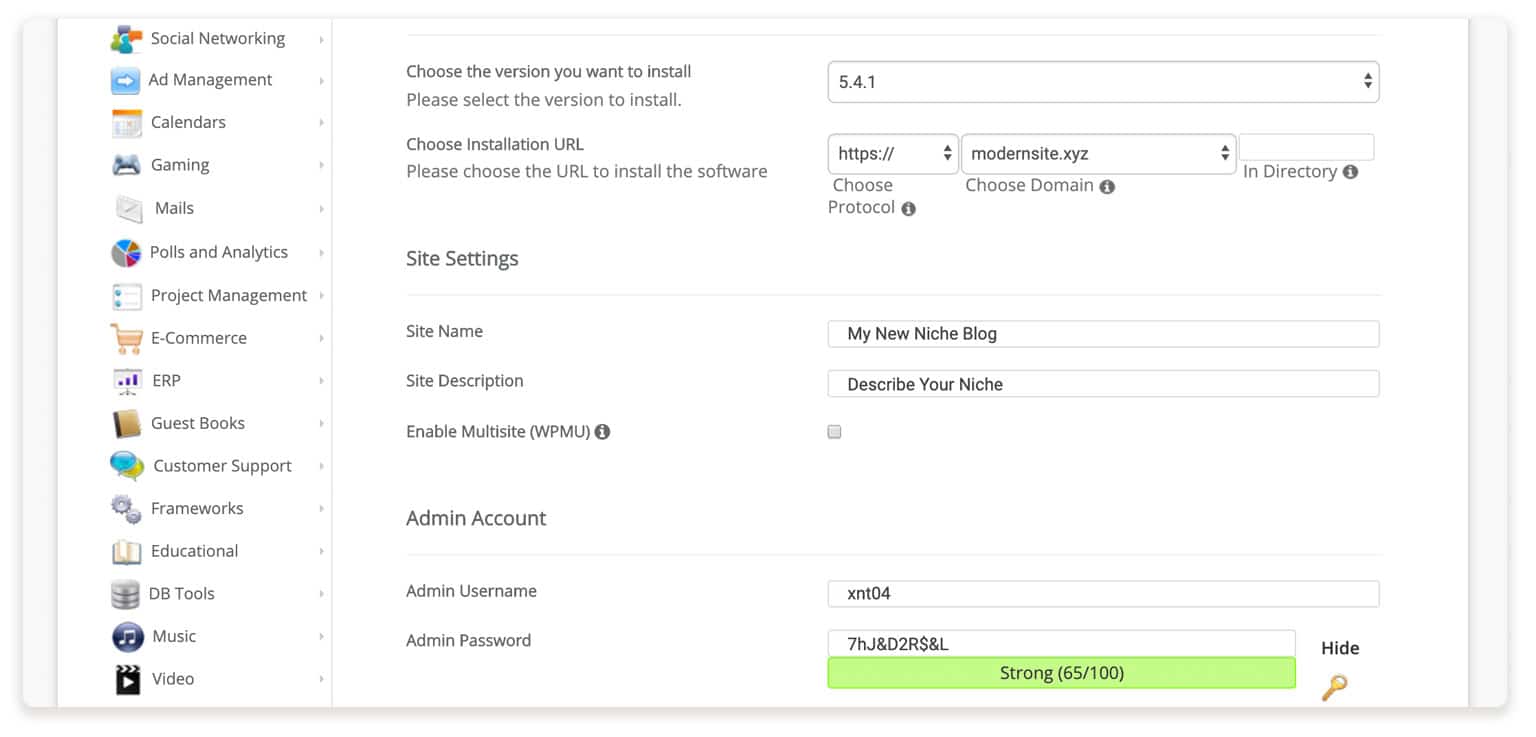 6. Click "Install" and the software will install WordPress automatically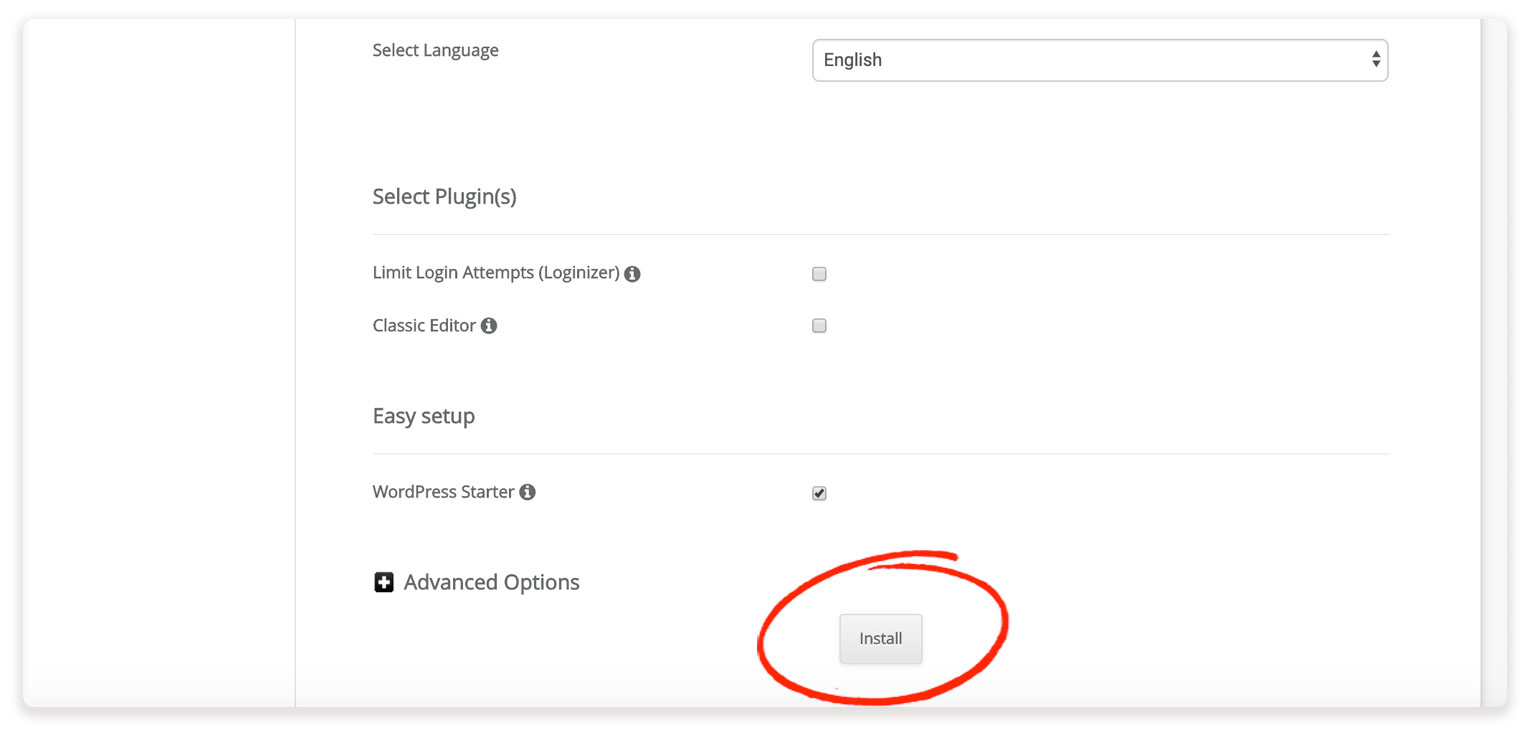 That's it! You've successfully installed WordPress on your new blog.
You should now receive an email that contains your email address and password to login to your blog.
The link you use to login to your site should look something like "https://yoursite.com/wp-admin". Login via this screen and you'll be taken to your WordPress dashboard, which will be your control center for building out, managing, and writing blog posts. You'll learn all about this in the next step.
Exploring the WordPress Dashboard
The WordPress dashboard might look confusing at first, but once you learn the ins and outs of the dashboard you'll be amazed at what you can accomplish.
Here's a quick look at the dashboard: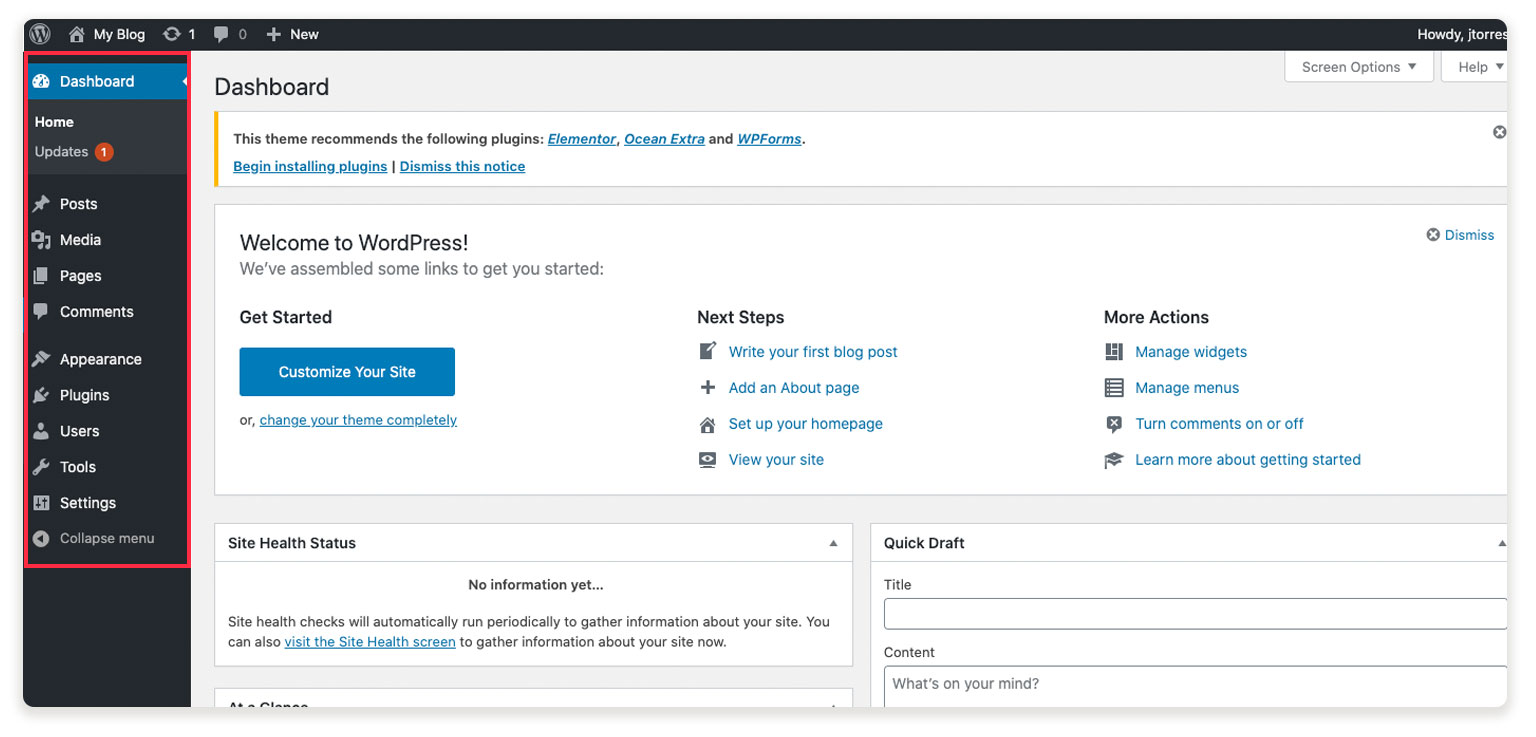 As you can see the left-hand side of the dashboard is equipped with all kinds of different options. While the main content window will change based upon the menu item you selected.
Here's a breakdown of some of the main features you should get familiar with:
Dashboard: This is your home base where you'll manage everything from the design of your site to your overall settings, and the content you write.
Posts: This is where you'll write, edit, publish, and manage all of the content that's on your blog.
Pages: This is where you'll add pages to your blog, like your about and contact pages.
Media: This is where you'll upload images and videos to insert into your content, as well as manage your entire media library.
Comments: This is where you'll be able to approve and manage comments that people leave on your blog posts.
Plugins: This is where you'll install and manage plugins to add new features to your site.
Appearance: This section is where you'll make visual changes to your theme, depending on your theme you might make changes to the appearance of your site on a different settings panel.
Settings: Here you'll manage basic site settings, change your URL structure, adjust the permalinks, and more.
Users: Here you can add new users to your site, adjust user permissions, and more.
The more you play around with the backend of your site, the more you'll learn. Even if it seems like a lot right now, it'll become much easier in time, and you'll be able to accomplish advanced tasks in no time at all.
7. Design Your Blog and Choose Your Theme
Now that you've got a grasp on how WordPress works, it's time to get busy building your site. Even if you're not a designer you can build a professional site in no time at all.
There's an entire library of thousands of WordPress themes that have been built by professional designers. All you have to do is choose a theme that you like, make a few customizations, and you're good to go.
Best of all, most of these themes are available entirely for free.
To install a new theme on your site just navigate to Appearance>Themes. Then select 'Add New'.
Here you'll be able to browse between the most popular WordPress themes on the market. You're guaranteed to find a theme that's the perfect fit for your new blog.
Installing a new theme is incredibly easy as well. One great theme I recommend is OceanWP. This is a free theme that can be customized with the Beaver Builder plugin, which allows for easy drag-and-drop customization.
In fact, this entire site was built out using the Beaver Builder plugin.
Once you've found a theme you like hover over it can click 'Install', then 'Activate'.
This will install the theme on your site.
The next thing you'll want to do is navigate to Plugins>Add New. Then in the search bar type in 'Beaver Builder'. Then, hover over the plugin click 'Install', then 'Activate'.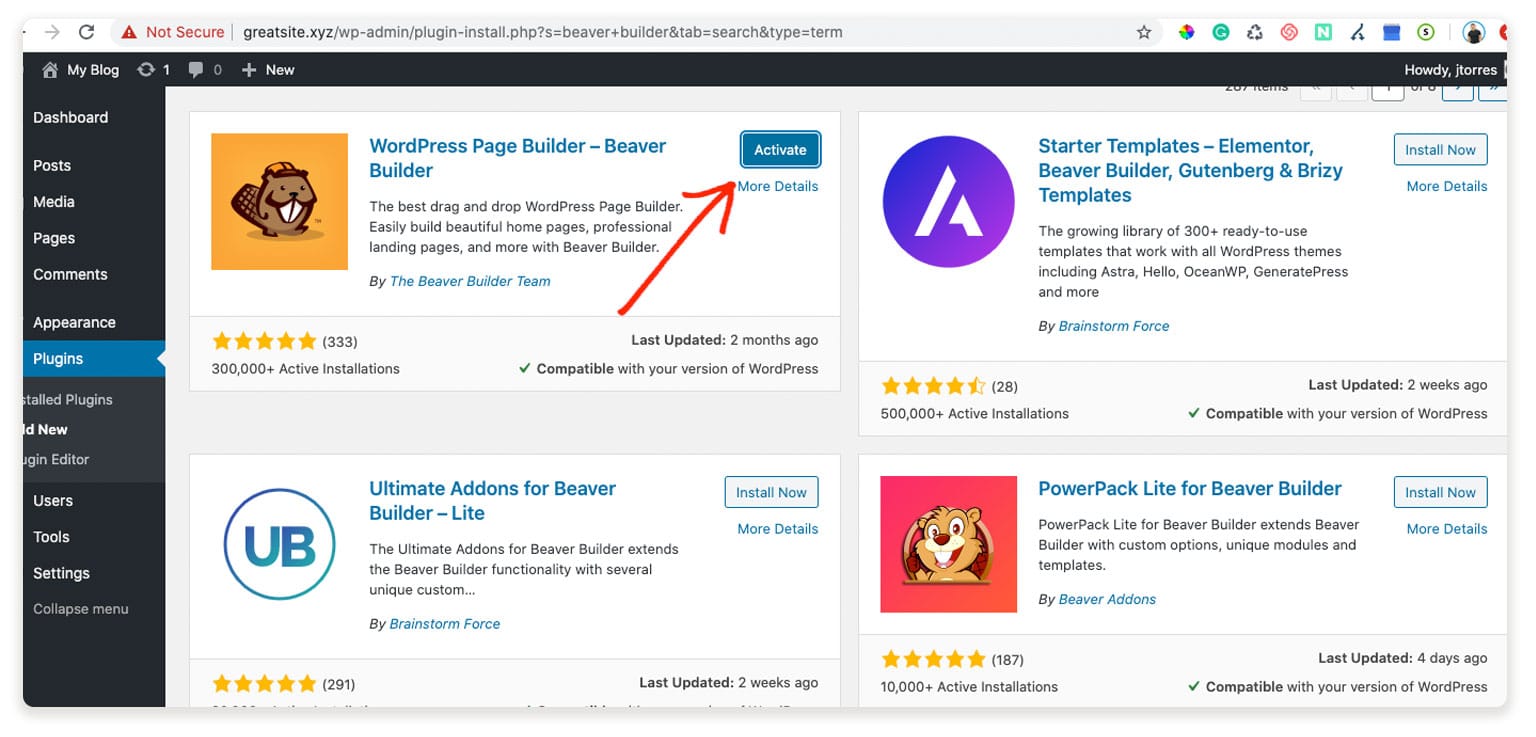 There's a free version and premium version of the plugin. The free version should be more than enough for most website owners.
You don't have to use this plugin to build out your theme, but it's built for complete beginners, and adds drag-and-drop functionality. So, building a custom WordPress site couldn't be easier.
Add Logo, Colors, & Set Your Blog Structure
There are all kinds of customization options for you to make your new WordPress theme your own.
The theme you choose will have pre-configured design options built-in, but there are additional elements you'll be able to customize as well.
To access the main customization panel navigate to Appearance>Customize.

Here you'll be able to customize a ton of different options, depending on the theme you choose:
Site Identity: This is where you'll change your blog title, add your logo, and site favicon
Header: This is where you can set your site header and add an image or graphic
Colors: Here you can set the color scheme that's used across your site
Background: Here you can choose a background color or image to display sitewide
Menus: Here you can create navigation menus and choose where they display
Widgets: Here you can customize the widget section of your site, you can add new features, plugins and more
Add Blog Posts/Pages
After you've got your site's design how you like it, it's time to start creating pages for your website.
Here are some of the most common pages that WordPress blogs have:
Blog. This will be automatically created by WordPress. Once you publish a post it will automatically display on this page.
Contact. This will usually have an embedded contact form, so your visitors can get in touch with you.
About. This page will tell your visitors what your blog is about, your story, and the reason your site exists.
Services. This page will list your freelance services or even products and courses you sell down the road.
Creating a New Blog Post
One of the main features of the WordPress CMS is the blogging functionality. Publishing new blog posts in WordPress couldn't be easier.
Just navigate to Posts>Add New, and this will bring up the post editor screen. As a new blogger, this will be your home.


When you create and publish a new blog post it'll automatically be posted to your home page or blog page, depending on where you designate these posts to appear.
Creating a New Page
Creating a page is similar to creating a new blog post for your site.
All you have to do is navigate to Pages>Add New, the page editor screen looks similar to the post editor screen.


Once you're done creating your page, just click 'Publish' and your page will now be live to the world.
8. Launch and Grow a Successful Blog!
If you've made it this far, then you're ready to launch your new blog!
You've found the perfect niche, named your blog, purchased hosting, installed WordPress, customized your theme, and added your content. That's a lot of work, and you should feel proud!
One big benefit of using WordPress is that you can continuously customize your site. You can install new plugins, add new content, and even change up your theme at any time without losing any progress.
Now it's time to keep on writing, publishing new content, and marketing your site. Your blogging journey has begun!