If you run a blog or a website, you already know how frustrating it can be trying to rank on Google.  
There are hundreds of ranking factors to consider, SEO techniques to master, not to mention creating excellent content. 
Amidst all of this Google chaos, one thing is for certain: backlinks are essential for ranking high on a Google results page.  
Just take a look at this recent report by Brian Dean where he found that the #1 result in Google has an average of 3.8x more backlinks than positions #2-#10
The success of your blog depends on a healthy link profile.  
What does all of this mean? Simply put, you need to start implementing link building strategies to earn those valuable backlinks.   
Let's take a look at what link building is, strategies that work, and how to assess your overall success.  
What is link building?
Before we jump right into link building, let's get a good understanding of what links really are. Generally speaking, there are two types of links that concern your website: inbound links and internal links.  
Inbound links are links that direct traffic from one website to another website. Also known as backlinks, these links are worth their figurative weight in gold. Why is that?  
Well, if your site is providing quality content, it's more likely that other trustworthy sites will link to your site. In other words, inbound links are a major boost to the reputation of your site. 
The second type of link you should understand are internal links. Have you ever included a link in a blog post to a related article on the same site? If so, you've used an internal link. If you use internal links correctly, it can indicate to Google that that page is important.  
So, what does any of this have to do with your link building strategy? Google uses links to determine your page ranking, so you'd better get an understanding of what a link really is, and what they mean for the success of your site.  
That means learning the ins and outs of link building. 
When we talk about link building, we're focusing on inbound links. Here's a great definition of link building from Moz.com,   
"Link building is the process of acquiring hyperlinks from other websites to your own."  
Pretty simple right? 
Unfortunately, link building is notoriously tricky to master, and doing it wrong can have serious repercussions on your site. That's why we've put together a list of three of the most powerful ways to acquire backlinks. First, let us talk about why your website needs to start link building. 
Why do you need to link build?
It's pretty obvious why you need to start a link building for your site. It's an important step in your journey to a high-ranking site. Of course, that means appealing to the all-mighty Google algorithm.  
Ranking on a Google results page involves a mind-boggling number of ranking factors. That's where links come in. Google uses links as an important indicator of the value of your website.  
Google's mission is to provide users with the best information available in order to answer their search query. Make no mistake, Google does not take this task lightly.  
If you're thinking of scamming the system with paid links or comments spam– don't bother. Strategies like this are called black/gray hat SEO. Not only will this negatively affect your ranking, but it can also get you a Google manual action or algorithmic penalty.
That's why it's so important to understand real backlink strategies for your website and diversify your link building strategy. 
Links and the Google Algorithm
Okay, so I keep mentioning Google, ranking factors, and the importance of link building. Let's take a closer look at all of this and why it's so important for your site.  
It's actually pretty simple: the more links you get from relevant pages, the more valuable your site becomes. In addition to being relevant to your niche, Google also looks at the quality of the page that links to you.  
Ideally, you want backlinks from sites that are both relevant and high-quality. However, relevance should always be at the highest priority.    
For example, let's say you run a blog that's all about interior design. Getting a backlink from say, Buzzfeed, seems like a big score because they run a popular website. 
In fact, it's in your favor to get a backlink from a smaller blog that is directly related to your niche because it has more topical authority.
Now, if you get a backlink from Bed Bath and Beyond, you're really in business because that site is both relevant to your site and high quality.  
 The quality of a given site is referred to as domain authority.  
 The more authority that site has and the more relevant it is to your niche, the better it looks for you.  
 The other factor that comes into play with the Google algorithm, is the number of backlinks you acquire from valuable sites. Google takes into account how many links you have and looks at the period of time you've acquired them. 
 Now, if you go out and buy a bunch of links, that's not going to count and in fact, it could have serious repercussions on your site. 
 The bottom line is this: in order to be considered valuable by Google, you need links from trustworthy and relevant sites. To earn those sites, you need to create top-tier content.  
Okay, so now that we've gotten that out of the way, we can look at four strategies that can earn you real backlinks. 
1. Haro
2. Manual outreach
3. broken link strategy
4. Expert roundup
Link Building Strategies
HARO also is known as "Help A Reporter Out," is a handy little website that connects experts with journalists.  
Journalists often have deadlines that they need to meet and are looking for sources to improve their content. That's where you come in.  
As a blogger, you have the opportunity to get your expertise published by a journalist and put a spotlight on your blog.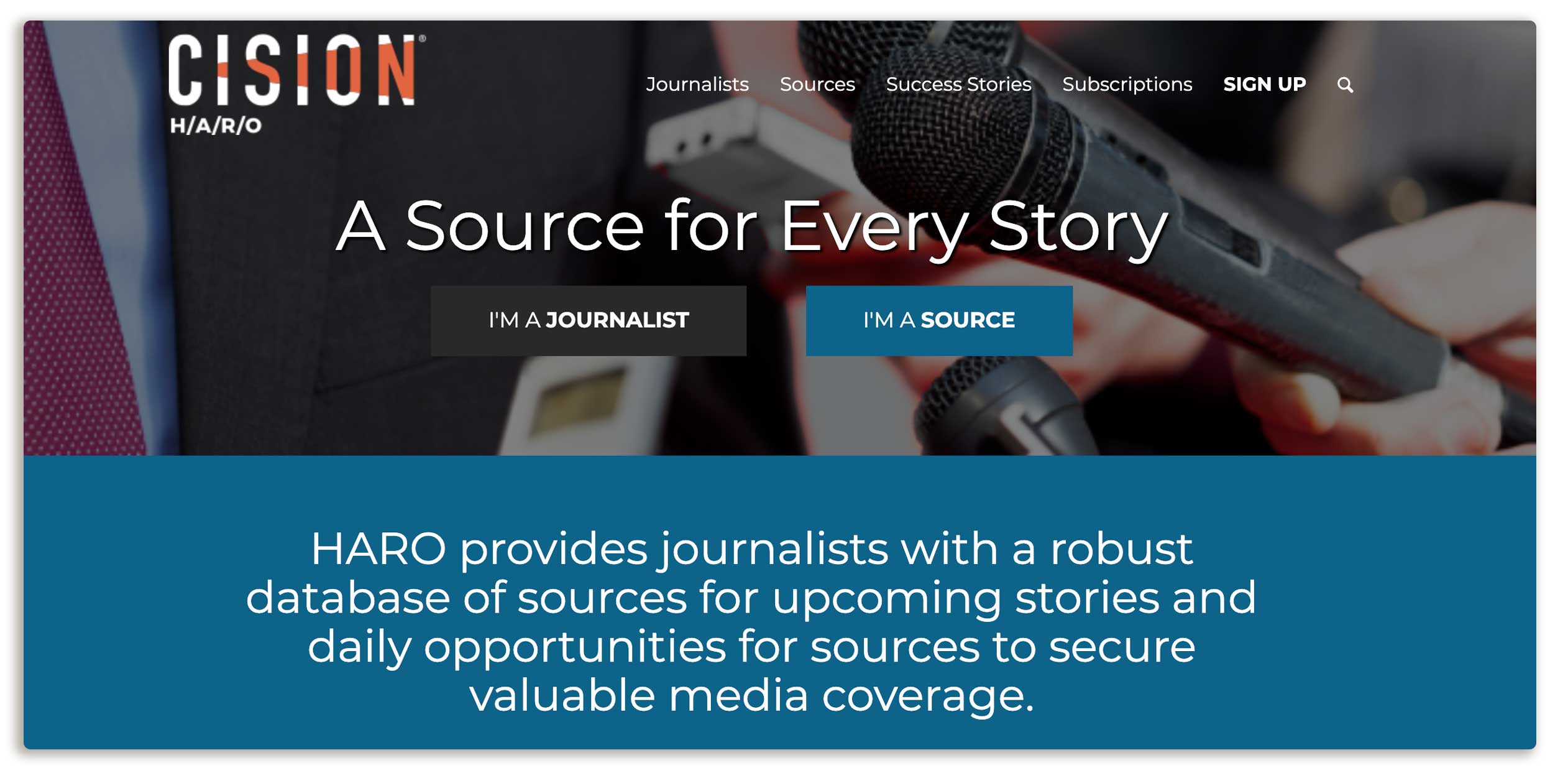 This means you'll get an opportunity to earn a backlink from a media source, so it's a win-win situation for both you and the journalist.  
The main guideline to be aware of on HARO is to only respond to queries that you have adequate knowledge in. This also works in your favor because you want backlinks to come from sources that relate to your niche.  
Here is an example of a link I got by responding to a HARO question:

How it works: There are two main areas when you visit the HARO website. One area is for journalists and the other is for sources. You're going to want to check out the sources section.  
Once you've signed up for the website, HARO will send you queries three times a day that you have the opportunity to submit a pitch too.  
It's up to you to convince the journalist that you are the best source for their piece. You'll be responding to reporter queries with a couple of concise paragraphs.  This is your time to shine and show how much knowledge you have about a given topic.  
When answering a query, you'll want to introduce yourself and let them know who you are, and what you do. Next, you should respond to the query and answer any questions that were posed. 
Lastly, briefly explain why you're a great choice as a source. It's best to give a short description of your experience. You can also include links to your work so that they know you're legitimate.  
When you submit a request, make sure to take the time to really answer the questions in the query (if there are any). Read it thoroughly and make sure you fully understand what is being asked. Pay attention to any deadlines placed on source submissions.  
Remember to keep your replies short and effective above all. If the journalist likes what you've submitted, they'll contact you with more information. 
Pricing: 
HARO offers a free version which is great if you want to try out the service. If you want to upgrade, you will have access to a few extra features starting at $19 per month.  
Advice for HARO: 
Let your personality show

: a journalist is more likely to respond to your submission if you stand out from the crowd. Remember, these journalists are reading generic responses all day long, so throw in something unique to make it interesting.

 

Don't give up too quickly: 

Writers often have a full inbox, so don't give up if you don't hear back, just give them some time to respond. 

 
Check your requests right away

: Your chance of a successful submission goes way up if you're able to respond to your queries as soon as they arrive in your inbox.    

 

Respond to relevant posts

: it can take some time sorting through the posts, but it's in your best interest to respond to the ones that fit your niche. 

 
Manual Outreach
As we so often find, the most effective strategies can take the most effort. In a world where automation is the norm, manual outreach can seem like a drag. Let me explain to you why it's worth it.  
You have an element of control to who links you

 

There are several methods you can use

 

It gives you the chance to gain backlinks from authoritative domains

 

It's faster than waiting around for natural backlinks

 

It gives you a strategy to follow and goals to reach for

 
So how does manual outreach work? First, you need to make sure you have plenty of content on your own site or blog, I usually recommend to have at least five articles on your website before you start contacting admins. Think of this as your portfolio or resume.  
You can find the contact information of most websites or blogs using hunter.io. Only use the website contact form as a last resort since a lot of those mailboxes get inundated with spam.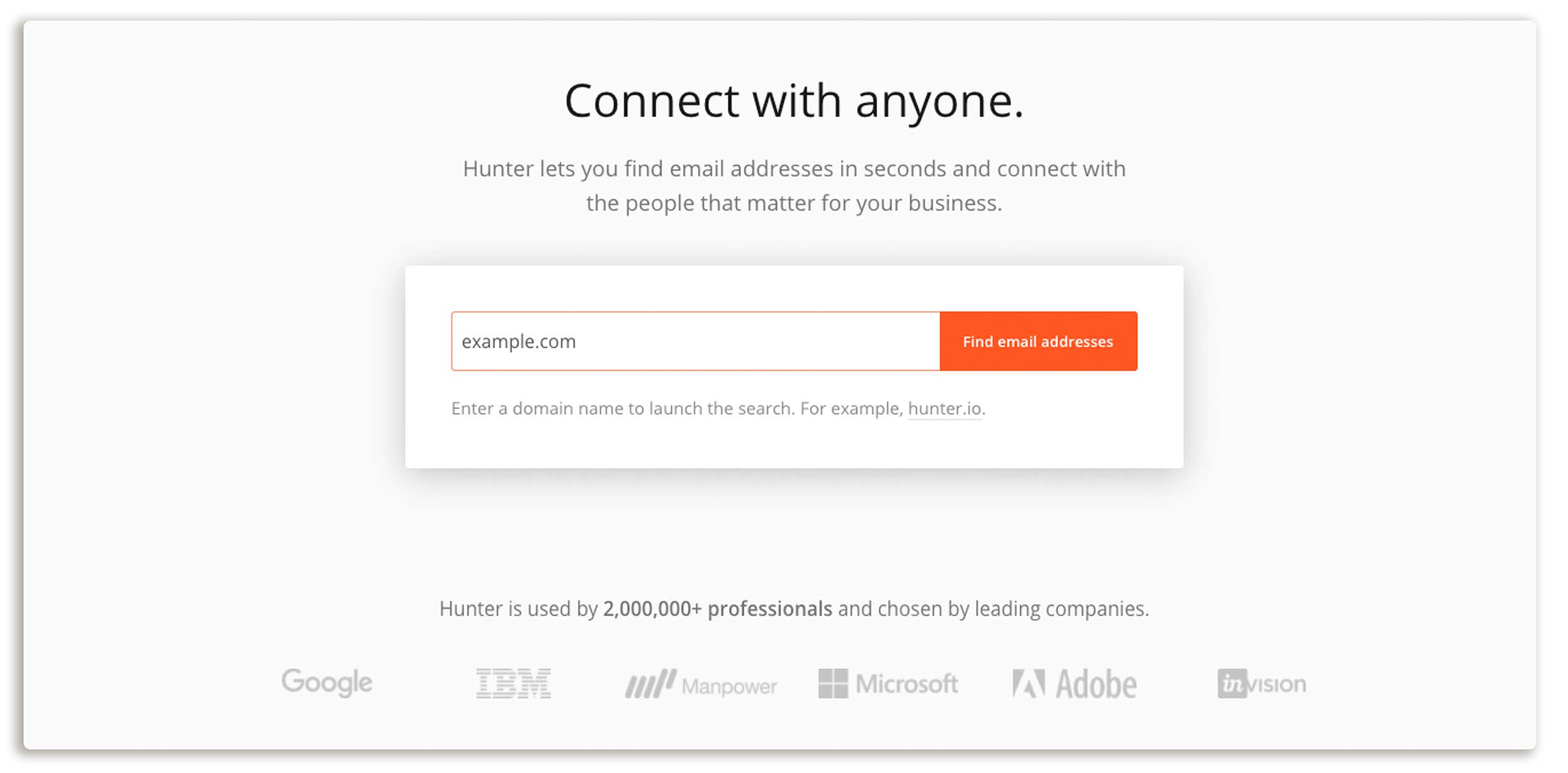 Once you enter the target website you will get a list of everyone you can contact.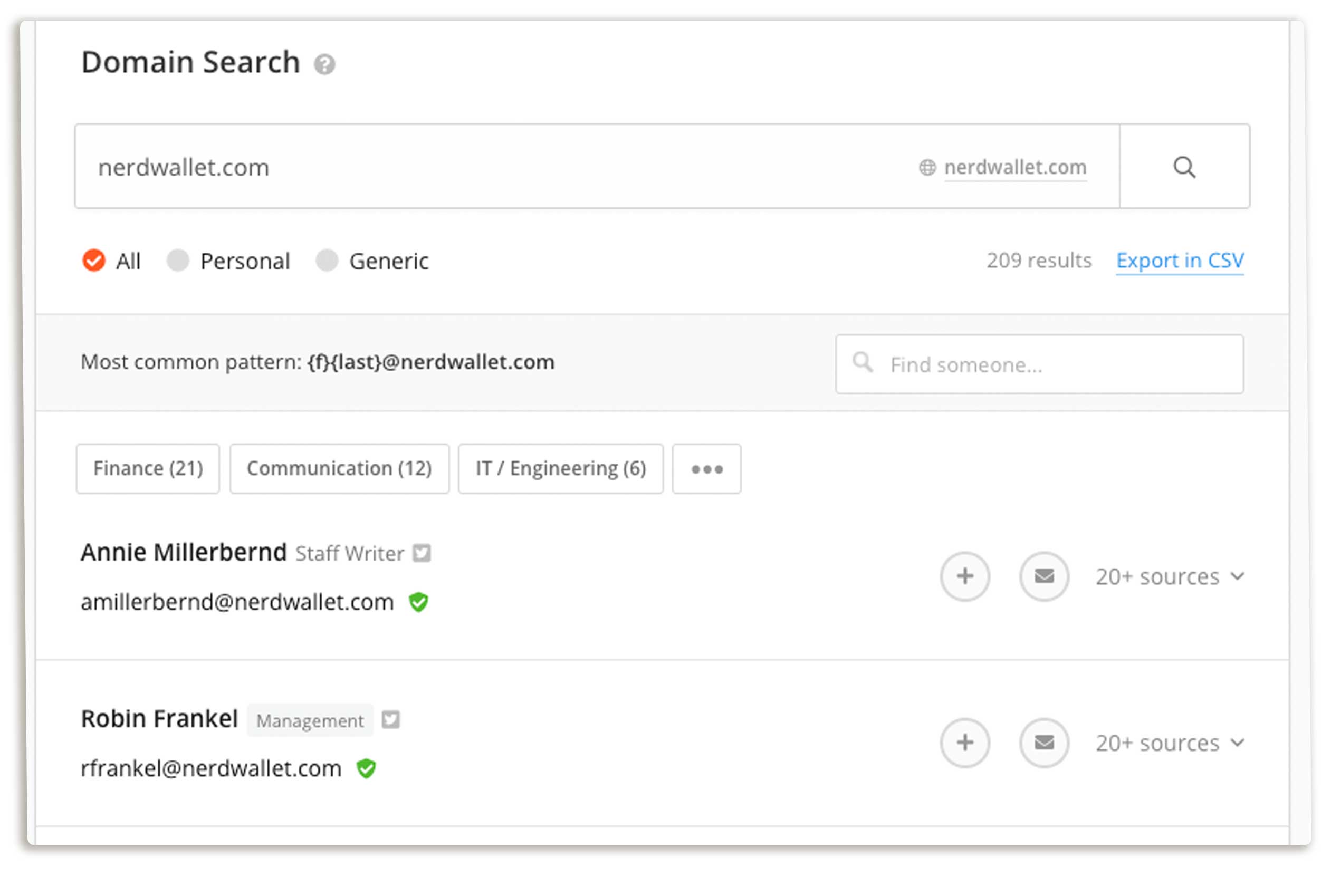 Start reaching out to niche publications and contacting editors. Once you've made a successful connection you can pitch a few ideas of how you can contribute to the site.  
Make sure to keep in contact with the editors you've worked with. Good old-fashioned networking never hurts and it may present you with more opportunities down the line. 
Here is an example of an email I template I personally use: 
Hi [First Name],
I came across this article on your website today [Tilte of the article],
Great content, I especially enjoyed your thoughts on [Something you like about the article].
I write a lot of related content on my site and I just published a great guide on [Your related article Title and URL]
As someone writes about [Niche], I thought you would find it interesting.
My guide may be a great addition to your article and might provide some value to your readers.
Either way, love your content and keep up the good work [Website]!
Cheers,
[Your Name]
Broken link strategy
Now, there is another way to go about manual link outreach that has shown great success for bloggers. This technique is called broken link building, as it's a pretty clever way to gain backlinks.  
Have you ever clicked on a link in an article only to discover the link no longer works? Well, if you're trying to link build, this can work in your favor. Here's how it works: 
Find a link in a relevant article that no longer works.

 

Create a post that relates to the broken link. 

 

Reach out to the owner of the website, let them know the link is broken, and offer your own link as a replacement. 

 
Pretty creative right? Now there are a few things to be aware of when it comes to broken link building. First, as with any form of manual outreach, you may not get a response back.  
This is especially true if you're reaching out to a super popular website. Broken link building is successful only when you reach out to a lot of people. 
The second thing to be aware of is that it can be time-consuming. Again, because you have to reach out to a lot of people for this to work, it can take a lot of your time.  
Okay, so I know that doesn't make broken link building sound like the best strategy, but there's good news. There's a great tool specifically for finding broken links, making this strategy way more achievable and effective.  
Ahrefs has a cool broken link feature that allows you to find all the broken links that are pointing to any particular site.
Ahrefs also has a plugin you can use to scan individual pages when browsing online.
Compile a list of several authoritative websites within your niche.

 

Use 

Ahrefs

 Site Explorer to analyze these websites.

 

From Site Explorer, enter one of the websites into the search bar.

 

Click Pages -> Best by links -> 404 not found

 
This will reveal dead links from the website and how many domains are still using that backlink.  
With that information, you can reach out to the admins using Hunter.io to find their contact information. 
Here is an example of an email I personally use.
Hi [First Name],
I came across this article on your website today [Tilte of the article],
Great content, I especially enjoyed your thoughts on [Something you like about the article].
As I was reading your article, I noticed you some links are not working:
[Broken link 1]
[Broken link 2]
[Broken link 3]
Also, I recently published some content that might be a great addition to your article [Title of article].
It may make a good replacement for the [Broken link].
Cheers,
[Your Name]
Expert Roundup
When creating a link building strategy, people often overlook the value of networking. Yes, it's important to do what you can to place your work in front of authoritative websites and blogs.  
However, it's equally important to carve out your place in your industry and make your name known. That means networking.  
Networking and becoming an active figure in your niche is one of the best ways to keep your name at the forefront of other people's minds as they write and link other sites.   
A great way to network and create valuable content for your own site is by creating an expert round-up article.   
This strategy is really a subcategory of manual outreach, but it deserves a spotlight in and of itself. Expert roundup simply refers to articles that are looking for expert opinions on a niche topic. 
You can create an expert round up article to make connections with other industry leaders. In turn, this gives you a chance to be featured in the work that they publish in the future. = 
You can find experts using HARO as a reporter, or you can search for opportunities to be featured as a source, here is an example of an expert roundup article.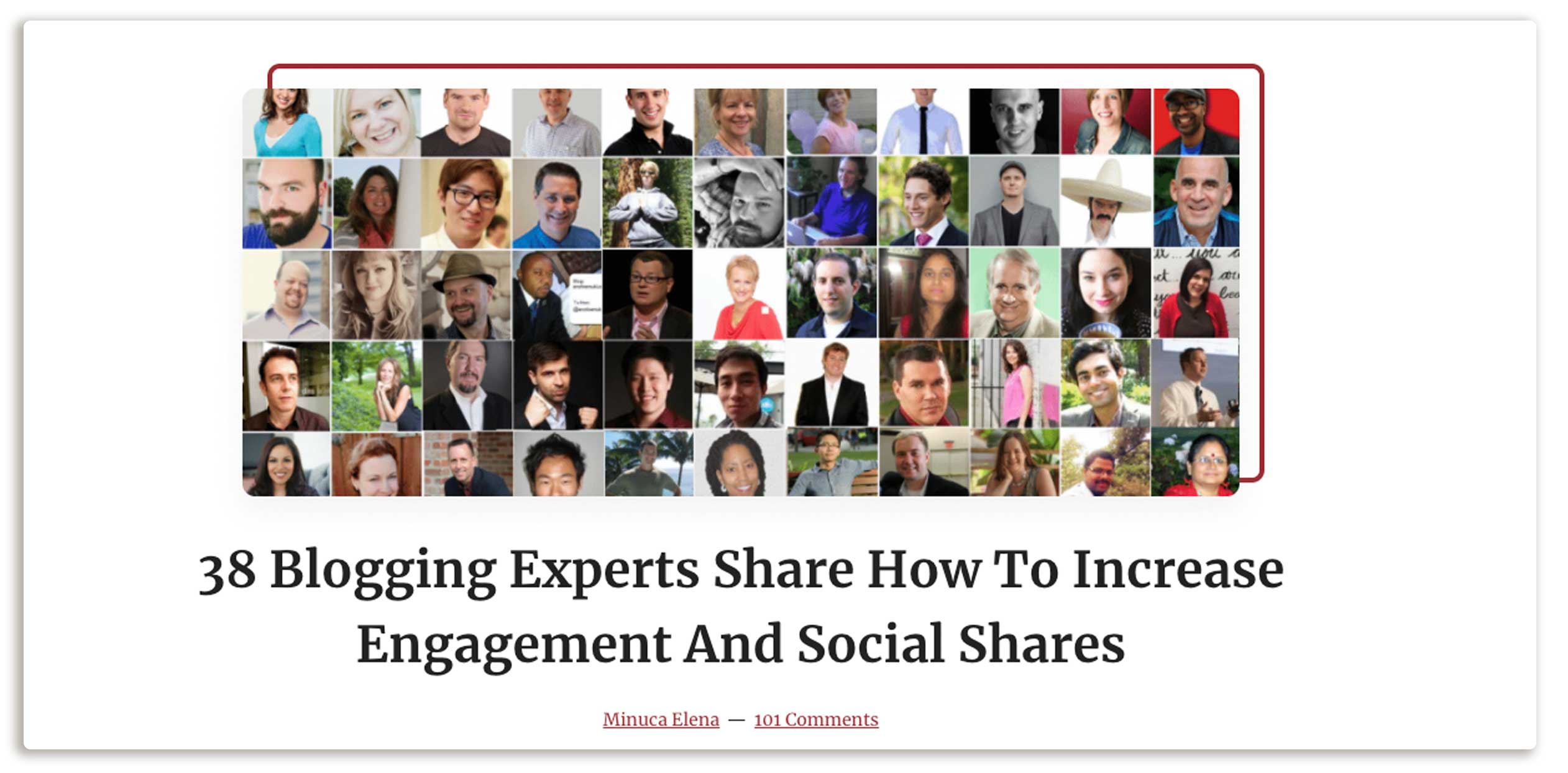 If you're interested in creating an expert round-up article, you can also reach out to industry voices on Twitter, LinkedIn, or through their own websites. 
If you're thinking this sound likes an incredibly long-term plan for link building, you're not all wrong. Networking and building a solid foundation take time. But there's another way to increase your backlinks with this strategy and it's super simple. 
Once you've created your round-up article, chances are, the experts featured will want to share the post to their own site.  
It boosts their credibility, and you get an opportunity for several backlinks to your own site. There's really no downside here.  
Another way to get featured in an expert roundup is to search for relevant articles that have already been published. Reach out to the website and let them know that you have some valuable information to contribute to the article to keep the article updated and relevant.   
As you can see, expert roundup articles have several benefits for your site. You make connections and build with a network of experts, all the while gaining immediate backlinks and earning a spot in future roundups.  
Do's and Don'ts (
Quick Tips
)
Do build backlinks over time: 

It bodes in your favor to have a backlink history that has been built up over time. If your backlink history goes from 0 to 100 in a short period of time, Google is just going to think you have a spammy website. That's going to hurt the health of your site in the long run. 

 

Do write long, researched content: 

Comprehensive guides are a great way to boost your authority and earn backlinks. Yes, they take a significant amount of time and effort, but they increase the value of your site and boost your authority, which in turn can earn more valuable backlinks. 

 

Do create infographics:

 Graphics are a great way to earn backlinks. If you have an informative graphic, people are going to want to use it for their site. Another benefit to this is that the sites who are drawn to visual data are often quality sites. A backlink from these sites is great for you.

 

Don't buy backlinks: 

If you haven't picked up on this already, purchasing backlinks is a pretty bad idea. Sure, the ability to boost your ranking with a simple purchase is tempting, but the reality is that it just won't help. Google is hip to these tricks, and if you mess around too much, you might get your site banned. Not worth it. 

 
How to Assess your Progress
The best way to assess your progress in link building is by analyzing your link profile. Your link profile is basically an overall evaluation of your links, where they come from, how many there are, etc.  
In order to look at your link profile, you can use a tool to help you understand where you stand. Ahrefs offers an excellent backlink tool with its Site Explorer.  
Here are some of the benefits of using Ahrefs Site Explorer: 
View the performance of any domain

 

Get an idea of your site's domain authority

 

How many inbound links direct traffic to your site

 

How many keywords you're ranking for

 

Gauge the quality of your competitor's backlinks

 

Look at your backlink growth over time

 
So, what do you do with all that information? Look for the qualities of a good link profile
You've earned natural backlinks: 

this means your backlinks are from sites that have placed a link to your site in their post. These backlinks are earned when you provide genuinely useful and highly valuable content. 

 

Your backlinks are from relevant sites:

 The sites who link to your site will ideally be in a similar niche to yours. This gives Google a clue that your site is valuable in its niche. 

 
T

he

 linked anchor text is diverse: 

If all of your backlinks are using the same anchor text, it looks suspicious to Google. 

 
At the end of the day, you want to continue assessing your backlinks to make sure you have a healthy, robust link profile. 
If you notice that you're not acquiring enough links or if they're not relevant, you need to adjust your strategy and reassess.  
Final thoughts
There's no skirting around it– gaining backlinks takes time and effort. Despite this, creating a healthy link profile will have profound effects on your blog or website.  
Luckily there are excellent tools created specifically to help earn backlinks and scout opportunities.  
As always, focus on creating great content for your niche and your backlinks will grow with time.