We've all been in that position where we need ways to make money and fast.
Whatever your reason may be, there are quite a few legitimate ways to make money in relatively little time.
Now, I'm not going to tell you to go out and take online quizzes to make money like most of these articles do.
The reality is, while those methods can certainly bring in a small amount of money, you probably won't make $1000 fast.
I did some in-depth research to find real ways that you can make money fast, even if you don't have a ton of experience.
Obviously, "fast" is fairly subjective. If you have a couple of months to spare, making $1000 with most of these methods should be no problem at all.
Now, if your time frame is closer to one month or shorter, some options will be better than others.
With that said, many of the options that I list below are not only great for making money fast, you can actually turn some of them into full-time jobs with some time and effort.
I know most of you are here to learn how to make a quick buck, so let's talk about the best ways to make $1,000 fast.
Here are 10 legal ways to make $1000 fast online (no job required)
1. Affiliate Marketing
If you're familiar with my website at all, you know I put a lot of stock in affiliate marketing.
I believe this is one of the best ways to make a real passive income online.
Now, I usually tell my readers that affiliate marketing takes a lot of time and patience before you start seeing real profits.
That being said, in my opinion, $1000 is a very reasonable and achievable number that you can reach in no time at all.
When it comes to successful affiliate marketing, it all comes down to creating a realistic strategy.
The reality is, you have to be willing to frontload some of the work in order to see a passive income roll in.
So, how do you do this?
I highly suggest checking out my free affiliate marketing guide, but I will also go over the basics right now.
How to start affiliate marketing in 4 steps:
If you are just starting out with affilaite marketing, it can be overwhelming to think of all the possible ways you can get started. Here are some tips to help you start the process.
Step one: choose your platform.
My suggestion is to go with blogging as your main platform. Many people are intimidated by building a blog, but nowadays, it couldn't be easier.
I use Beaver Builder to create professional websites and find the experience to be extremely user-friendly.
You can check out my Beaver Builder review to get some in-depth details on how I use the product.
Blogging allows you to incorporate SEO which gives you the opportunity to rank on Google and get that target audience to your content.
Writing a blog also lets you seamlessly incorporate your affiliate links.
Now, the only downside to this is that it takes a fair amount of time to start ranking on Google.
For that reason, if you're really trying to make money fast, you should choose the platform that you have the best audience on.
That could be Youtube, Instagram, or Tiktok.
In fact, YouTube affiliate marketing is proving to be pretty lucrative for many people.
Step two: choose a micro-niche.
If I've said it once, I've said it a million times: you need to choose a specific, micro-niche.
No, I'm not talking about a large category like fitness or cooking, I mean a small, sub-niche.
For example, if you're in the food and cooking category, you can choose vegan cooking or Texas-style barbeque– you get the idea. It needs to be profitable, but specific.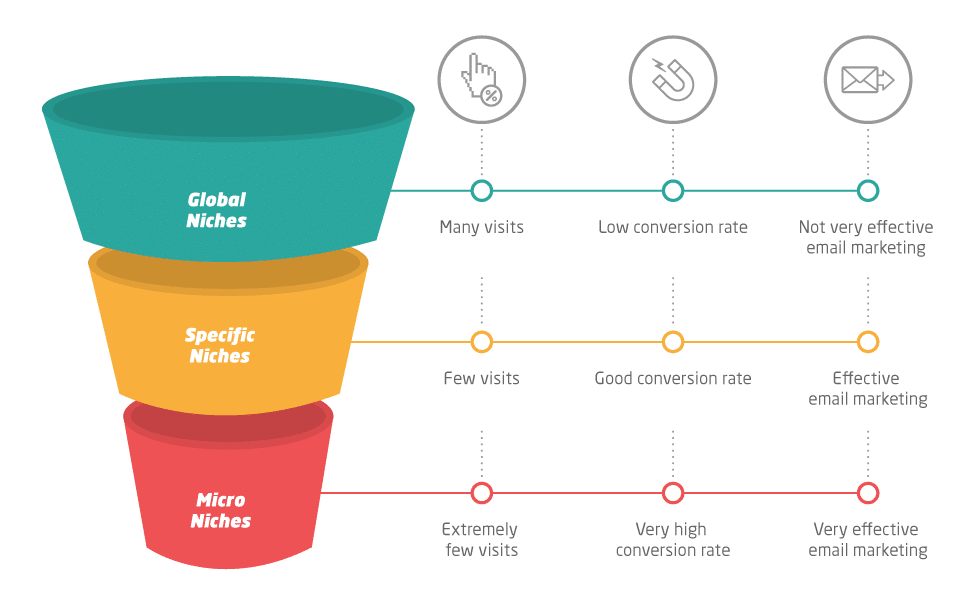 (Image by hotmart.com)
One way to find out if a niche is viable and grwoing is to check Google Trends and look at the tragectory. However,  don't get fooled by a spike in popularity, this could be a fad. One example of a fad is the fitgert spinner.
Step three: choose your products.
There a ton of affiliate programs and networks out there to choose from.
No matter what niche you choose, there are most likely several options for you. The best thing to do is to stick to a shortlist of relevant products.
By relevant, I mean products that apply directly to your sub-niche. Remember, you want each product you promote to speak to your target audience.
Lastly, remember to choose products that you actually trust, since you'll be promoting them to your audience.
Now in terms of commission, it's smart to choose high ticket items so that you can bring in a decent chunk of change.
It's also a great idea to get some subscription products so that you can get a recurring commission.
Step four: create content and promote products.
The last step is to create content to showcase your affiliate products.
Now, it's important to maintain your credibility, so don't start promoting products that are low quality or ineffective.
Your goal here is to encourage your readers to click on that affiliate link, whether it's on Instagram or through your blog.
Showcase the products with pictures, graphs, and data.
And that's that. Of course, as you begin your affiliate marketing journey, you'll be able to hone your strategy and bring in real money.
Here are some exmaples of successful affiliate maketing sites and how much they make, hopefulyy this will give you some ideas on how you can get started.
2. TaskRabbit Freelance
This option is for those of you who are more interested in physical work, rather than online work.
TaskRabbit is an app and website that helps connect freelance labor with people in need of certain tasks.
These tasks typically involve moving furniture, painting rooms, handyman work, yard work, and delivery.
I love this option because you don't need to have highly technical skills to start working.
If you're willing to do some physical labor, you can make money with TaskRabbit.
Let's talk about the requirements to get started.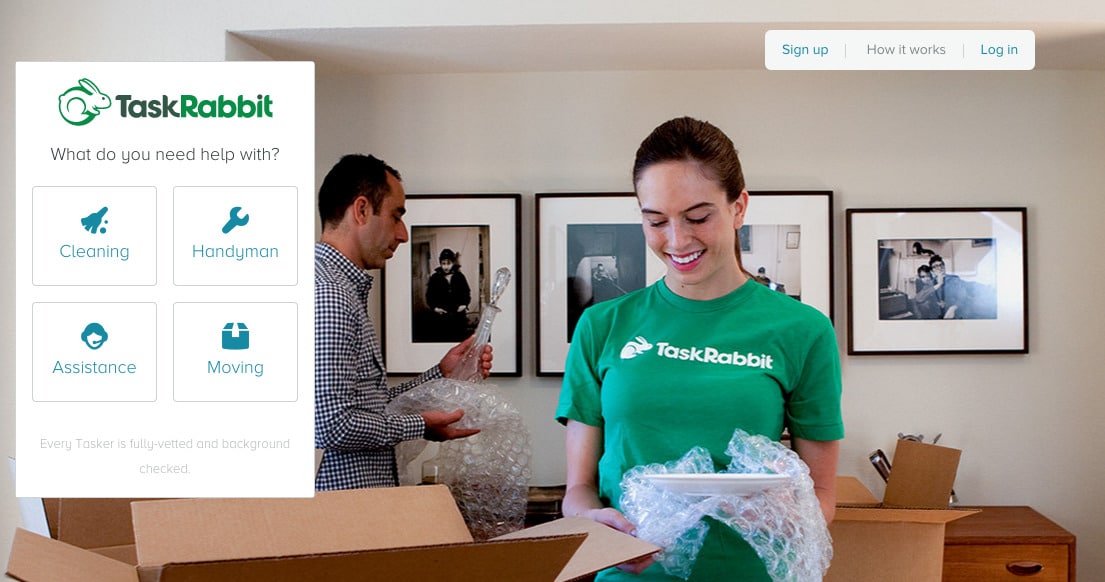 First things first, you need to be at least 18 years of age to work as a tasker. You'll have to undergo an ID check to confirm your age and that you are who you say you are.
This requirement is put in place to ensure the safety of everyone involved.
The second requirement is that you work in one of the active cities. Now, if you live in a major city, this should be no problem at all.  The bad news is small towns are not included in the active list.
You'll also need to have access to a smartphone to work as a tasker. You'll be able to find jobs through the TaskRabbit app, so a mobile device is essential.
Lastly, if you live in California, you'll need to provide a business license that states you are the sole proprietor. California requires that all independent contractors have a business license.
Okay, now that we have the requirements out of the way, let's look at how you can make money with TaskRabbit.
Here's how it works. Each type of task has a different average hourly rate that varies according to your city.
So, for example, if you're located in the Los Angeles area, you can make around $44 an hour for house cleaning services or help someone move.
You can make $45 an hour doing furniture assembly. Those are some pretty impressive hourly rates.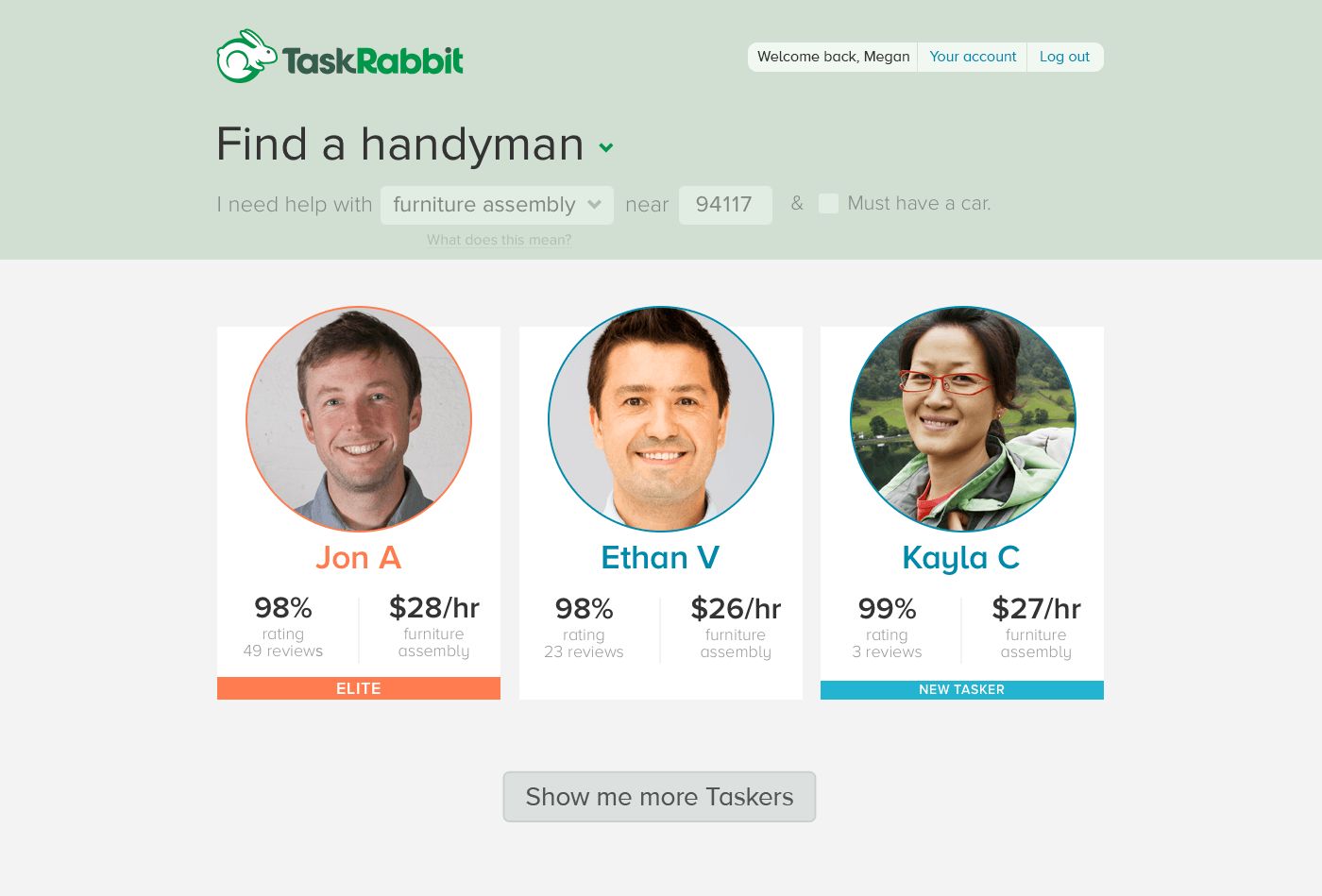 The question you probably have is, how much of your earnings do you keep?
The answer to that is 100 percent. Taskers take home everything that they earn plus tips. Of course, it's up to you to stay on top of taxes as an independent contractor.
If your goal is to make $1,000 fast, you would only need to work around 25 hours to reach your goal.
So, that's the general idea behind TaskRabbit and as you can see, it's very promising. If you need to make extra money, this is a very accessible way to do it.
3. Flip Thrift Store Finds
This option is for those of you who love a challenge. There's something incredibly satisfying about hunting for hidden gems and turning a big profit.
I will admit, finding and selling thrift store items can be a hit or miss, but if you know what to look for you can easily make $1,000 in no time at all.
The idea behind the thrift store flipping is finding underpriced items, restoring them if necessary, and reselling them for a much higher price.
Now, in order to be successful here, you're going to want to look out for the items that typically bring in the most money.
Here is a quick list of items that have the potential to make extra money:
Luxury Clothing Brands: If you have a keen eye, you can spot the real from the fake when it comes to luxury clothing.
If you can learn this skill, you'll find that there are a surprising number of luxury clothing items for incredibly low prices at thrift stores.
Furniture: Lot's of thrift stores take furniture donations and these items are usually pretty easy to flip.
Brand new furniture is typically hundreds, if not thousands of dollars, so even if you price your items at a relatively low rate, you can still bring in a decent amount of money.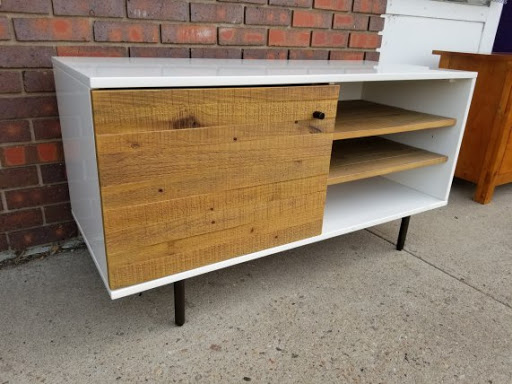 In particular, you should be looking out for solid wood furniture such as table sets, cabinets, or dressers.
You should also keep an eye out for vintage furniture finds.
Mid-century furniture is in high demand and people will pay a pretty penny for these items.
Sports items: Bicycles, roller skates, and roller blades are all hot items that can be flipped for a higher rate.
It's not uncommon to find a pair of roller skates for under $10 at a thrift store. These can easily be resold for $100.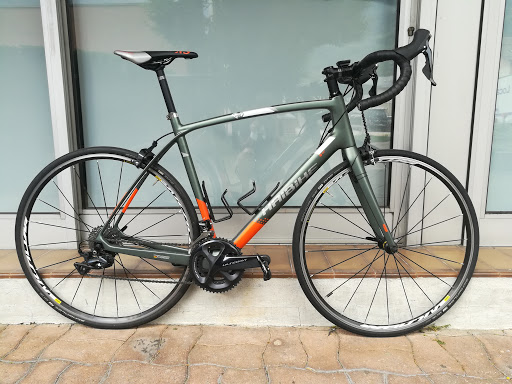 Bicycles are another great option. If you have any experience with bike repair, this is a great fit for you. Putting some basic repair into used bikes can increase the value of a thrift store bike.
Power Tools: People usually get rid of these items when they're moving or decluttering, so keep an eye out at garage sales as well. Just make sure to test it out before you buy to make sure it works.
4. Work as a Virtual Assistant
Working as a virtual assistant is a great way to make money and it doesn't necessarily require a ton of experience.
Now, as with any freelance type of work, you're going to have to accept smaller gigs to build up your resume before you get higher-paying jobs.
The good news is there are a staggering number of virtual assistant gigs on freelance sites like Fiverr and Upwork.
You'll find that these jobs typically offer part-time work. Virtual assistants typically charge anywhere from $15 to $50 per hour.
Obviously, what you charge should reflect your experience. Even so, if your rate is $20 per hour you can make $1,000 with about 50 hours of work.
(Virtual Assistant Example)
With a conservative estimate, you could potentially make your monetary goal in just two weeks of part-time work.
So, what are the requirements for working as a virtual assistant?
Well, first on the list is organization. Without a doubt, you'll need to have stellar organizational skills to pull off this gig.
It's also to your advantage to learn common remote office platforms such as Asana, Dropbox, and G-Suite.
Another important requirement for a virtual assistant is a reliable internet connection.
Your employer needs to be able to reach you during work hours, and you need to complete projects without connection issues.
It's also smart to choose jobs that are in your time zone. Taking jobs outside of your time zone can result in miscommunications and general inconvenience.
Overall, working as a virtual assistant is a great way to make money fast online.
You'll have to practice some patience as you build up your resume, but you'll be making some money along the way. Eventually, you can even make this your full-time job.
5. Instacart
Nowadays, it has become commonplace to order grocery delivery.
Instacart has been in the grocery delivery business since 2012 and they've got it down to a science.
Working as an Instacart delivery driver is another great way to earn money fast in the growing gig economy.
Here's how it works: customers place their orders on the Instacart app. Instacart drivers then shop for the items on the list and deliver them to the customer's door.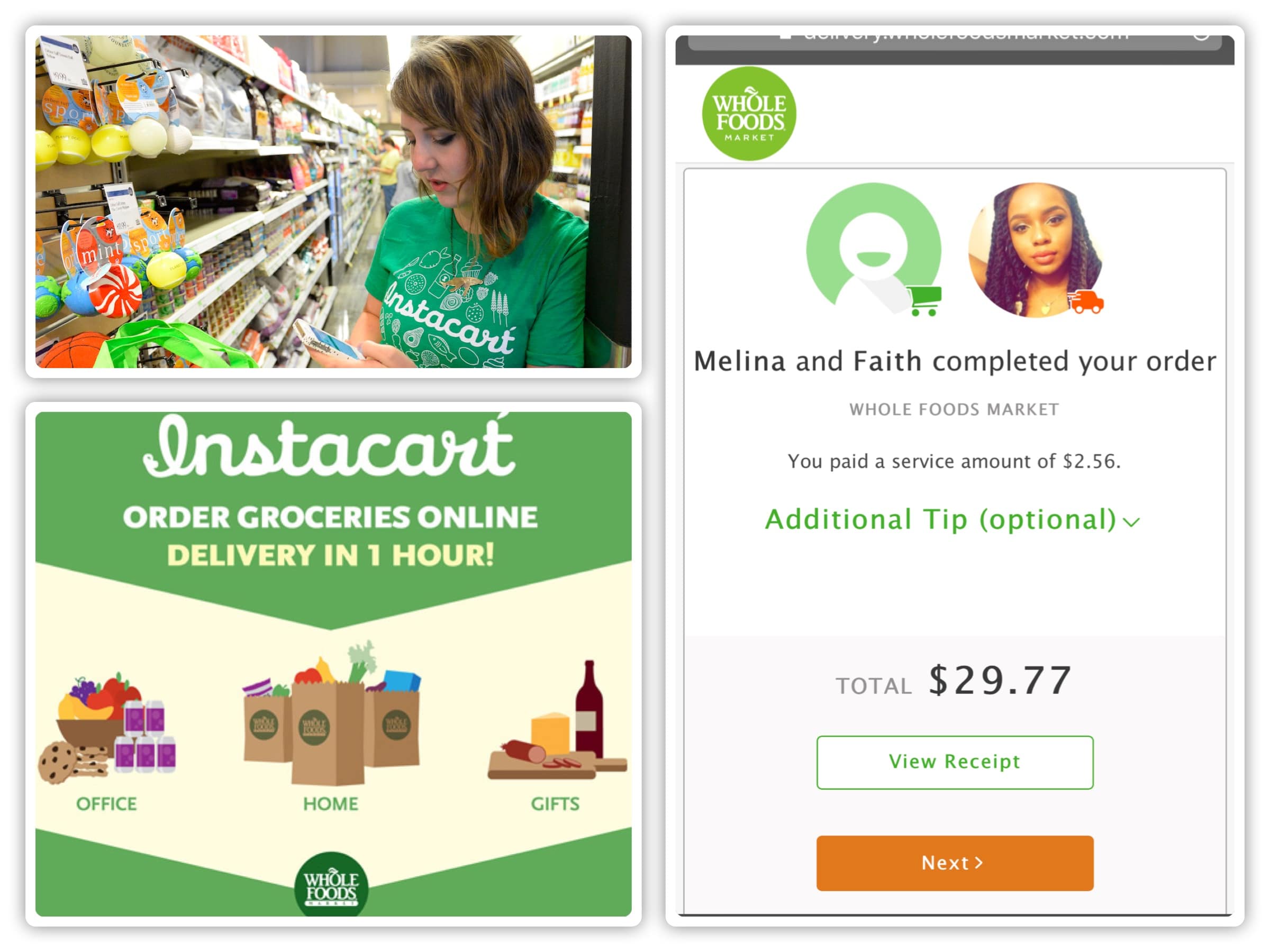 I know you're most interested to find out just how much money you can make as an Instacart delivery driver.
There are a few variables that go into how much you get paid.
The first factor at play is the number of items you pick up.
The more items in the order typically mean higher pay for you. If the items are heavy, such as a case of soda, then your pay will also increase.
Instacart also takes into account how far you travel and covers the cost of your mileage.
Generally, Instacart drivers make between $8-$20 per delivery.
Now, the real money in Instacart lies in the tips. Adding another 25% to your overall pay can really boost your paycheck and customers tend to be fairly generous in their tips.
So, to answer your question about how much you'll be paid– the reality is, it varies.
If you're willing to put in a solid 25 hours a week, you can bring in $500.
If you really put your mind to it and learn to complete orders quickly and efficiently, it's very possible to earn $1000 for 30-40 hours of work.
Once you begin completing orders in a timely manner, you'll get good reviews from customers.
Instacart gives orders to well-rated drivers first, so this will work in your favor.
Okay, so in order to work for Instacart, there are a few requirements that you'll need.
First, you need access to a mobile phone so that you can take orders.
Next, you'll need a reliable car to use for picking up and delivering orders.
Lastly, you need to be at least 18 years old.
All in all, Instacart is a real way to make money fast with very little requirements.
If you need ways to make $1000 in a short amount of time, this isn't a bad place to start.
6. Rent your car:
If you are looking for unique ways to make $1000 this could be the option for you.
Just like renting out a bedroom in your house, you can actually rent out your car for short periods of time.
Obviously, you need to own a car for this option to work. Ideally, your car is in good shape.
Owners with higher-end cars can charge more, and gas efficient cars may get more rentals.
There are a couple of things to consider before you rent out your car.
The main factor to think about is wear and tear. The truth is, sharing your car is going to put more miles and wear on your vehicle.
You also have to coordinate meetups and drop-offs in many cases.
Lastly, there is the possibility that you'll have to deal with real damage or even theft.
Now, before you write this off, you should know that these companies offer extensive protection plans just in case anything serious happens.
Now, all this being said, there are plenty of people who are able to pull in a passive income and even pay off their cars this way.
There are a couple of popular companies that offer this service, so let us take a look at a few of them.
Turo: Right off the bat, Turo's website lets you know that the average person earns over $700 per month using their website.
If you ask me, this is a pretty easy way to make money when you're not using your car.
On Turo.com, you can list your car for free and set your own prices.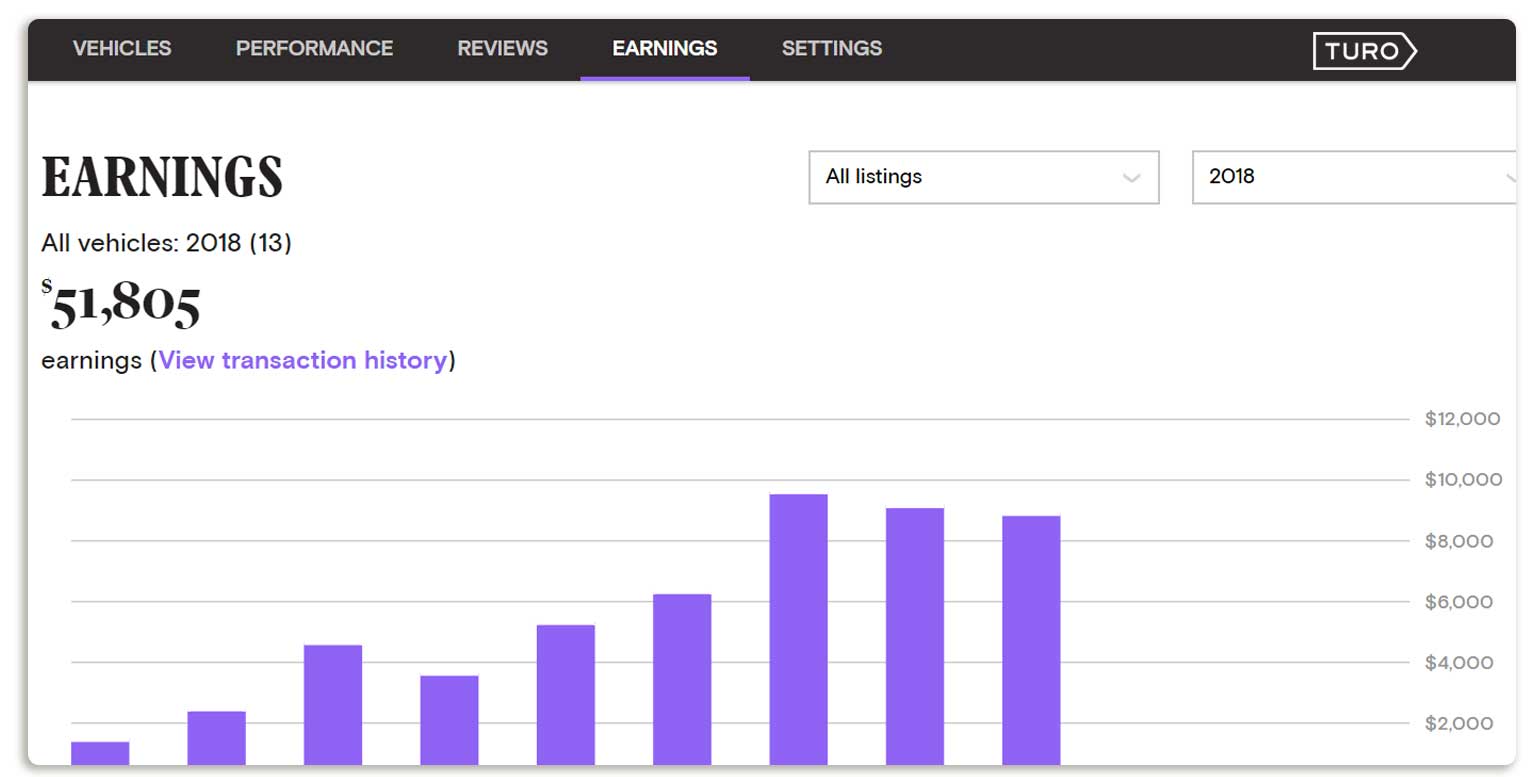 (Example of  Turo Earnings)
Once your guest has completed their trip, you take home 65%-85% of the payment. When you rent out your car on Turo, you'll be covered by a protection plan.
Getaround: Getaround works in much the same way as Turo.
You can list your car and connect with renters right away.
Getaround.com offers a $1 million insurance policy as well as 24/7 user support.
One nice feature from Getaround is the digital key. This lets renters unlock your car using the app once their trip has been confirmed by you.
They also require drivers to pass a safety screening before they're allowed to rent using their service. This helps to give you a little more peace of mind when you rent out your vehicle.
7. Research Trials
Okay, so right off the bat here I want to make it clear that I do not recommend Phase 1 medication trials.
These are studies that are usually done to test the safety of a new medication and carry some obvious health risks.
What I'm talking about are studies for technology, cognitive, medical, and market research.
Now, there are quite a few options out there.
If you're looking for ways to make $1,000 fast my advice is to use multiple platforms.
The question is, how do you access these trials in your area?
Here are the most popular methods of finding paid trials:
Craigslist: One of the easiest ways to find paid trials is through Craigslist for your city.
For example, I picked San Francisco at random and found an entire page of paid research trials posted within the last month.
Most of these trials pay between $100-$150 each.
Colleges and Universities: Another smart way to find paid trials is through a local university.
For instance, New York University has a direct link for research participants right on its Department of  Psychology website.
Another example is through UC Berkeley's School of Business. They pay research participants $15 per hour on average. Not bad!
Simply search for paid research trials at your nearest university and you should find a few good options.
Respondent.io: Now, if you have expertise in business, tech, or marketing, you may be able to find high paying trials through Respondent.io.
Respondend.io connects professionals to researchers who are seeking skilled participants.
Participants are referred to as respondents and have the opportunity to make some serious money.
In fact, the site states that respondents can make anywhere from $150 to $700 per hour depending on their area of expertise.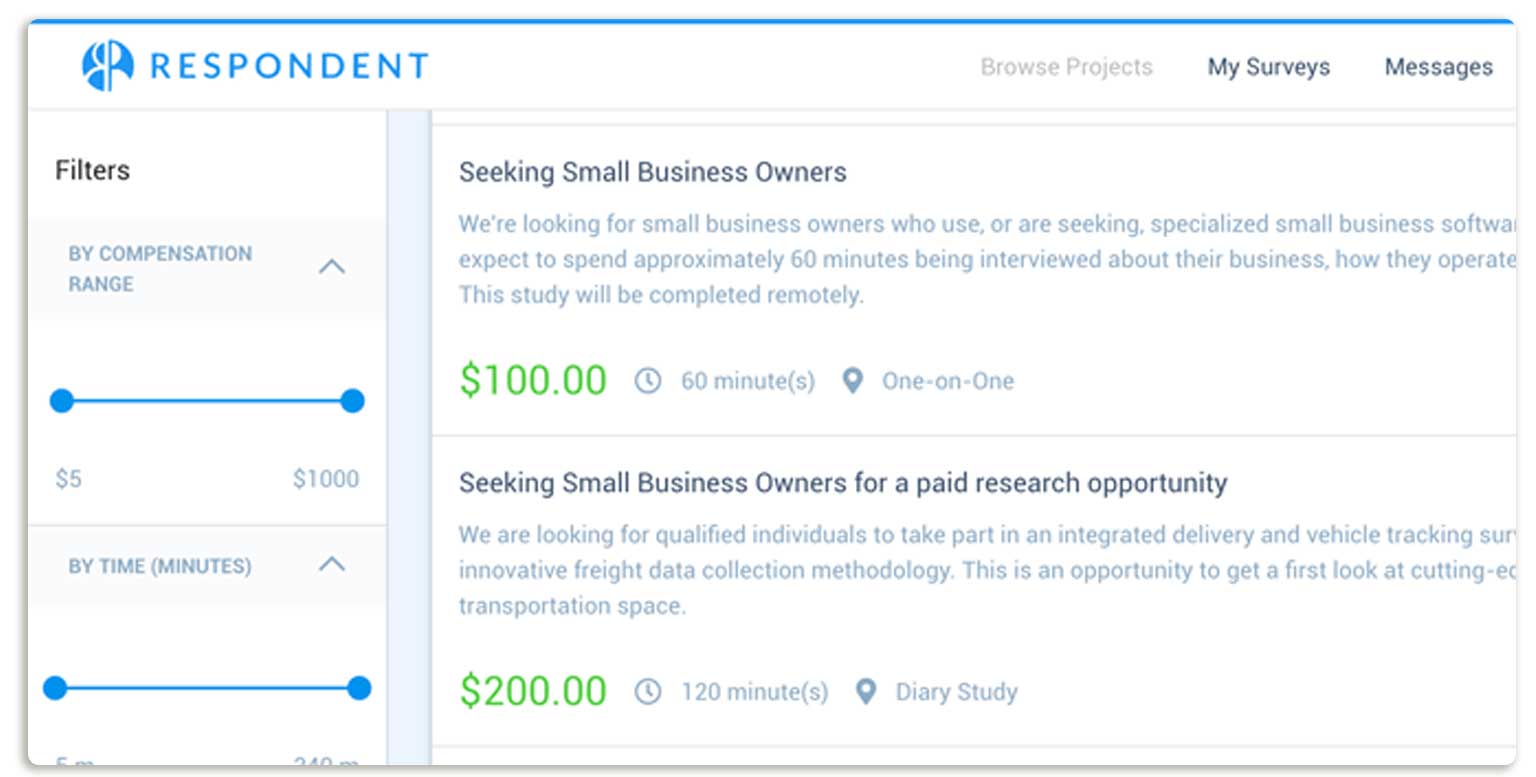 (Example of Respondant.io Dashboard)
A word the wise– this site is fairly competitive so expect to be 100% qualified before you're chosen for any study.
That being said, if you're a good match, this is a fast way to make $1,000.
UserTesting: UserTesting.com is a site that helps companies connect with testers to conduct market research.
Once you join, you'll be screened to see which tests you qualify for.
After you've qualified, you can complete the test and get paid. Tests pay $10 per 20 minutes.
They also pay for interviews which typically pay a bit higher.
Testers are paid 7 days after completing a test.
Now, this method alone probably won't get you $1000 fast, but it's pretty easy to pull in an extra couple hundred dollars per month.
8. Sell Your Stuff
If you're the type of person who loves to collect stuff, this is the option for you.
Perhaps you have a garage full of assorted items that you have no use for, or maybe it's a storage unit– you may want to consider selling these items to make money fast.
Before you start looking for stuff to sell around your house, make sure you know which products are trending and can sell fast online.
eBay: This is your best option if you have items that are fairly valuable. The best items to sell on eBay are electronics, by far.
Even if you have some old walkmans laying around, you might be surprised at how well they sell. The same goes for speakers and headphones.
Now, you don't have to sell electronics to make money fast on eBay.
2There is also plenty of opportunity for sporting goods, kitchenware, garden tools, camping items, CDs, and DVD sets.
In reality, there are people out there who make a full-time job as an eBay seller. These people have ventured into the world of reselling– finding cheap items and reselling on their eBay store.
But for you, if you just want to make $1,000 all it takes is cleaning out your shed.
Craigslist: While eBay is certainly a great option, it can require some marketing experience to gain visibility.  Craigslist is a bit simpler.
You can list items on Craigslist under the "For sale" section of the site.
From here, make sure to include the name of the item in the title of your listing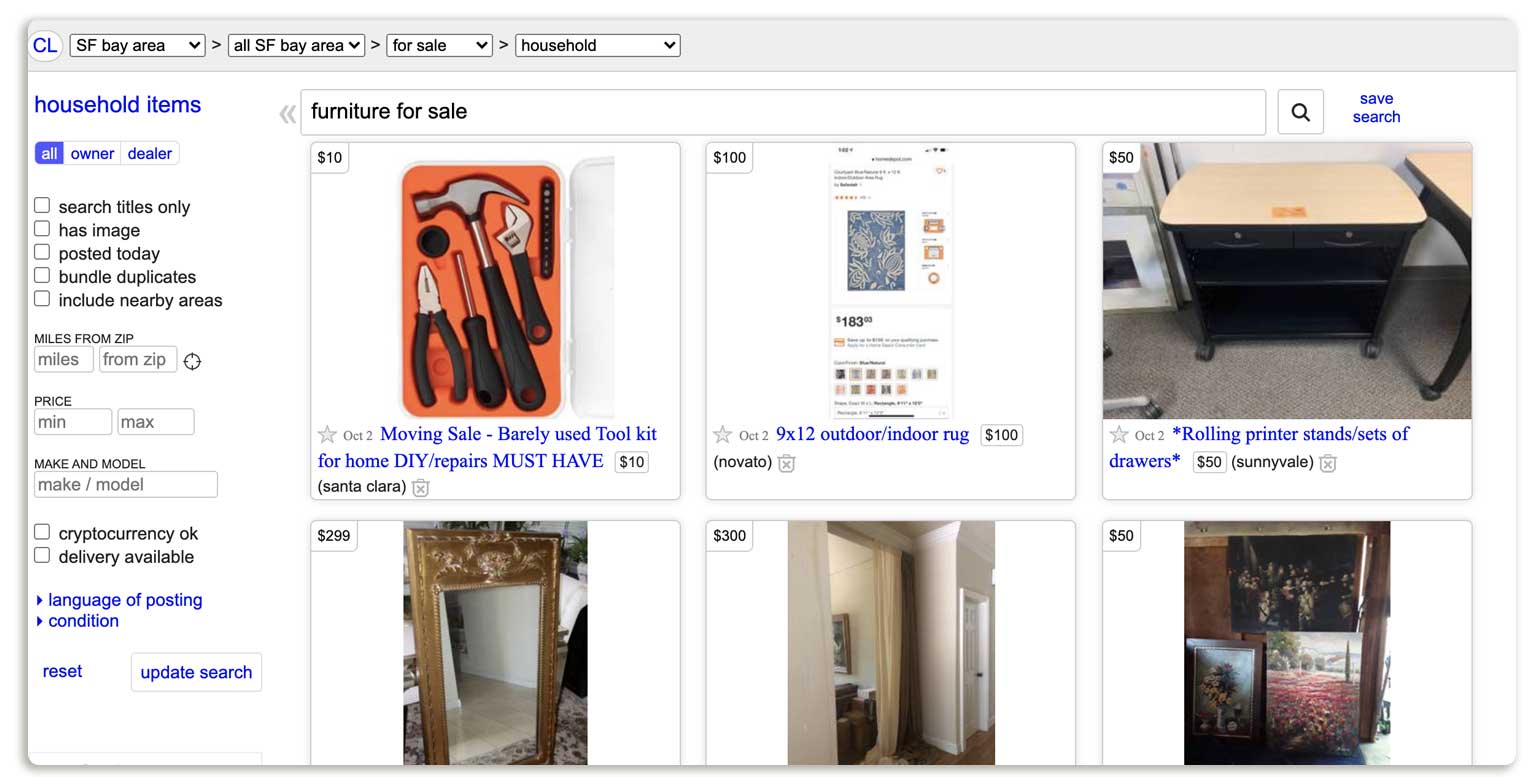 (Example of Craigslist Store)
People who are searching for this particular item will be likely to see your listing since the platform is not nearly as competitive as eBay.
It doesn't hurt to share your listing on your social media accounts such as Facebook, to get the ball rolling.
Decluttr: Last on this list is Decluttr. Now, I'll just say right now, this site probably won't make you $1,000 on its own.
This option is best as a supplemental site to other major sites like the ones I mentioned above.
That being said, Decluttr holds a unique purpose that can be pretty handy if you're looking for ways to make money fast.
Decluttr is an online platform that buys CDs, DVDs, games, textbooks, old cell phones, tech items, and even used LEGOs, of all things.
Here's how it works:
First, you input the item you're looking to sell into the search bar. The site will then give you an offer price for your item.
Once you send in your items, they will be inspected and you'll get a final offer. You can choose to accept the offer, or Decluttr will send it back, free of charge.
Now, the reason I say, this site should be supplemental to other selling platforms is that you can probably sell high ticket items for a better price on Craigslist or eBay.
Oftentimes, sellers get a fraction of the original quote when it comes to expensive tech items when using Decluttr.
I recommend using this site for items that you don't think will sell on other seller platforms.
9. Small Investments
I know that when people think of investing, they typically think of putting thousands of dollars on the line.
The truth is you can start investing with as little as $100. Of course, there are risks associated with investing.
The very nature of the activity is risky, but the good news is, there are varying levels of risk, depending on which direction you take it.
And if you do it right, it's possible to make $1,000 in a relatively short time.
Let's talk about a few ways you can start investing your money.
Betterment: Betterment is a financial robo-advisor. In other words, this company provides the services of a financial advisor for a fraction of the cost.
There is a $0 minimum to open an account and the company essentially takes care of the complicated stuff. Once you make an account, Betterment will ask you a series of questions.
The system will use your answers to generate a portfolio and manage your investment needs.
If you're starting out with around $100 this is a good option.
They only charge $0.25 of your account balance which is far cheaper than what you'd find with a traditional advisor.
Now, investing in stocks is a great way to make money fast, but you always risk losing some of your investments.
With Betterment, they take care of the investments, so you don't have to become an expert, but there is still some inherent risk.
However, if all goes well, you can make $1,000 with little to no effort on your part.
Peer-to-peer lending: If you're wary of investing in stocks, you can also make money through peer-to-peer lending.
Peer-to-peer lending is when you lend your money to people in need of small investments and charge interest.
Once they repay the loan, you'll make a small return. With as little as $100 you can make four separate investments, lending out small, $25 loans.
At the end of the month, you'll be repaid and earn the interest back.
You can then take this larger amount and reinvest it. You can continue this process until you make your goal of $1000.
It's a low-risk way to make your money grow.
10. Craigslist Gigs
If all else fails, I highly suggest hitting up Craigslist Gigs to find paid opportunities. In many cases you don't need a ton of experience and the skill required is easy to pick up.
You will likely find a lot of opportunities for house cleaning, yard maintenance, landscaping, moving, and unloading.
Of course, being Craigslist, the pay rate is going to vary wildly. It will be in your favor if you already have access to basic tools such as landscaping tools or cleaning supplies.
Your opportunities will also widen if you have access to a reliable vehicle.
Now, aside from physical labor, there is quite a wide variety of other paid gigs as well.
You'll probably find paid writing/editing gigs, acting jobs, paid research trials, tutoring, and caretaking gigs. If you have a particular skill set, my advice is to take advantage of the search function.
Craigslist has a basic search function that allows you to filter for paid gigs, in your area in a given category.
Now, given that this is an online platform, it would be irresponsible of me not to warn you of scammers.
As with any online interaction, especially one having to do with money, there is an opportunity for questionable behavior.
Make sure to avoid giving out your personal information, especially bank info or your social security number.
 In general, just make sure to practice common sense.
Future Considerations
Now, all of these suggestions are good and well, but if you really want to make money, you need to think about the future.
If you're strapped for money, I know this can seem like an impossible task.
In reality, you don't need to be rich to start saving for the future.
My advice to you is to open a savings account.
In many cases, a savings account will not only help you save money, but they can actually help you make money.
Opening a high-yield savings account can help you accumulate money over time. This is a great way to have your money, make money, even if it's just a small amount.
The key takeaway here is to start making financial choices that put you in a good spot for the future.
Until then, you can take advantage of these ideas to start building your income.
If you want more ideas on how to make money fast, check out my guide to making money online.