If you love fine art, interior design, unique clothing, or one-of-a-kind creative items, chances are, you've heard of Etsy. Etsy is an online marketplace that offers a platform for creative people of all types to sell and market crafts. Etsy shops offer a large variety of custom and distinctive items ranging from oil paintings to vintage jewelry. With so much of today's commerce focused on mass-produced, disposable items, Etsy is a refreshing break from the norm.
If you have a special skill or passion for creating, opening an Etsy shop is a great opportunity for you to make money online. Sellers on Etsy made a combined 4 billion dollars in sales in 2018. Needless to say, this platform is an incredibly effective way to make money doing what you love. Keep reading if you'd like to learn more about how to open your own Etsy shop and what it takes to be successful.
Who can sell on Etsy?
Etsy is ideal for anybody who has a creative skill or craft that they'd like to monetize. For example, if you are passionate about t-shirt design, you can use Etsy to list and sell your items. Etsy is primarily a place for people to sell handmade or curated vintage items.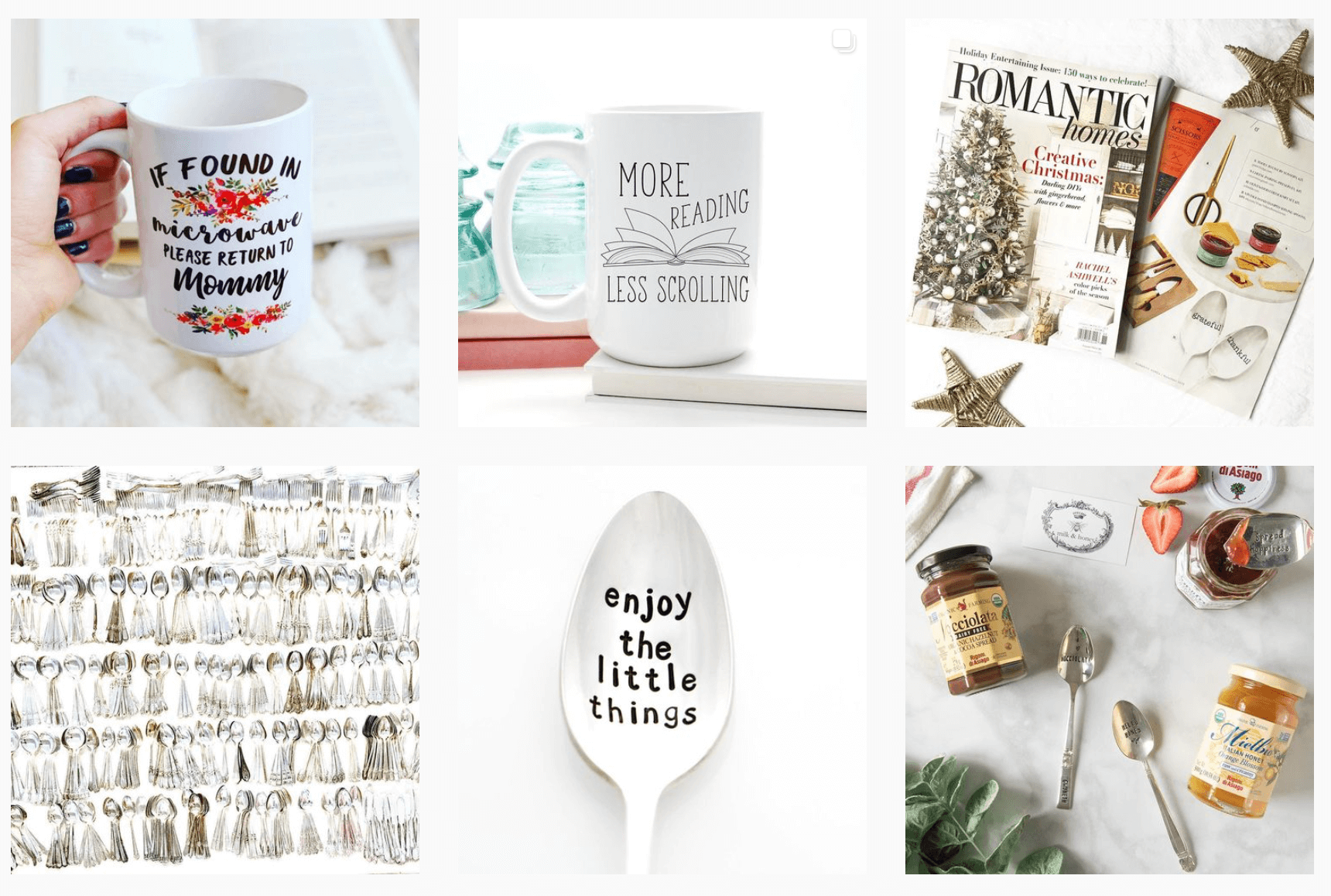 (example via Instagram @milkandhoneyluxuries)
Anybody is free to 
create an Etsy shop
 as long as they follow the basic guidelines. Etsy's seller policy prohibits the listing of vulgar or obscene content and anything that can be interpreted as discriminatory. As long as you can follow these rules, you're good to go.
What does it cost?
Here's the best part: opening up your Etsy shop is free. However, there are some costs involved once you get started:
1. Listing cost: Etsy will charge you $0.20 for every item that you list in your shop. This low cost is a major attraction to selling on Etsy. This charge will give you four months before an item needs to be renewed. If you sell an item that comes in variations you can make a single listing for it. For example, if you're selling a purse that comes with different fabric or color options, you can make one listing for this item. Each time an item sells, you'll be charged an auto-renewal fee of $0.20.
2. Transaction fees: The seller is responsible for a 5% transaction fee whenever a sale is made.
3.  Shipping labels: As a seller, you'll have to purchase shipping labels. The cost will vary according to your selection.
4. Ad campaigns: As a seller, you can set up an ad campaign with your desired budget. Each time someone clicks on your ad, you'll be charged a fee.
5. Cost of production: The remaining cost of your Etsy store is completely dependent on the type of product you sell and the associated cost of materials, production, etc.
What can you sell?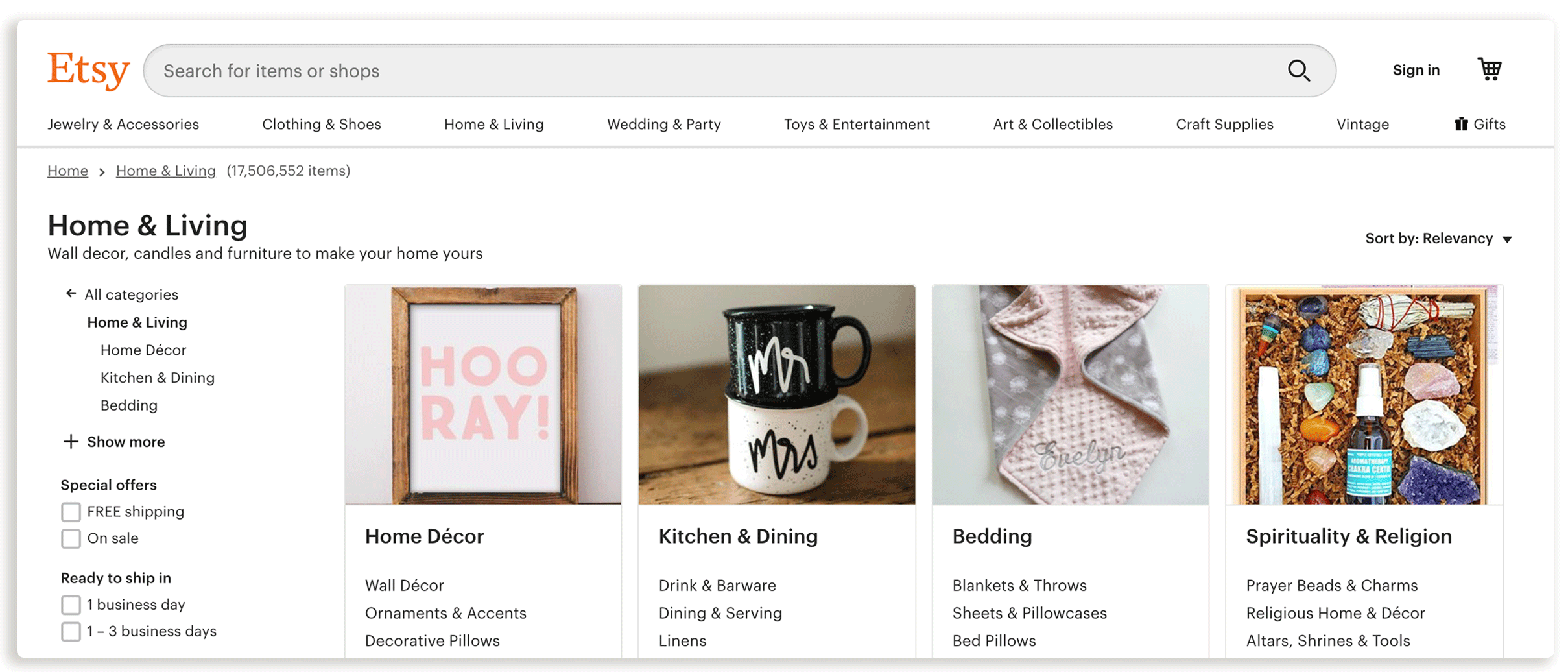 Categories: Etsy has a huge selection of categories and subcategories for you to list items under. These categories include jewelry, clothing, home decor, events, toys, art, craft supplies, and vintage items.
Each of these categories has several subcategories to choose from. For example, if you craft handmade dolls, you can list them under the subcategory "dolls and action figures." Whatever your craft may be, Etsy will likely have a category for it.
Print-on-demand: If you're a visual artist and you're just starting your online business, you may not have the inventory to stock your shop. Luckily, a company called Printful has integration with Etsy to solve this problem. This website allows visual artists and designers to sell their designs on wall art, clothing, and home decor. They print and ship these items whenever you receive an order.
To use Printful, all you have to do is connect your Etsy shop, list your items from Printful, and start selling your products. When you receive an order, Printful is notified. The company then prints your design and ships it to the customer. This eliminates the need to purchase a large inventory stock, and lets you expand your product line.
How to open your Etsy shop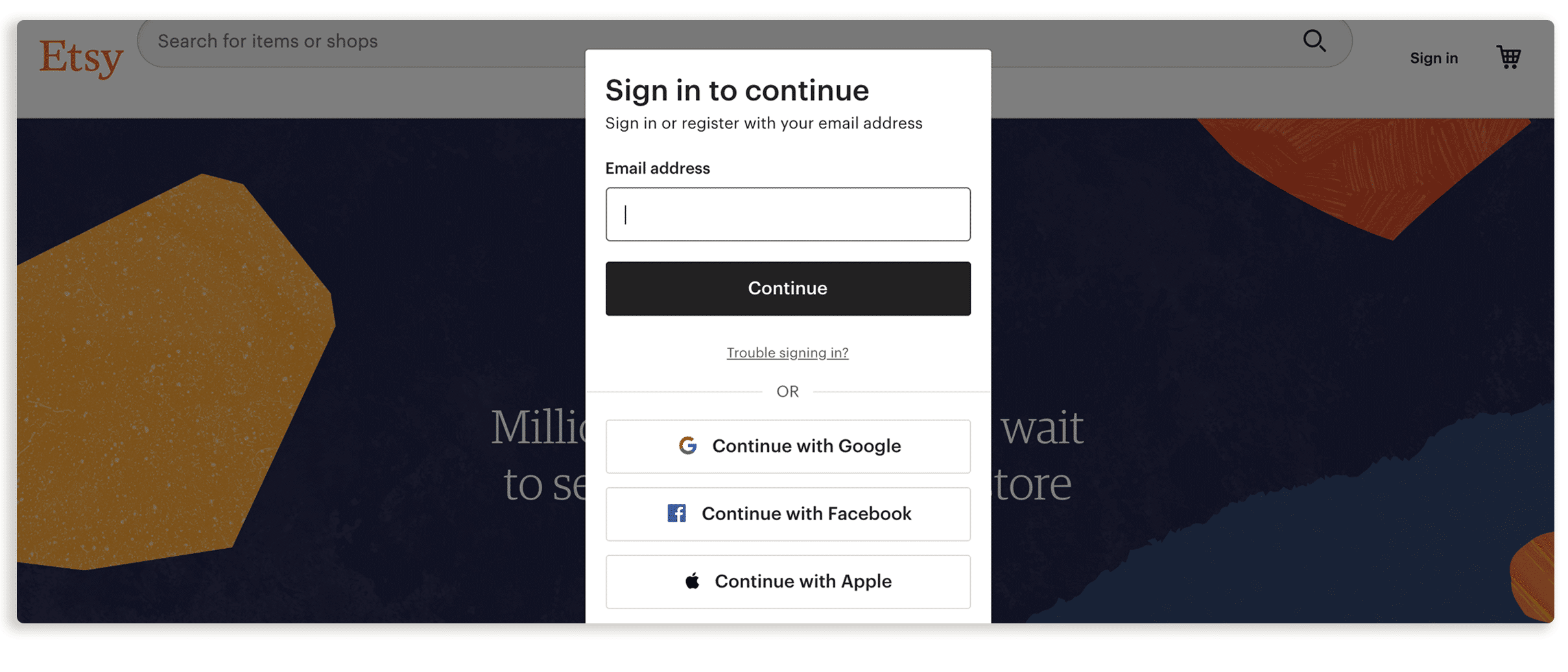 Create a seller account: Visit the Etsy Website and click "Sell on Etsy." Next, select "Open your Etsy Shop." Provide a valid email address and your name to open your shop.
Choose your shop name: Your shop name should be as creative and unique as possible since no two shops can share a name. If the name you want is taken, Etsy will suggest alternatives. Additionally, your name cannot infringe on an existing trademark.
Customize your page: Etsy offers a service through Pattern that costs $15 per month. With Pattern, you can customize your shop to the fullest. You can find all of the customization options on Etsy's website editor. In addition to your homepage, you can add an about page, contact page, events page and gallery page to your store. Use the "Pattern Dashboard" to customize your font, accent colors, theme, branding, cart style and more.
List your products: Once your shop is set up, you'll need to list your products. To list a product, visit your account and click "Shop Manager." Next, click "Listings," to add a new listing. Once you add a listing you'll want to:
Add photos of the item.
Choose your thumbnail image.
Add details about the item.
Add your price and inventory amount.
Set up your shipping.
Publish the listing.
Decide on the payment method: To get paid, you'll need to set up your payment method. Sellers in the U.S. can use Etsy Payments to get direct deposits. If you're not based in the U.S. you can use Paypal or other alternative methods.
Set your shipping fee: Set shipping prices on your listings to save time. Do some research on what shipping methods work best for you and your timeframe. Make sure to stock up on the appropriate shipping materials for your products.
Market your shop: The best way to market your shop is through social media. If you're taking pictures of your items for listing, you already have the content you need. Create social media accounts for your business and post pictures of your products. Direct your followers to your Etsy shop to increase your traffic. Make sure to check out Etsy's resources for marketing your shop.
Manage your shop
Customer service: Customer service can be a challenge for new business owners. The best thing to do is to respond promptly, acknowledge the customer's concern and work to find a solution. You can save commonly used phrases as templates in your emails with customers to make communication fast and easy. Etsy also provides helpful customer service tips for new shop owners.
Use the app: The best part about making money from your site gives you the freedom to work from any location. Use the Etsy app to keep an eye on your shop while you're on the go. The Etsy app is available for both Android and iOS devices.
Customer reviews: Customers on Etsy can leave reviews on your shop based on their experience. Make sure to check these reviews to see if you have any areas that are lacking. You can send "thank you" emails to customers who leave positive reviews. If a customer leaves a review that you believe is inappropriate, you can report it for investigation.
Item availability: Make sure to always remove items that are no longer available. If you list a certain number in your inventory, it must be accurate. Similarly, if you list certain colors as available, make sure that you have those colors in stock.
Make your shop stand out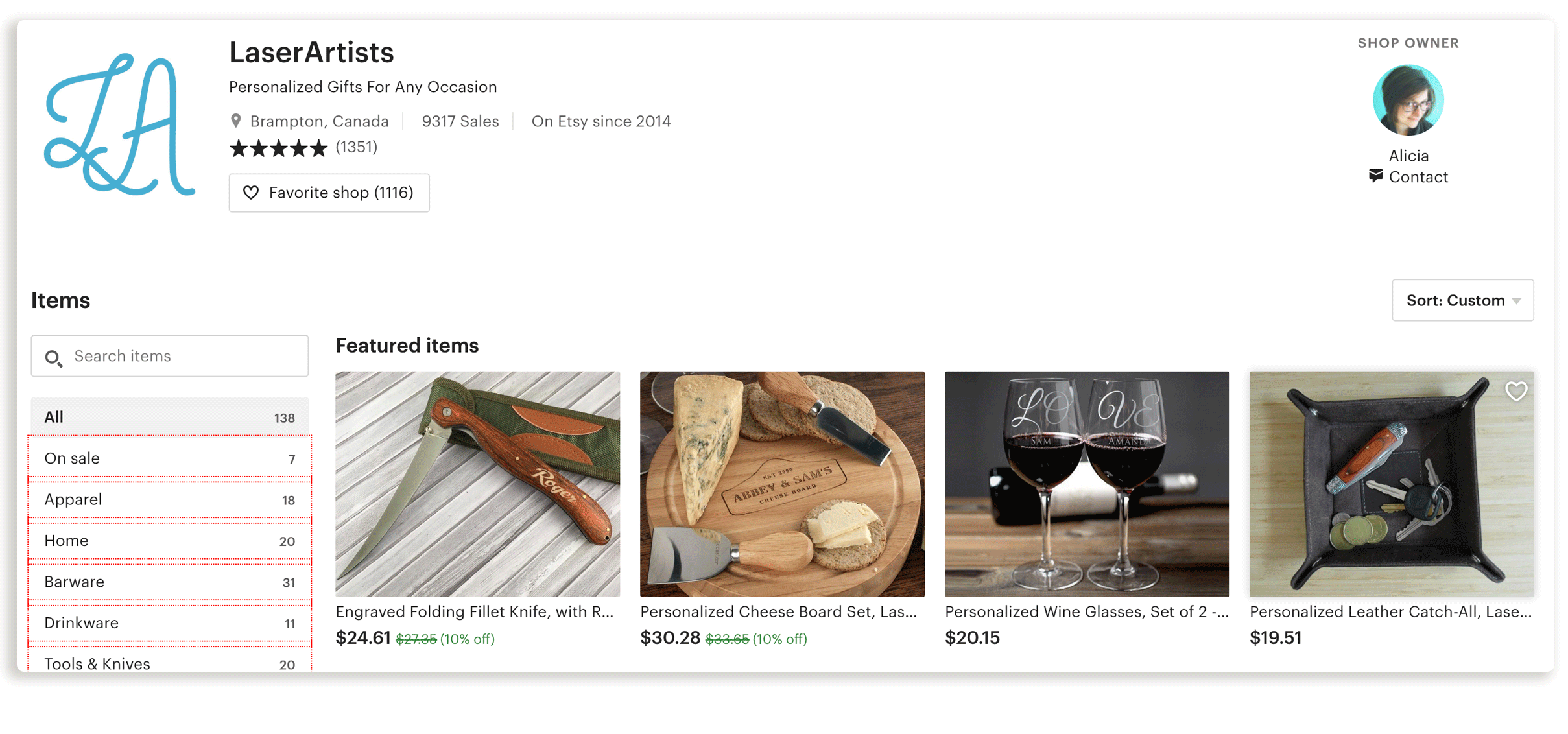 Fill out your profile: Similar to social media sites, you must fill out your shop with all of the details. This means creating an informative "about page" for your customers to learn about the person behind the craft. You may also consider uploading a profile picture under your seller profile. You should choose an appropriate shop profile picture and cover photo to make your shop stand out. Sellers often choose to feature pictures of their items. Consider making a logo for your shop using graphic design software. There are many tools such as Canva that will let you create a free logo online.
Choose a theme: One of the easiest and most effective ways to make your shop stand out is by choosing a theme. With Pattern, you can choose from a selection of beautiful themes to make your shop special.
Categorize your items: Give your customers a pleasant experience by making clear categories. If you list several types of products, make sure to put them in appropriate categories so that your shop is organized.
Use cohesive photography: Using high-quality photographs for your listings is incredibly important. Make sure the photography style is cohesive on all of your listings. This will make your shop aesthetically pleasing to your customers. It's also smart to include several pictures for each listing, paying special attention to the details of your products.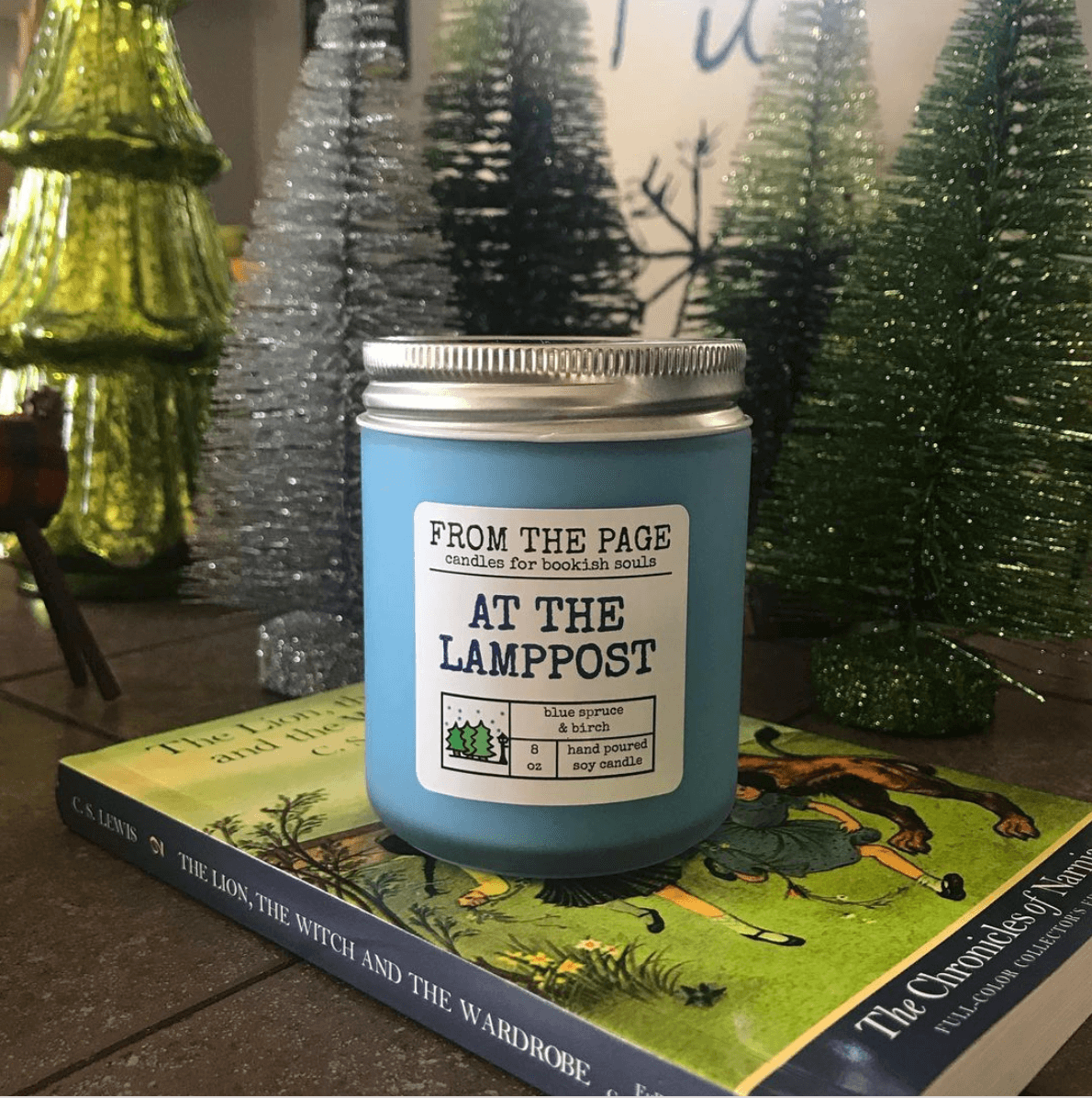 (exmaple via Instagram @fromthepage)
Thank you notes: If you're packaging and shipping items yourself, it's easy to include a thank you note in the package. This is an easy way to add a personal touch to your shop. Thoughtful gestures like this can help gain repeat customers.
Quick tips for success
Use marketing tools: Etsy provides marketing tools and advice to their sellers. For example, you can easily make a social media post from your seller page. Connect your social media accounts by going to Shop Manager > Marketing > Social Media. Once you're ready to make a social media post, you can click "Create a post." With this tool, you can post your latest listings, recent milestones, sales and coupons, great reviews, and shop updates.
Do giveaways: Whether your shop is new or established, promotional giveaways are great anytime you want to grow. Doing giveaways boosts your visibility and gets people talking about your business. This is where your social media will come in handy. All you have to do is create a post featuring the item you'd like to giveaway. Next, list the requirements to enter the giveaway. Common requirements are:
"Like this post."
"Follow this page."
"Tag a friend on the post."
"Repost this picture."
Take quality pictures: This one is non-negotiable. Using professional photography for your items makes you look put-together and helps stand out from the crowd. If you have the money, hire a professional photographer or virtual assistant to take pictures of your products. If you're not ready for that step, most iPhones have excellent cameras. Make sure your pictures have clean backgrounds and great lighting.
Pay attention to what sells: Keep track of your sales and note what does well, what does poorly and what time of the year certain items gain popularity. Adjust your shop to represent what sells the best.
Use support specialists: Running a business can be complicated so it's important to be confident in yourself. Etsy has an incredibly in-depth help section for sellers. All you have to do is put your concern into the search bar and there are usually several articles relating to the subject. If you can't find an article in the help section, you can contact a specialist to help you out. Contact Etsy Support to get help over the phone, email or live chat.
Check out Etsy Forums: If you want advice from other sellers, this is where you'll find it. Etsy forums are chock-full of helpful advice from successful Etsy shop owners. Etsy forums are great for learning about marketing, customer service, photography tips and more. If you can't find the answers you're looking for, you can create a discussion topic. Etsy forums are very active, making it a great resource for sellers.
Conclusion
Starting a new business venture can be intimidating. This is doubly true if your business is based on handmade, unique items. The good news is, Etsy has a proven model for creatives and crafters to succeed in business.
Starting your shop is quick, easy and affordable, so all you have to worry about is creating excellent products. Use the helpful resources that Etsy provides and get educated on the ins and outs of running a business. With these tools, you'll be making money with your passion in no time at all.