There's no getting around it– If you want your website or blog to rank on a search engine results page you need to use SEO. 
Search engine optimization is undoubtedly important for any website but it can be a daunting task. 
Understanding the ranking factors and doing competitor research is a lot of work. The good news is that you don't have to do it manually.  
There are several SEO tools on the market to help you quickly and efficiently optimize your pages. Surfer SEO stands out from the crowd for its excellent feature set and ease-of-use.  
In this article, we'll take a look at each feature and show you how to use Surfer SEO. 
What is Surfer SEO?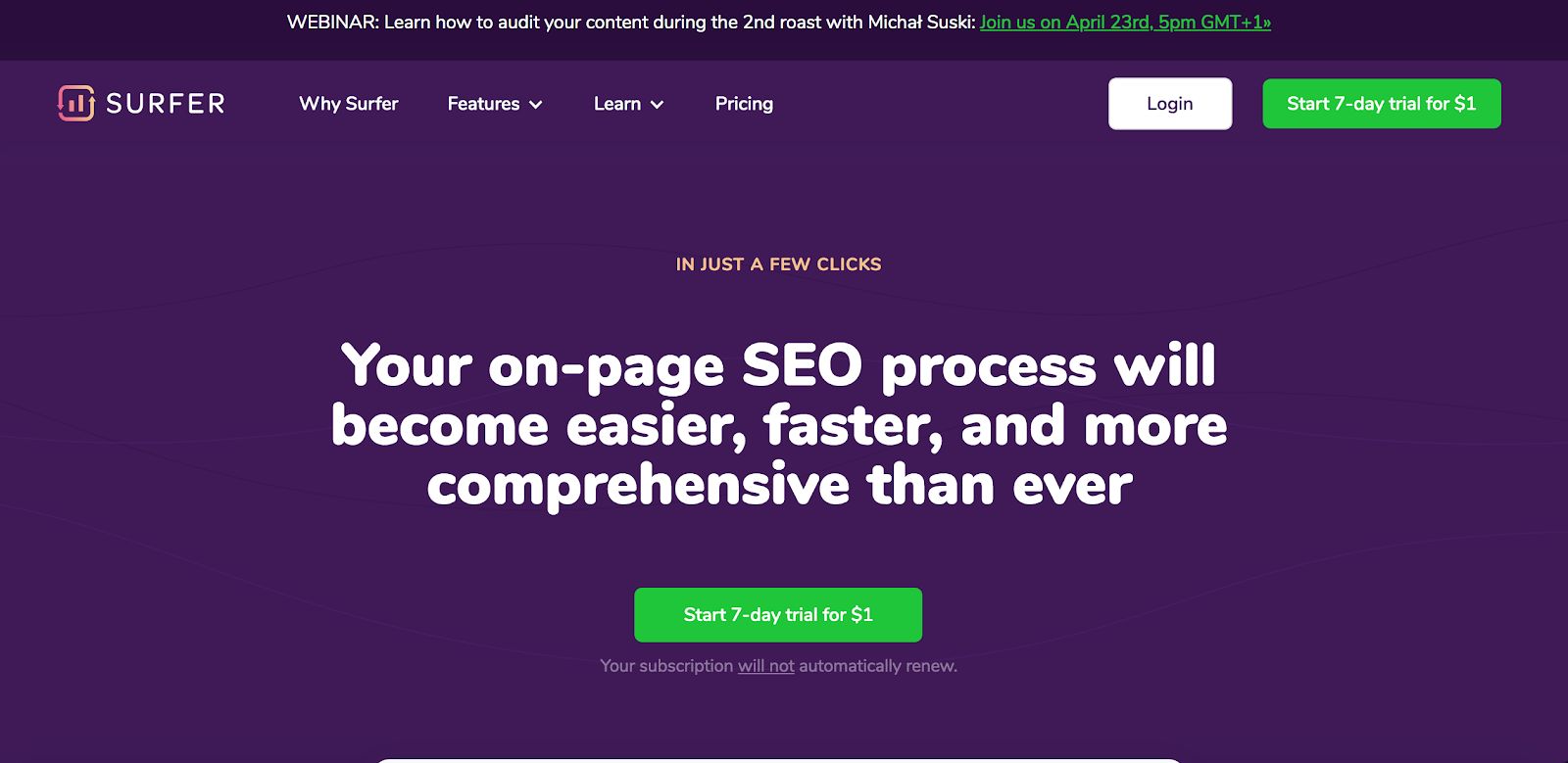 Surfer SEO is an on-page SEO tool that analyzes over 500 ranking signals in order to optimize your content. 
Without an SEO tool, you're likely spending hours manually analyzing 4 or 5 ranking factors, with access to a limited data-set.  
Surfer SEO claims to account for hundreds of SEO ranking factors using comprehensive data, providing results in just a few minutes. 
The founders of Surfer SEO have been specializing in SEO for more than a decade. This experience has given them crucial insight into what people are looking for in an SEO tool. The founders designed this product with the goal of creating a more efficient SEO system. 
Pricing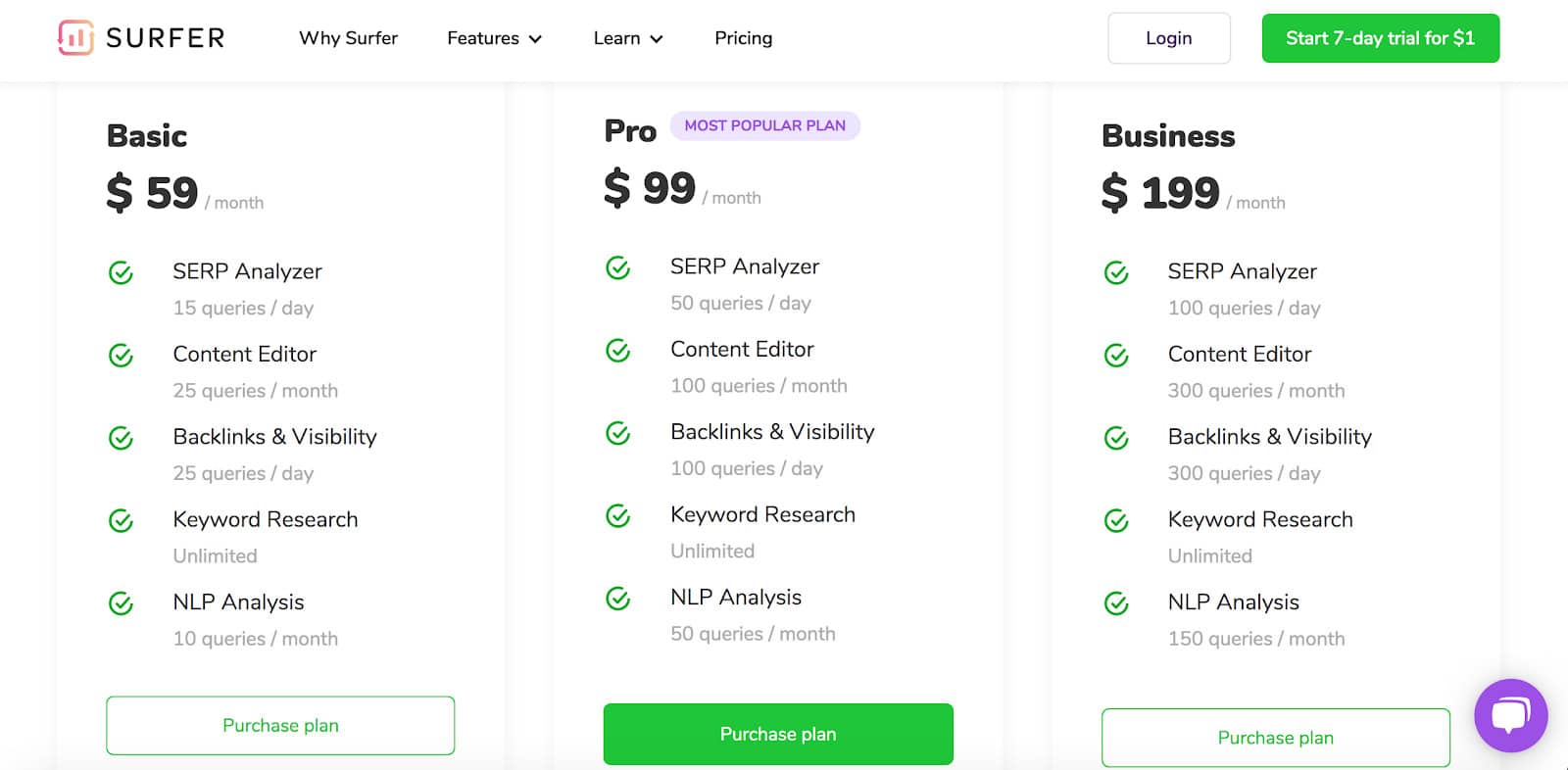 Surfer SEO offers three packages that include SERP analyzer, content editor, information on backlinks and visibility, keyword research and NLP analysis.  
Pros
:
It makes SEO easy for beginners

 

Surfer audit pinpoints exactly what needs improvement

 

It integrates with Google Docs

 

Comprehensive content editor

 
Share Surfer links with writers for consistent SEO

 

Improvements are made regularly

 
Cons
: 
The word suggestions can lead to overstuffing

 

The keyword tool is limited

 
Formatting is occasionally tricky on the content editor

 

Limited queries according to package

 
> Get a 7-day SurferSEO trial for $1 dollar 
Main Features
No product is perfect, but Surfer does a really good job of creating genuinely useful features that are easy to use if you have limited experience.  
They update the product regularly and listen to user complaints to improve their services.  
The main features of this product are the SERP Analyzer, SEO Audit, Content Editor and the Keyword Research tool. We'll also take a look at the new keyword chrome extension.   
SERP Analyzer

This SEO page analyzer looks at high ranking webpages to help you understand what they're doing right and what you're doing wrong.  
This tool compiles a comprehensive data set and uses this information to improve your pages which comes in hand when writing articles such as product reviews or blog content. 
So how does this feature stack up? This SEO tool actually performs quite well. It provides an in-depth analysis of over 50 results pages and hundreds of ranking factors.  
This probably sounds like an overwhelming amount of data to understand. Luckily, Surfer SEO has an easy solution to implement this comprehensive data into your SEO. 
After Surfer SEO analyzes the top-ranking pages, you can compare the data to your own page. You can then audit your page to find suggested corrections, which leads me to the next feature: SEO Audit.  
SEO Audit

This tool is widely regarded as one of the best features of Surfer SEO. The SEO audit tool takes your content, compares it to 50 of your competitors, and tells you exactly what you need to change.  
There are several areas that are looked at in the audit, but the most important things to look at are "Errors" and "Warnings."  
The SEO audit will give you a clear list of items that you should do to improve your content so that your page can rank higher in a search result.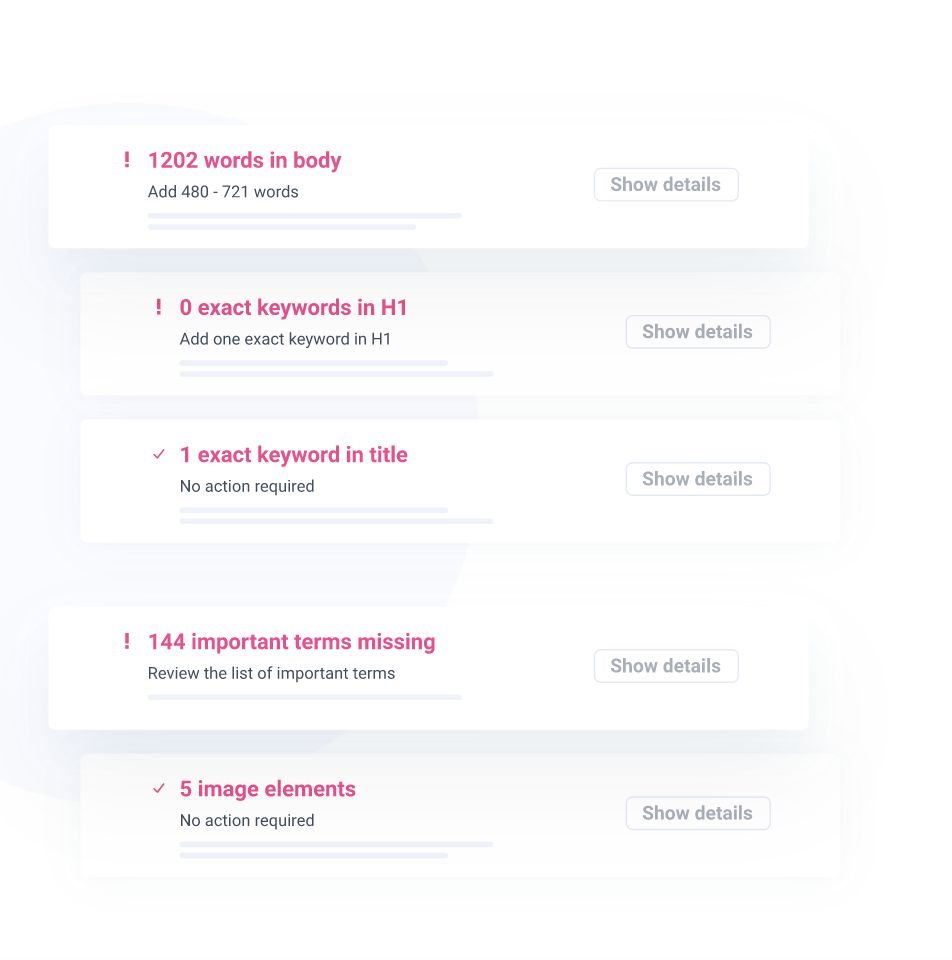 Lastly, this tool will show you common backlinks used by your competitors.  
 This tool makes it way easier to compare your page and make quick adjustments to optimize your page.  
> Get a 7-day SurferSEO trial for $1 dollar 
Content Editor
The content editor will the bread and butter of Surfer SEO if you're a writer. This feature looks at high ranking pages covering the same topic and creates a list of SEO writing guidelines.  
Let's look at an example. Say you wanted to write a post called "How to Start a Blog." You would go to the content editor and choose at least five competing pages to analyze.  

Surfer SEO then uses that data to create a handy content editing platform. On this platform, you'll be provided with a suggested word count, the number of headings and paragraphs, and a comprehensive list of important terms to include.  
 Here's what it looks like: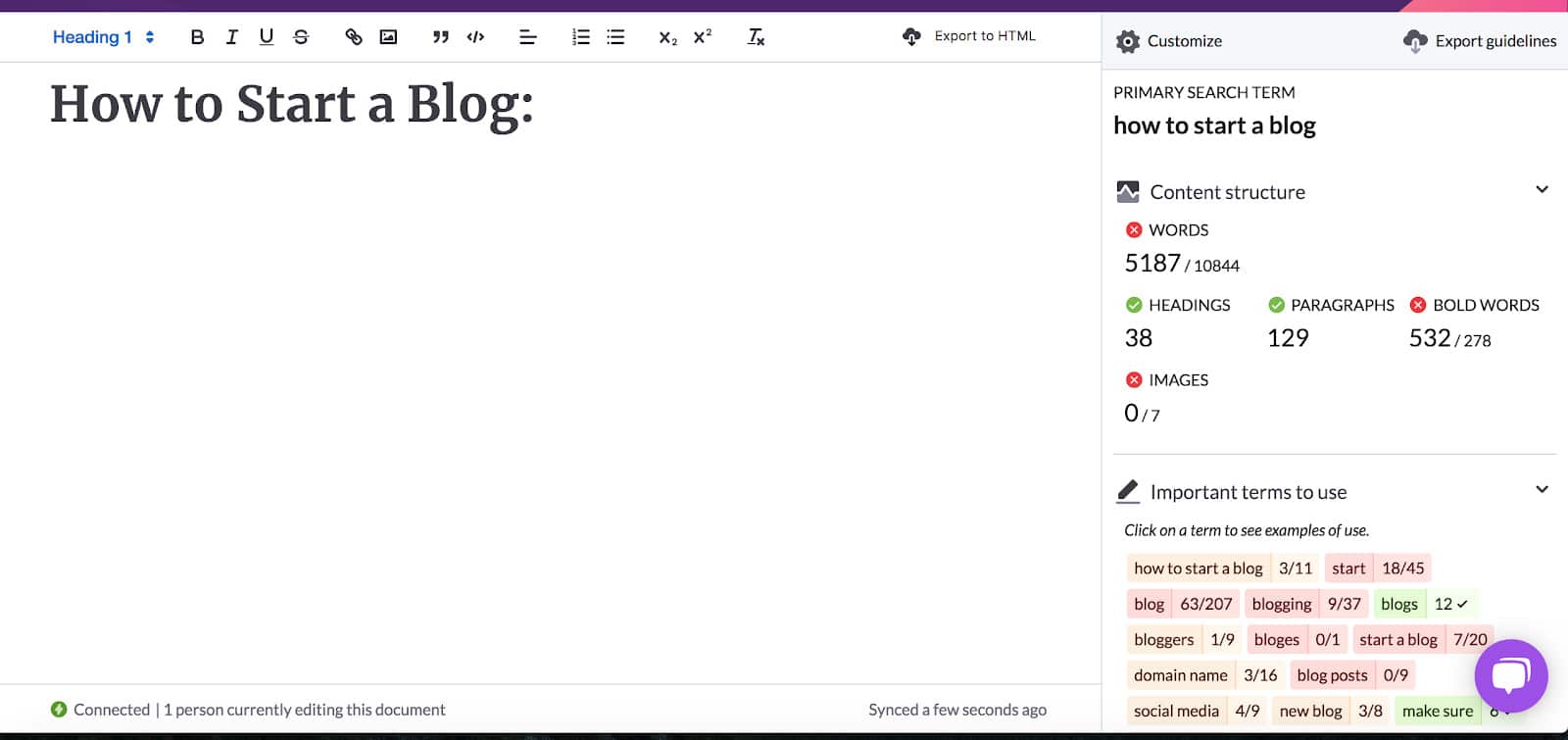 The biggest downside to the content editor is the suggested terms. They are great to keep in mind as you write, but sometimes they affect readability.  
The number of keywords used is affected by the word count, so you can adjust that as well. As long as you're not blindly following the suggested terms, this feature is very useful. 
One of the most useful aspects of this feature is the ability to create a project with the editor and share it with a writer. This makes Surfer SEO a great product if you're looking for team management tools. 
Keyword Research

The keyword research tool is meant to help you identify new keywords and phrases. You can incorporate these into existing posts or use them to create new blog ideas.  
Each keyword search will give you information about search volume, similar terms, and questions including the keyword. This tool will also reveal information about search terms according to the country.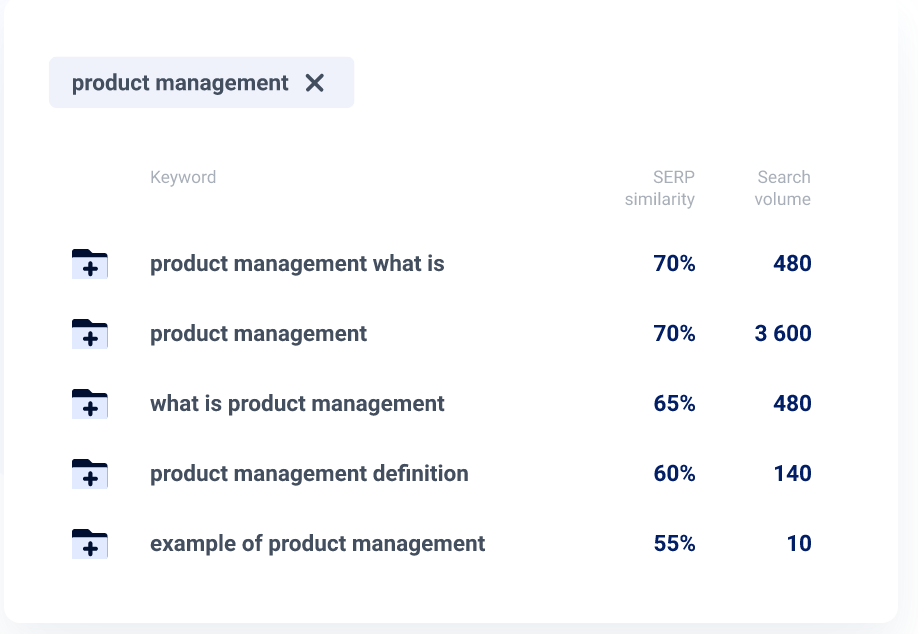 Now, this feature is where you may run into some trouble.  If you have some experience with SEO, you might find the tool lacking.  
That's because you're limited to basic keyword searches without the ability to reverse engineer keywords.  
You may also search for keywords with good volume and get no suggestions at all. At the end of the day, keyword research isn't Surfer SEO's strong point, but the other features make up for it. 
 Keyword Surfer Chrome Extension

As of 2019, Surfer SEO introduced a free keyword search tool. This tool comes in the form of a chrome extension.  
Once downloaded, it gives the user some quick stats on search volume and related keywords and phrases according to country.  
 This tool is by no means the best option out there, but hey, it's free! It's a good introductory tool for beginners.  
How to Use Surfer SEO  
Now that you have a good idea of the features available on this software, let's take a look at how you can use it for your own content.  
There are different approaches depending on your goal. First, we'll go over how to improve your current content and then show you how to create new content using Surfer SEO. 
How to optimize existing content:  
Start with the SERP Analyzer

 

Type in the keyword that relates to your content

 

Click "Create Query"

 

Enter the URL of your page and click "compare to competitors"

 

Make sure to exclude other pages from the analysis

 

Click the "audit" button for your page

 

Edit your content according to the list of suggestions

 
How to create new content:  
Start in the Content Editor

 

Type in your keyword and location into the search bar 

 

Choose at least five pages from competitors

 

Surfer SEO will create a set of writing guidelines.

 

Write your content on the Content Editor platform following the guidelines as much as possible. 

 

Make sure to answer the list of common questions provided

 

Publish your work.

 
Surfer SEO
 Alternatives:
Cora
This software has been the long-standing go-to for on-page SEO analysis. Like Surfer SEO, Cora offers an in-depth analysis of keywords and competitors to give accurate data.  
The biggest complaint about this software is that it's not beginner-friendly. If you already have SEO experience, you may benefit from using Cora.  
 Cora costs a cool $250 per month, so it's not great for users on a budget.  
Page Optimizer Pro
Also known as POP, this product is a popular SEO tool with an easy to use interface. POP is probably the most similar alternative to Surfer SEO.  
Although they're both great tools, Surfer SEO still comes out ahead with its beginner-friendly design. Still, POP and Surfer SEO are neck in neck when it comes to easy page optimization. 
POP packages start at just $20 per month. 
Website Auditor
Right off the bat, this SEO tool differs from the other tools because it is not cloud-based. Instead, you have to download the software onto your computer. This software gives you all of the basic tools you would expect from an SEO tool.  
The best part is, it's free to download. If you want to upgrade to a premium package, you can pay a one-time fee to purchase a license. This is a good option if you need to save money.   
Final Thoughts
If you're running a blog or a website, understanding SEO is crucial. Surfer SEO makes page optimization straightforward. It's a great tool for both beginners and experts who want a streamlined SEO experience.  
The SERP analyzer and the content editor are both extremely useful features for optimizing existing content and creating new content on your website.  
The keyword research tool could improve however, this company is constantly updating their features. I wouldn't be surprised if the keyword research tool became more comprehensive in the near future.  
The pricing is right in the middle of the road–not too high, but not the most affordable. For the features set you receive, the price is fair.  
Overall, I think Surfer SEO is an excellent SEO tool, with comprehensive SERP analysis and real data that takes the guesswork out of SEO and content creation.