Add a header to begin generating the table of contents
When you are starting a business the last thing you want to think about is hiring someone to design and build your website.
This can be very expensive and time-consuming, especially if your site requires minimal updates and functionality. 
If you are starting an affiliate marketing business from your home, you can build a free WordPress website and use a website builder to design the layout and design. 
You don't need to be a developer or professional designer to use a website builder. I used WordPress to build jontorres.com and added Beaver Builder to design the website easily. 
I have used website builders to create complete websites for big organizations, as well as affiliate websites and blogs. 
Website builders enable you to create your website without coding. There are, however, over 50 website builders in the market as it stands, so which one should you use?
Summary
1. Beaver Builder (WordPress front-end builder)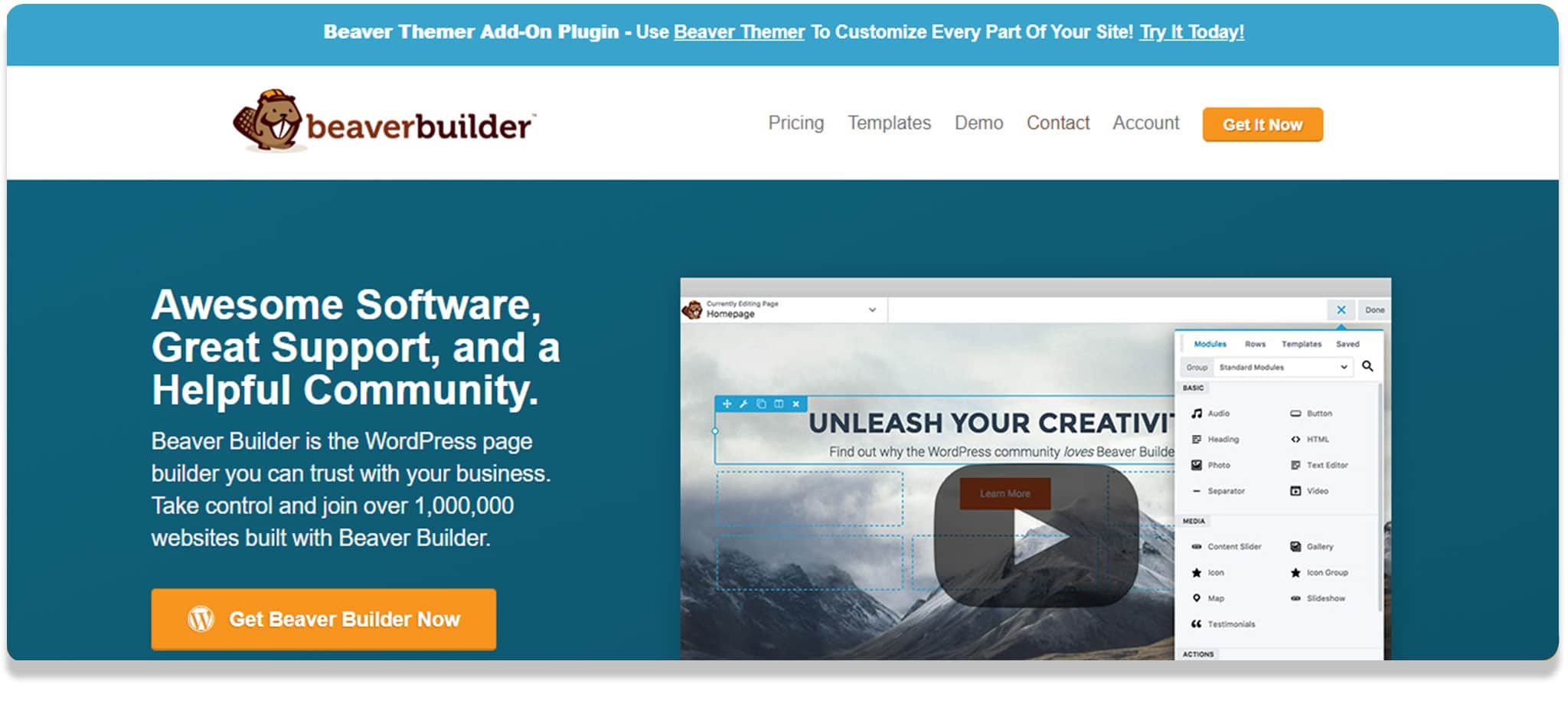 Beaver Builder is the builder I used to build jontorres.com, it's a WordPress drag and drop plugin that helps you build a custom full website in a matter of hours. All you have to do is pull up a theme or template, and edit the existing content.
With Beaver Builder, anyone can develop a unique WordPress site without any technical knowledge of web development. If you can drag and drop elements on your computer, then you can use Beaver Builder…Pretty easy right?
Beaver Builder has both a free/lite version and a premium version. Both offer a variety of features that helps the user create a suitable design for a WordPress website. We'll contrast both versions as we move forward.
The premium version also includes over 20 advanced modules that increase the website's functionality. These modules include icons, a map, slideshow, gallery, testimonials, and social buttons. They also include contact forms, call to action, subscribe form, and a host of others. The free version has only one advanced module, a sidebar.
The premium version also provides already designed templates classified into content pages and landing pages which can inspire design ideas. Unfortunately, this feature is missing in the free version. 
The premium package also comes with a "Global" feature. This feature allows the user to design a row that he can use on multiple pages of the website. This is particularly useful for creating a professional identity that will be visible in every area of the site.
On the other hand, the pro pack comes with the ability to grant access to specific page roles to edit global rows, columns, and modules. It also allows the website's owner to give access to the builder admin menu and the template exporter tool.
Pricing
The Beaver Builder premium has 3 packages: the standard, the pro, and the agency package.
Standard Plan
This plan is the least expensive at $99/year. The plan offers access to multiple premium modules and templates. It also qualifies users for priority support for one year. With this plan, users can also use Beaver Builder on an unlimited number of websites.
Pro Plan: his plan costs $199/year and includes all the features of the standard plan. But it has the added advantage of granting the user access to the Beaver Builder Theme. The Beaver Builder theme is a framework theme. This theme gives the user flexibility with the header and footer of the website.
Agency Plan: at the price of $399/year, the agency plan is the most expensive of all the packages. This plan has the extra benefit of white labeling. With this, the user can replace the Beaver Builder name on the footer of the website's page with that of their brand.
The license for each package expires after a year after which it usually auto-renews at a 40% discount. Failing to renew the license does not restrict the user from the content of the website. But it would remove every formatting done.
Pros
The intuitive user interface makes it perfect for beginners

Multiple website usage options

A wide array of design templates and modules

Prompt customer support

Premium package allows you to save and import templates

It requires no knowledge of coding, CSS, or HTML

Mobile friendly
Cons
Slow-paced processing

Limited design flexibility

Plain design templates

It is more expensive than some of its counterparts.
2. Wix (Easy drag & drop platform)
I recommend Wix for simple websites that require minimal functionality and regular updates.
Wix is a drag and drop web builder that allows users to drag and drop required elements unto the user interface. It has the reputation of being one of the best web builders in the world. It is great for anyone who wants to build a free website fast.
Wix provides a host of free pre-designed templates and also allows the user to edit the template. It also comes with over 600 themes like beauty, travel, photography, events, food, and more. 
For business, Wix is particularly useful for creating online stores. It has great eCommerce features that allow for a host of different payment methods, create coupons, and send out email newsletters. It is also a good choice for organizations that have a large number of people managing the website. This is because it allows one site to have multiple authors.
A unique feature of the Wix web builder is the ADI. This feature is an artificial intelligence that can design a unique website for the user in a few minutes. All the user has to do is answer some questions to explain the kind of website he desires. And finally, concerning speed and uptime stability, Wix rates higher than most of its equivalents as it has a page speed of about 500 ms.
SEO
Wix is SEO optimized and therefore ensures that websites created using Wix, are easy to find on search engines. It also provides numerous SEO apps in its app market that can guide users and give keyword support.
Pricing
Alongside the free plan, Wix offers seven paid packages ranging from the combo plan at $13/month to the Business VIP plan, which costs $39/month. Wix has two categories of packages: website (non-eCommerce) and the business (eCommerce) packages.
Non-eCommerce packages
Combo plan: 

the combo plan costs $9/month. It comes with 3GB storage and 2GB of bandwidth and allows the user to use a website name that he already owns. It also includes a domain name that's free for 1 year and then renewable at $12.95/year. This plan further comes with the capacity to insert up to 30 minutes of high definition video and displaces ads as well.

Unlimited plan:

 this plan costs at $13/month. It offers all that the combo plan contains and steps it up a notch. It comes with 10GB storage and unlimited bandwidth as well as 1 video hour. This is the ideal plan for freelancers and entrepreneurs. The unlimited plan also gives the user access to the site booster app and visitor analytics app. The site booster app gives the user's website a boost, thereby increasing its odds of ranking on Google.

VIP plan:

 This is the final and most expensive plan on the non-eCommerce packages is the VIP plan. In addition to the features offered on the unlimited plan, the VIP package has 20GB storage and gives the user 2 video hours. It also grants the user access to Wix's Ascend marketing tool as well as better customer support and faster priority response.
Pros
14 days of free trial time

Numerous pre-designed templates, themes, fonts, and stock images.

It gives a free SSL certificate (https://) alongside the packages.

One year free custom domain name for a paid package

Allows for multiple editors and authors on the website
Cons
It costs more than some of the alternatives.

The loading speed of the page can be quite slow.

It doesn't let the user switch templates.
#3. Divi (WordPress theme with visual builder)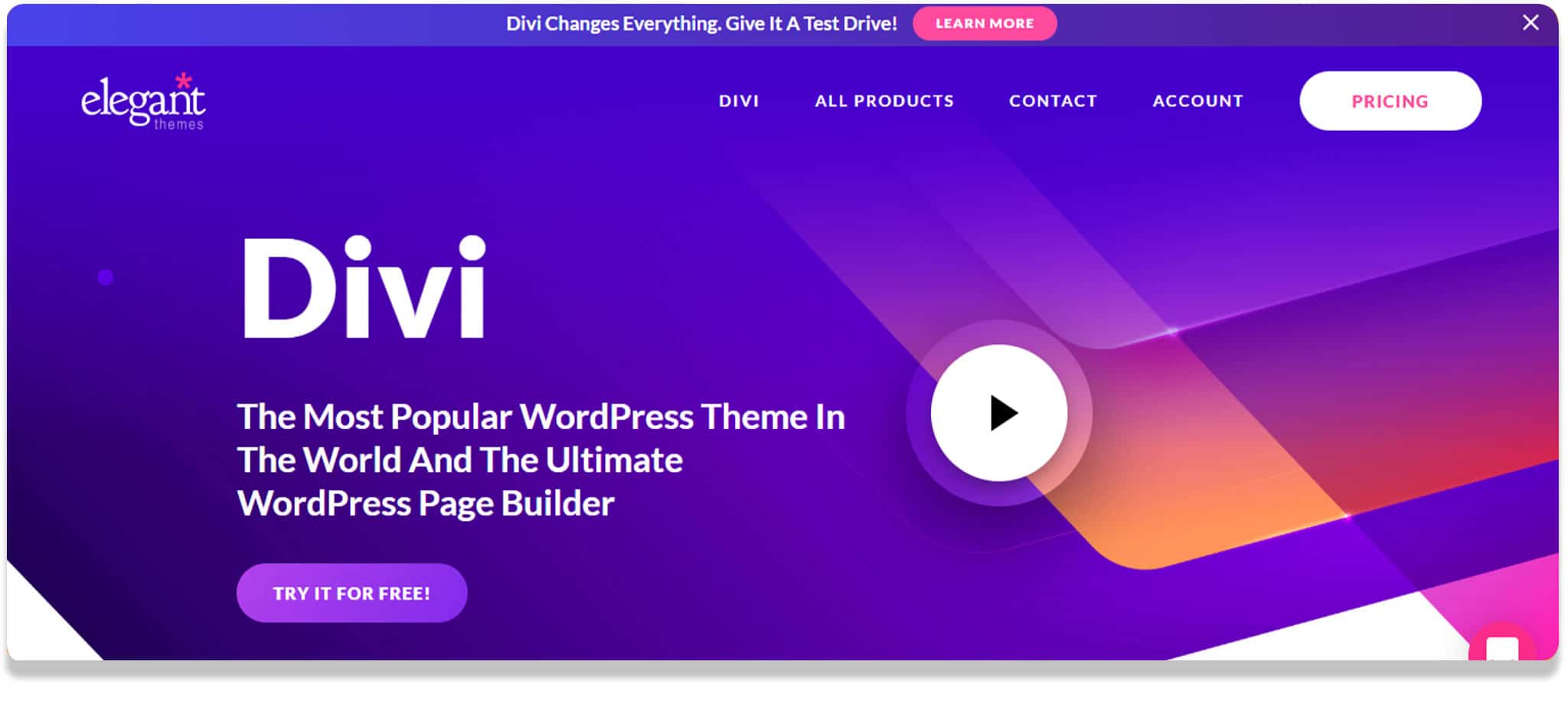 Divi is a new web builder that incorporates visual editing with a simple drag and drop interface, to create sleek website designs. In addition to this, Divi is currently a mainstream self-hosted multiuse WordPress theme.
With Divi, no need to visit your WordPress dashboard to make all the changes you want. From fonts, text, images, colors, and even pages.
This WordPress theme helps you control your site and gives you live feedback on every change you make. That means you don't have to reload pages every time you make changes.
Divi offers over 800 pre-made designs and a 100 more full website packs for faster website development. 
The Divi WordPress theme is very responsive and could be integrated with marketing tools like MailChimp. You can use the all in one theme, or install Divi plugin with any other their party theme. 
The extra magazine theme has modern support options that are perfect for blogging and online publications.
Pricing
Divi offers multiple pricing plans to choose from. You could choose either a personal package, yearly access, or lifetime access.
Personal Package:

 Their personal package goes for $69 per year. But this offer comes without the additional plugins. If you have paid for this but want the extra add-ons, you can simply upgrade to the yearly or lifetime access.

Yearly Access Package:

 This plan goes for $89 per year. It's a great deal considering the fact that it gives you access to 86 extra well-engineered themes and six plugins, theme updates, and support.

Lifetime Access

: Their lifetime access comes at a one-time payment of $249. It also comes with a one-month money-back guarantee (30 days). This package gives you unlimited access to all their themes and plugins, lifetime updates, premium support, and unlimited website usage.
Pros
Ideal for persons who are not tech-savvy

Aesthetic appeal and wonderful graphics

You can easily create great landing pages for different websites without any knowledge of coding

Compatible with Aweber, WooCommerce, MailChimp and Google maps

Exceptional documentation for newbies on WordPress platform

Excellent drag and drop page builders, multiple pre-created layouts, sections and modules

Multipurpose use ideal for magazines, freelancers, small businesses and online stores

Lifetime update.
Cons
Numerous options can be hard to navigate through

Its main theme options panel doesn't have a modern appeal

Switching from Divi to other themes could be problematic
#4. Squarespace (Drag & drop platform)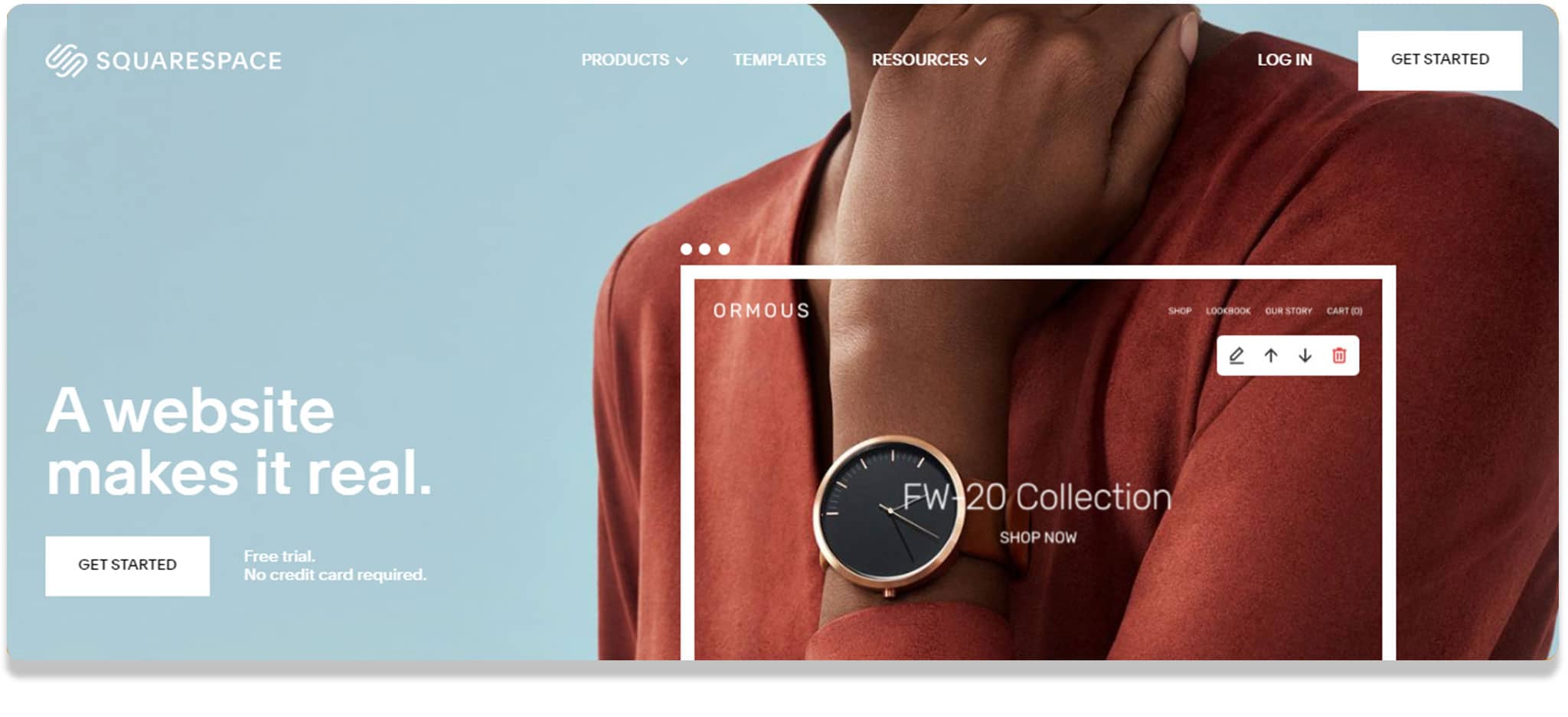 Much like Wix, Squarespace is the typical website builder that incorporates a drag and drop system. It enables users to build their websites from scratch and add features available on their platform according to their preferences.
According to a 2021 ranking list, Squarespace accounts for 2.5% of verified websites using CMS. It can also be used for blogging, podcasting, photo galleries, creation of schedule, etc.
Now, its design templates use the Sections feature introduced earlier in 2021. With its sections, users have a faster means of laying out a page without designing from the bottom. Content blocks, on the other hand, are what sections are made of. They contain texts, images, buttons, maps, etc. Adobe and google fonts are also integrated into its templates.
There are over 60 design templates to choose from, not a lot compared to some of its competitors like Wix which boasts over 500. But what you can't take away from Squarespace is the clean, modern quality of its templates, which by the way, are all customizable.
Further, one great feature of the Squarespace design templates is its flexibility. Users can switch templates as many times as they want without having to start afresh with their website building. You can also import already designed themes into your website.
With the launch of its 7.1, users now have improved fonts and colors, wider space to display photos and more capacity to customize.
The integration capabilities of Squarespace are no less impressive. Upon subscription, several add-ons follow and they include map blocks, Amazon, Instagram galleries, Google AMP, Apple pay, Twitter block, Xero accounting, and a host of others.
How easy to use is Squarespace for someone who isn't tech-savvy? Well, we think, very easy. If you have some experience with Microsoft Word, you'll find this doable.
Squarespace, unlike Wix, also allows for multiple level access on your website. Thus, you can have several contributing authors per time. You'll enjoy this feature if you're using Squarespace for blogging.
An eCommerce on Squarespace comes optimized. With its unlimited storage, you can post everything in posting your e-store without worrying about exceeding your limit. At its core also, you'll find the sale of digital products, online payments, automatic tax reductions, subscriptions, automated e-mails.
To design your store pages, several layouts are available for use. It also has FedEx integrations to automatically calculate shipping costs.
SEO
Squarespace is not overly ambitious with its SEO but it doesn't fare badly either. With its SEO checklist, users can measure their SEO journeys and with its AMP support, lightweight versions of your website that load quicker on mobile devices can be created.
Even more, with its Meta titles & Descriptions, you can customize pages or blog posts and they'll be displayed in search engine results or make your URLs simpler to optimize your rankings. Squarespace also allows users to set alt tags on their images.
Pricing
Squarespace has four paid plans asides its 14-day free trial. The Personal and Business plans are for general websites, while the Basic and Advanced Commerce is for e-Commerce websites.
General Websites Plan
Personal Plan

: At $12 monthly, you get a free custom domain, more templates to choose from, ad-free, and unlimited bandwidth/ storage. This plan also comes with an SSL certificate to ensure that browsers don't show a 

not secure

 message on a customer's windows.

Business Plan

: At $18, the Business plan offers professional email addresses from Google, a fully integrated e-commerce system and advanced website analytics to help monitor visitors. You'll also find some advanced marketing and commerce tools here. While there is no limit to the number of products you can sell or funds receivable, you must remit a transaction fee of 3% to Squarespace for every sale made.
E-commerce Plans
Basic Commerce

: This comes at $26 monthly and doesn't require any transaction fee for sales made. Customers can also create accounts on your web. Here you can also link your website to Instagram etc.
Advanced Commerce: The extra in Advanced commerce at $40, is that it allows you to offer gift cards to customers and sell subscriptions.
Pros
Live chat support

Mobile phone responsive

Unlimited contributors feature
Cons
Doesn't allow for video uploads

Limited templates
#5. Shopify (Complete E-commerce solution)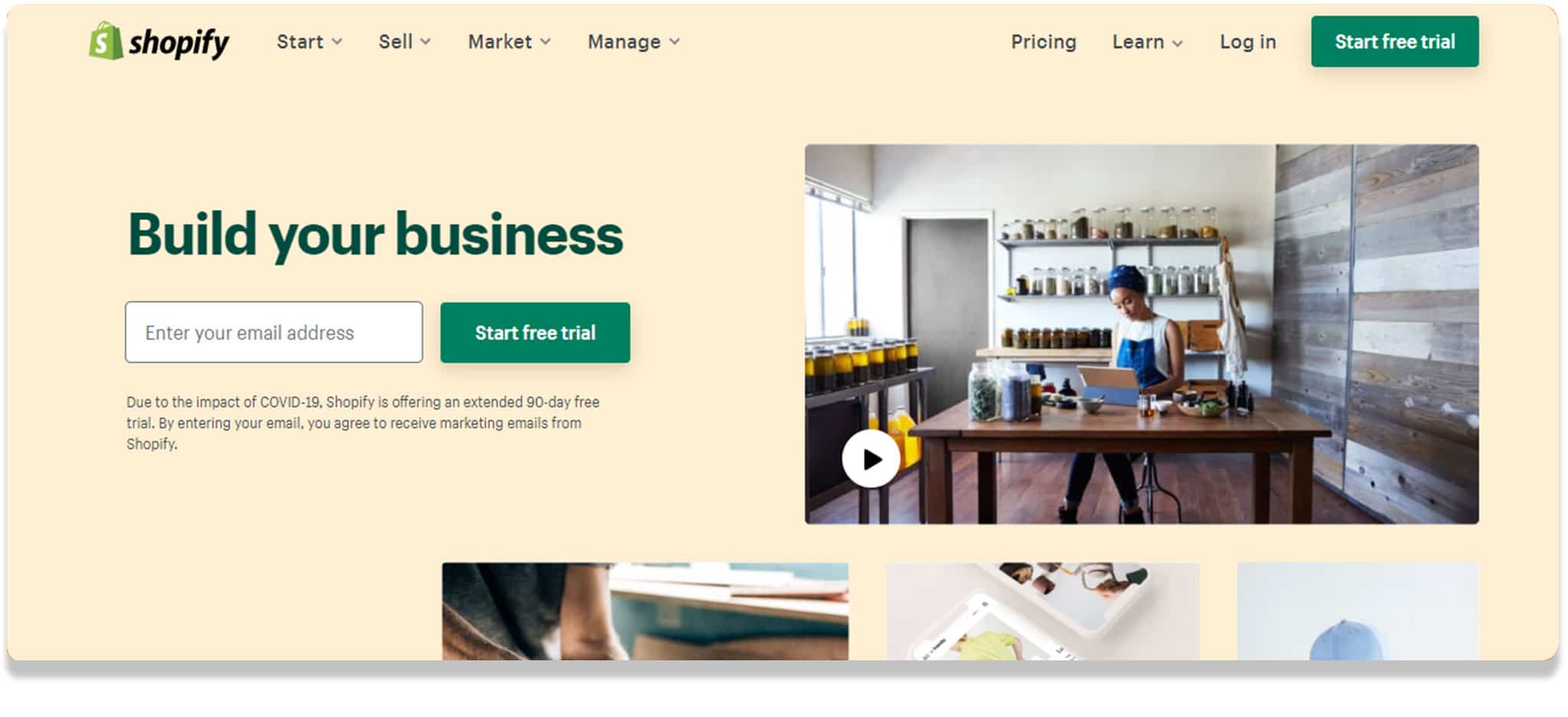 Shopify is easily the first web site builder that comes to mind when you think of an e-commerce website builder. You can host, buy a domain name, build, and manage your online store.
Shopify also serves as a shopping cart platform where you can add products, place and deliver orders, track sales, etc. To set up and account you simply sign up, selecting a niche for your store, select the package you want, then begin to upload content.
The first thing I noticed is that they have a really clean interface, minimalist quality, and this extends to their store themes and design templates.
You can choose from over 100 ready-to-use templates. Also, every store gets 10 free themes from Shopify. We love their themes for its clean lines, broad layouts, wide spaces to allow you to showcase products, and big, default photos.
You can also buy more themes from 3rd party theme providers, some of which are sold on, and approved by Shopify. 
As e-commerce is essentially what this website builder is about, it's no wonder it pays great attention to e-commerce details. 
For instance, e-commerce stores need a credit card processor (CCP) to accept credit cards for their online payments.
Shopify goes further to strengthen the e-commerce system with its Multi-Currency and Shopify Pay features. Multi-Currency allows customers to pay in their local currencies, while customers can share their order information between Shopify stores with Shopify Pay.
Shopify's customer support system doesn't leave much to be desired. It makes provision for live chat and gives you an option to hire a Shopify Expert to help you with your store, from set-up issues to SEO.
Shopify also offers users free, high-resolution, stock images useful for websites or blogs on over 50 different fields.
SEO
Shopify comes with SEO- friendly features. One of them is the straight-forward page structure that makes it easy for customers to find what they're looking for and thus aid your website rankings.
Again, most of its themes are responsive, meaning they not only function but look good on mobile devices. This is so important for eCommerce website optimization in this age where most customers shop from their phones.
It also has an SEO app that helps identify SEO issues, regularly and automatically checks your page titles, headings, content structure, meta descriptions, speed, and optimization level.
What I like about Shopify is that you can use SEO apps like Yoast, SEO Image Optimiser which optimizes images and increases traffic from Google image searches, Smart SEO which can generate useful meta-tags for your products, and SEMRush which helps you identify keywords you can use to generate traffic, track competitors' traffic, etc.
Pricing
Shopify has three pricing plans and all of them come with the capacity to sell unlimited products, Fraud analysis, and compatibility with Shopify POS.
Basic Shopify

: This plan comes at $29 monthly, and grants you allowance for unlimited products, digital products, customer login, and abandoned cart recovery.

Shopify

: At $79 monthly, you can access Gift cards for customers and professional reports in addition to all the Basic users can access.

Advanced Shopify:

 This comes at $299 monthly, and with this plan, you can access advanced report builder and real-time carrier shipping.
Shopify is known to be transparent with its pricing, more than Amazon for instance. Here's how. If you opt into its 14-day free trial and forget to cancel and the expiration of 14 days, or do not upgrade, it cancels and doesn't opt you in automatically.
Pros
Has an Apps store for broader options.

Has its own credit card processor for online payment.

User-friendly interface.
Cons
Transaction fees on all plans for online transactions done without Shopify payment.

Its customizer tool is difficult to use, abstract and lacks a wide range of options.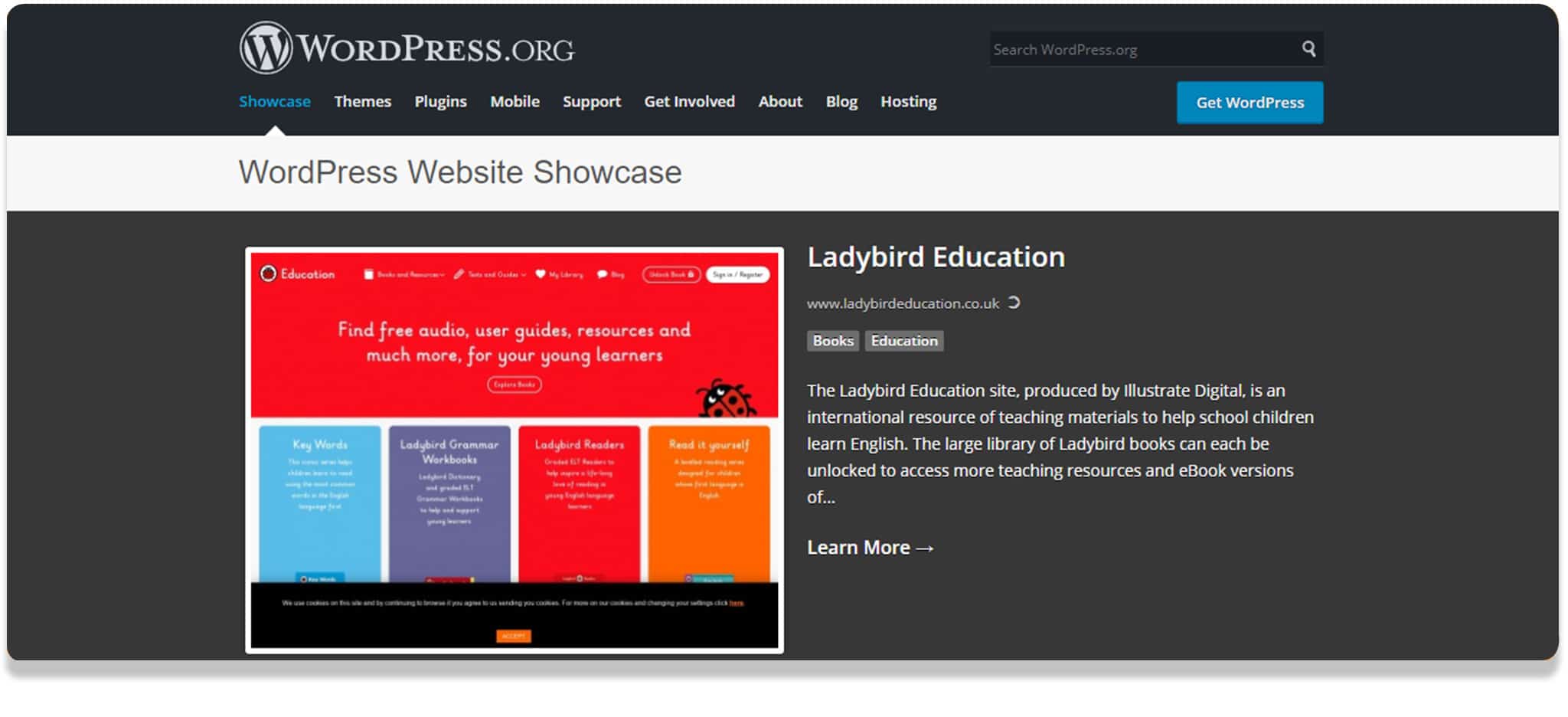 WordPress is a leading website CMS (Content Management System). 
WordPress is free open-source content management that allows you to build a website or blog.
WordPress has some unique features that make it the preferred choice among internet users.
WordPress has great design templates known as themes. There are more than 7000 WordPress themes designed to soothe personal specifications. And even when none of them meets your specifications, WordPress gives you the right to upload your perfect theme with the click button or with a drag and drop feature for upload.
In a matter of seconds, users can make their site look just the way they dream of it.
With WordPress, users can choose, change, and manage the face and functions of their webpage, without altering the site content.
For features that are not featured directly in WordPress, there is a plugin directory to help you build your site. 
It currently has about 55,960 plugins that enable users to extend the functionality of their site. Using Plugins definitely offers a great alternative to the services of a web developer.
Despite having an array of features within and beyond WordPress, using it is very simple and may not require so much. WordPress offers your expert options to help you get your site working. All users have to do is go for what they want. 
WordPress also provides a decent support service to its users. There are guides for almost every feature and operation. WordPress also has a large community of users offering support to stuck users.
SEO
WordPress is search engine optimized. This means that users of WordPress websites are most times visible to users of a web search engine. This increases both the quality and quantity of traffic generated by your website in the long run.
This SEO feature makes WordPress websites suitable for e-commerce agents. Users can start selling and buying as soon as they get their site rolling. WordPress has a feature that ensures your content, data, and website are secured. Meaning, you don't have to worry about losing relevant business information.
Pricing
WordPress is fairly economical. Although it is completely free to own your website and start exploring its growing possibilities, you are charged for some hosting plans, some themes, and plugins. It also includes all the primary benefits that come with other business plans.
Pros
User friendly

Easily adaptive

High ranking on search engines

Built-in blog feature

Very functional
Cons
Pretty pricey

Frequent update requirements can pose compatibility issues.

Advanced operations require coding.
#7. Webflow (For designers and agencies)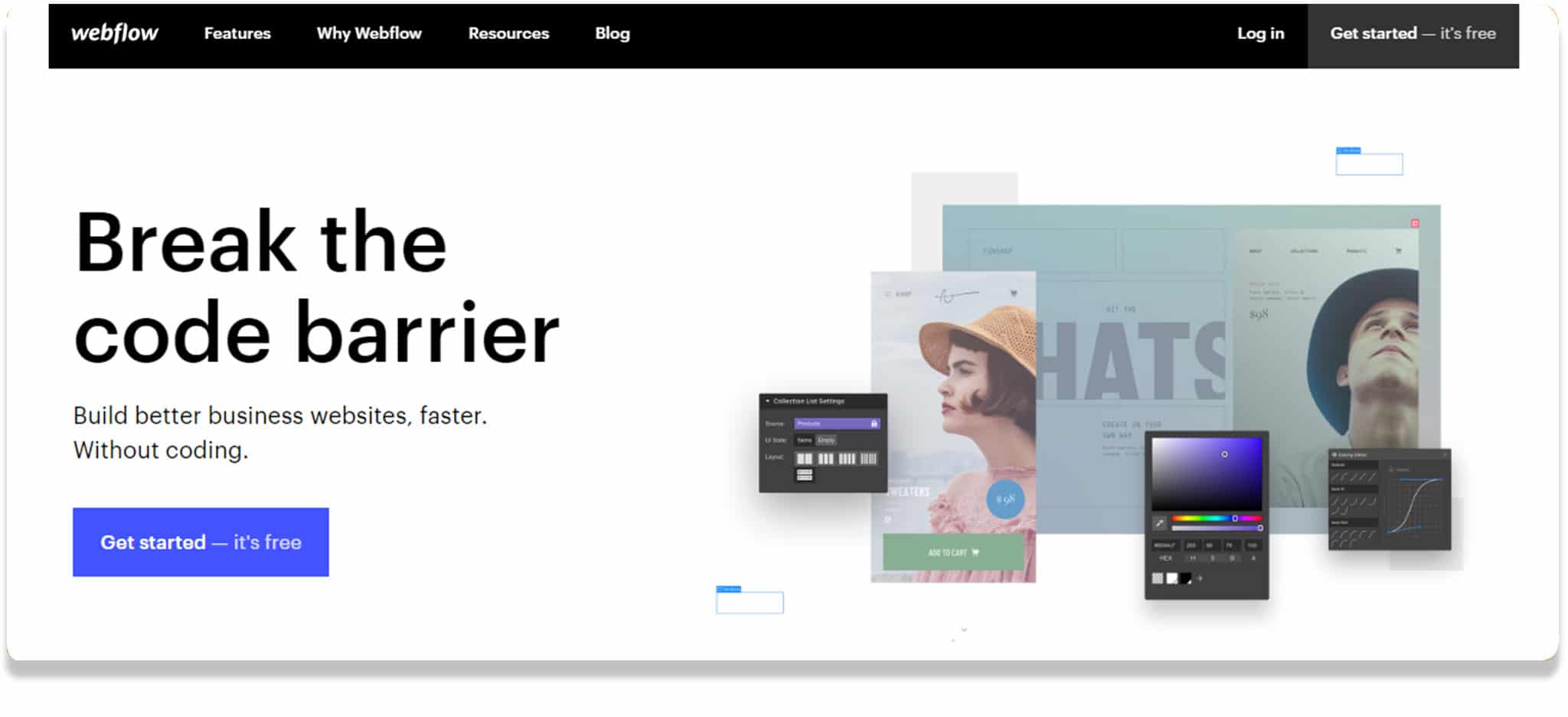 Despite having started in 2013, Webflow has managed to grow into one of the competing website builders in the market.
More than 70, 000 business and personal websites are created using Webflow, which is very impressive for a new arrival. This is largely due to its visual support feature and its growing familiarity among web designers and small agencies.
Webflow is a software as a service application that enables users to create a website using web designs that make web pages flexible on a variety of devices. This is usually achieved with browser-based visual editing software.
Webflow is a great online toolkit for web designers and agencies. An agency with about 20 or more workers can use Webflow sites for its operations and storage.
Webflow is built with a fully customizable CMS and visual design support feature that allows users to create their site easily. Webflow sites require no installation or automatic updates, making it one of the best alternatives to many mainstream web builders.
Webflow being a recent web builder adopts modern applications for integration. With it, users can connect their project to other services like Google Analytics, MailChimp, Zapier, Swiftype, etc. Webflow uses custom code to generate a unique widget for every item.
Though Webflow is created with a built-in E-commerce functionality, it's integrative feature offers users the choice of complementary commerce platforms. Meaning, users can integrate another commerce platform to the built-in E-commerce feature of Webflow. These platforms include Gumrod, Shopify, Foxy, etc.
Webflow is really great for E-commerce. With this web builder, users can design their store without coding, customize cart, customize transactional email, and extend stores with Zapier apps among others. It even offers options for shipping services for your product and tracking shipped products.
Webflow has an advanced editor feature that is just perfect for Bloggers. Aside from creating and editing on your site, Webflow editor provides automatic SEO controls that make it easy to optimize every page of your site. Meaning, your content can be Search Engine Optimised.
SEO
Webflow comes with fully customizable SEO settings that are very flexible and easy to manage. When Webflow sites appear on a search engine, Webflow websites usually get extra points for design and performance.
The fact that Webflow sites are responsive means users can use the sites on both mobile and desktop devices easily. Also, this will provide a better experience for anyone who comes across your website irrespective of the device.
Webflow has a flexible design template, with about a hundred responsive website templates created with modern designs. These templates are categorized based on use and are easily accessible. Meaning users do not need to painstakingly search for themes.
More than this, users can also create their own template without the use of any coding language. Webflow gives users a whole lot of bargain on custom fonts, backups, code export, page setting, etc.
Its interaction and animation tools allow users to explore the power of CSS and JavaScript. And experience possibilities like building their own rich animations visually, styling with classes, etc.
Webflow is relatively not simple for beginners. But users are going to benefit from the simplicity of this web builder once they are familiar with it. And they can also learn new relevant skills on it. It is not cumbersome as there is no need for either coding or plugin installation.
This web builder also provides service support through a feature that uses ebooks, online courses, videos, etc, tailored to help users remain in control. It also gives users the opportunity to meet other users on their community platforms. Meaning, users can seek help from existing users.
Pricing
Webflow has a free mode like most web builders. But to enjoy a more integrated Webflow website, users should either subscribe to site plans, e-commerce plans, or account plans.
Site plans
Basic plans: this plan is charged at $15/monthly. It comes with a free SSL certificate, Content delivery network, and could admit 25,000 visits a month. Basic plans also allow 500 form submissions and backups.
CMS plans: the CMS plan costs $20/monthly. This plan provides 2000 CMS items, 3 Content editors, and a limited CMS API. It also helps create a custom Search engine through automatic indexing every 72/hrs. And manual indexing once per hour.  CMS plans usually admit up to 100, 000 visits every month and 1000 form submissions. It also provides Webflow hosting, free SSL certificates, and a content delivery network.
Business plans: are charged at $45/monthly. With the business plan, you will have an advanced global CDN and 10,000 CMS items. A full CMS API, 10 content editors, and unlimited form submission capacity. This plan also includes a free SSL certificate.
E-Commerce Plans
Webflow also provides various hosting plans for E-commerce sites. There is a standard plan for new businesses at $42/monthly. This plan provides great designs for custom check-out, shopping carts, and product field and payment tools. It also offers marketing support and options.
Plus plans cost $84/monthly. They include all the benefits of a standard plan plus a lot more. This plan is great for higher volume businesses that need additional features. E-commerce advance plan incorporates all the features from the business plan with features of standard E-commerce plans. It costs $234/monthly.
Account plans can either be individual plans or team plans. The difference between both is the number of users and a central dashboard for team plans.
Lite plans are charged at 24$ monthly. Lite plans can be used to complete 10 projects. It supports clients' billing, enhanced staging, and unlimited project transfers.
Pro plans are charged at 43$ monthly. Pro plans are usually great for multiple users. It has no project restriction and provides site password protection. A pro plan also gives you all that the lite plan does.
Pros
Works great even without coding
Suitable for E-commerce and different content.
Great integrative features.
Very secure.
Cons
Relatively expensive plans
Beginners may find it difficult to use.
#8. BigCommerce (Complete E-commerce platform)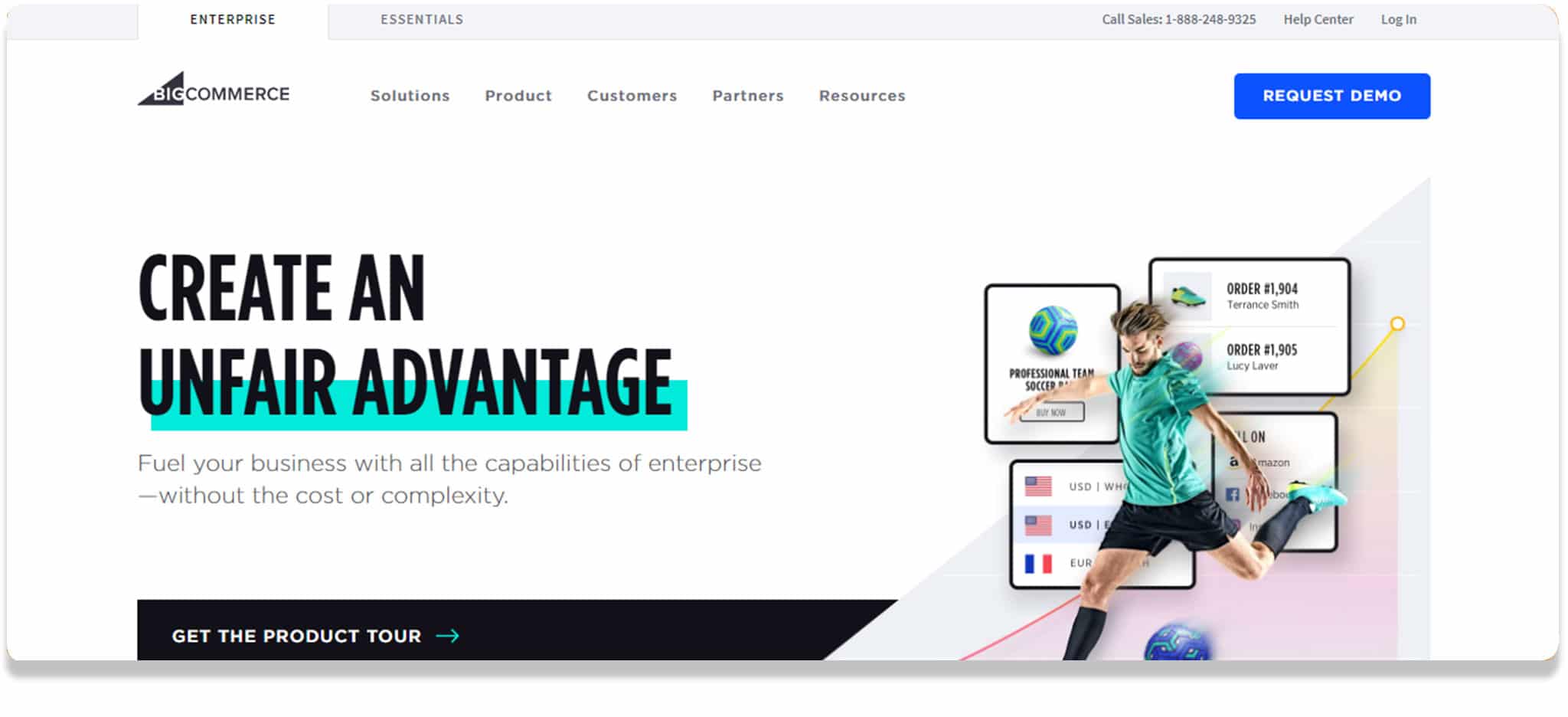 Bigcommerce is a hosted webshop builder that gives users the right platform for their products. Unlike most web builders, Bigcommerce is a specialized content management system that is primarily built for buying and selling.
It's software as a service application that is specifically used to build E-commerce platforms. This web builder helps businesses create just the right website while focusing on helping them reach their target markets.
Bigcommerce provides differentiated and highly functional services to E-commerce platforms. These functions range from cross channel activities, customer services, payment, and pricing arrangements, and cross border fulfillment.
Using Bigcommerce, your business is limitless. It is very fast due to its built-in Google Amp, Google cloud platform, and akamai image manager. This builder also comes with dozens of wallet options to facilitate payment and a switch between storefronts option without logging out.
The highly integrative nature of Bigcommerce makes it very compatible with other E-Commerce platforms. With Bigcommerce users can integrate with top market places like Amazon, eBay, Google shopping, etc. Meaning, users can sell to buyers on any of these platforms.
Bigcommerce also has a WordPress integration function. With this feature, users can build a WordPress website with back-end enablement from Bigcommerce. It doesn't stop here. Bigcommerce also has a feature that allows you to meet customers by integrating your social media handles to your site.
Despite providing a built-in blog for content marketing, Bigcommerce is also useful to affiliate marketers like Bloggers. By setting up a Bigcommerce website, Bloggers can favorably compete with other marketers using the advantages of websites specialized features.
Since its inception in 2009, BigCommerce holds 0.04 percent market share of CMS websites, which is a 0.1 percent share more than Webflow. Bigcommerce design template is created to soothe individual Business preference. On Bigcommerce you get great options for storefront design and storefront conversion.
With their built-in Html, CSS, and JavaScript, you can get fully-customizable themes and also customize check-out experience using a server-to-server API and SDK. This means users can give clients the best experience anytime they visit their sites
Bigcommerce themes are designed to be mobile-responsive. Each theme is built with features for automatic adjustment mobile devices. This means your website quality is suitable for both PCs and mobile phones.
This web builder may be very difficult for beginners. From customizing their website to actually getting it working, Bigcommerce functions sometimes require writing HTML. But they do not require the installation of plugins for advanced operations.
Bigcommerce offers great customer support like solutions from Bigcommerce merchants, case study examples, and free trial features. It also provides a help center, where users facing website issues can contact. There are also other support items like videos, articles, guides, and developer docs.
SEO
Bigcommerce websites are generally SEO friendly. It comes with new metadata and robots.text editing that automatically generates more traffic. This website builder is made for better search engine rankings with sitewide HTTPS and optimized URL.
Using modern SEO tools and streamlined listings on high-traffic shops, Bigcommerce helps users attract buyers without stress.
Integration with Google shopping also facilitates your website marketability. There is also another way for this. With Bigcommerce, users can synchronize their data to leading email marketing platforms like Hubspot.
Pricing
Bigcommerce offers a three-month free service to new users. Pricing is structured to meet different user services. This price varies and is usually a monthly subscription fee. Here are some subscription plans and their prices:
Standard plan is charged at $29.9 monthly. This plan is the cheapest Bigcommerce plan. It has more than 100 built-in features and 24/7 live agent support. With its dedicated SSL and marketplace integrations, users can reach a lot of customers.
Plus plan is charged at $71.95 monthly.  It provides some great support services like fraud monitoring and analytics, faceted search, and prioritized call routing.
Pros
Website updates are relatively simple
Very high integrative capacity
Excellent E-commerce functions
Advanced SEO features
Cons
Monthly subscriptions are expensive
Organizing your product can be tedious.
Significant changes require HTML developers.
#9. Webnode (Template based builder)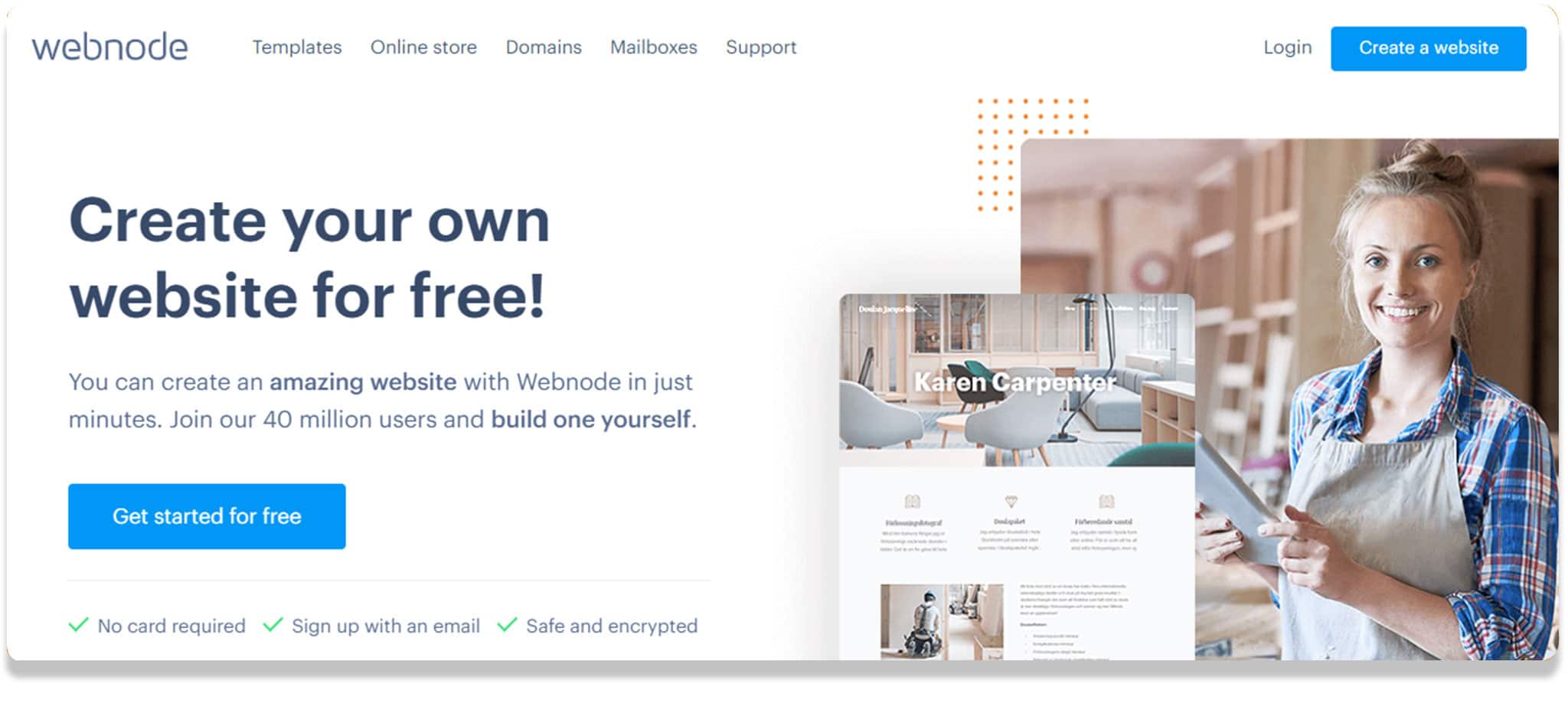 Webnode is an awesome web builder designed with various templates, to help build a wide range of websites. From e-commerce to business, to personal, Webnode is one size fits for all. Since 2008, it has grown into a huge community of 40 million users.
Webnode is a web builder particularly characterized by its ease of use. It is structured in such a way that the entire web building process can be completed in 5 minutes.
Webnode's editor is relatively easy to use. Although it appears to be less flexible when compared to other website builders, such as Wix, or Weebly. It has the features of a drag and drop editor, but not completely so.
The design template is such that elements can be moved around easily, but they eventually conform to the initial design. For example, if an image is moved from the right side of the page and placed at the left, the entire design will immediately adjust itself to accommodate this pattern.
Webnode is great for those who might not have ample time to work on a template design, or who need a builder with almost a zero percent learning curve. However, it still does not put a peg on the user's creative potential, when compared to other web builders.
It's always great to have a range of features that one can choose from. Should there be a need to integrate a blog into a site that is much bigger? Or should the portfolio page need a "Contact Me" form?
Irrespective of what the situation is, the greater the range of features that are available, the better the turnout of the website eventually.
The fact is that Webnode does not necessarily possess all the top-tier widgets, and all the features possible in the game of web building. But it also does not lack essential features.
Talking about blogging, Webnode provides a blogging platform with no limit to the number of posts one can put on his schedule. Whether short or long, the creative process or content can be marketed in a cohesive way.
It is, however, important to note that despite the blogging capabilities, Webnode is not a blogging platform. As a result, its functionality is limited when compared to other dedicated blogging sites. Also, a number of SEO boosting tools that can be found in the competition are not available here.
On the customer service, Webnode has FAQs and community forums pages on its website. This makes it easy for users to get answers to frequently asked questions, without going through the stress of contacting the customer support team.
The knowledge base also has a number of helpful articles. This gives beginners useful insights to navigate the website builder.
There's also an email support week. A downside, however, is the absence of a live chat or phone support. Should one need to get across to a customer service agent, it would have to be via mail, or through the use of a contact form.
Webnode features a community forum and FAQ pages on its website to help users find answers to common questions without having to contact the customer support team.
The knowledge base has plenty of helpful articles as well, which helps beginners with valuable insights on how to use the site builder. An account, however, would need to be created for this service.
Customer support is also available for 5 days a week and has a 24-hour estimated turnaround time.
SEO
It's not news that every good website needs SEO. The fact, however, is that with some sites, SEO integration is easier than with others. This too is on the account of the web builder in question.
Although Webnode might not necessarily be the best website builder where SEO is concerned, it definitely is not the last on the list.
Pricing
Webnode comprises different pricing plans, depending on the need in question. It has a free plan, which doesn't cost a cent, and has no time limit. There are also four premium plans that are available, namely: Limited, Standard, Mini, and Profi.
The limited plan is the cheapest plan and does not contain a domain. It only allows you to connect to an existing domain. The downside is that it shows the Webnode ads, and the footer banner does not have a professional look.
The Mini plan gives a free domain during the first year, after which a standard renewal fee is charged. It also has an email account with 1GB storage.
The Standard plan has its biggest strength as the multilingual option. This plan also comes with background videos, a form builder to allow customized requests from your visitors, and some website statistics. However, what prevents the plan from looking professional is the fact that Webnode still displays its ad at the bottom.
The Profit plan is a pimped up version when compared with the Standard plan. It really doesn't have any major exclusive features, apart from unlimited bandwidth, more storage, email accounts, languages, together with membership registrations and backups.
Pros
Suitable for a multilingual website
Excellent SEO features
Relatively easy to use
Reasonably fast
Cons
Outdated theme templates
The e-commerce feature doesn't work properly
#10. SmugMug (Website builder for photographers)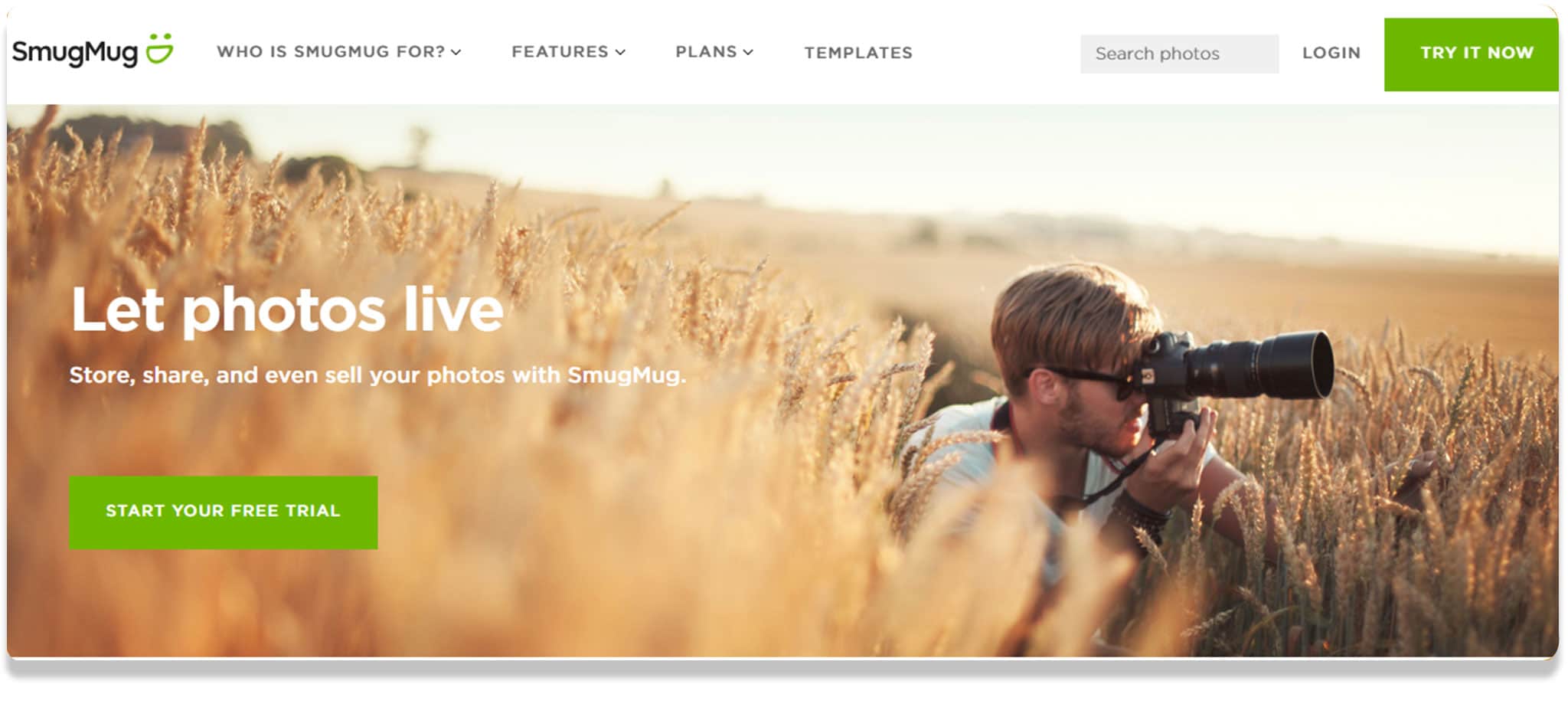 SmugMug is a code-free website builder that allows for the creation of a web portfolio. The result is very professional, just like a custom-made site, all these is done for just a fraction of the price. Moreso with SmugMug, the user is in control.
Quite unlike other website builders in the market Weebly and Wix, SmugMug offers only portfolio templates. The layouts vary, but make use of optimal settings, ensuring that images load quickly, and also display properly.
As such, SmugMug is a great choice for anyone who intends to display and sell their pictorial works online.
Unlike other rival website builders, SmugMug is registered as a private company. As a result, it's numbers are not made public. An interview with the CEO, however, revealed that they had millions of customers who were passionate about their services.
It is almost certain though that SmugMug does not match its counterparts like Wix in numbers. This is of course because of its private nature. When compared to other builders in the industry, SmugMug is doing great.
Another major quality that characterizes the SmugMug website builder is the ease and speed of set up. It is faster when compared to Squarespace or Wix, although by a marginal difference.
The setup process involves choosing a SmugMug URL and then stating if the photos are intended for sale. There is also an option to skip making the decision. After the account has been created, it is just as quick to put up the first gallery.
The first step is to upload the photos into the SmugMug account, after which the publishing is done. Choosing a template becomes a matter of choice, especially if one is in a hurry.
Unlike Wix, SmugMug has a default template that can be used in creating a gallery in the blink of any eye. The default template might not appear to be the best for a professional-looking gallery, having similar features as that of Facebook.
The good side, however, is that some visitors may appreciate its familiarity. The downside of the default template is that the photos have to be in the right shape to fill in the boxes. This, of course, might take some trial and error.
SmugMug uses a system with content blocks, which makes it difficult to resize by dragging the edges of the photos. Photos cannot also be repositioned inside the blocks. If, however, one gets it right at the first go when selecting photos using the default template, then the first gallery will be published within minutes.
SEO
The benefits of search cannot be overemphasized, especially when dealing with the photography industry. And although your ranking largely depends on you and what you do right, SmuMug websites helps with this by being SEO friendly, thereby pushing up your site on Google ranking.
All the same, including a homepage meta description, site maps, meta keywords, gallery titles, captions and the rest could as well help to improve your ranking.
Pricing
With SmugMug, huge value is gotten for money paid. With SmugMug, there is no free plan. Unlike Weebly and Wix which allows for the creation and publishing of an unlimited number of portfolio sites for free. With SmugMug, only a two-week free trial is available before the upgrade.
With a fixed rate of $5.99 per month, the website offers the following:
An unlimited number of photo and video upload, all backed up by Amazon web services
Built-in analytic tools to assist in tracking your visitors and sales
Unlimited bandwidth to aid in attracting visitors
SEO tools to help the site rank well with google
24/7 email service
The sale of photo books, photo prints, and photo gifts. All these are made possible by SmugMug printing partners
The $5.99 basic plan is a fair deal, especially if one does not mind a URL with a SmugMug brand. Unlike in Wix, the cheapest plan does not allow for one's own custom domain name.
The next pricing plan allows for a more professional look, with a self-customized URL. This is the $8.99/month power plan. For a lot of people, the power plan provides the greatest value for money paid.
A commercial investor might, however, decide to go for the SmugMug Portfolio plan of $23.99/month, or the SmugMug pro plan of $41.99/month. This plan allows for gift wrapping.
The prices that have been quoted are monthly fees, signing up to a larger contract will save you some more money, depending on the plan you decide to go for.
Pros
It has a mobile-responsive portfolio template
It is easy and quick to start
It has a vast range of eCommerce website building option
Cons
It has fewer templates compared to other website builders
No free plan
Non-intuitive customization tools
Conclusion
Selecting a web builder for your website from the variety of options at your disposal can be difficult, which is why we've compiled this list to narrow down your search. It's a worthy list for those who want to create a new website without much work.
Taking a glance at the list, the choices can still seem numerous. But thankfully, we've included the pros and cons of each of the web builders. To maximize this information, you can ask yourself certain questions like, what's the purpose of the website. How important is making sales online to your business? How much control do you want to have over your website design?
Once you know the answers to these questions, you're well on your way to finding the ideal web builder for your website from the options provided.