Whether you are a new or experienced affiliate marketer, I'm sure you've noticed one thing– those long, unsightly affiliate links. 
Now, if you're just starting out, you'll be happy to learn that there is a super simple fix to this problem. 
Link cloaking can take your complicated links and turn them into clean, personalized links. 
If you're not taking advantage of link cloaking, you're doing yourself a disservice. 
There are a ton of benefits of affiliate link cloaking so let's go over the pros and cons as well as my favorite link cloaking services. 
What is link cloaking?
Before we get too deep into this article, let's talk about what link cloaking is.
Essentially, link cloaking disguises the original URL of your affiliate link so that it presents as a simple, clean link.
A link cloaking service will take your affiliate link containing your affiliate ID, and turn it into something neat and easy to remember.
Cloaking a link can drastically improve your success as an affiliate marketer for several reasons. 
The biggest reason being this: people are more likely to click on a link that looks trustworthy.
There are several great tools that you can use to cloak your affiliate links. I'll give you a few of my favorite tools to link-cloak later on in this article.
For now, let's take a look at why link cloaking is so important to the affiliate marketer.
The Benefits of Link Cloaking
Cleaner Affiliate Links
The most obvious benefit to affiliate link cloaking is that you get a clean URL. I'm sure you know all too well just how long and complicated affiliate links are. Link shortening is one way to clean up your affiliate URL.
As an example, take a look at an example of a cloaked affilaite link
jontorres.com/recommends/siteground/
Now, where does this link actually go?
When a user clicks the link it will take them to the SiteGround home page.
Now, link cloaking allows you to do more than just shorten a link. A link cloaking service allows you to personalize a track affiliate link as well.
Instead of a bunch of random numbers and letters attached to your URL, you can make it include the words that matter.
Take a look at the URL for one of my own affiliate links: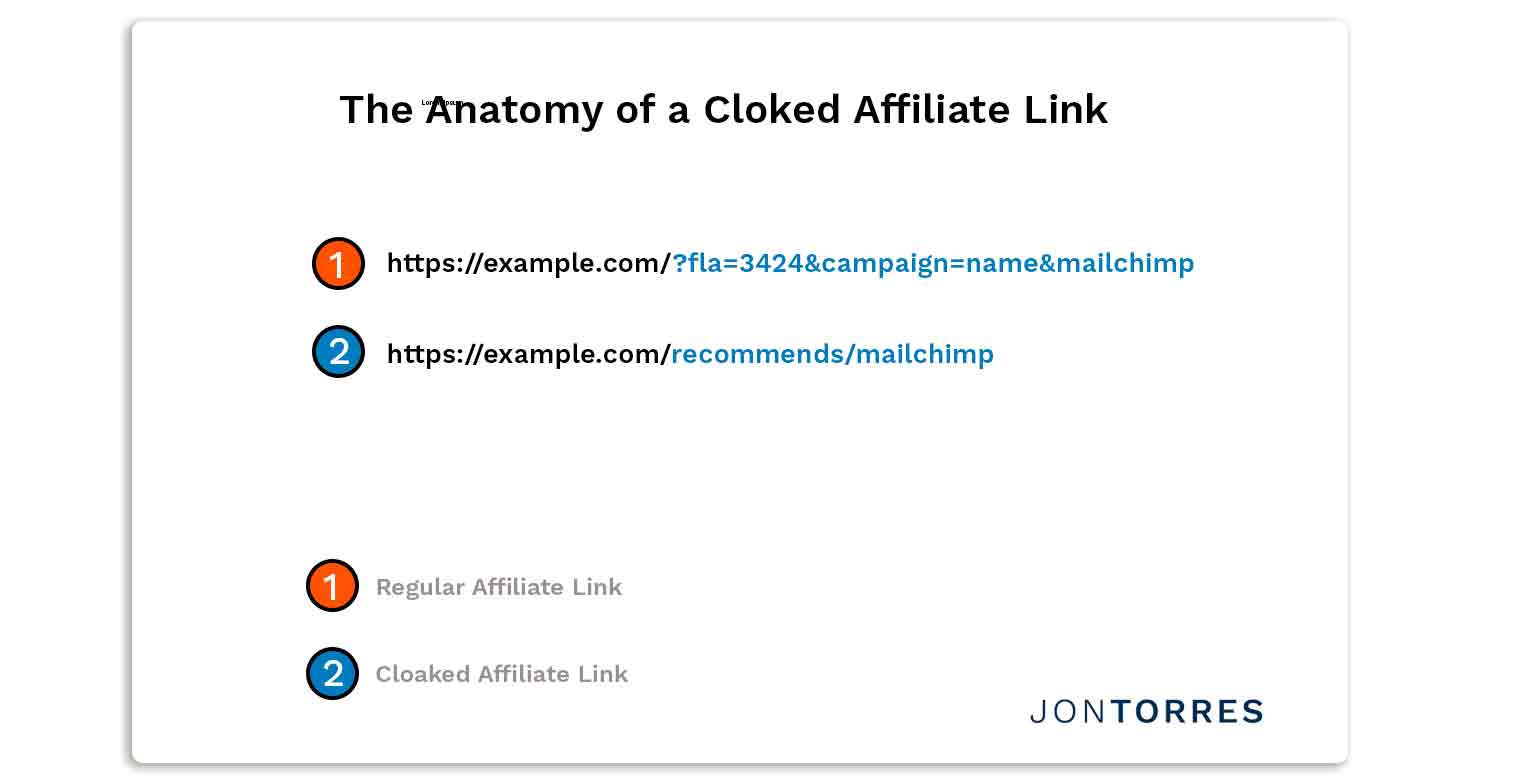 I've personalized this link so that instead of having a jumbled mess attached to it, it just contains the descriptive words. This way the readers know what the link is for.
Link cloaking is useful for just about anyone with a website, but it's especially handy for affiliate marketing.
What are some of the benefits of cloaking links?
1. Build Trust with Your Audience
Another great reason to cloak affiliate links is to gain trust.
Potential readers are far more likely to click on a link that is clear and simple. A random link with a huge URL simply looks more questionable to wary readers.
This doubly applies if you're putting your affiliate links in emails or a social media profile.
People are highly suspicious of shady looking links, and this is the best way to put their minds at ease.
2. Better Link Management
One benefit of cloaking links is the ability to categorize links within your WordPress dashboard.
This makes it easier to find, update, and or remove your affilaite links.

If you've ever had an advertiser change their offer or switch affiliate networks, you already know what a pain it is to update your affiliate links on all platforms.
By using a link cloaking service, you're also gaining a central link management system. This will save you a lot of time in the long run when you run into any of the mentioned problems.
Most link masking services are either WordPress plugins or SaaS companies.
WordPress plugins are incredibly convenient and great for beginners.
If you're more experienced and have more complex affiliate needs, SaaS may be the best option for you.
3. Better for Sharing
This is one of the reasons I say cloaked links are so necessary for affiliate marketing.
The ability to share links quickly and easily is something you can only get with a cloaked URL. 
You can remember it off the top of your head if need be.
My suggestion here is to use the same formula for every link.
For example, when I create URLs for affiliate links I use the same formula each time:
https://jontorres.com/go/advertiser
I highly suggest you do the same for your affiliate links. Not only is it easy to remember, but it's simply easier to share across all platforms.
4. Better for tracking
Another big benefit of using an affiliate cloaking service is the ability to track your links.
Now, not every service is going to offer this, but I highly suggest choosing one that does.
The most basic tracking ability should be able to tell you how many people clicked on your link in a given amount of time.
A more comprehensive link cloaking service will tell you how many conversions you've made as well.
For obvious reasons, this type of information is incredibly useful for affiliate marketing.
The Cons of Cloaking Links
Now, with every great invention, there are a few downfalls.
There are people out there who use link cloaking with more harmful intent than just a need for a clean URL.
Unfortunately, there are people who have taken the power of link cloaking to mask the URLs of malicious websites.
Because of this, some readers may be wary of clicking on a masked link for fear of malware.
In my experience, however, this has not been a noticeable issue. The benefits of using a cloaked link easily outweigh this con.
How to Cloak Affiliate Links
Alright, now that you know all of the pros and cons of cloaking an affiliate link, let's talk about how you can do it. 
The first step is choosing the right URL Cloaker for your business. What is a cloaker? 
A URL cloaker is the service that allows you to create streamlined affiliate links. 
As I mentioned before, these services usually have added benefits such as link tracking and management. 
Once you've chosen a service, you should think about the formula you want your affiliate links to follow. 
Each service has a slightly different way of working, so let's go over my favorite services for cloaking affiliate links.
Best tools for Cloaking Links
Thirsty Affiliates
Thirsty Affiliates is a WordPress plugin that gives you all of the basic tools you need for cloaking affiliate links. 
This plugin allows you to cloak your affiliate URLs and choose exactly how you want them to look. 
One great benefit to ThirstyAffiliates is the added protection against commission theft. You'll also get an automatic link fixer, a 404 checker, Google Analytics integration, and auto-link keywords. 
For a single website, the Thirsty Affiliates starts at $49 per year. 
This tool is great for anyone who relies on affiliate programs as supplemental income.
Pretty Links
When you're an affiliate for multiple affiliate programs, you know it can be a serious hassle to manage all of your URLs. 
Placing your links strategically throughout your site is tedious, to say the least. 
Pretty Links has developed an automated system that places your links in the most effective places on your website. 
Not only is this service great for cloaking affiliate links, but it also helps you manage your links, creates better link strategies, and overall boosts your success with your affiliate program. 
The beginner package for pretty links is $49 per year.
Simple URLs
Simple URLs is a basic WordPress plugin that allows you to cloak, track, and manage your links. 
Using this service, you can take the affiliate URL containing your affiliate ID and turn it into a nice, clean link. 
This plugin is not quite as comprehensive as an option like Pretty Links, but for that reason, I highly recommend it to beginners. 
It's user-friendly and easy to get the hang of. You can download Simple URLs for free.
Voluum
Voluum is a link cloaking service with a ton of added benefits. In fact, Voluum is marketed as a convenient tool to manage all of your ad campaigns from one place. 
This option is for those of you looking for a robust service with conversion tracking, analytics, and options for automated advertising. 
This is the most comprehensive option on the list, and it has a price tag to match. Voluum starts at $69 per month.
Last Advice
Link cloaking is just one tool in the long list of services that you should use to build a better affiliate marketing strategy.
For those of you just starting out, you may be struggling to gain leads and boost your conversion rate. 
If you're ready to craft a solid affiliate marketing strategy and begin earning a passive income, check out my complete guide to affiliate marketing.